The assembly of this three stone dangle pendant appears simple but when using traditional methods to position and join the tiny parts it can be tricky and time consuming. Each of the bezel units will be connected by jump rings and will dangle when finished. Tack- and pulse-arc welding technology makes the soldering and assembly process easier and more proficient.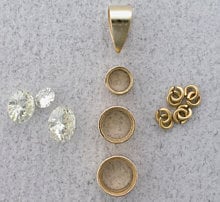 The findings used are 14-karat yellow gold round bezels, jump rings, a pre-made pendant bail.
Make a Three Stone Dangle Pendant

Jump rings will join the bezels. First, the jump ring is cut using Xuron flush cutters. One third of the ring was removed.
The ends are trued by sanding and then slightly rounding each individual end.
A line is scribed midway around each bezel. At the top and bottom portions of the first bezel, the partial jump rings are tacked over the scribed guideline.
For the tack-welding, the tweezers and pliers leads were used with the ABI Tack II welder set on the high energy setting at 35 volts.
After tacking the partial jump rings, they were soldered using 14-karat easy-flowing solder.
The bezels have been joined with jump rings. The bail was installed and all joints were pulse-arced using ABI's pulse-arc-welder set on the medium energy setting at 35 volts using the #2 tip.
The pendant was pre-finished using a magnetic finisher for 20 minutes, then polished and the gemstones were set.
Important:
All tack-, fusion- and pulse-arc equipment settings will differ and are based upon the volume, amount of contact and alloy of the material you are assembling. Working with like materials will give you a parameter for the settings required for your application. Keep a record of settings and tasks for future reference.