Five years ago, if you wanted to buy an additive manufacturing machine to grow rapid prototype (RP) models in your shop, you had to be prepared to shell out close to $50,000. Today, due to technological advances in Digital Light Processing (DLP) by Texas Instruments, you can buy a machine with the same capabilities for under $15,000. This is a major advancement, and one that deserves MJSA Thinking Ahead honors.
Two such machines are currently offered to the jewelry industry at maker-friendly price points: the Envisiontec Perfactory Micro (base price: $14,999) and the Pico Desktop 3-D Printer from Asiga (base price: $6,990). Both products are making a difference in jewelry manufacturing by enabling even the smallest jewelry makers with limited budgets to grow models with complex geometries in-house.
Shedding New Light
Up until now, the DLP-based additive machines manufactured by Envisiontec required ultra high pressure (UHP) lamps, which cured the photopolymer resin material used to grow casting patterns layer by layer. But in 2011, high-output LED light sources that provide the specific wavelength needed
to cure photopolymers became available. Combining the new LED with the Texas Instruments DLP Pico Chip, released in 2009, made it possible to manufacture a smaller and more affordable 3-D printer for the masses.
"There's not a lot to go wrong now," says Steven Adler of A3DM Technologies in Portland, Oregon, a member of MJSA's Thinking Ahead Advisory Council. "UHP bulbs fluctuated and put out variable light patterns that required regular compensation adjustments. With LED light sources, the light is more even and will remain stable for thousands of hours, the machines are small enough to sit on a desktop, and the price is such that any jewelry maker can buy one without thinking twice."
Adler compares the models built on his Perfactory Micro, which offers a build envelope of 40 mm by 30 mm, to those grown on the larger $65,000 Envisiontec machine he purchased in 2003: "The resolution is identical," he says.
J. Tyler Teague of JETT Research in Johnson City, Tennessee, also a member of MJSA's Thinking Ahead Advisory Council, has been running an Asiga Pico in his lab for about two months. "It's the ideal solution for the small-shop custom jeweler," he says. "Don't let the size of the build platform fool you: I was able to stack six halo engagement ring models on the 31 mm by 50 mm platform. And since I can build those six models in three hours at a resolution of 50 microns, I can see this machine being implemented in small production situations."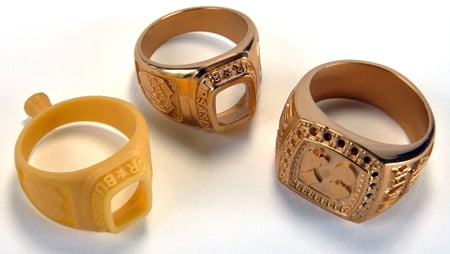 Teague envisions a bank of four or five Picos running simultaneously in a manufacturing environment. "Since the financial investment is so small, you can afford to buy and run multiple machines at one time, and you have the luxury of knowing that if one goes down, you've got plenty of backup," he says.
Both the Pico and the Micro come packaged with software that automatically generates supports for the models and places them on the build platform, lessening the learning curve for the new user. Depending on the build material used, the resulting models can be either molded using low-temperature or room-temperature vulcanizing molds, or cast directly using specific investments.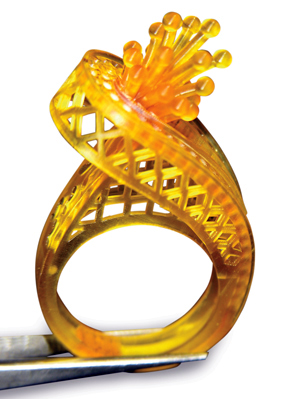 By considerably scaling down the size and price of these systems, both Envisiontec and Asiga provide an opportunity to jewelry makers that didn't exist just five years ago. The modern jewelry shop can now afford to grow its own jewelry models right before the client's eyes. This not only enhances a business's control over the quality and efficiency of its manufacturing process, but also opens the doors to further creative exploration in jewelry design and model making. It also encourages tinkering and R&D in the comfort of one's shop. In an era where personalized, unique jewelry is in high demand, having access to such capabilities shouldn't be a luxury. Thanks to the introduction of these two new products, it isn't.