Katy Briscoe – Creating Raj
One February at the Tucson gem shows, inspiration took flight for Katy Briscoe of Katy Briscoe Inc. in Houston. "I remember opening a paper with this carved blue sapphire and as soon as I saw the stone I said, 'You're a peacock,'" she recalls. "I couldn't buy it at that point, but I wished I could, and I thought about that stone for a very long time." Subsequently, anytime Briscoe saw an image of a peacock, the sapphire came to mind.
A few months later she was able to purchase the gem and immediately started sketching an 18k yellow gold pin/pendant peacock around the 83.6 carat sapphire, incorporating faceted blue sapphires, diamonds, and tsavorite garnets. She did much research online to ensure she could accurately depict the bird and determine the best use for the large sapphire. "The body of a peacock was about the shape of the sapphire," she says.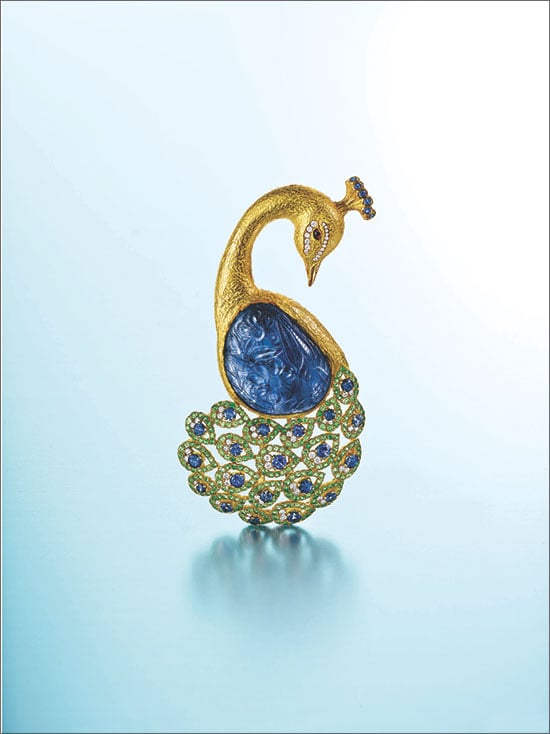 With the design sketched, she approached her jeweler to discuss the technical aspects of turning her vision into reality. He carved a rough wax in which the tail was solid, but Briscoe thought it needed a lighter, airier feel. The jeweler suggested a pattern of open, gem-set teardrop shapes resembling eyes. To determine the size and number of gemstones to order for the piece, the jeweler used plastic stone-size templates to draw the gems on three different sized teardrop shapes, colored them in, and adhered them to the wax model with sticky wax, rearranging until he found the best fit.
Ganoksin is sponsored by
The jeweler completed the wax carving and applied a complex layer of surface distressing — Briscoe's signature finish — before casting the piece. The texturing is achieved by roughing up the wax with a combination of a rotary file in a flex-shaft, hand files, a shop-made scratch tool, and even fingernails. "If you overdo it, it looks overworked," says Briscoe. "There is definitely a point when it's too much." The beak and ridges of the detachable crown are the only areas of the piece that will receive a high polish.
Stone setting commenced with the 68 diamonds, which are pav? set around the eye, bezel set in the detachable crown, and prong set in the tail. Next came the 269 prong set tsavorite garnets, followed by the 28 faceted sapphires, which are bezel set in the smaller crown and prong set in the tail feathers, where they are raised above the other stones. Last, the carved center sapphire was bezel set in the as-cast setting, which enabled it to be secured with a hammer and a steel punch without damaging the pre-cast finish.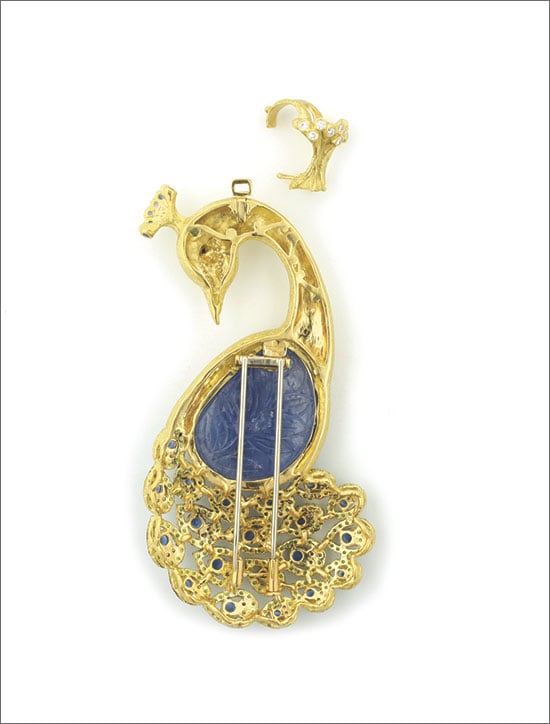 As the final touch, a custom-made eye — a 2 mm rock crystal orb with a hand- painted pupil and iris from Hans Pauly in Germany — was glued into place. "Historically, most animal jewelry eyes are pear shaped or marquis — they make them have the look of a Stepford wife," says Briscoe. "This eye makes him look alive and gives a depth that draws you in."
Ganoksin is sponsored by
Looking at the finished product, Briscoe is happy she trusted her instincts. "I initially felt captivated and inspired by that stone," she says. "I followed my instincts to create a peacock, and the end result is a regal and ethereal creature that almost seemed to come alive. I felt he needed a name." And that's how Raj was born.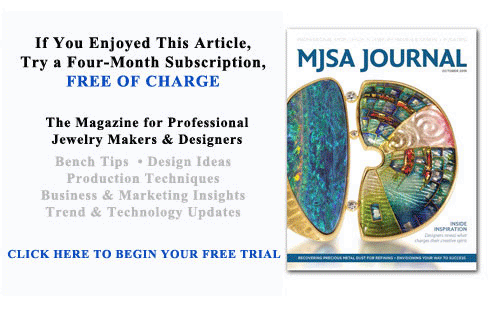 In association with

The award-winning
Journal
is published monthly by MJSA, the trade association for professional jewelry makers, designers, and related suppliers. It offers design ideas, fabrication and production techniques, bench tips, business and marketing insights, and trend and technology updates—the information crucial for business success.
"More than other publications, MJSA Journal is oriented toward people like me: those trying to earn a living by designing and making jewelry,"
says Jim Binnion of James Binnion Metal Arts.