Enamelist Karl Drerup's (b.1904) successful career in the United States illuminates the mid-century craft revival in this country. Arriving on the scene at a time when crafts were at a low ebb in popularity Karl Drerup was an influential example of artistic and practical success for those who desired an alternative to the industrial designer and mass-produced wares of the Machine Age. A number of Arts and Crafts metalsmiths utilized the various techniques of enameling on metal in the first and second decades of this century. These techniques were valued for the rich, unchanging color each offered without the expense of precious stones. But as World War I arrived, the celebration of the machine and modernism signaled the end of the Arts and Crafts reform movement. Enameling declined in popularity and seemed to disappear from the scene. Interviewed in 1965, California enamelers, Arthur and Jean Ames credited Karl Drerup with having "virtually reinvented painting with enamel on metal in the forties". Others also remember Karl Drerup's assistance and influence. ln1947, Drerup helped glass artist Maurice Heaton (1900-1990) "to develop a method of enameling glass that produced more luminous and brilliant effects than could be achieved with vitreous glazes". Ceramist Edwin Scheier was influenced by the work of Juan Miro whom he first learned of from his friend and colleague, Karl Drerup.
Enameling suited Karl Drerup both artistically and practically. In his words, enamels have "color, intimacy, tell a story in a small space and need little workshop space". The characteristic small-scale, jewel-like color and meticulous craftsmanship of Karl Drerup's enameled plaques, dishes and bowls reflect his viewpoint. Like portrait miniatures or jewelry these small enamels are intimate objects to be lived with, handled and examined at close range. In large part, Drerup's imagery reflects the people and the natural world around him in places he lived, whether in the Canary Islands or in New Hampshire. Some imagery is drawn from traditional Christian iconography and some from childhood memories. Other images are non-objective. In early works like Robin with Three Egg in a Nest (approx. 7″ x 7″), a single bird and nest, two fish or a simple still-life might appear within a small round or rectangular format. By the mid-forties, these images became more complex both in imagery and composition. Birds with Fox (10⅝" x 10⅝") c. 1950 portrays the plentiful and exuberant life of a marsh. Horizontal ribbons of luminous sky-blue water alternate with strips of earth in a densely occupied but compressed space while the viewer is directly engaged by the quiet gaze of the wildlife. Within this small space, Drerup achieves color, intimacy, and drama.
In the mid-fifties, Drerup produced a number of larger works by combining three enameled plaques either horizontally or vertically. The three-part vertically arranged Scarecrow (35½" x 13½") continues the abstracted natural forms of the earlier works. It was exhibited and awarded a prize in 1956 at the Nineteenth Ceramics National in Syracuse and shown in American Artist in the January 1957 issue. When Drerup arranged the three parts of his Saint Hubert horizontally, he adopted the triptych format traditionally used with religious imagery to tell the story of the medieval Christian saint's conversion during the course of a stag hunt. Drerup eschews medieval attire and stylistic devices, preferring a more timeless landscape as a stage for a contemporary drama of spiritual revelation. Drerup fashioned a number of large wall crucifixes during this period. Throughout his career as an enamelist, the familiar Christian image of St. George and the Dragon remained one of the artist's favorite subjects.
Groups of musicians and musical instruments appear frequently in Drerup's compositions. Horns and masks emerge eerily from the blue depths of an enameled bowl (approx. 12″ dia.) and evoke the aura of Mardi Gras. The strong imagery, sensuous color, and intimate scale work together to produce a compelling immediacy. The viewer's eye is seized by the hypnotic gaze of the large mask and drawn into the world of this small object in much the same way that a believer is drawn into contemplation of a religious icon.
Drerup admired the work of Hans von Marées (1837-1887) who, like other European painters of the second half of the nineteenth-century (Renoir and Bouguereau, for example), longed to return to the depiction of an Arcadian landscape inhabited by idealized figures. Humans and animals at peace in undisturbed natural surroundings are Drerup's characteristic themes. The strong linear quality of the simplified figures and the compressed space of Drerup's compositions attest to the artist's knowledge of cubism and the avant garde art of the early twentieth-century. Foreground and background in Birds and Fox seem almost to merge forming a single faceted shallow space of flickering light and dark hues. Karl Drerup wanted to acknowledge and retain a meaningful link with the art of his European past while developing his own work in the present.
Educated in the European academic manner of adherence to traditional methods and skilled craftsmanship, Drerup recognized Americans' " lack of a confining tradition. . . and [subsequent] willingness to experiment" as both a strength and weakness. Though leading to responsive and innovative work, he felt it resulted in a designer/production orientation rather than that of the designer/craftsman. In an interview with Oppi Untracht in 1957, Drerup discussed his process for painted enamel in detail and related it to oil painting on canvas. Trained as a painter in Europe, Drerup was especially drawn to the painterly techniques and pictorial conventions of the Limoges style of enameling first developed in the fifteenth century. Starting with sketches on paper, he progressed to under painting on the metal ground in tonal qualities of light and dark. Only then did he begin the application of opaque and transparent enamels with many firings required as the work was built layer by layer. Drerup stressed that execution is a creative part of the work for the designer/craftsman.
A brief account of the artist's life yields a portrait of a spirited person striving for his own identity and for self-reliance. Born in 1904 in Germany near the Dutch border, Karl Drerup was the second son of an old and prosperous Westphalian family. In the hope that their boys would become priests, the artist's parents sent the brothers to a small, exclusive Cistercian Monastery school at Westerwald near Hackenberg to receive a classical education. Oppressed by the rigid discipline, Karl managed to vent his feelings through a small, secret notebook of caricatures of the resident Cistercians. Finally, in 1921, his parents relented and allowed him to leave the monastery and attend the Kunstwerkschule near their home and where the curriculum centered around drawing. In 1924 he traveled on horseback through Spain and Italy.
Stricken with tuberculosis in 1925, Karl spent the next three years recuperating in a Swiss sanitorium. Loathe to return south to Switzerland after a visit home, Karl gave in to his long-held desire to study at the art academy in Berlin and boarded the north-bound train. A paternal uncle, in sympathy with Karl's desire for an art education, supported the young artist. Karl studied for three years at the academy earning a master's degree in graphic art under Hans Meid, a well-known graphic artist. Though Karl had friends at the Bauhaus, he rejected the school's experimental approach to art, preferring to follow traditional methods. Käthe Kollwitz (1867-1945) visited the academy print shop several times. On seeing him attempting to incorporate social concern into his work, Karl remembers Kollwitz reprimanding him with "Oh, Drerup, stop it!" Karl says she was right. He wanted to do well, not "good."
After spending time in Switzerland to regain his health, Karl returned to Italy where he studied painting in Florence with Felice Carena from 1929 to 1933. He earned a master's degree in painting, studying the nude and composition. In 1932, while he was still living in Europe, Karl's paintings were included in the first exhibit of German art shown in the US After World War I. The German painter, Christian Rohlfs (1849-1938) had recommended him for membership in the German artist's union, which included the avant-garde artists of the day as well as more traditional painters like Drerup. When the curator of the Brooklyn Museum invited the group to show in the US Karl's work traveled to America along with that of the other members of the union.
His circle of friends in Florence included Karl Böcklin, son of the Swiss painter, Arnold Böcklin. Karl believes they were the last class at the academy to be untouched by fascism in Italy. Gertrude Lifmann, a young German studying linguistics, entered Karl's life in Florence. The two married in Florence and then fed to Madrid in 1934 where Gertrude worked as a translator and cared for Karl who was again ill. In 1935 the couple moved to Tenerife in the Canary Islands. Gertrude, who had studied at the London School of Economics, taught English. Karl painted and claims that he finally became well during the three years spent in Tenerife. As the Gestapo were gaining control of the Canaries, the Drerups fled once again. Karl's experience with the insanity of this period in Europe has not faded from his memory. Traveling separately through Europe to the United States, Karl and Gertrude Drerup arrived in New York in 1937.
Karl no longer received financial help from his family and the couple initially lived on Long Island with Karl's brother, Paul, while Karl worked as a house painter. Soon the enterprising young artist began to explore possibilities in the decorative arts. His Florentine landlady had maintained a pottery studio in the countryside outside the city where Karl learned to make in his words: "simple, colorful, Majolica-decorated pieces…". He showed Rena Rosenthal, owner of a chic gallery of contemporary art in Manhattan, a number of porcelains he had made and Rosenthal and others encouraged Karl to produce more pottery.
Hoping to make more contacts, he attended a meeting of architects and artisans at the Architectural League on Park Avenue. Here Karl met Franz von Tury, another self-exiled artist (Hungarian) who had studied in Europe with Meissen and was then working as an engineer at a sanitary porcelain works in New Jersey. Von Tury had developed a beautiful, heavy glaze that required only one firing. Drerup and von Tury collaborated in the production of nineteen pieces of pottery for an exhibit at the New York World's Fair of 1938. One of the pieces won an award, launching the pair's career in American ceramics. Drerup continued to paint porcelains with von Tury, eventually wholesaling through Rosenthal a "car-load of porcelain a week". Karl remembers a collaborative piece shown in Syracuse at the Ceramics National in 1939, "a reduction piece, a beautiful pink with a man and an animal". The so-called shepherd's Vase won the purchase prize at Syracuse in 1939 and was shown in The Magazine of Art (November 1939), Design (November 1939) and, Arts and Decoration (March 1940).
Soon after his arrival in New York, Karl saw the National Ceramics Show at the Whitney Museum in New York City. The exhibition included work by Ohio enamelist Edward Winter (1908-1976). When Tommi Partziger, who designed furniture for Rena Rosenthal's shop, suggested to Karl that he knew of no fine enamelists working in New York City Karl became intrigued. Using German and English texts of the late nineteenth and early twentieth centuries, he researched techniques of enameling and gained practical knowledge in metalwork by observing a local metalsmith. By 1940 Karl's enamels were being sold by Hudson Walker on 57th Street. During World War II, George Jensen became Karl's main outlet for enamels when Walker was drafted and his shop closed. The dealer Karl Nierendorf, who knew of Karl's family, also sold a few Drerup enamels. Because enameling allowed him to move toward his personal ideal of the designer/craftsman, Karl Drerup decided to abandon porcelain decorating for good and to concentrate on enameling on metal. He credits the Ceramics National at Syracuse and Adelaide Alsop Robineau, in whose honor the exhibition was founded in the 1930's, with helping people to see ceramics as art. Though enamels were shown alongside ceramics during the thirties and forties, the artist feels they are now more properly shown with other metalwork.


Along with his work as an artist during these years in New York City Karl Drerup began to teach painting, drawing, and ceramics at Adelphi College, now Adelphi University on Long Island. A visit to the New Hampshire countryside with the ceramists Edwin and Mary Scheier in 1940, however, convinced the Drerups that they were ready to leave city-life behind. The couple became American citizens in 1944 and they moved to New Hampshire at the wart end in 1945. Before he left the city Karl became a Charter Member of the New York Society of Designer-Craftsmen. When it became known he was leaving Adelphi, Karl received offers to teach from both Scripps College in California and from Michigan State in Lansing. Reaffirming their desire for permanence and roots, the Drerups settled in the quiet countryside of Thornton, New Hampshire. For the next three years Drerup worked intensely at his craft. In 1946 he joined the League of New Hampshire Craftsmen and he remembers fondly how his association with the League gave him a feeling of belonging right from the start in his new home. The Drerups' son, Oliver, was born in 1947 and a year later Karl began what would be his twenty-year teaching career at nearby Plymouth State College.
Through these years of teaching, he continued to paint and maintained an ambitious level of work and exhibitions in enameling. In 1944 he had participated in contemporary American craft shows mounted by both the Cincinnati and Baltimore Museums of Art. By 1950 interest in enameling had grown to the point that there were exhibits devoted wholly to its history, such as the "History of Enamels" at the University of Pittsburgh. In 1954 the Museum of Arts and Decoration at the Cooper Union in New York City held "An Historic Review of Enamels", which included contemporary examples by Karl Drerup. Karl's work was included in exhibits at New York City's Museum of Contemporary Crafts (now the American Craft Museum), the annual decorative arts exhibitions at the Wichita Art Association, the invitational ceramics exhibit series at Scripps College in Claremont, California, the Philadelphia Art Alliance's "Enamels 1958", the Syracuse National and at the US Pavilion at the 1958 World's Fair in Brussels. By the autumn of 1959, the Museum of Contemporary Crafts was able to mount an exhibit of 330 pieces by 82 enamelers from across the United States. The exhibit honored Karl Drerup, as well as Kenneth Bates and Edward Winter, with retrospective displays. One critic noted that, judging from the number of entries in the exhibit, "painted enamel has also proved to be the most tempting of all enamel processes".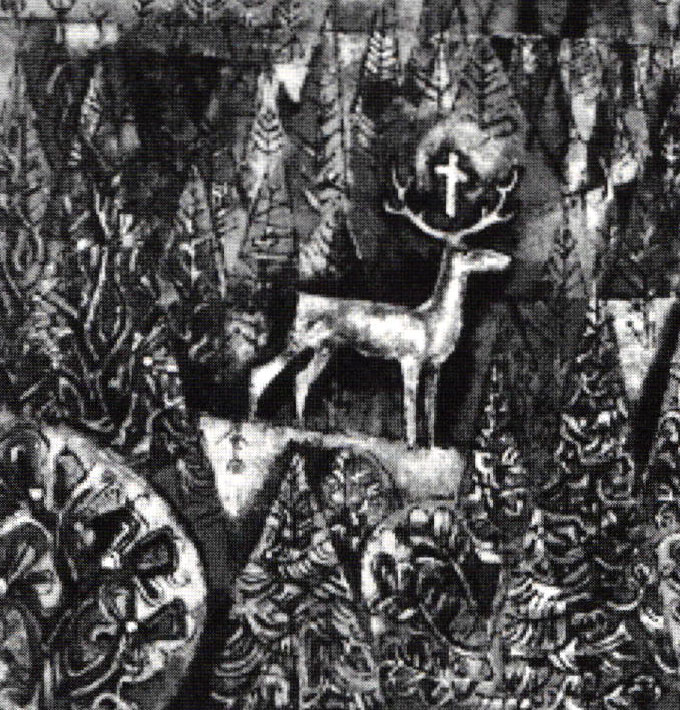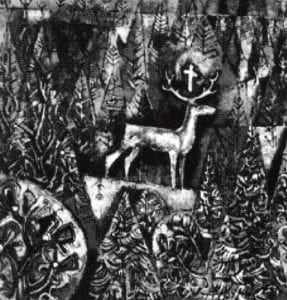 At mid-century Karl Drerup had become pre-eminent in the field. Because of his leadership and influence on others in the craft world, he was one of eight American craftsmen included in the 1961 Brooklyn Museum of Fine Art's comprehensive review "Masters of Contemporary Crafts". By 1962 he was referred to as "venerable". As Professor Drerup, Karl exhorted his students to work hard and he continued to build the art department he had founded at Plymouth State College. When he retired from teaching in 1968, the one-man art department he had founded had grown to include ten instructors and 135 students. To honor him, the college established the "Karl Drerup Art Gallery" in 1986.
Karl Drerup's painted enamels played a major role in re-establishing the popularity of the medium of enameling on metal at mid-century in the United States. Institutions such as the Metropolitan Museum of Art in New York City began buying his work as early as 1944, less than a decade after he arrived in America. The Museum of Fine Arts, Boston, the Newark Museum, the Currier Gallery of Art, the Cincinnati Museum of Art, the Baltimore Museum of Art, the Everson Museum of Art, the Brooklyn Museum of Art, and the Worcester Art Museum have acquired enamels by Karl Drerup in subsequent years. His enamels are included in important private collections around the world and in 1989 the State of New Hampshire celebrated Karl Drerup's contribution to art and society by naming him a "Living Treasure of New Hampshire".
Jane Port is a decorative arts historian who lives in Wellesly, MA.
NOTES
One link between early and mid-twentieth century enameling in this country connects Kenneth Bates working in Ohio at mid-century with the earlier Arts and Crafts movement. In the 1920's Bates studied at Massachusetts College of Art with Laurin H. Martin, the Dean of Boston's Arts and Crafts enamelers who, in turn, had studied in England with Alexander Fisher, master of the English arts and crafts enamelers.

American Archives of Art. Tape 61. June 9, 1965. Betty Lochrie Hoag, interviewer. Transcript of tape-recorded interview with Mr. and Mrs. Arthur Ames at home in Claremont, CA.

Davies, Karen, "Maurice Heaton: American Pioneer in Studio Glass", American Craft (Aug-Sept 1984), 51.

Komanecky, Michael K., American Potters: Mary and Edwin Scheier (Manchester, Currier Gallery of Art, 1994).

Drerup's crucifixes are reproduced in Untracht, Oppi, "Karl Drerup, Enamelist", Craft Horizons 17 (February 1957), p. 12 and Enameling on Metal (Philadelphia: Chilton, 1957), frontispiece and p. 45.

Untracht, Oppi. "Karl Drerup: Enamelist", Craft Horizons 17 (Feb 1957), p. 10.

This sketch of Karl Drerup's life is drawn from a tape-recorded interview with the artist by Robert Brown of the Archives of American Art in 1972 in New Hampshire and form the author's conversations with the artist in Newton, Massachusetts in May of 1994.

Jannasch, Adolf, Hans Meid (Berlin: Paul Neff Verlag, 1943).

Author's interview with the artist. Newton, MA. May 10, 1993.

Ibid.

Backlin, Hedy. "Contemporary Enamel, A National Survey", Craft Horizon 19 (Nov. to Dec. 1959), p. 26-33.

Craft Horizons 22 (Sept-Oct 1962).