"Bright colors we can find only in nature, quality craftsmanship that will outlast the seasons, and a promise to do my part with the gifts I've been given" – Patsy Croft, Alohi Lani Designs, Orange Beach, Alabama.
The Birth of a Cloisonné Artist and Teacher
Stylish, intense, yet entirely down-to-earth, Patsy Croft lives life outside the lines, refusing convention and championing individuality. Ironic, considering the cloisonne artist spends her days working carefully inside lines crafted in gold. But creativity will never be easily lost with Patsy.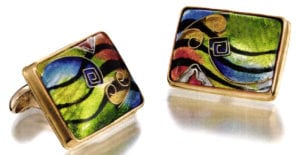 Abstract Cuff Links
With a body of work inspired by her travels and love of nature, Patsy has earned a national reputation for her jewelry line, Alohi Lani Designs. Her timeless, sophisticated pieces sell in a number of high-end locations, including Nordstrom in Hawaii, Abaco Gold in Key West, Gold Chest in Grand Caymans, Makers Mark Sydney, Australia and Master's Touch in Wakawau Hawaii. She's been recognized by the American Craft Council, and the Society of National American Goldsmiths. She's even designed a piece for Andre Benjamin of the popular hip hop group Outkast, for his Grammy album after he spotted her work in an Atlanta jewelry gallery.
Front
Back
Double Bird of Paradise Pendant
For Patsy, cloisonne represents a place to use her line drawings, a way to fulfill her passion for brilliant colors, and a chance to pay homage to the world of nature.
"I always worked with my hands," Patsy says. "My parents said I had a project going in every single room of the house."
A fine arts major in college, she became a prominent hair stylist and art gallery owner in the 1970s, incorporating her love for lines into her work, touring Europe and studying with designers Vidal Sassoon, Molton Brown, Joshua Galvin and many others. But despite her attraction to the latest styles, Patsy noticed that not everyone in the world was so trendy and wasteful. In Europe she saw women purchasing more timeless, quality items. Her experiences provided inspiration for the jewelry she would soon design, as did her exposure to exotic locales like Hawaii, Puerto Rico and Australia.
Patsy bought several cloisonné pieces for her gallery in Florida and was hooked. When she moved to Hawaii with her husband and small children, the stunning landscape inspired her to study cloisonné in earnest. "Hawaii is like Candyland for artists," says Patsy. "There are colors everywhere – the fish, the coral, the birds, the flowers, it's spectacular." And so her jewelry line was born: Alohi Lani, meaning heavenly light.

Front

Back
Carnivale 11 Earrings
Since the Crofts lived too remotely to make classes convenient, Patsy read, studied and taught herself. She tried different things and learned what worked.
"I love to draw" Patsy says. "With cloisonné, wires replace pencil lines, and you're just filling in the space with colors. I visualize things and work through drawings, then I can sit down and build them. If you can draw it, you can build it." Patsy's fascination with detail fits perfectly with the painstakingly delicate practice of cloisonné, from the intricate wiring to the layering and firing of each coat of glass to achieve a deep, vibrant color scheme.
As committed to conservation as she is to her work, Patsy strives to create one-of-a-kind pieces that become cherished family heirlooms. In our throwaway society, hooked on trends and buying in bulk, her work speaks to permanence, striking natural beauty and using adornment to set oneself apart. She donates a portion of her proceeds to environmental groups.
Today Patsy works from a studio in her home in Orange Beach, Alabama. Her daily companion, a German shorthair pointer named Kona, faithfully reminds her to get outside from time to time. "She's my walking and running partner" says Patsy. "Getting away clears your mind. There's an anxiousness to making something beautiful. You don't do this quickly." But simply doing is not enough for Patsy. A born teacher, she seeks to help others develop their craft, exploring new ideas and developing new techniques that provide this generation's contribution to a centuries-old art form.
| | |
| --- | --- |
| | Spring flower earrings |
"It seems like we're all here for a reason, not just to copy everything that's already been done, but to develop onto it," she says. "I love to add on to things and stumble into things. That's how I developed double sided pieces, the back is just another canvas to be used, why let it sit there. I am now working on three dimensional pieces and adding chasing and plique-a-jour to my work. An artist evolves. I am thankful I did not have access to schools as it made me try things that I heard when I returned to the U.S. you can't. I do not want to keep painting the same painting over and over again.
Patsy currently teaches one-on-one classes from her Orange Beach studio, allowing students to focus on their own needs and learn in less time. Karen Edwards of Leesburg, Fla., had taken a beginner's cloisonné class but wanted to learn greater intricacy and detail. She came across Patsy's Alohi Lani Designs during a Web search. "I fell in love with her jewelry and her style ," Karen says.

Front

Back
Big Fish Little Fish Pendant
Karen and Patsy worked side-by-side for four days on their own pieces, and Karen completed a pendant for her brother, a master diver. She worked from an image of a diver riding a giant manta ray A difficult piece for a young enamellist, but Patsy said, "Let's do it."
"When I came home I couldn't sleep for the first three nights, my head r.vas spinning," says Karen. "There were so many things I wanted to do." Karen is currently planning another session to learn Patsy's fusion technique, to help her create double-sided pieces.
Students appreciate Patsy's openness, unlike so many art teachers who, fearful of losing business, are apt to limit the knowledge they share, Karen says. "Patsy is not afraid to give out her secrets." Patsy agrees. "We as a group can grow faster this way, and bring our art to a different level."
Ileana Rojas of Costa Rica, had always wanted to learn cloisonne. After seeing Patsy's work she decided to go for it. She took a one-on-one class during the summer of 2008 at Patsy's studio. "Cloisonné is a difficult art," says Ileana. "You need an instructor like Patsy if you want to learn right. The only surprise was how much I learned with her."
But even with the best raining, Patsy acknowledges that everyone, at one time or another, gets stuck. So then what if "When you're designing and can't get it to work, you have to put it down," she says. "I have learned not to push it, as it just gets worse. So I put it down, I walk away. Then when something clicks, I can get back to it. And the fun begins. It's like life," Patsy says. "It is difficult, laborious, challenging, rewarding and beautiful. Enjoy it."
You can reach Patsy by email at patsy@alohilanidesigns.com or visit her website www.alohilanidesigns.com