What he wanted to be was a painter, although he was also thinking about being a graphic artist or book illustrator. But, because his father thought that things like that were too bohemian and wanted his son to learn a proper trade, Michael Zobel became a goldsmith.
Although he's 61 years old today, he never regretted taking this step in his long career as an internationally recognized jewelry designer.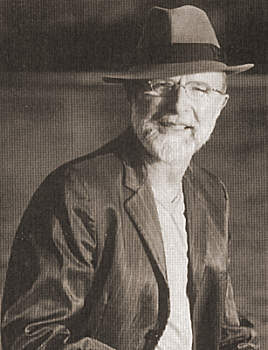 The best way to trace the steps in Michael Zobel's life would be with a globe. He was born in Morocco, grew up in Barcelona, had his apprenticeship as a goldsmith and college in Pforzheim and he has worked as a jewelry designer in France and Luxembourg. And Michael Zobel has had a goldsmith studio and business in Constance for 35 years, although there's no place in the world where he doesn't feel at home. He and his jewelry have become famous all around the world thanks to the numerous exhibitions initiated and organized by this cosmopolitan all over the world and at least just as many international awards. As a goldsmith, he is known for his refreshing cordiality and being a benevolent promoter of young talents. His sensual jewelry has a touch of the theatrical, even though it can be worn anywhere. It has a reputation of embodying the perfect interaction of craftsmanship and artistic expression.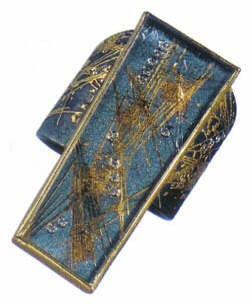 Painted by nature: ring made of silver, gold, rutile quartz and diamonds
Each of his unique pieces has the aura of an expressive language of shapes that show the great love he has for materials and painting. "I'm constantly fascinated by precious stones", acknowledges Michael Zobel, who gets his inspiration from the shapes to be found in nature and being in contact with the old masterly cultures. "The total majesty of nature is compressed into the smallest space with precious stones. One single stone suffices to evidence the artistry of the entire creation", as this artist explicates his enthusiasm for transparent stones, in particular those with natural inclusions.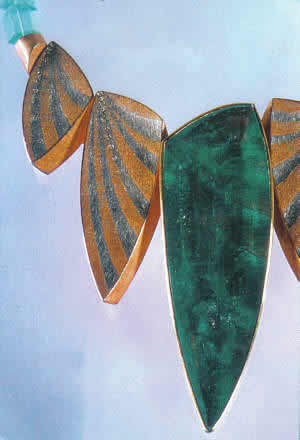 Magnificent colors and forms: necklace made of red gold, platinum, aquamarine and diamonds
What others may think of as a fault or an annoyance is a welcome fancy of nature for Michael Zobel and an exciting challenge. For instance, he develops half-moon shaped stones with bizarre inclusions from archaically shaped rings and brooches as big as plates made of platinum, gold, quartz and diamonds with the effect of abstract paintings. This passionate designer calls his work "painting with metal and precious stones" transforming his graphic ideas into precious materials. The master comes up with his artistic ideas himself, although he has four goldsmiths and two apprentices in his workshop in Constance who help him create jewelry.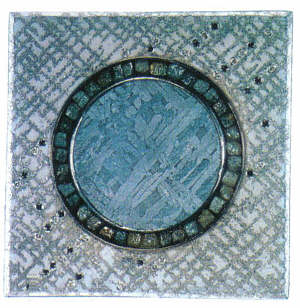 inspiration from outer space: brooch/pendant made of silver, palladium and gold with Cape York meteorite and various uncut diamonds
The respect that Michael Zobel has for precious stones can be best seen in his co-operation with the well-known precious stone cutter Tom Munsteiner, one of the outstanding personalities in his business. While cutters are motivated in their work by the play of light in the crystal and by perfecting them with an individual cut, Michael Zobel works passionately at intensifying the expression of each individual stone with his designs. The result is unique jewelry creations where one is never quite like the next. The goldsmith creates each brooch, ring and necklace once so that the person wearing the jewelry can underscore her own personal style.
Unmistakably Michael Zobel's signature: golden bracelet with sapphires and diamonds of different colors
Michael Zobel is no stranger to cosmopolitan ideas since he lives and breathes them every day. A couple of years ago, Zobel's jewelry creations were brought to the attention of the Russian goldsmith Victor Syrnev living in Kyrgyzstan and the Kyrgyzstani painter Yuristanbek Shigaev, beginning a fruitful relationship. Michael Zobel exhibited select pieces from his workshop in the National Museum of Kyrgyzstan's capital Bishkek in 2002 for the first time together with other artists in the context of the international cultural and exhibition project "Jade and the Silk Road. East/VVest Dialogues".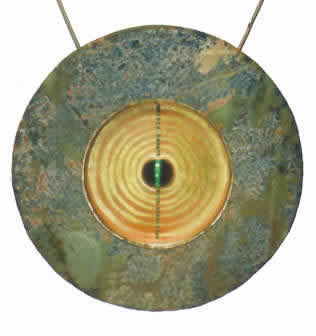 Round jade pendant from the exhibition "Jade and the Silk Road. East/West Dialogues"
These two Kyrgyzstani artists Syrnev and Shigaev were invited to Constance to put on a joint exhibition in Michael Zobel's spaces in November of 2003. The exhibition concentrated on jade, a material that Michael Zobel regards highly for his work. Then Michael Zobel was invited to come to Bishkek again in 2003 to repeat his East/West Dialogues exhibition with other artists. And while he was there, the National University of Kyrgyzstan didn't let the opportunity get away to award this friendly goldsmith the title of an honorary professor of their college. Michael Zobel was very gratified to receive this award. However, somebody at the other end of the world was clamoring for the quality of Zobel's work. Jonathan Wahl, the Director of the Jewelry Center of the well-known 92nd Street Y, knocked on the globetrotter's door to get him to teach at his center, although we still don't know whether Michael Zobel will accept the invitation or not.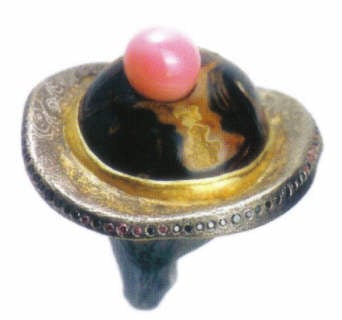 Exposed position for the rare conch pearl: ring made of silver, gold, wood and diamonds