This article is about fold forming tool list needed for a successful fold forming. These are essential for jewelry making and every jeweler needs to have.
Please have on hand:
These are some of the tools that you will find useful in fold-forming: Ear muffs or plugs and safety glasses.
Metal:
Thin copper sheet, 24 gauge (0.5mm) is best, sold often as 'roofing copper'. It is sometimes sold as '16 ounce' copper or .021 copper. Cut into a selection of squares and rectangles for learning.
Aluminum will also work for practicing, again 24 gauge.
Brass wire, 22 gauge, (0.8mm), ten feet or so, round. 18g iron binding wire is also useful.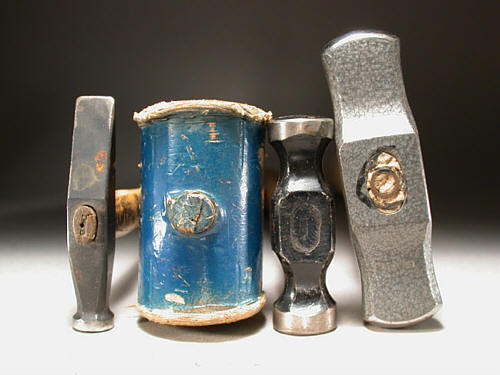 Tools:
Selection of hammers, mallets and stakes.
Raising/forging hammers are most important.
A basic T-Stake is very useful.
Selection of pliers.
Hand shears, aviation snips.
Anvil
Annealing equipment, soldering equipment and supplies.
Access to water for quenching and cleaning. (A kiln can also be used for annealing).
Sheet rolling mill and wire rolling mill for rolled folds.
Large mounted vise, 6 inches wide or larger. A blacksmith's leg or post vise is also useful.
Hydraulic press if available. If so then have on hand some 1/4″ plexiglass scrap for cutting shapes from.
Flex shaft, key, silicon carbide separating discs and mandrel for them.
Fabulustre® and buff on polishing motor for polishing hammers.
A belt sander is very useful for altering forging hammers to improve them.