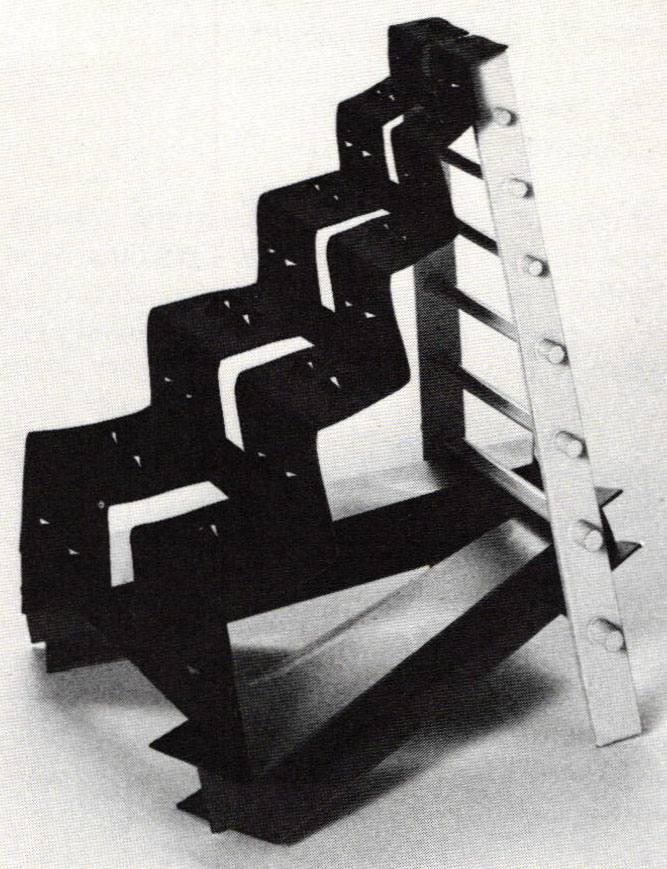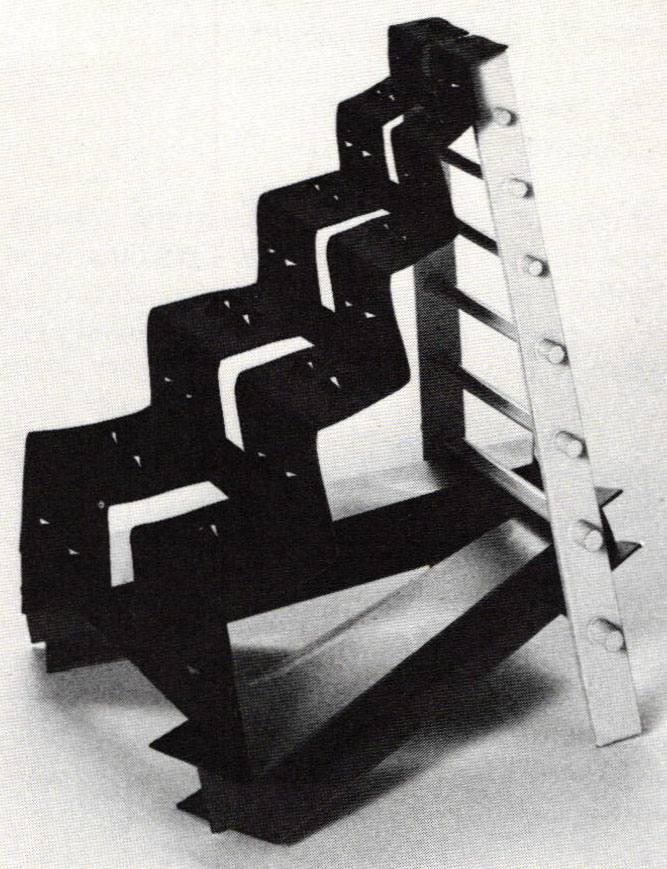 Janice Kluge: Metalwork and Sculpture
---
2 Minute Read
Janice Kluge's exhibition of metalwork and sculpture at the Birmingham Museum of Art was small in scale but rich in variety and execution. The 11 pieces and drawings, from 1981-83, illustrated her ongoing involvement with natural themes and her experimentation with various materials and metalworking techniques. Kluge did her graduate work in metal and received her MFA from the University of Wisconsin in Madison in 1982. Her highly individual works often relate to changes in location and personal experiences and always display a sensitivity to materials and a high level of craftsmanship.
Janice Kluge: Metalwork and Sculpture
Birmingham Museum of Art, Birmingham, Alabama
July 10-August 20, 1983
Monumental Piece is a maquette proposed for a public site in Madison. The full-scale pyramidal piece, about 12 feet at the summit, would stand amidst trees, mirroring natural forms, but in a metamorphosized state of crystalline perfection. The sense of clear geometry evokes the crisp winter air of the Midwest, which gives forms a surrealist precision. The shadows from the cast aluminum trees are intended to extend beyond the piece linking it with the natural world around it. Trees, road and open sky are themes which recur in much of Kluge's sculpture.
Reliquary for a Landscape consists of a miniature embroidered landscape framed by bronzed and silver folding wings. On the back the same landscape is photoetched. In this piece Kluge sanctifies nature. In Hardwood Groves, with its bronze and brass inlay leaves, is a direct artistic response to a poem by Robert Frost and to autumn in Madison. Kluge's more recent work explores the transformation and recombination of both natural and man-made materials. Transformation is a pewter basket filled with birch bark and twigs—some natural, some cast in pewter. The transformation involved is that of nature to art.
The sky and the open road arc leitmotifs in Kluge's art. Homage to Orion incorporates a copper pyramid skirted by a black sky which unfolds like a giant fan. The blackness is pierced by dotlike silver stars. Orion was inspired by a view of the sky unfolding like a continuous ribbon through rows of trees. Despite its minature scale, it is monumental in spirit and could easily serve as a stage set.
The Road Not Taken is a highly structured piece about changes, choices and adaption, whose title alludes to a well-known poem by Frost. The pyramid, the road and the sky are tightly interwoven; the form closes in on itself—perhaps the road goes nowhere, but the ladder and the stair lead resolutely upward. Kluge has introduced color in this piece; earth and sky tones which are tinged with symbolism. Like Orion, The Road exudes a sense of grandeur. It points forward and suggests the direction that Kluge's metalwork and sculpture may take in the future—clearly defined forms on a larger scale.
Janice Kluge's precision, strong sense of design, love of materials and fine craftsmanship create works which are rare and beautiful—modern artifacts of exceptional quality.
You assume all responsibility and risk for the use of the safety resources available on or through this web page. The International Gem Society LLC does not assume any liability for the materials, information and opinions provided on, or available through, this web page. No advice or information provided by this website shall create any warranty. Reliance on such advice, information or the content of this web page is solely at your own risk, including without limitation any safety guidelines, resources or precautions, or any other information related to safety that may be available on or through this web page. The International Gem Society LLC disclaims any liability for injury, death or damages resulting from the use thereof.
---
The All-In-One Jewelry Making Solution At Your Fingertips
When you join the Ganoksin community, you get the tools you need to take your work to the next level.
Become a Member
Trusted Jewelry Making Information & Techniques
Sign up to receive the latest articles, techniques, and inspirations with our free newsletter.