Hart Jewelers in Grants Pass, OR has been a family owned store for over 50 years. Owner Tom Hart proclaims, "Our customer is the most important person in our store" and that's clearly apparent in the way the staff interacts with clients, sells and services jewelry throughout the day.
Tom Hart delivers a custom made bracelet to Linda and Dave Noggle, who have been customers of Hart's Jewelers for twelve years. He designed the bracelet for their opals using Gemvision's Matrix Jewelry Design software.
The opals were cut by Dave's father and the couple wanted a piece that would showcase these cherished family heirlooms. "I wanted to be able to wear it and enjoy it", says Linda, who had asked that Tom design some way to protect the back of the bracelet which would be most susceptible to wear. In answer to her request, Tom incorporated a grooved surface into the design to minimize the effects of daily wear. Dave adds, "They make it fun. They really listen and try to make it work for you."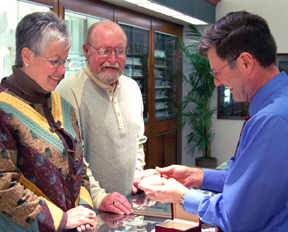 | | |
| --- | --- |
| | After the design was approved by the Noggles, Hart passed it on to Kevin Fertenbaugh who milled the bracelet in 4 components with the Gemvision Revo 540 wax milling machine. The components were then cast and Fertenbaugh began the assembly, setting and finishing of the bracelet. |
| | Linda was very specific in requesting a safety latch which would be easy to use, yet comfortable and secure. She was concerned that a 'figure 8' style lock would catch on certain surfaces and pop open during wear. To alleviate this concern, Fertenbaugh, a master bench jeweler designed and hand crafted this double locking box clasp for the bracelet. |
Directions for Growth Using CAD/CAM at Hart's
Custom Design

Photo by Kevin Fertenbaugh

Hart began with CAD using Gemvision's two-dimensional Digital Goldsmith software about 8 years ago. When Matrix, Gemvison's three-dimensional design software was produced, Hart was among the first to begin using it. "Our stores sales in custom jewelry have significantly increased since using CAD software. Our customers can easily envision the products we are proposing. We are also pleased with the increased margins made possible by using this technology."Hart and Fertenbaugh are the store's designers. They currently work from independent work stations producing customer's design requests. Clients view their designs via laptop computers at the showcases of the elegantly appointed store. The CAD design function has become such an important part of the overall business growth that it will soon be housed in a private but visible room sharing space that had been used exclusively for diamond consultations and sales.

Award and Corporate Jewelry

The Pearblossom Run is a 10k race out of Medford, OR that is currently celebrating its 30th anniversary. For many years, Hart's has donated the medallions awarded to the race winners. For their anniversary, Hart was asked to make 4,000 commemorative medallions to be presented to each participant in the event in addition to the award medallions. Other award jewelry clients include the Boatnik Races (hydroplane jet boat races out of Oregon and California) and the Roy Rider International Bowling Tournament (Medford, OR).


Tom also designs corporate jewelry for Hellgate Excursions, which runs the popular Rogue River boat trips.

Yearly, over 250,000 tourists take the challenge and clamor for gift shop souvenirs such as charms and medallions to commemorate the experience.

Hart is thrilled with the new applications of the latest version of the Matrix software.

"It's fast, easy to use and I can achieve amazing detail and accuracy", he enthuses.

Matrix Rendering by Tom Hart

Private Label Products

Hart and Fertenbaugh are working toward another goal that is being realized through CAD/CAM technology. Shown is a design from a bridal line (featuring their signature ring shank) that will be made exclusively for their store.

Hart's Jewelers has a strong diamond business and Fertenbaugh says, "We should be offering our customers exclusive designs from which to select their engagement and wedding rings for the diamonds we provide."

Matrix Rendering by Tom Hart

Manufacturing on the Premises

Service work has been a staple at Hart's for decades. Ron Hix, Hart's Jewelers shop manager is setting stones in one of the stores custom designs for a customer. His bench is located in the second level shop and is visible from the showroom. This allows customers to watch jewelry being made and enables the manufacturing staff to monitor the store's activity and to assist in sales as needed.
Kevin Fertenbaugh began working at Hart's in August of 2005. He came from a family owned business located in Pennsylvania. Along with his master level skills for design and manufacturing, he brought a Gemvision Revo 540 to Hart's. Fertenbaugh is preparing the mill to carve a custom engagement ring.
Hart's also has a laser welding unit to assist in repair and custom manufacturing. In this image, goldsmith Jerad Hix is completing a repair detail. Hart states "Since investing in and incorporating this new technology, jewelers from the surrounding area have been referring customers for repair and custom order. We are very proud to be getting these referrals from our peers in the industry".
Fertenbaugh works at his bench in the second floor shop putting the finishing touches on one of the store's custom designs. He's given new life to the casting and model making operation at Hart's. He also interviews customers and designs using Matrix.

In addition, Fertenbaugh has introduced new bench technology to the Hart shop staff which has brought the service department to higher levels of efficiency and service.

Tom Hart smiles as he envisions the future. "By keeping up with new technology, I have been able to service a wider range of customers.

Having the capability to design, manufacture and deliver new and exciting products has allowed us to grow by 30% per year for each of the last 3 years. This technology, while not easy to learn has kept the business strong and interesting for us all."

Fertenbaugh shares, "I am fortunate to have an opportunity to work in a store that has such a strong customer base. Hart's has appreciated my contributions and it has been exciting for me to be involved. I wouldn't have this opportunity if I hadn't taken the responsibility to learn about new technology as it became available.

Taking classes at the New Approach School from Blaine Lewis and learning Matrix from Gemvision has breathed new life in my career".