Happy Birthday: 25 Years of the Goldsmiths' Fair
Ben Day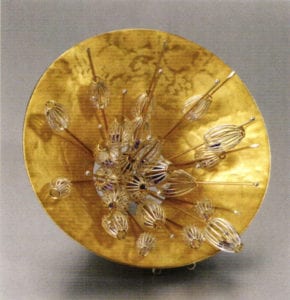 Katharina Vones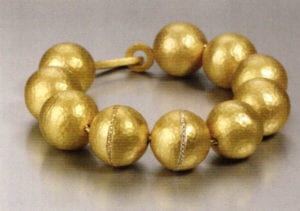 Malcolm Betts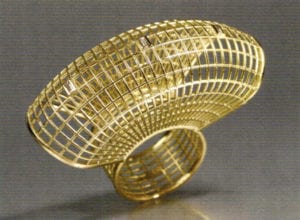 David Goodwin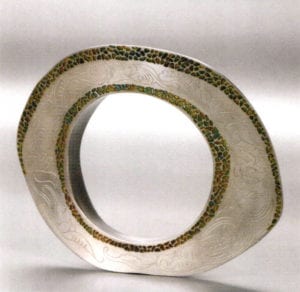 Regina Aradesian
For over 700 years, the Goldsmiths' Company has actively supported gold and silversmiths, along with jewelry designers, in Great Britain. Until todayu, the deeply traditional institution has promoted this trade with exhibitions, trade fairs and other events over the course of the year and thus creates an important connection to the interested general public. Marking the 25th anniversary this year, the London jubilee sales show "Goldsmiths' Fair" was even held twice. On the one occasion from September 24 to 30, and then directly afterwards from October 2 to 7. Since its "premiere" in 1983, trendsetting jewelry and contemporary silversmith work has been in the focus of the Goldsmiths' Fair, which, according to its own claim, is "the only fair of its kind in Europe focusing solely on works in precious metal". The unique mixture of the presentation of artistic gold and silversmith work and a vigorous stage for trade each year attracts buyers and collectors in equal measure to the Goldsmiths' Hall. Traditional crafts techniques are just as much to be found here as trendsetting and unique designs, which, due to modern technologies, open up new opportunities for creativeness. Things for every taste are to be found, from reservedly tasteful and equally precious work to large-format, magnificent items of jewelry with breathtaking gemstones. The silversmith work presents a large range of high-quality pieces: silver plates, vases, carafes, candlesticks and Christmas ornaments inspire visitors to marvel and to buy. Marking the occasion of the silver jubilee, the trade fair was not only extended by a week, but also expanded significantly to accommodate 160 instead of the previous approx. 90 exhibitors. www.thegoldsmiths.co.uk * cete
Scissors, Paper, Stone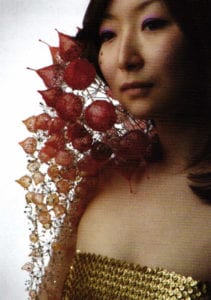 Katharina Vones
The exhibition 'Scissors paper stone', on display at the City Art Centre in Edinburgh until January 20, highlights innovative contemporary crafts by those who live, work or have trained in the Scottish city. The exhibition features the works of established craftworkers as well as those at an earlier stage of their career. Ten craftworkers have been commissioned to create a new work inspired by the theme of 'Edinburgh'. Their responses are very original and diverse. Katharina Vones for example shows exquisitely delicate yet sculptural contemporary jewelry pieces inspired by Edinburgh's natural environment focusing on botanical and marine life. Also featuring in the show is a hand crafted silver mask etched with the renowned architectural skyline of the city by recent graduate and metal worker Katie Pica. A wide range of crafts are represented in this exhibition including textiles, book art, ceramics, glass, fiber art, jewelry, silver/metalwork, millinery and textile art. Alongside the commissioned pieces on display will be sketchbooks, drawings, research material and models offering insight into the maker's working practice and the inspiration for their pieces. The participating makers are Helen Beard, Malcolm Cruickshank, Felicity Faichney, Lorna Fraser, Rachel Hazell, Anna King in collaboration with Edinburgh Makar Valerie Gillies, Deirdre Nelson in collaboration with Dr. Juliette MacDonald, Katie Pica, Jessica Townsend and Katharina Vones. * ahe
Creative Watch Design from the Far East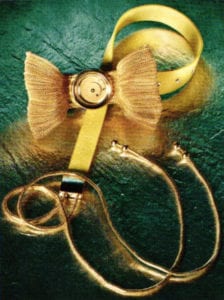 Surprisingly different: LED-light points tell the time on the skin. With the Skin Dial Watch, the designer Chan Wing Tak won the public competition in the Watch & Clock Design Competition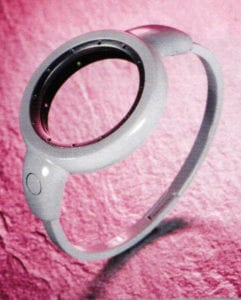 The winner of the 24th Hong Kong Watch & Clock Design Competition for students was Chau Pel Shan with the pendant watch – the Yellow Ribbon Action
The times when young designers from the Far East exclusively drew inspiration from western role models have been over for a long time. Marking the Hong Kong Watch & Clock Fair at the start of September, a design competition was held for the 24th time. The roughly 16,500 specialist visitors from all over the world were able to convince themselves in a special show of the prize winning objects in the 24th Hong Kong Watch & Clock Design Competition that young and upcoming designers from the Far East have now developed an independent language of forms and present it with very demanding, interesting ideas. Of the over 300 entries, Chain Wing Talk convinced the jury with his Skin Dial Watch. The watch unites state of the art technology with the language of forms of jewelry from the sixties and seventies. 12 LED lamps light up in a transparent strap, projecting the time onto the wearer's skin. The student competition was won by Chau Pei Shan, design student at the University of Central England in Brimingham with a variation of the yellow ribbons, which are so popular among the youth. Her watch can also be worn as a necklace. * ahe
The Leipzig Midora Jewelry Fair Presents the 7th Annual International Graduation Show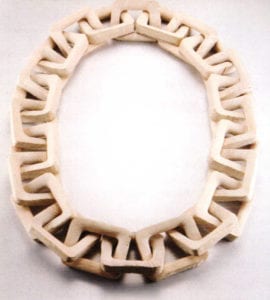 Kenta Matsui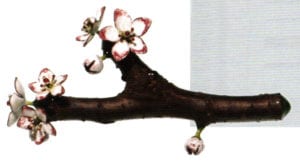 Stefanie Kalina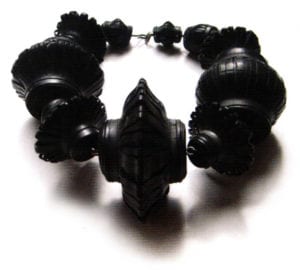 Noemie Doge
Each year, Dutch gallery owner Marie-Jose van den Hout spends several months visiting Europe's art and design colleges in search of new talents. Once she has found it, she puts on the "Annual International Graduation Show" presenting magnificent artistic jewelry designs. For many years, the show has been held at the Leipzig Midora trade fair, displaying the works of international graduates. Items of jewelry selected this year from some 70 graduates have already been exhibited in advance at van den Hout's own gallery Marzee in Nijmegen in the Netherlands. One piece for each artist was then selected to make the journey to Leipzig "This year, the quality of the pieces is extremely high with the design of most pieces having a functional slant," says the gallery owner. Young jewelry artists are finding it hard to make a living from their work, she says with regret. This, she says, is the reason why most jewelry artists turn to commercial design after one or two years. Van den Hout sees it as her role to create opportunities for graduates to present their work and make galleries interesting for the younger generation. As always, visitors to the trade fair could take part in a vote toward the presentation of three awards. First prize went to Noemie Doge from Amsterdam, who designed and created a chunky necklace from bicycle tires and alpaca. Second prize went to Stefanie Kalina from Idar-Oberstein for her cherry blossom branch. Third prize was awarded to Kenta Matsui from Tokyo who created a wooden chain cut from one piece and held together without any fittings. www.midora.de www.marzee.nl * cete
The finest design talents of India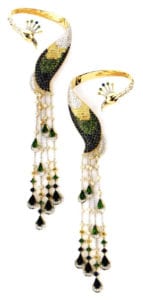 Traditional Pret, Fine Jewellery (India)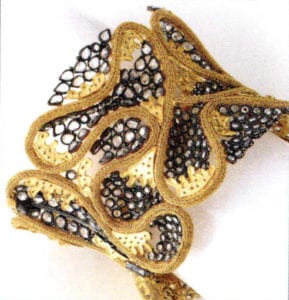 Global Couture, B.N. Jewellers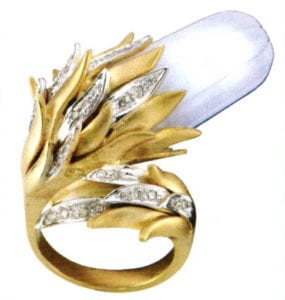 Futuristic Pret, Pra Mak
The ABN-AMRO Solitaire Design Awards attract some of the jewelry industry's finest talent from across the country. This year over 50 companies presented an astounding array of nearly 300 entries for the competition. The Indian jewelry industry has been effectively straddling the traditional and modern worlds, and is turning into a global style guru of sorts. Thus the theme this year was India, with three categories – India Traditional, India Global and India Futuristic. Each category was further divided into two sub-categories, Couture and Pret. In each category, therefore, six winners were declared. The judging took place in two phases and 12 distinguished judges from diverse backgrounds like jewelry education, jewelry design, art and fashion, picked 18 winning designs in all. The winners were felicitated with a trophy and a certificate at the ABN-AMRO Solitaire Design Gala Nite on August 31 at the Renaissance hotel, Powai during the 24th India International Jewellery Show (IIJS) 2007. www.gjepc.org/solitaire * ahe
Masriera at the Van Gogh Museum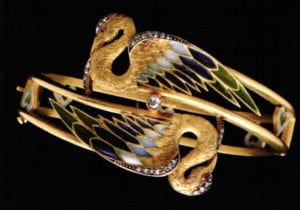 Eleven original Masriera pieces, on loan from jewelry firm Bagues-Masriera and forming part of its historic collection based in Barcelona, will be on display at the exhibition entitled Barcelona 1900, organized by the Van Gogh Museum in Amsterdam, until January 20th 2008. The Barcelona 1900 exhibition will be comprised of 300 works of art, including paintings, drawings, sculptures, architectural models and applied art projects loaned by several museums from Spain and other countries. The aim of the exhibition is to show the artistic and cultural changes taking place in the city of Barcelona between 1880 and 1909. Some of the most fascinating elements in the Barcelona 1900 exhibition are the pieces created by the jeweler Lluis Masriera (Barcelona, 1872-1958), one of the most important creators in European decorative art. www.masriera.es * ahe
Galerie Elb Exhibits Katharina Schreck
The still new Galerie Elb in Dusseldorf will be exhibiting jewelry by Katharina Schreck from 1st December to 28th February 2008 under the title of 'Schneerockchen Buntflockchen'. This jewelry designer from Pforzheim is displaying her imaginative stainless steel earrings and brooches. The artist started off by making impulsive, figurative sketches and then transferring their character to her jewelry creations. The designs are particularly special because they are created from one piece. The brooch clasp is created through pressing and folding on the reverse of the piece. The front of the piece displays a 3-dimensional image. The stable stainless steel used means that the designs can be transformed into light and slender creations. The different types of surface processing gilding, polishing and varnishing – make the items of jewelry look like a painted picture. There are a great many different versions available from elegant and sophisticated to bright and colorful. www.galerie-elb.de * ahe
Past, Present, Future – Lucca Preziosa tells Timetales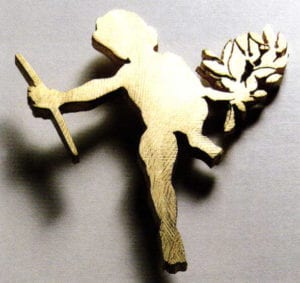 Giampaolo Babetto, 'Da Pontormo'. Brooch, 1990. Yellow gold
Jivan Astfalck, 'Bandages for Broken Hearts', Installationn, 2003. Vintage photographs, wound dressing, various materials and techniques. Artist's collection
The Le Arti Orafe college for contemporary jewelry in Florence is organizing the 'Lucca Preziosa' exhibition for the third time. The forthcoming exhibition will be held under the title of 'Timetales -Time's perception in research jewelry' and will present the works of eleven renowned contemporary and international jewelry artists. Jewelry reflects time and translates this into items for decorating the body: "(…) reworking and transformation of forms, materials and content, which creates a network of reflections on the past, on the function of jewelry as a memory object and its existence as a witness to political and social reality, but also as a reflection on its very meaning in the contemporary world". The exhibition is divided into three themed areas: 'Memories of the Past' (Giampaolo Babetto, Stefano Marchetti, Vera Siemund, Ramon Puig Cuyas), 'Private Memories' (Eija Mustonen, Mari Ishikawa, Jivan Astfalck, Mah Rana) and 'Traces of the Present' (Ted Noten, Katla Prins, Tanel Veenre). Renaissance paintings, antique jewelry, individual journeys into the past and the statement "Contemporary jewelry is dead" form the basis for these works which promise an exciting and diverse insight into contemporary jewelry design. The exhibition will be open from 23rd November 2007 to 6th January 2008 at the Museu Textil i d'Indumentaria in Barcelona, Spain. It will then be moving to Inhorgenta in Munich, Germany (15th – 18th February 2008). www.luccapreziosa.it * cete
In Memory of Isabelle Blow
British fashion designer Alexander McQueen has dedicated his spring/summer 2008 collection to grande dame of fashion, Isabelle Blow, who died in May. Alexander McQueen discovered this British fashion icon and supported her career. The outfits combine all the elements of style Blow loved so much – from strong shoulder lines to narrow tailored waistlines. Jewelry designer Shaun Leane devised a silver frame specially for the fashion show to emphasize these lines. This unique wire piece follows the lines of the female body from the waist, creating a striking silhouette. The piece cleverly plays on the contrast between the static symmetry of the frame and the lighting effects created by the movement of the model.
www.shaunleane.com * ahe
Offering Creations Online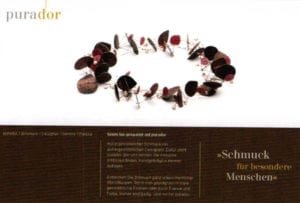 On 15th October 2007, an online jewelry gallery was launched on the internet at www.purador.de. Here, artists can present and sell their design-oriented works. The initiators of this project, Ulrike Moser and Thomas Reinartz, spoke to GZ Art + Design about what makes this online gallery so special.
GZ A+D: What differentiates Purador from other jewelry platforms?
Ulrike Moser: When devising and launching Purador, we placed great importance on ensuring that the design elements did justice to the high quality pieces of jewelry on offer. This involved professionally photographing the pieces as well as providing information about the 'maker' behind the jewelry. We want the buyer to be able to purchase beautiful jewelry in a stylish setting – as if he were visiting a well-designed shop. This is what distinguishes Purador from all the other jewelry stores on the internet.
Thomas Reinartz: Purador is also different from other internet suppliers in two other ways: its exclusivity and limitations. Exclusivity means that the items on offer can only be obtained from Purador. The designers agree not to sell the pieces anywhere e se in the same design. Limitation means that the items are only available in limited editions of 20 to a maximum of 100.
GZ A+D: What type of jewelry does Purador represent?
Ulrike Moser: We want to offer a new platform to jewelry designers and artists whose jewelry s only on sale in their own shops or else in a few often out-of-the-way galleries in Germany. We represent very distinctive jewelry which many people will not be familiar with because they have never seen it at their local jewelers purador presents hand-crafted and perfectly formed pieces of jewelry in limited series where the design is the most important element. Jewelry which is not conventional but also not so experimental that it would take real courage to wear. This means that the pieces offer a high level of design, craftsmanship and wearability and the materials do not necessarily have to be precious metals Thomas Reinartz: As soon as our gallery was launched on 15th October 2007, nine designers from all over Germany signed with us. Michael Berger, Brigitte Dombrowski, Isabelle Falzarano, Kirsten Grunebaum, Hilde Janich, Julia Mullers, Elke Kassebaum, Stefanie von Scheven and Brigitta Schulz. We are currently also in discussion with many other designers with regard to a future collaboration. In the long-term, we would like to work with international designers and establish Purador as a Europe wide platform. www.purador.de * ahe
Holding Tight to Fleeting Memories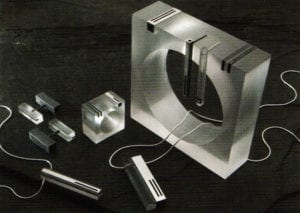 Just like music or places, scents have the power to allow memories to come alive before the mind's eye: memories of childhood, the first love or a particularly pleasant holiday. Unlike photos or buildings, however, they are often just fleeting and can barely be held tight to. The British jewelry designer Amanda Mansell created the jewelry collection '90°' for precisely this purpose. Inspired by the Tate Modern, she created jewelry that reflects precisely the emotion that the Tate architecture triggers in her. Her '90°' collection is intended to reflect individually for each wearer the feelings associated with certain persons or places in a visual and olfactory form. Each of the pieces has an aperture into which the wearer or person making the gift can introduce their own "reminiscent scent" using a small felt strip. In this way, the happiest moments no longer evaporate, but instead accompany the jewelry lover wherever they go. www.amanda-mansell.com * cete
Exhibitions in Jewelry Museum 2008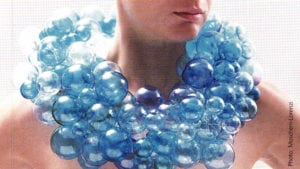 GlassWear by Glorgio Vigna, Gorgoglio necklaces. Glass, copper, silver, 2002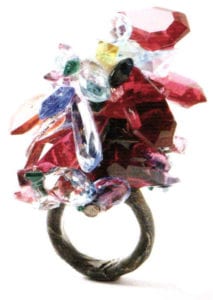 Metrosideros Robusta 'Calm ring' by Karl Fritsch Silver, glass stones, 2004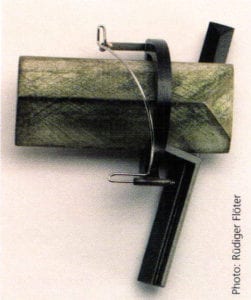 Pin jewelry by Rudiger Lorenzen. Steel, nickel silver, paper, 1988
The Pforzheim jewelry museum looks set to captivate jewelry lovers and professionals this coming year with its many fascinating exhibitions. The following dates are worth noting down: from 9 November to 3 February, current jewelry pieces by Karl Fritsch will be on display going by the title of 'Metrosideros Robusta'. Metrosideros Robusta is a forest tree native to New Zealand. This artist, originally from Allgau, has placed the plants development at the heart of his work: he uses existing items of jewelry in gold and silver or melts them down, casting them in a new form and adding gemstones. And so he creates some-thing completely new such as his 'cairn' rings which are characterized by their rich detail, contrasts and variations of surface structure and color.
From 14 March to 25 May 2008, an exhibition will be held entitled 'GlassWear – contemporary design in glass' in collaboration with the Museum of Arts & Design, New York. GlassWear presents innovative work from around 60 contemporary jewelry artists from countries such as Australia, Germany, Italy, Japan, South Africa, the Czech Republic and the USA. Through a synthesis of jewelry and glass, the exhibition brings together two very different areas of contemporary applied arts. Many of the exhibits are displayed here for the first time.
A further highlight is an individual exhibition by jewelry artist Rudiger Lorenzen from 20 June to 24 August 2008. The jewelry pieces by this artist form miniature sculptures. The combination of linear and spatial elements has a flexible effect, strengthened by materials such as steel and silver. Color also plays a prominent part. The exhibition is a retrospective of his work. From 20 September 2008 to 11 January 2009, a show will be held, dedicated to Art Deco. As part of the festival 'The 20s in Pforzheim', the jewelry museum will be presenting an exhibition of jewelry from this legendary era of style. Paris formed the center point of this movement which ran from 1918 to 1940. It was here that the Arts Decoratifs et Industriels Modernes exhibition was held in 1925. The Art Deco jewelry movement was in the hands of just a few artists who produced exclusive brooches and pendants, bracelets and rings in their workshops. Jewelers such as Rene Biovin, Cartier, Jean Despres or Jean Fouquet were the leading lights. The exhibition ranges from this French jewelry through to highly futuristic creations including Bauhaus artist Naum Slutzky. www.schmuckmuseum.de * ahe
A Sign of Belief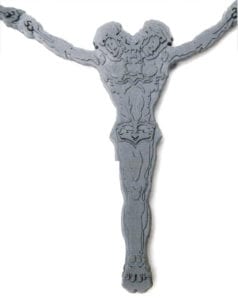 Jesus depiction in rubber by the duo Hartog & Henneman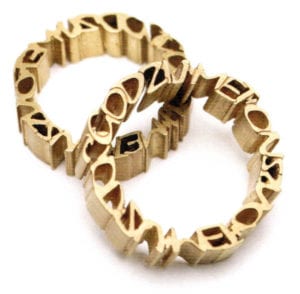 Golden rings with confessions of faith by Robean Visschers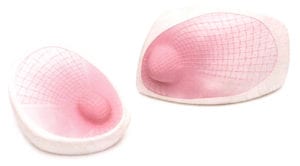 The student prize for the Song of Praise for Motherly Love went to Nina Schuler from Essen
At the start of December, the winners of the design competition New Traditional Jewelry were announced at the Sieraad International Jewelry, Silver and Design Fair in Amsterdam. The competition, which was organized for the second time to mark the trade show, took as its motto this year 'Signs of belief'. More than 300 entries were received from all over the world. After much thought, the expert jury of seven, including among others the jewelry designer Dinie Besems and the New York curator and dealer Charon Kransen, made a selection of the contributions, which were interesting both visually and in terms of content. They chose five winners.
Numerous participants in the competition modified the presentation of a crucifix. One of the winners, the artist team Hartog & Henneman, used the motif in order to lend expression to Christian faith in an unorthodox manner. In the computer-designed necklace 'De Overwinning' (The Victory) made of grey rubber, the image of the crucified Christ was mirrored and duplicated. The Christ figures hold out their hands to each other. "By dying, Jesus took upon himself the punishment for the sin of humankind. He overcame death, which is celebrated in this item of jewelry with radial protrusion of Christ figures."
There is also jewelry that deals with other forms of belief, such as the ring 'Buis van Licht' (Conduits of Light). The golden ring is expertly set with rubies and diamonds, with which the jewelry designer and pupil of Maharishi Mahesh Yogis wishes to express the "radiating illumination" that he received.
Religions have always polarized humankind since the dawn of time. As a response to this, there is an item of jewelry with the title 'Listen to' that is reminiscent of a stethoscope with which the jewelry designer calls for an attitude of attentiveness and openness. A water-filled glass sphere all on a chain symbolizes the "irreplaceable independence" within human beings, which is just as sensitive as glass. Peter Hoogenboom, the winner, describes himself as a pantheist. "In everything, in the universe, on earth, in nature and in humanity. God is present, but one must not try to imagine him as a figure." Hoogenboom looks for a mutual basis of no less than 45 different beliefs: from Islam, Buddhism, right through to Sufism or Voodoo – water plays a role in all of these beliefs. This is symbolized by miniature oil lamps in the necklace 'Holy Light' and by miniature water bottles made of ceramics in the necklace 'Holy Water'. The rear side portrays human figures reaching out their hands to each other, symbolizing the desire for redemption.
Some jewelry designers portray doubt, for example in the necklace made of felt letters with numerous delicate bird skulls suspended from it. The punched letters nestle around the neck and read: "Ik geloof dat ik twijfel of …" (I believe that I doubt whether…) etc. Others even create their own cults, for example the jewelry designer who designed a rosary in the form of a silver clitoris. The student prize goes to Nina Schuler, who astonishingly transformed a pink rubber household glove into a song of praise to motherhood. The finely-meshed relief of the taut rubber is reminiscent of the fine veins on a mother's breast, while the empty "fingertips" conjure up images of a nipple. A brooch that takes an unusual approach to presenting belief in a mother's love. www.newtradtionaljewellery.com * ahe
Four Times Color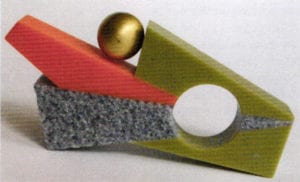 Fritz Malerhofer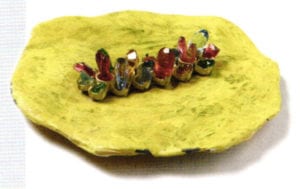 Karl Fritsch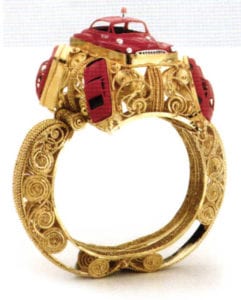 Robert Baines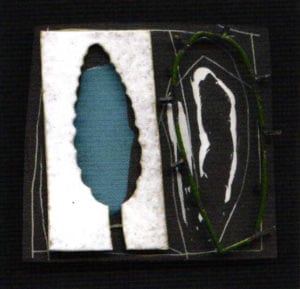 Ramon Puig Cuyas
Four jewelry artists from Europe and Australia, who have developed an extremely individual style through the inimitable language of forms, are exhibiting their works in a joint show in Studio Gr. 20 in Padua from November to December 22: the jewelry by Robert Baines (Australia), Karl Fritsch (Germany), Fritz Maier hofer (Austria) and Ramon Puig Cuyas (Spain) differ in numerous ways, but present in this exhibition their mutual passion for color. www.gr20.it * cefe
Jewelry with a local twist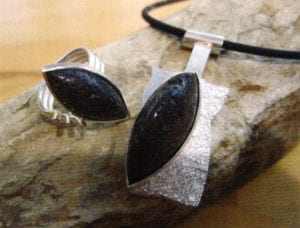 Couple Roli and Pia Schneider, goldsmiths from the little town of Mayen in Germany, often introduce a local element into their jewelry creations such as minerals, crystals or stones from the region. This has proved a success as it's not Just locals who like to wear their pieces. Incorporating a part of one's homeland into a piece of jewelry gives it identity and makes it something special. Jewelry made from basalt is one of the new ideas from these creative goldsmiths, based in Germany's Eifel region. This stone is volcanic in origin and is most well-known for its use in roadworking due to its hardwearing properties, though it is of course more coarsely cut in this case. Basalt has been mined from the Katzenberg, just outside the gateway to Mayen, for centuries. Stone cutters now select some of these stones for making fine jewelry, setting them in gold, silver or platinum. Sometimes a hint of color is also added, such as the blue hauyn from Lake Laach – a regional rarity. Aquamarine, citrine and other classic colored gemstones also contrast perfectly with this deep black stone. www.goldschmiedewerkstatt.com * ahe
A great deal has been written on Diamonds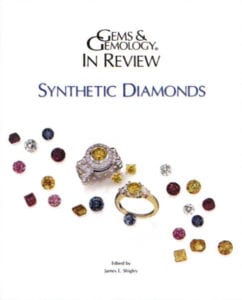 Gems & Gemology in Review: Synthetic Diamonds, edited by Dr. James E. Shigley, 1st edition 2005, soft-cover volume set in a slipcase, 295 pages, color images, 21.4 x 27.9 cm, plus two wall charts in a bound-in pouch, ISBN 0-87311-050, price: $49.95, published by GIA The Gemological Institute of America, order from: www.rdv-online.com
The best of Gems & Gemology on the subject of synthetic diamonds and colored diamonds are now available each in a single comprehensive volume. The books impart years of gemologist experience in a compact and easy to read form. Exceptional color photography illustrates the books throughout. Gems & Gemology is the quaterly journal of GIA – The Gemological Institute of America which is an educational institute and is running laboratories for the identification of diamonds and colored gemstones. * cp
Synthetic Diamonds
Synthetic diamonds are one of the most important challenges facing gem and jewelry professionals today. From the first reports on gem-quality synthetic diamonds in the 1970s, to recent advances in manufacturing and identification – if it has been covered by the world's leading producers and researchers, it has been covered in GIA's journal Gems & Gemology. And now it is all available in one complete reference volume. The main Sections contain the first reports on synthetic diamonds, early synthetic diamonds in the jewelry trade, advances in manufacture and identification, HPHT-grown synthetic diamonds in the 21st century and CVD-grown synthetic diamonds. Two wall charts come with the book to show the separation of synthetic and natural diamonds, and characteristics of HPHT-grown synthetic diamonds. Pinned to the wall it is an always present reference to synthetic diamond information. * cp
Colored Diamonds
Gems & Gemmology In Review: Colored Diamonds, edited by John M. King, 1st edition 2006, soft-cover volume set in a slipcase, 318 pages, color images, 21.4 x 27.9 cm, plus the GIA Colored Diamonds Color Reference Charts booklet, ISBN 0-87311-052-8, price: $59.95, published by GIA The Gemological Institute of America, order from: www.rdv-online.com
From the legendary Hope diamond to the remarkable Dresden Green, colored diamonds are some of the world's most famous diamonds. These exquisite gemstones have grown in desirability and popularity – and profitability – over the past few decades. Colored diamonds are an important part of the diamond business, and since 1934 they have been a focus of Gems & Gemology's research publications. GIA has done more than 70 years of research on the characterization and grading of colored diamonds. The book gives insights on the past, present, and future of colored diamonds – in the marketplace and the laboratory. The main book sections contain historic and notable colored diamonds, the characterization of colored diamonds, color grading of colored diamonds and colored diamonds with unusual characteristics. The GIA Colored Diamonds Color Reference Charts booklet which comes with the book explains and illustrates GIA color grades and descriptions for the most common fancy colors. * cp
Ted Noten Awarded Jewelry Prize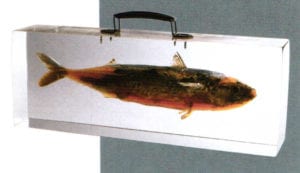 The Francoise van Bosch Award was awarded for the 15th time in the Netherlands. This time, the 5000 euro prize was awarded to Dutch jewelry maker Ted Noten. This 51 year old has been designing and producing jewelry, objects and installations since 1990 and, according to the panel of judges, his works have reached out to a broad international audience. The Francoise van Bosch Award is awarded every two  years by qualified judges to an international jewelry artist whose works demonstrate exceptional quality and appeal to young jewelry lovers in particular. This year, the panel is made up of the following members: Karl Fritsch (prize winner in 2006), James Beighton (Middlesbrough Institute of Modern Art), Louis Martin (jewelry designer), Chequita Nahar (jewelry designer) and Miecke Oosterman (Francoise van Bosch Foundation). In addition to the financial reward, the winner also received an additional honor: traditionally, the Francoise van Bosch Foundation also buys one of the winner's pieces for its own collection. The Dutchman will be awarded the Francoise van Bosch Award at the official ceremony at the start of 2008. www.fvandenbosch.nl * cete
monomania – Jewelry News with Glamour Effect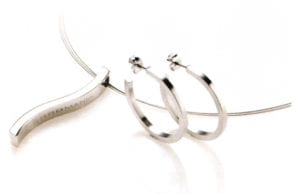 The current monomania collection is emotive and fashionable and as always it comes in simple designs with a touch of special emotion. Creoles in particular have been up to date for a number of years. In the monomania collection you can find feminine, timeless creoles with an extra glamour effect. Material variations in high quality sets, combined with a classical design all with the (mo) – symbol of emotion. Resulting in a product with excellent workmanship and aesthetics guaranteed. www.monomania.de
Young Designers on Cellini's Traces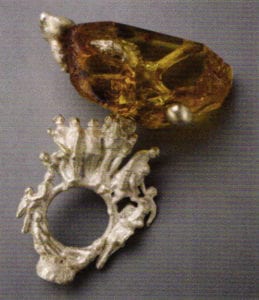 Johannes Hasselmann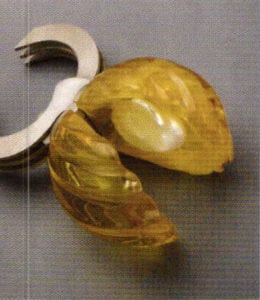 Anna Christin Spannbauer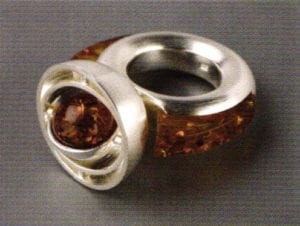 Kathrin Aha
Silke Klemt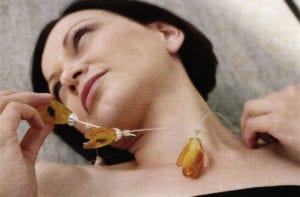 Julia Bergmann
For the second time, the Central Association of the German Goldsmiths, Silversmiths and Jewelers organized the competition for upcoming designer "Young Cellini's", which includes the prize of 5,000 euros. It is named after Benvenuto Cellini, a goldsmith who worked in Florence at the time of the renaissance. The prize winners were honored during the trade show Midora in Leipzig at the start of September. The motto of the competition was "Thoughts in amber today". The response to this year's competition was significant. "We registered 117 participants – twice as many as last time," says Hans-Jurgen Wiegleb, President of the Central Association, Germany, happily. The prize winners selected this year by the jury were Johannes Hasselmann (Erfurt, Thuringia), Julia Bergmann (Arnstadt, Thuringia), Anna-Christin Spannbauer (Arnstadt, Thuringia), Silke Klemt (Berlin) and Kathrin Aha (Albstadt, Baden-Wurttemberg). "If one considers the traditional processing of amber, what we have here are entirely new approaches and perceptions," explains Wiegleb. "Until now amber was seen as having a touch of goody goody. The competition has shown that the youth have embraced this traditional material." * ahe