Many German jewelry producers have stunning ideas for design combined with a level of quality that satisfies even the most sophisticated tastes. However, it wasn't so long ago that some areas of the world had very specific ideas as to what jewelry should be all about. All that has changed since people are getting together and exchanging ideas and cultural experience to pave the way for a peaceful coexistence between modern and classical jewelry spearheaded by avant-garde and traditional concetions.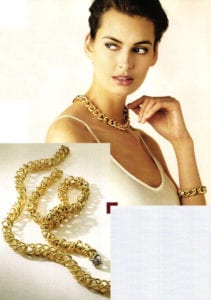 Rediscovering gold – IsabelleFa from Eisingen near Pforzheim is among the few specialists who produce precious chains by hand with unique pieces at quality you can see in a variety of details. IsabelleFa works rings, arm and neck rings at the same high level of perfection. This internationally respected specialist is of the opinion that gold will be the big trend again while classics are more in demand than they have been for a long time. IsabelleFa is a product line from the Mössner Manufactory foudned by Emil Mössner in 1955. The son of the company founder Hans-Georg and his wife Isabelle took over the company management in 1988 and reaffirmed the basic principles such as craftsman's precision, a love of detail, perfection and innovation. Today, this product line enjoys the status of a top-drawer company. www.isabellefa.com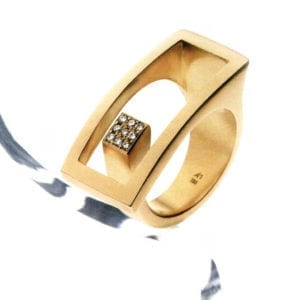 Little sculptures for your hand – Angela Hübel stakes out her place in the jewelry market with a production company custom-made for her person and design. The "Lady of the Rings" has become the epitome of iconoclastic sculptural shapes and the fact that she is successful shows that women no longer hav eto be geared exclusively towards decorative or material values, but can also view wearing jewelry as a way to come to terms with their own personality of body. The collection of Angela Hübel consists of 120 models with new ones added every with extraordinary expressive force, the result of a longstanding well thought-out process of development going from the design to the finished piece. www.angelahuebel.de
Openness and innovation had brought the German avant-garde in jewelry sales successes along with the high-profile shops in the United States and the Far East, meaning they have long since ceased to be a hot tip or niche product. The message of modern jewelry makers is that it's a lot of fun to wear unusual jewels, and it's really hitting home. Jewelry fairs act as a seismograph of the development on the market by setting up joint stands or whole areas where you can find jewelry "made in Germany".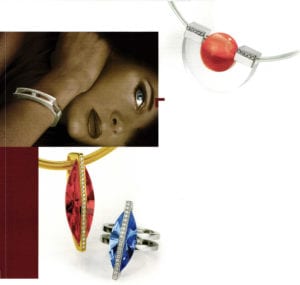 A passion for the particular – Focused and vigorous, unmistakeable and unusual, jewelry from Bunz speaks its own language. George Bunz, the creative developer and founder of the brand goes his own way. A case in point is when he discovered the metal platinum. He developed a passion for the white shimmer and the contemporary aura of the metal, which dazzles lovers of jewelry. Bunz was almost always innovative in other areas as well. He works with diamonds in extraordinary cuts, sets synthetic man-made colored stones and creates fascinating designs with trail-blazing stone settings. However, this is all centered around platinum that Bunz brings into harmony with unusual ideas and design. He has applied his independent design to advancing a modern reduced jewelry style while making this metal popular again that was discovered 29 years ago for jewelry. Various collections such as "Symbols", "Classic Modern" and the "Ja by Bunz" marriage ring join under Bunz' collected brand. There are also "Bunz Montres" for watches, "Décoart by Bunz" and the new premium collection "Passion by Bunz", a line of the highest quality pieces of jewelry. www.bunz.de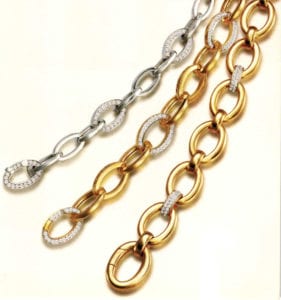 Tradition and innovation – The Pforzheim-based jewelry chain factory Eugen Schofer has been demonstrating that a long history and innovative thinking do not necessarily have to clash for more than 100 years. It has a solid high-tech base and with traditional crafts allowing their 120 highly qualified workers to constantly set the trends with new and creative ideas in gold, platinum, sterling silver, stainless steel and titanium. But they also supply necklaces or watchstraps in all lengths, as yardage and special products for international brands. About 85% of their products are exported these days. Schofer not only does a lot of travelling, they are also active in all of the marketplaces and the foremost international shows. They even have their own sales office in Dubai and they make hand-crafted products in a joint venture in Malaysia. www.schofer.com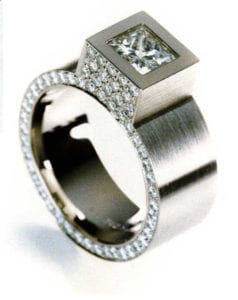 Modern platinum classics are showing the way – The Heinrich + Denzel jewelry production is not only showing the way for platinum jewelry in Germany. These days they do half of the sales with foreign countries. They were set up in Radolfzell at Lake Constance in 1984 and since then have had regular business relations with select jewelers in major cities in the world, although the platinum specialist meets with particularly great approval in North America, Asia and northern Europe. One of their classics is the Vegas ring for a totally new interpretation of solitaire. www.henrich-denzel.com
You can tell how significant creative German jewelry has become by retracing the success story of design at the European Union's largest jewelry fair, Inhorgenta Europe in Munich. It's not just the established big-name suppliers you'll find here, but more than 300 suppliers of unique products ranging from goldsmiths to design-oriented manufacturers of minimum-size series. They learned a lot and did a lot of business in Munich in 2004, although standard-product companies were often in trouble. Shows such as the ones in Munich or Basel are very interested in the international jewelry scene and Inhorgenta has set up a series of schemes for helping jewelry artists to attend. One of them is by creating excellent conditions for joint exhibitions such as "Brand New, New Brand".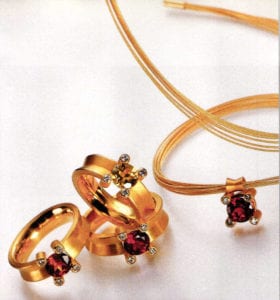 No-setting play with freedom – The Kubik collection is focusing on producing gold and platinum jewelry and a collection of watches encompassing 80 models. Technical sophistication coupled with extraordinary design and high-quality workmanship are the hallmarks of these jewels produced exclusively in Heidelberg. However, Atelier Kubik has been increasingly exporting its pieces abroad for several years and Kurt Kubik is represented in the United States and Japan with his own office. These days, export has passed the 50 percent mark and is constantly growing. German quality and unusual design with a great love of detail are things that meet great interest among foreign customers. One thing that stands off is "no-setting", a diamond with an invisible setting. "Precious Silk" is an extremely fine string for the necklace variation. Unconstrained although bonded, this diamond gives itself up to playfulness with the idea of freedom, held by a chain that clings in unsuspected softness. atelierkubikheidelberg@t-online.com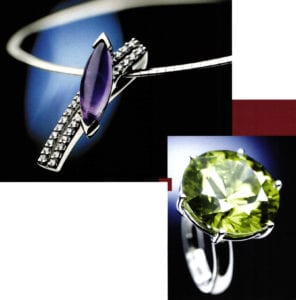 Fascination of shape, color and motion – The hallmark of the Pforzheim-based company Blumer is its fine feeling for the latest trends while keeping with the zeitgeist. This is demonstrated in the latest jewelry collection with intricate motion and extraordinary colors. Their new "Schüttelringe" (shaking rings) from the Pforzheim production plant has caused the international market to stand up and take notice just like its successful collection of colored stones. The latest creation they are working on is jewelry with pearls while gorgeous lens-shaped pearls round out their collection. Blumer also creates innovation clasps with new design that live up to their own high standards. www.blumer.de
The increased interest of foreign design-oriented jewelry suppliers has also boosted attendance at the most important fairs in the world, in particular due to the support the German government and other countries have been giving it. 200 to 250 of the total number of 1,200 foreign fairs are registered in the official foreign fair program of the Federal Republic of Germany, among them many that showcase jewelry and accessories. More than 90% of the sector's small businesses take advantage of this support and without it they would often not be able to solve the financial and organizational problems involved in attending foreign fairs. As surveys show they have much greater problems attending fairs than big companies because the basic expenditures for putting up a good stand make up a greater portion of their available funds, and that's not even mentioning fair and marketing know-how.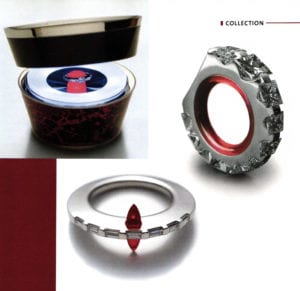 Exciting messengers of your feelings – The Vendetta collection of the Hanau-based Gebrüder Schaffrath diamond production shop is a homage to the most wonderful love story of all times. This exciting collection has captured the magic moments of the love between Romeo and Juliet. Passion and tragedy metamorphose in these creations made of sharp diamond edges contrasted inlay. They created the striking thorn for the ring from a specially cut corundum available in 18 karat white gold or platinum with diamonds with a baguette or diamond cut and they stand for the two hearts brought together in love. Diamonds were worked in the Princess cut of altogether 8.94 ct. for the premium ring (white gold or platinum). The red ring inlay is produced from specially cut corundum matched to the finger of the person wearing it. The extravagant way it is worn on your little finger makes it radiate especially intensively. The premium version of this series is handed over in a breath-taking flacon that beguiles and catches you off-balance with its interaction of light, shape and color. The Gebrüder Schaffrath have been a synonym for exquisite jewels since 1923 with their compelling and iconoclastic ideas. www.gebrueder-schaffrath.de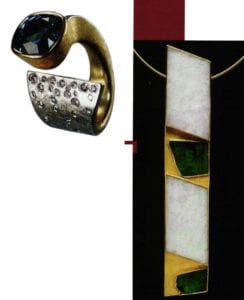 High-profile cosmopolitan art – Michael Zobel is a cosmopolitan whose biographer has been a major force in shaping his personality. Born in Tanger, Morocco in 1942, childhood in Barcelona, Spain, he was trained to be a goldsmith from 1958-1961 and then he studied at the Pforzheim College of Design. In 1965, he worked as a jewelry designer in the studio of Henrys Denys in France. Three years later he returned to Germany and opened a business in Constance. He has been a member of the respected Aspects jewelry designer group for years. A myriad of international awards and prizes indicate that Zobel creates international art in the best sense of the term. He has been contributing to a project supported by UNESCO called the "Great Silk Road – East-West Dialog" for years and he became a professor at the Ntl University of Bishkek in Tajikstan in September of last year. You'll find galleries everywhere, be it in Europe, the Middle East, Africa, the United States or Japan, that have Michael Zobel's jewelry. www.michaelzobel.com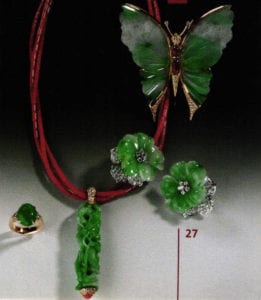 Jewels with international flair – The jewelry of the Pforzheim-based master goldsmith Rudolf Joos are examples of harmoniously designing creations for the aura of precious material such as diamonds, colored precious stones, gold or platinum with great sensitivity. The result is jewelry creations with an exclusive flair in the tradition of the great art of goldsmithing. You can find Joos' work at the fine international addresses, be they in Düsseldorf, Berlin, Frankfurt, Hamburg or Munich. But don't forget Milan, Geneva, Paris, Tokyo and New York. Joos' work is so highly respected, particularly among the Japanese who thirst for quality and are geared to design, that he can keep pace with international names such as Harry Winston or Bulgari. www.rudolfjoos.de
The main idea behind all these expenditures is supplying customers with information on the specific sector, market and trade fair situation abroad. This is done by "Ausstellungs- and Messeausschuss der Deutschen Wirtschaft e.V" (AUMA), the "Bundesagentur für Außenwirtschaft" (bfai), foreign chambers of commerce and industry and trade fair companies collecting information and preparing presentations. The internet portal www.german-oavillon.com collects all of these companies in a free internet database including detailed information in the search function. This is where visitors can find the exhibitors' products and services, get in contact with exhibitors and maintain a cross-section of official attendance. It even has a homepage with the languages in the targeted region for advertising for each fair attendance ahead of the event.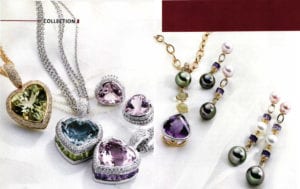 Dazzling combinations of precious materials and colors – The Buchwald collection and its unique jewelry are increasingly high-profile with their new creations. From year to year, Angela Buchwald is getting better at putting her own personal stamp of contemporary color on her classical and modern line of designs. The hallmark of her collection is a wide range of color themes combined with a daring and unconventional way of combining precious materials and colors. That makes this timeless, precious jewelry stunningly diverse so that it can be combined with high-quality fashion. They have been producing jewelry since 1913 and now they divide up their selection of top jewels into two areas: The Butchwald Collection has small series with diamond, colored precious stones and jewelry with pearls. The other sector features unique pieces stones or pearls worked in unusual and individualized designs. www.buchwald-germany.de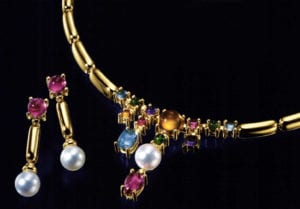 Diversity in colors and shapes – The Pforzheim-based jewelry company Emil Hasenfratz founded in 1946 features its Hasi collection sold throughout the world with sets for flexible arm and neck bangles. Classical bangles are a part of this company's tradition. These two groups of goods are combined under the "Flammenpunze" trademark and lovers of platinum jewelry will find major gratification in the "Stars for Heaven Collection" with its link to oscillating enamel. You can find a wide diversity of creations with diamond, colored stone or pearl settings in the Hasi Diamond Collection. Their high level of quality both in precious stones and workmanship has spread the company's fame as the preferred supplier for the top addresses for jewelry in the world. www.hasi-diamantschmuck.de
Attending fairs is more important today than in the past for a lot of companies in the present economic situation, Companies with their headquarters in the Federal Republic of Germany, their branch offices or agencies with fair materials in Germany or German branch offices abroad or manufacturing with German licenses are eligible for applying for these funds. Attendance is essentially supported in the form of joint company stands, special shows or information stands.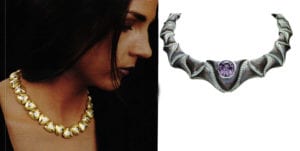 The magic of enamel jewelry – Ingo Henn is located in London after years of training and working in various countries such as Italy. He created his own high-quality jewelry line, combining rare jewelry-making techniques, such as hand-engraving and enameling, with high-quality gemstones, cut by the Henn family in Idar-Oberstein. Henn of London creates pieces of jewelry that combine colored gemstones, diamonds and enamel. The colors and gradations of the enamel wither contrast or complement the unique color of the gemstones used. The pieces are all hand-engraved and show many different textures: moving lines, feathers, hammered structures and many more. A great advantage is that the designs, the structure of the enameled sections and the colors are interchangeable. www.henngems.de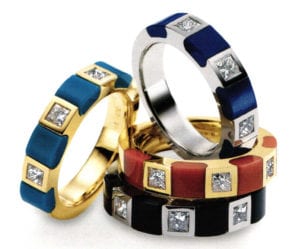 Quality, design and diversity – Guthmann + Wittenauer was founded in Germany's jewelry center Pforzheim in 1910 when the last century was still young, and since then it has been the first address for translating a maximum of creative ideas into reality at a good cost-to-benefit ratio. With more than 150 employees, G+W is one of the foremost suppliers of gold and silver jewelry for Germany, Europe and overseas featuring all varieties of styles ranging from the traditional classic to the latest trend. No-compromises quality control is at the end of a modern production process guaranteeing maximum quality. Its portfolio encompasses 800 articles in silver and gold jewelry updated by 600 new items on an annual basis. www.gw-jewellery.de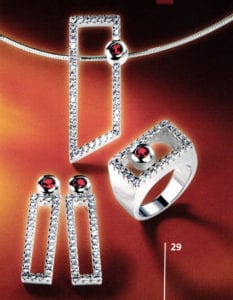 Colors to combat everyday grey – The combination of colored stones with diamonds is unmistakable and striking in the new rings from Leo Wittwer from Pforzheim, Germany. Leo Wittwer has had his headquarters there in 1920 where it was founded. In the 80's, Reiner Maier took over the company and started establishing the features typical for the collection. Their elegant and restrained jewelry is always magnificent, but never garish. The designers at Wittwer know how to create that special effect with precious stones and pearls while constantly launching new trends. Wittwer even designs and produces individualized creations together with the jeweler. That only works because the jewelry is created entirely in Pforzheim from design right down to production. About 60% of these pieces go to foreign wearers of jewelry. Leo Wittwer is geared for international activities and has its own branch office in the United States and sales offices in Japan and Dubai. As a matter of fact, there's hardly any country where you can't buy Leo Wittwer jewelry these days, as Frank Maier contends. And he ought to know, because he's a member of the management board along with his father Reiner. www.leowittwer.de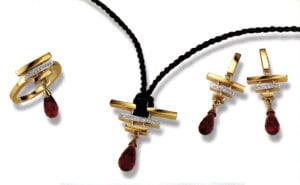 A touch of the exotic luxury – The set of jewelry from the Pforzheim-based Breuning radiates with the glow of exotic Far-Eastern cultures and exclusive individuality. Yellow gold with diamonds and genuine Madeira citrine were combined to create a compelling composition that makes apparent how beautiful life becomes when we have a touch of luxury. Franz Breuning founded this company in Pforzheim in 1927 along with six associates, and just ten years later there were 80 employees. By purchasing other companies in this sector, it had enlarged by 1967 to become one of the largest jewelry producers in Germany with more than 700 employees. Today, Marcus Breuning and his half brother Thomas Schubert manage this family company in its third generation and they also have a subsidiary in Bangkok with 500 employees. Beyond this, Breuning maintains its own company in the United States and sales offices in Australia, Cypress, France and England. www.breuning.de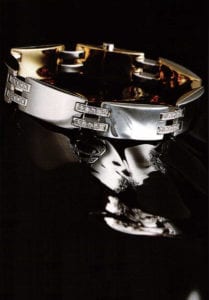 The fascination of exclusive luxury – With an experience of a century, the gold and jewelry manufacturer, Herbstrith of Pforzheim, Germany, has acquired extraordinary skills, which coupled with ingenious creations have made the collection an international symbol of quality and uniqueness. Integral part of its concept for success, Herbstrith combines exquisitely handcrafted work with the use of exclusively fine materials. The collection uses 18 karat gold in all color shades, platinum, fine gold and meticulously selected gemstones. The greatest asset is a master team who is fully committed to this most challenging ambitious crafts. Everything is made in-house and completely by hand. It is the excellence in Goldschmith's artistry, attention to detail and the limited number of pieces which make the chains and jewelry pieces of Herbstrith so unique. Serving individual customers wishes and needs is top priority. www.herbstrith.com

Taste and sensitivity for style – Victor Mayer is among the oldest jewelry production shops in Europe. Since 1890, this Pforzheim-based company has kept faith with its philosophy: Their success is based upon combining precious materials and a high degree of workmanship, restrained aesthetics and a fine feeling for up-and-coming tendencies linked to the rejection of everyday standards. Their designs are geared towards age-old basic shapes whose motivation is to creatively interpret historical and contemporary elements of style. That leaves an unmistakable imprint on the jewelry of this leading European jewelry producer with this iconoclastic combination of tradition and innovation. They have a collection of tools and equipment from 110 years of company history combined with knowledge passed on over four generations enabling them to implement rare techniques in the art of goldsmithing in incomparable pieces of jewelry. www.victor-mayer.com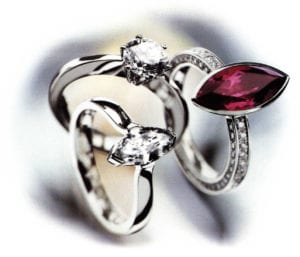 La beauté modern – The major theme of the new collection from the Pforzheim-based Hans Rivoir jewelry production shop is timeless and modern beauty. The charm of their jewelry is to be found in its crystal-clear shapes combining stunning details with classical lines, precious metals, diamonds and colored stones that captivate and flatter you. Rivoir is a family-owned company that has been known for 50 years for careful workmanship in their own production facilities, a diverse collection at the heartbeat of modernity and unmistakably unique works. They have a corporate structure geared towards cost-effective internal production combined with reliability, honesty and trust in customer service that is respected all around the world. www.rivoir.de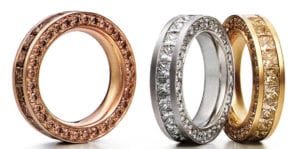 The perfection of timeless beauty – No-compromises quality in workmanship and a flawless appearance are the hallmark of jewelry from Krieger Fine Jewelry from Idar-Oberstein. Naturally warm diamonds, fascinating colored precious stones in outstanding setting of gold and platinum are transformed here into timelessly beautiful jewelry. This is a homage to classical values, good taste and genuine exclusivity. www.kriegernet.com
And this means major savings for exhibitors. For instance, the government subsidizes 80% of expenditures (as much as 5,000 euros) when companies use joint stands to attend fairs, exhibitions or comparable events of special importance, for special sectors or of national significance within the country. Almost 80% of the eligible expenditures for joint stands are subsidized for attending fairs, exhibitions or comparable events abroad and as much as 50% for single stands.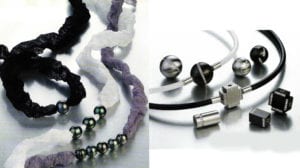 The spirit of pearls – Beauty is a message sent to the human senses. Gellner's new collection of the "Spirit of Pearls" 2003/2004 fills this message with content of ideas and design. Black Tahiti cultured pearls meet white gold and diamonds while fantastic South Sea cultured pearls celebrate a summit with yellow gold and colored stones and pastel-colored Chinese pearls strung on many threadlike nylons are conquering the wrists of young women. The designers of Gellner have an endless reservoir of ideas for making three main streams the basis of their designing: romance, independence and glamor. www.gellner.com
There are not only low attendance fees, but a number of ways to advertise or represent your products including organizational benefits. Public funds and participation fees paid for by the companies take care of services for the fair companies at home and at the trade fair location, the use of the exhibition spaces, general decorations, uniform labeling, free listings in the directory of exhibitors and organizing and servicing the equipment for symposiums and papers. The events proposed for participation are selected at the suggestion of the private sector associations and umbrella organizations involved in foreign trade of the German foreign trade chambers of the German diplomatic representatives, the AUMA and the ministries of the federal government. Other countries have a similar array of export support for their companies.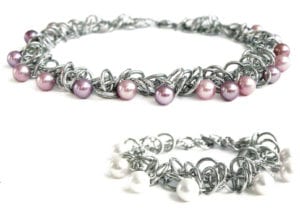 Moving inspirations – Pars pro toto has developed its very individualized style in jewelry with pearls. A dynamic circle of pearls is reflected and interpreted in multi-faceted pieces of jewelry that radiate dynamic motion. Pars pro toto has been active on an international scale since it was set up and it exports its products to Europe and the United States. You can view these high-profile pearl creations abroad at the Basel Fair (CH), Art Twente (NL) and the London Jewelry Fair (GB) that it will be exhibited at for the first time this year. www.parsprototo-schmuck.de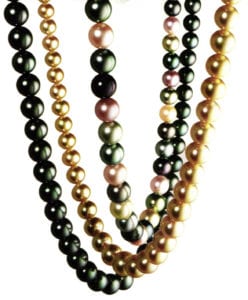 A passion for pearls – As a family company with 60 employees, Schoeffel is among the most reputable companies trading in cultured pearls in the world. This is where a tradition of successful entrepreneurship and quality consciousness are linked to innovative design. Schoeffel is a synonym for prestige, consistency and select luxury. In 2003, Schoeffel was awarded the Couture Trophy for best design for the second time at the Couture Design Award 2003 ceremonies in Phoenix, Arizona. Schoeffel's jewelry demonstrates how fascinating pearls can be. Necklaces with South Sea, Tahiti and freshwater cultured pearls of breath-taking diversity of colors for a radiant liaison are like a shimmering world of miracles. The fashionable styling of these necklaces offers a variety of possibilities for wearing them classically near to the neck or extra long or with multiple loops depending upon your mood or taste. www.schoeffel-pearl.com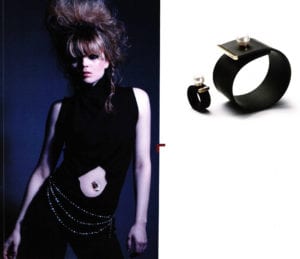 An expression of your personality and more – The Merzig-based German-Japanese company Perlen Yukie is launching new accents and ideas to continue its collaboration with international firms and designers. They tread the fine line between tradition and progress an quality and innovation as expressed by the "Tanphanie" jewelry collections from the "PY original Design & Work" series. A joint project of the goldsmiths Carador together with Stephanie Henzler and Tanja Mertens and Perlen Yukie. The first three product lines of Mechanic, Organic and Culture were already presented at the IJT fair in Tokyo and Inhorgenta Europe. They were followed by the other product lines "Arts of Elements" and "Pearl Catcher" that caught people's imagination. Now their entire collection of cultured peals is being built up as a major component of the company where the constant search for new colors and shapes combined with unusual cultured pearls form an exclusive assortment. www.perlenyukie.de
However, it doesn't make sense to lump into foreign trade without being prepared. You can't force exporting lust because sagging domestic demand causes domestic business to be sluggish. That is the reason why the first thing you need is information in order to answer a couple of questions. They start with asking yourself whether your portfolio has good chances of selling abroad. Or, is the market you're targeting the right one? And, how do you get in contact with the right business partners in foreign countries or in Germany? Don't forget something else that is especially important to small businesses, namely how you can hedge yourself against loss of payment. This is what is known as the APG Light ("Ausfuhr-Pauschal-Gewährleistung" or export lump-sum warranty) for small businesses. This is a way to cover the short-term risk of payment and low export volumes that are tailor-made to the needs of crafts businesses and it's very popular.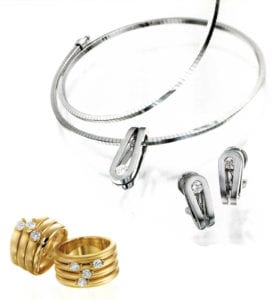 Jewelry companions for every situation – Since 1879, the Pforzheim-based company Stockert has belonged to the Stockert family as a guarantee for extraordinary jewelry creations. Today, Bernhard Stockert is in charge of design while Christian Stockert ensures that the exquisite collection is positioned internationally as the sales director. They produce jewelry with a unique character in limited small series and individualized singles placing them in a select circle of jewelers in the world today. They make and maintain contact to the trade fairs in Vicenza, Basel and London. www.stockert.info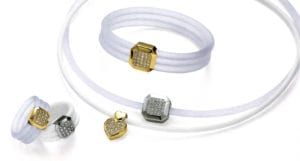 A style in a class of its own – The jewelry from the Pforzheim-based Cédé has been showing the way for decades in the market for modern jewelry design. With its up-to-date vernacular of shapes, it demonstrates that class and modernity don't clash, but are simply the extension of design and talent. The Cédé collection also meets with approval in the United States, Japan and Europe due to its outstanding quality and flawless workmanship. www.cede-design.de www.coge.com
Developments such as Internet and cheap airline rates have made it easier to exchange views among artists, designers and the public internationally. Beyond this, the age of the lonely genius sitting alone in his (or her) studio is long since past and artists and designers are starving for contacts. Artists work together with one another these days. They exchange ideas and are always on the look-out for new materials, techniques and methods as well as companies or persons who can export products or components. They're looking for international platforms to be able to present themselves or other persons from this world. The result of these phenomena is global jewelry and global design. In jewelry design, they all speak one language that can be understood everywhere, regardless of whether the workshop where work is done is in New York, Tokyo, Barcelona or somewhere in Germany.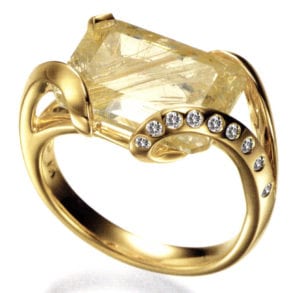 Nina Ricci – homage to women – The new jewelry collection of Nina Ricci jewelry is just as feminine and  vibrant as the latest fashion of the Paris couture establishment. It is serviced by the Birkenfeld-based Friedrich Stahl GmbH and its collection is inspired by the signature of the young Swedish fashion czar Lars Nilsson. He rejuvenated this traditional trademark at first go while maintaining its style and sophistication. You can wear pendants, ear jewelry, bracelets and rings as dazzling single pieces or to complement the strengths of complete sets. Shimmering rose-quartz, amethyst, citrine or fascinating rutil are the hallmarks of this symbiosis of precious metal and jewelry stones. www.stahldesign.de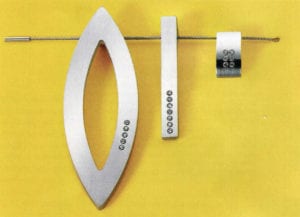 The vernacular of stones – A gravel stone can become a precious memory with special significance if collected at the beach or when taking a mountain hike. Up to then, it has a long journey behind it being formed in brooks, rivers or even the ocean. The goldsmith Vitalis Kubach with her studios in Bad Münster am Stein and Wenkbach near Marburg in Germany interrupts this forming journey, cuts up the stone, hollows it out and lines its insides with leaf gold. This transforms it into a river stone that is totally unobtrusive on the outside while with its gold-plated inside it becomes a piece of jewelry providing space for storing special things. For some people, it's even a place for storing their souls. Vitalis Kubach, born in Bad Keuznach in 1968 and a graduate of the Idar-Oberstein College of Applied Sciences, works as a goldsmith on both metal and stones. She doesn't just think of her work as objects. Instead, she would like to use her objects to mediate between the visible and invisible world. www.vitaliskubach.de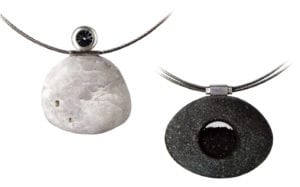 A fine feeling for the zeitgeist – Founded in 1903, Quinn Scheurle is among the oldest companies in Schwäbisch Gmünd, the traditional city of gold and silver. This also demonstrates the fact that tradition has a future. The Quinn jewelry collection is genuine jewelry in gold, silver and stainless steel that radiates in the signs of the time and translates trends into reality. The designers can profit from the entire range of jewelry production from traditional goldsmith work to state-of-the-art computers. They not only sell their products in Germany and Europe, they also export an increasing amount overseas. You can find Quinn at the major jewelry shows in Munich, Basel, Hong Kong and Las Vegas where you'll have the ideal opportunity to get to know this jewelry trademark. www.quinn.de
If you want to find out what's happening in the international jewelry business, you cannot only profit from Inhorgenta, but also avail yourself of the International Craft Fair (also in Munich). Anybody having anything to do with jewelry be it a gallery owner, artist, collector or just a museum crawler, loves the special jewelry areas at the IHM because this is where international liaison takes shape by people exchanging views across borders. Both visitors and exhibitors come from far away, be it North America, South America, Canada, Japan, Australia, South Africa, Korea, Vietnam or Europe. It may be a disappointment to some exhibitors to see their work exhibited alongside of all those other competitors they might not have selected themselves. But, this confrontation also contains a charming element that major established names are taking advantage of more and more.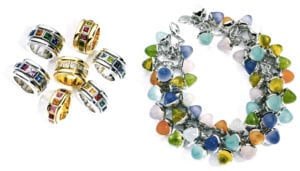 Fresh ideas with a major effect – The Tamara Comolli Fine Jewelry Collection has found major recognition all over the world last year. Their international and regional advertising campaigns for their designer collection with its fresh style have caused consumers to sit up and take notice. Single trade partners from all over the world take advantage of their innovative, fashionable and quality jewelry to underscore their own notoriety. Tamara Comolli pieces are to be found in the shop windows of the best jewelers all over the world today and they are expanding with new ideas and strategies. The company's headquarters is Germany, although they do production of pieces in their Milan studio. They have a branch office in Miami, Florida in the United States, where they also service Canada and the Caribbean. Each of Tamara Comolli's spectacular jewels is numbered and has her personal signature. www.tamaracomolli.com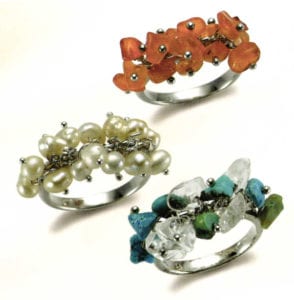 High-quality stylish products with an element of fun – The Pforzheim-based jewelry factory Matrin Guthmann founded in 1906 has become an important business partner for numerous dealers in Europe, the United States and Japan for starter pricing. That's not just because their quality of design is setting the pace in this sector. They are constantly adding new jewelry ideas geared to the latest fashion trends. A case in point for their innovative nature is rings or earrings that change their appearance every time they move since each and every stone is mounted individually. They work on sterling silver with nothing but genuine stones and pearls. www.guthmann.com
There were 330 goldsmiths from 28 countries participating in the competition for the Special Jewelry Show in 2004 at the IHM and there is a different juror every year called upon to make the selection. In 2004, it was the globally recognized goldsmith Professor Hermann Jünger from Pöring near Munich who made the decision. He chose 62 goldsmiths from 21 countries from 2,500 photographs.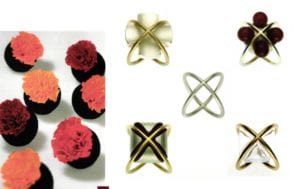 Surprising characteristics and ideas – Watches, jewelry and packaging from Claudia Schäfer make you want to touch them and try them on. The pieces she has created in her Formwerk Design Office since 1996 speak a universal language with ease of handling and jettisoning all non-essentials. These surprising characteristics and ideas for mutability arouse the discoverer in you, making it a joy you experience in every day life just to possess Claudia Schäfer's artistic creations. www.cschaeferformwerk.de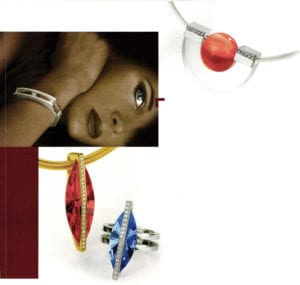 Moments of joy – Moments of joy is what the Bernd Wolf Collection is all about in 2004 and it has found a home with more than 300 Bernd Wolf dealers throughout the world. Moments of Joy is geared towards today's fashion trends where carneol ideally matches champagne, beige and brown tones in stylish orange. Root corals, pearls, lapis lazuli and onyx are Bernd Wolf's front runners that have long since become classics in his assortment. Innovative stone cuts developed by Bernd Wolf give his collection that unmistakable touch. Incidentally, Bernd Wolf is putting on a photography competition under the theme of "Women of Joy". www.berndwolf.de
It is the mixture of old and young, mature design and the experimental search for new and interesting shapes that make this exhibition so vibrant, revealing a wide variety of different ideas while arousing the beholders interest. What makes this 45-year-old international jewelry show so interesting is the fact that ambitious jewelry artists identify with it by documenting their desire for contemporary design.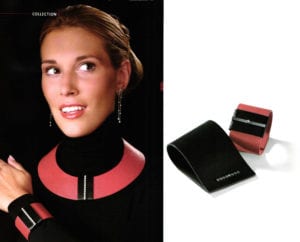 Perfect harmony of shape and material – The company produces a wide and wonderful collection of platinum jewelry, the latest to accentuate fine Kobe or goatskin leather or a combination of Nile perch and Kobe leather. Most of the work is handcrafted, but ultramodern techniques are used because the pristine surfaces mean that even the smallest components must be perfect. Helene M. Apitzsch is a specialist in platinum jewelry – and it shows. Her pieces are designed specifically to emphasize the purity and cleanness of platinum, the metal which she values above all others. Helene founded her company 25 years ago and has been marketing her jewelry internationally for about 12 years, with an intention to extend her global activities. www.helene-m-apitzsch.com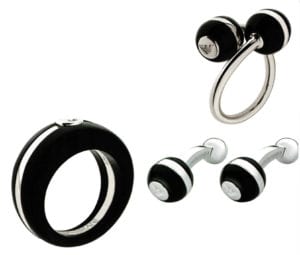 Variations in black and white – The pieces of the Emporio Armani Gioielli collection match the black-and-white fashion trend while bringing in natural materials such as onyx, sterling silver, white topaz stones and blackened silver with the colorful accents of jade. The Armani Group is among the leading fashion companies in the world numbering 4,700 employees in 13 factories. Its jewelry collection is distributed by Fossil Europe. www.fossil.com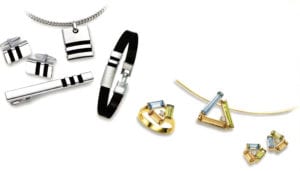 With gold and silver en vogue – Friedrich Stahl from Birkenfeld gives gold a lot of space this year with enrapturing jewelry sets in pretty feminine shapes. Soft lines and flattering ornaments, hearts, drops or borrowings from classical Paisley patterns all look seductive and sexy. Stahl's sivler jewelry is as diverse as ever while brilliant colored stones in pink, blue, violet and green are forged into radiant eye-catchers for necklines, hands and ears as a synonym for optimism. There are also jewelry stones in tender pastel colors or shimmering mother-of-pearl for flattering accents. www.stahldesign.de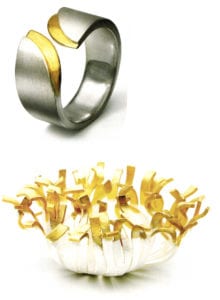 The great art of crafts – Manu's name also its program. Every piece from Manu's Hameln-based jewelry workshop is made by the hands of qualified goldsmiths. Its portfolio centers around silver jewelry with fine gold soldering in small series. Crystal-clear shapes dominate their design while stones set the pace with jewelry without putting themselves on center stage. The major portion of the collection is the domain of designer Ilse Ebert. www.manuschmuch.de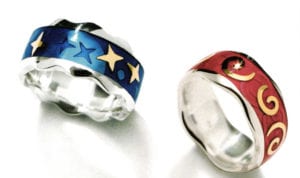 Impetuous, unconventional and innovative – Their name is their coporate philosophy: zebras can't be tamed; they're impetuous, unconventional and unstoppable. Since 2000, Helmut Klysch, the innovative designer and CEO of Zebra, will be creating a multifaceted range of products. Zebra's collection strategy is constantly searching for new ways and finding the path not taken. A case in point is his "Atlantis" line with new design ideas and formulas resulting from grappling with shapes and proportions. Reduction, harmony and balance along with willingness to dare something unusual are the attributes of his designer philosophy. A mixture of fashion and contemporary trends are the hall mark of his style and impulsive individual pieces develop into the conceptual idea for a collection. The result still bears the imaginative signature of the design-sensitive Helmut Klysch. www.zebra-design.de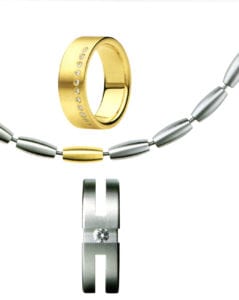 The force of unadulterated aesthetics – Xen is jewelry with an unmistakable philosophy: material and shape reductionism combined with utmost sophistication. All of its proportions are in a direct relationship to one another, making it a design that is understood and loved everywhere in the world because purism, purity and honesty are eternal values. Jewelry and watches from Xen are made of the highest quality materials such as nickel-free antiallergenic stainless steel, 18 karat white or yellow gold with precious diamonds in excellent Wesselton-vs quality selected according tothe most stringent criteria. Xen sets the pace by refining stainless steel with cultured pearls and very rare black jade combining bicolor with diamonds. www.xen.de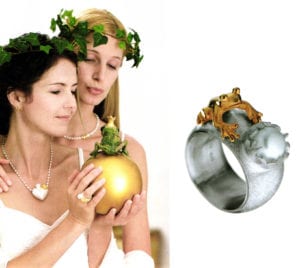 Desire to dream and compose – The lines of jewelry from Drachenfels in Pforzheim arouse sensual forces in contrast to the geometric constructivism where reductionist aesthetics and technical perfection dominate. The desire to bedeck oneself combined with a healthy dash of self-confident extravagancy as the trademark of the designers Franziska von Drachenfels and Stefanie Harer in charge of the Drachenfels line. The materials they prefer for their collections are sterling silver and gold for translating the ideas they get from the ancient world, the Middle Ages and the baroque period into the present. All of the stones and pearls they process are genuine. The special thing about them is using powerful red or blue lacquer, which is usually used for glasses, that is burned into the metal in various steps and then polished and ground. The names of the 50 sets such as "Dragon Heart", "Froschkönig (frog king)" or "Inferno" are an indication of the enjoyment they have treading the fine line between kitsch and opulence. Eight to ten new sets consisting of rings, chains with pendants and ear and arm jewelry that causes controversy, but that never bores you with its fresh ideas. www.drachenfels-design.de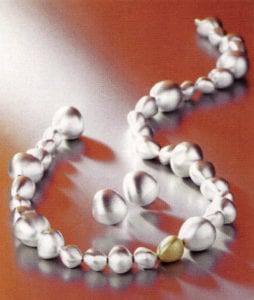 The elegance of crystal-clear shapes – Owner and designer of Tezer Design is Sema Sezen. She was born 1960 in Turkey and moved to Germany in 1985. In 1992 Sema launched her collection in Frankfurt am Main which has today grown into a much soughtafter contemporary designer range of both silver and gold jewelry. Her collection can be found in selected retail outlets throughout Europe, Japan and the United States. New collections are launched each spring and autumn at international jewelry shows throughout the world. Sema creates a contemporary design for women who wish to underline their own personal style with a piece of jewelry that grows into their hearts as a personal classic rather than some trendy product that can often only have seasonal appeal. As stated, Tezer designs are available in sterling silver, 14 and 18 karat gold. www.tezer-design.de
The beauty of perfection – After being founded in 1885, the Pforzheim-based company Abel & Zimmermann quickly became a well-known specialist for necklaces and straps and one of the most called for partners for the best jewelers anywhere in the world. Hollywood stars, crown heads of state, the beautiful and rich continue to be this production plant's clients, that now belongs to the EganaGoldpfeil Group. They're not just successful because Abel & Zimmermann is particularly glamorous, but because Abel & Zimmermann is particularly glamorous, but because what it features is among the best on the market. The Pforzheim-based experts are constantly setting the pace with special pieces of jewelry such as their open neck or arm rings with a harmonious combination of fuctionality and aesthetics. Their flexible neck or arm rings with their circular and square profiles will dazzle you with their timeless and crystal-clear vernacular of shapes and their elasticity makes them very comfortable to wear. That makes jewelry made of 18 karat gold and sparkling brilliants almost a part of the wearer. www.abelzimmermann.com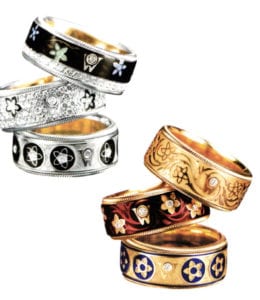 Precious blossoming dreams – The leitmotif of Wellendorff's philosophy is bringing across timeless values. That also applies to the poetic blossom motifs of their new Romance and Feelings collection. The prism of colors plays with the moods of days and dreams. The rotating inside ring is a whimsical element on the highest level that underscores the art of goldsmithing. These blossom motifs from the rings dazzle you with the way yellow and white gold interact with shimmering enamel and the play of light on diamonds. The art of goldsmithing with the signature of brilliant W, the signet of the internationally known and respected Pforzheim-based Wellendorff production combines emotions with the highest quality, imagination and wearing ease. www.wellendorff.com