The most copied and still a hit: the pearl necklace "Galaxie" by pars pro toto puts its tenth birthday behind it and seems more than ever to have the makings of a classic.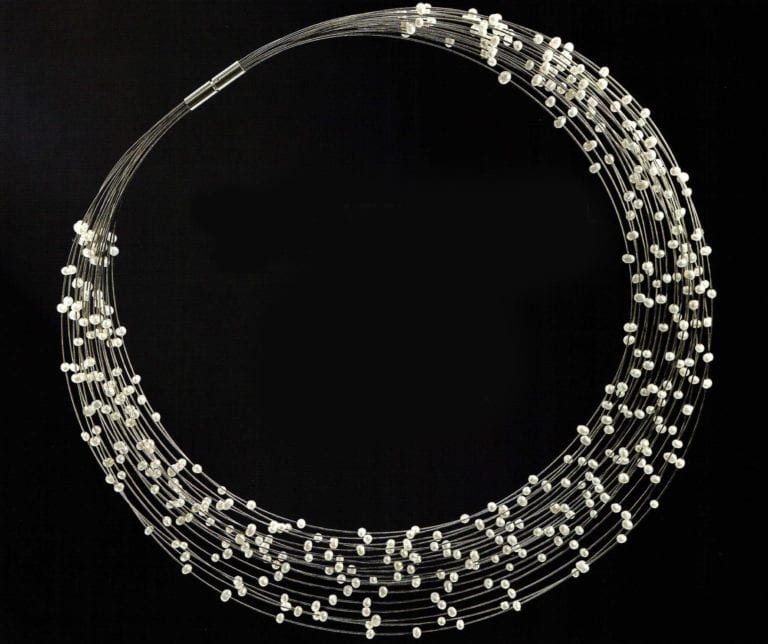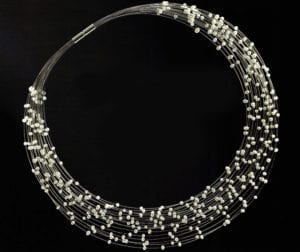 The necklace "Galaxie" is one of the first jewelry pieces that Birgitta Schulz and her company pars pro toto showed at their first trade far exhibition about ten years ago. And it is one of the first jewelry pieces that earned pars pro toto its renown Now – a whole decade later – "Galaxie" is still a big seller within the collection of over 1000 different products offered by the Freiburg-based company. The special thing about "Galaxie" is the deliberate "strung apart" nature of the many tiny pearls that are strung on thin steel wire and set with a certain distance between them. As if the viewer were gazing into a starry night sky, the necklace's many small Chinese freshwater pearls gleam like a glimpse of the galaxy at the wearer's throat. This design now remains as popular as it once was fresh.
Stripped-down without being austere, with a certain amount of poetry without seeming too decorative – such is the style and the hallmark of Birgitta Schulz, who develops all of pars pro toto's designs. She also makes each individual prototype herself . After the galactic necklace came collections such as "Zero," "Elly," and "Lilith," each jewelry line composed of necklaces, bracelets, and earrings, and each suitable for combination with the others. Whether she is working with pearls or aquamarines, or, as a purist, with just steel and gold bands, Birgitta Schulz' sense of form always remains contemporary, clear, and uncomplicated. When asked where she Gets her inspiration, the designer answers: "I always orient myself toward what I have already done and never toward what others do." Unfortunately, she had to admit that the reverse is true and that other companies orient themselves toward her designs and use her creativity to their advantage. But there is something positive even in being copied: imitation is, after all, the sincerest form of flattery.
Ganoksin is sponsored by