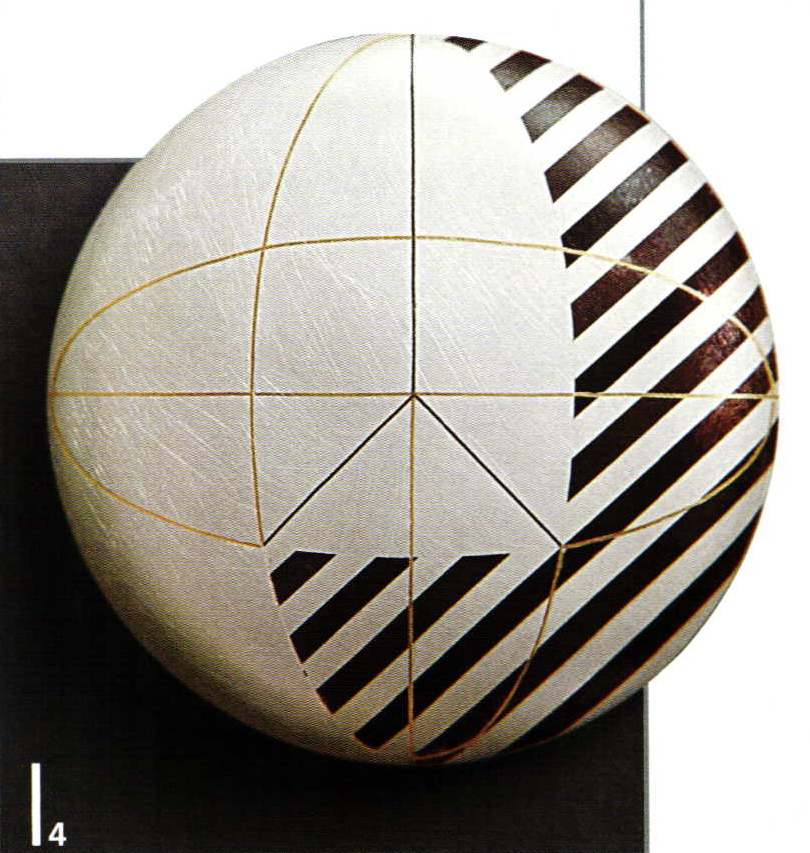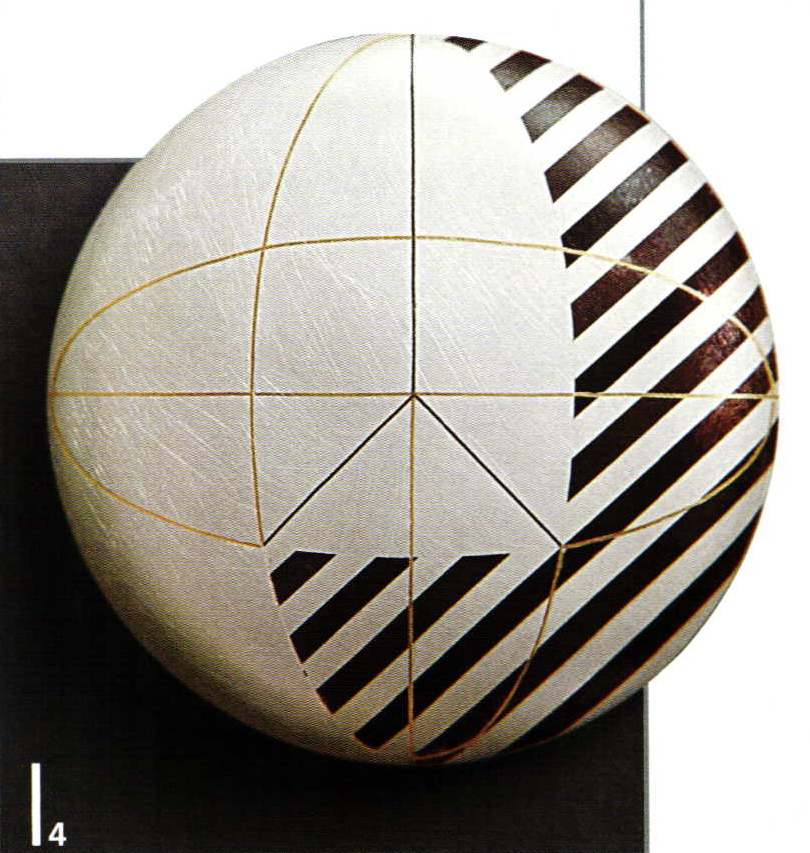 Fritz Maierhofer: Message on the Issues
---
5 Minute Read
This article was originally posted on Userblogs on 2/11/2018.
Vienna-based jewelry designer Fritz Maierhofer is an important pioneer of modern individualized jewelry. As a protagonist of a new style which uses unusual materials, the artist has found a new language along with Claus Bury. Thanks to Maierhofer's teaching work, this style quickly spread and has been accepted by the Avant-garde of jewelry artists in many countries. In 1984, he took part in the Venice Biennale exhibition, making headlines on the contemporary art scene with his works. Once a pioneer, always a pioneer: even today, the 66 year old artist is finding ways of conquering new territories with his 'computer works'.
Brooch, 2005. Corian, silver, magnets. 11 x 9.5 x 1.3 cm
Bracelet, 1974. Gold, acrylic. 8 x 6.7 cm, private collection
Fritz Maierhofer, early 1970s
Brooch, 1977. Silver, gold. Diametre 5.6 cm, private collection
The lively London scene in the late 60s and early 70s was an important trigger in the young goldsmith turning to jewelry design. The Swinging Sixties with its Pop Art and mini-skirts was also characterized by a departure from conventional luxury, focusing instead on post-modern neo-elegance. Born in Vienna in 1941 , Maierhofer completed his master's degree under Heldwein in 1966. The following year, he went to London to work with Andrew Grima where he worked on Omega's jewelry watch collection in 1969.
Yet this was just the beginning of his development which eventually took him in a completely different direction. "I quickly began to ask myself what contemporary jewelry should express, " recalls Maierhofer. "Stella, Lichtenstein, Jim Dine and Trova influenced my work. The contrast of colorful London compared to my gray day-to-day existence in Vienna also played a part. I managed to distance myself from conventional jewelry concepts and gradually developed my own slant. For me, jewelry became a medium which allows you to express something about the wearer and pass on impressions of time. I created my first works in acrylic and precious metals. Color has meant a lot to me since the 70s. Inspired by colorful London, the bright color palette of the advertising artwork in Soho, the lights in Piccadilly and my own jewelry creations, I was able to bring everything together to create a symbiosis of color, gold and silver. Cheap materials such as acrylic were put together with expensive materials."
Maierhofer's friends and acquaintances included other trailblazers of modernity such as Reinhold Reiling, Claus Bury, Gerd Rothmann, David Watkins and Hermann Jünger, thereby emphasizing the plurality of this new movement which was not restricted to a certain style, as with the protagonists of the Bauhaus movement several decades before. It was much more about the direction the individual pieces of jewelry were moving in. The aim was to create a broad spectrum of well-designed jewelry with harmonized colors, functions and materials.
Brooch, 1974. Acrylic, silver, steel, gold. 7 x 7 cm, private collection
3 rings movable into each other, 1998. Eroded and anodized aluminum. 4 x 2.4 cm
Wall hanging with detachable brooch, 1972. Acrylic, nickel. 44.5 x 44.4 cm, collection of the artist
In 1970, Maierhofer moved back to Vienna. His first exhibition was held in Salzburg that same year. Five years later, he bought a farmhouse with his wife close to Artstetten in the southern Waldviertel area and built himself a studio following renovation work. This refuge is important for him as a person and an artist: "For me, working in the countryside means working in balance, concentrating on experiences and reflecting this in one's work".
In 1985, Maierhofer opened a gallery and seminar room for holding intensive jewelry art workshops in Vienna together with three other artists. However, he didn't leave London completely behind. The John Cass College of Art and Royal College of Art invited him back to work with them in 1987 and 1989. During this time, his silver and gold pieces were displayed in the Victoria & Albert Museum, inspired by the architecture of the city. He has also taught at the Jewelry Design Workshop at the Graz Academy from 1991 to 1998.
After initially producing works in acrylic with gold, aluminum and steel, in 1980 Maierhofer began to try out unusual combinations of tin and gold. He was particularly captivated by tin as it is very soft as a pure material and the jewelry wearer can wear the piece in many different positions. Small segments of gold were incorporated into the pieces to hold the jewelry in position. Again, the basic concept was one of contrasting materials and emphasizing the true and not the material value. Tin is flexible, plastic shines with color and gold, like steel, is strong.
Pendant, 1982. Thin, gold. 12 x 5.5 cm, private collection
Sculpture Eschenz/Lake Constance, 1990. Steel, high-grade steel. 3.2 x 0.7 x 1.2 m
Fountain Vienna-Kagran, 1986. Copper, brass, steel, H. 5 m
Ring, 2004. Corian. 6 x 3.4 x 1.8 cm
Maierhofer's approach also requires something from the wearer. His pieces require a certain commitment, an intensive relationship between the jewelry and the wearer. It is much easier to create this link when it comes to painting, sculpture and architecture. The artist therefore also creates larger pieces and sculptures which emphasize the forms of his jewelry pieces. Maierhofer: "People who hang modern art at home and who are surrounded by fantastically designed pieces of contemporary furniture - why should they be conservative when it comes to jewelry? The personal statement will be lost".
Brooch, 1987. Silver, gold. 2 components, each 10.3 x 6 x 1.1 cm, private collection
Necklace, 1997. White gold. Diametre 23 cm, private collection
The days when Maierhofer's works were based on geometric forms are long gone. His new works are much more chaotic or wild like growing coral. But has his image of himself as an artist changed over the years? "No," says the artist, "my works are the result of the influences of time, they reflect experiences, appearances, perhaps also nostalgia in today's world. However, my perception of jewelry has changed over time. I acquire new impressions which I try to translate into art: I also find working on the computer great. It offers you so many possibilities. For me, using computer graphics is an extension of my design capabilities. I use them to try to go deeper into the medium of jewelry, to provide insight and explain a little how jewelry can be observed. Again here: other media and possibilities bring new statements. The goldsmith doesn't just use a file and hammer to refine his work; he can also express his artistic vision on the computer drawing board. Taking a deeper look and gaining new ideas. Computer graphics help me to explore and develop this path in my imagination. This was the case with my last piece of computer work - 'the ring'. These works should enable work to be repositioned and completed in two parts as well as bringing new insight". In 2003, Maierhofer was awarded the title of Professor. He has featured in numerous exhibitions. Maierhofer's works are represented in many museums and private collections.
You assume all responsibility and risk for the use of the safety resources available on or through this web page. The International Gem Society LLC does not assume any liability for the materials, information and opinions provided on, or available through, this web page. No advice or information provided by this website shall create any warranty. Reliance on such advice, information or the content of this web page is solely at your own risk, including without limitation any safety guidelines, resources or precautions, or any other information related to safety that may be available on or through this web page. The International Gem Society LLC disclaims any liability for injury, death or damages resulting from the use thereof.
---
The All-In-One Jewelry Making Solution At Your Fingertips
When you join the Ganoksin community, you get the tools you need to take your work to the next level.
Become a Member
Trusted Jewelry Making Information & Techniques
Sign up to receive the latest articles, techniques, and inspirations with our free newsletter.