Marianne Hunter had been a painter and crafts explorer when she began enameling in 1967. She is self-taught. After 12 years of discipline in the grisaille technique, she turned to color and foils that gave her a feeling of limitlessness.
Her metalsmithing techniques are her own, the necessity of concept driving the ability to execute. Everything about her work is personal; it is driven by passionate yearning. Enamel work has been her only employment since 1967.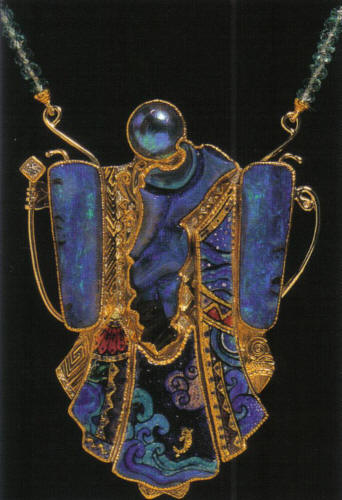 Kabuki Kachina Mondrian Midnight: copper base, 24K and .999 silver foils
Enamel is 2 1/2″ x 2 1/2″
Opals, princess cut diamond, abalone pearl, beads are tanzanite, 22K gold and apatite.
Setting: 24K, 14K, and sterling silver fabricated, embossed and engraved.
Photo by G. Post
My jewelry incorporates elements of enamel on fine silver or copper. The completed pieces range in size from about 2″ x 3″ to 16″. The copper is 18 ga to 20 ga and the fine silver is 20 ga to 24 ga. I begin each piece with an exact drawing to scale. I need to plan because most of my work is a combination of materials and they all have to fit together. The drawing also allows me to plan for placements of gold and silver foils over and under layers of transparent and opalescent enamels. I only make color drawings for clients; otherwise I see the color in my mind's eye. Each piece is a story 1 tell myself as I work.
I still use the Trinket kiln, essentially a hot plate, I purchased in 1967. Each enamel piece takes from one to even 30 firings. I first enamel the front of the piece. Generally, I start with Thompson's #124, 80 mesh, leaded, medium black enamel sifted through a piece of silk stocking held in place with a rubber band or binding wire on a small vial. The first layer is a full coverage, slightly thicker at the edges to protect against burning out. This firing is to orange peel to be able to check for flaws and open pits with a file. The subsequent layers are fired just to maturity, being careful not to over fire. I re-sift and re-fire up to four times until I have a base coat that feels just right.
The images are built up in very thin layers of enamel, applied dry by sifting or by laying on with a tiny knife. I use 24K and fine silver foils cut into precise tiny shapes according to the drawings. The foils are placed over parts of previously fired layers and then covered with successive layers of transparents. The enamel piece requires from 12 to 30 firings because of the thin applications of transparents over the foil.
Since I am contact firing the piece on the surface of the Trinket kiln, I put off counter enameling as long as possible until I feel there is a danger of cracking. To counter enamel, I sift a layer of leftover enamels over a brushed on light coat of AAMCO enameling oil. Originally, I used mineral oil and that worked fine. I do not remember why I changed. I use a flat sable brush to apply a light coat of oil under the enamels and the foils. I tap off the excess enamel and fire the piece, right side up on a trivet. If that is the last firing, fine. If not, each successive firing must be on a trivet with appropriate adjustments in timing. If I have forgotten, in the excitement of the piece, to use the trivet and I have to pry the piece loose from the hot plate, I do it as quickly as possible.
The foil is not added until the design cannot proceed without it. After the front base coat is perfect, I may build up 200 mesh white enamel layers in grisaille, which may then be followed by some areas of foil. I use both 24K gold and fine silver thin foil extensively and cut the foil with a #11 Exacto knife blade. I place the foil on either a piece of smooth cardboard or old postcards with tracing paper on top of the foil. It is important to hold the materials taut and to cut away from where you are holding it. For the large areas of foil, 1/4″ x 1/4″ or more, I pierce the foil a few times with a sharpened needle; I have forced the eye of the needle into the eraser of a pencil. Too many holes will increase the possibility of tearing the foil. The foils are positioned with oil, dried, fired just to fusing, cooled, and then covered with silver flux. The last firing is the final step for the enamels. Since the layers I use are so thin, any stoning etc. would only remove detail and serve no purpose. The "modeling" of the surface, achieved by the layered building up of the images, is an integral part of the overall feel of most of my work.
The metal jewelry work is individually hand-fabricated and engraved. I use 24K for all the bezels and about 90 per cent of the other soldered decorative appliques. I use 14K gold and/or sterling silver for the supporting structure and clasps. Most of my bezels are textured with an engraver to reflect light and emphasize the gold color while adding to the overall richness of the piece. When all the sections are finished and assembled, I engrave on the back of the assembled piece my signature, the number of the piece, the date, and the title with a poem.
My best advice? Don't follow rules (except safety ones). Don't follow me or anybody else! Use information for inspiration for your own experimentation. If your work reflects someone other than yourself, you will have fun as a hobbyist, but as an artist you will be wasting your time. Bring your own voice to the song of visual language.