For Felix Lindner, a goldsmith who was born in Erfurt in 1973 and has lived there for some time now, symbols and idols of our times are pawns with which he plays his creative game of distortion. Metaphors in artistic disassociation create icons of the 21st century.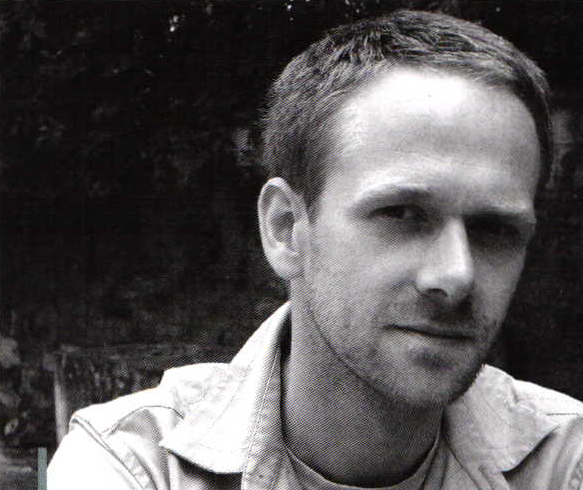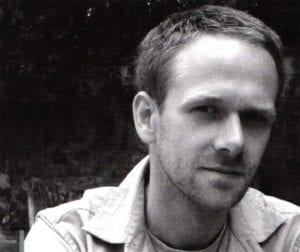 Felix Lindner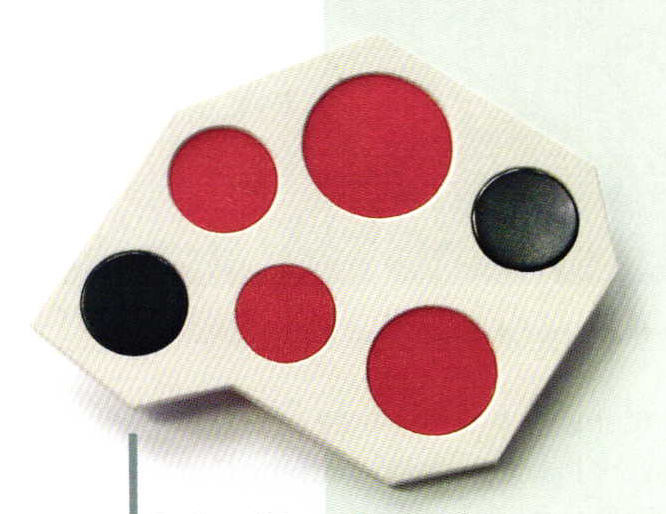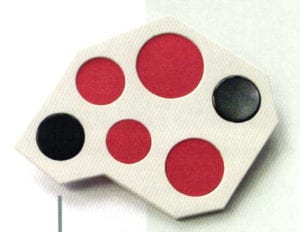 Series of brooches, 2007. Plastic, sterling silver, stainless steel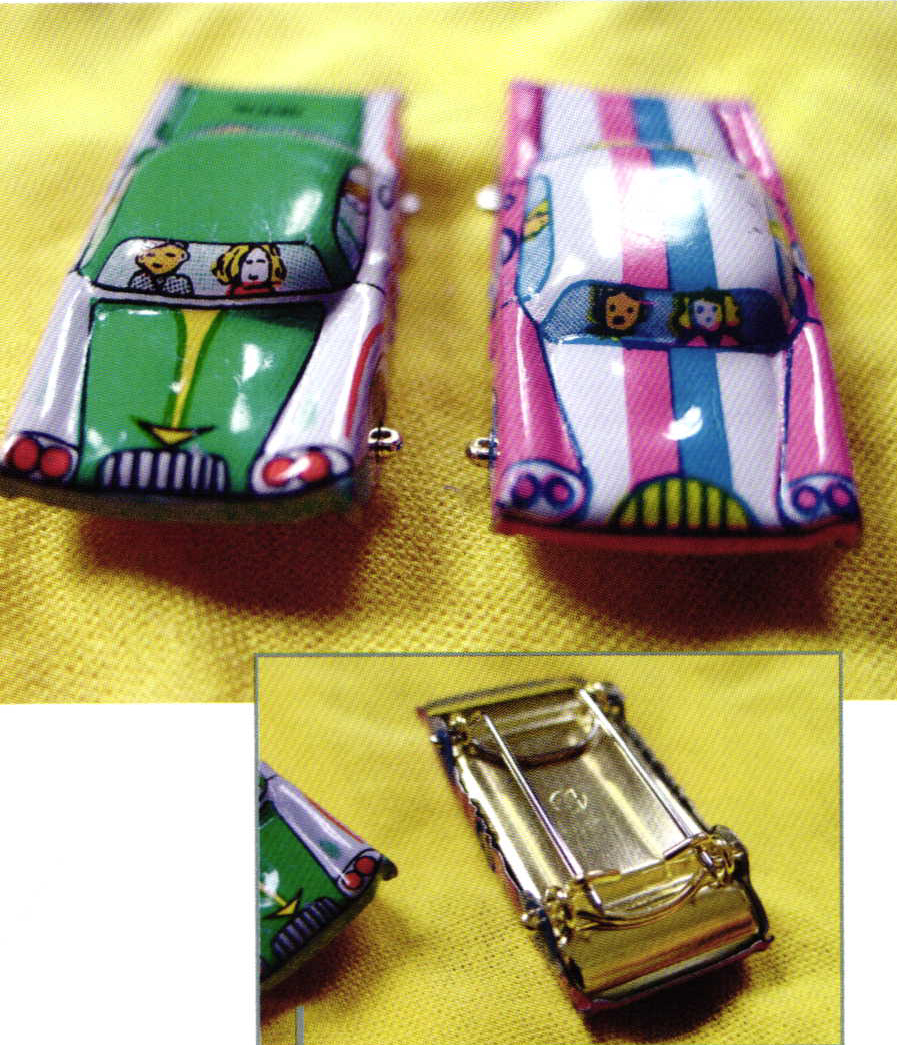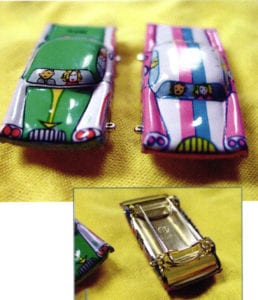 Brooches 'Carcrash', 2002. Tin cars, 18 karat yellow gold, stainless steel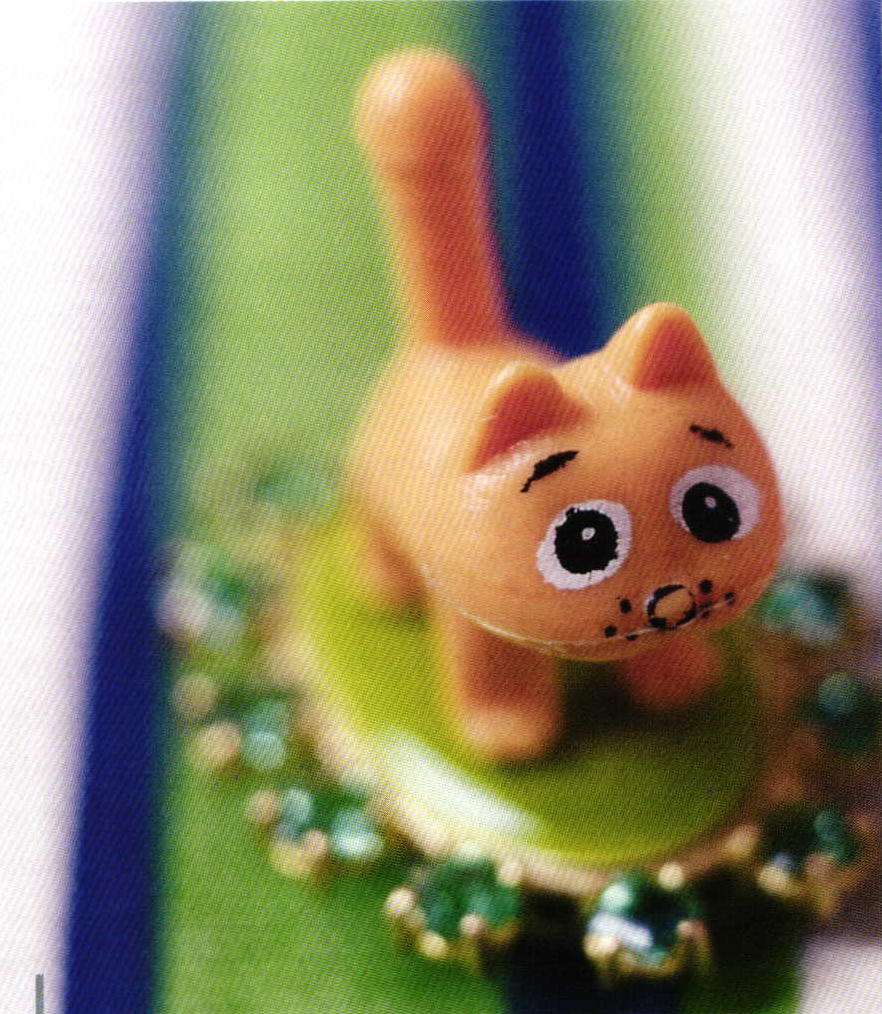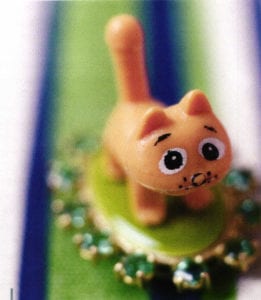 Brooch 'Cat', 2002. Plastic, 18 karat yellow gold, emeralds, enamel, stainless steel
At first glance, it is a naive world of images; but at second glance, it is an extremely crafty selection of striking signs from our epoch and from the artist's experience. Felix Lindner's intention is to underscore what lies behind the facades. His cherry earrings are not lust a reminiscence of childhood days, but also an homage to pop art. Mussels are not simply holiday souvenirs, but can also be seen as the leitmotif of rococo. Contexts, multiple interpretations and focuses are what percolate the work with art status.
Sergio Leone filmed the western 'A fist full of dollars' over 40 years ago. Since then, the genre has been an integral part of the pop culture. The goldsmith Lindner plays with these ciphers equally as with the equivocal title. He cuts out symbols for the urban heroes of the new millennium, means Anna Schetelich. In this, he draws on Plexiglas in radiant colors, not with high-tech laser, but cut out in old school style. The collection 'A fist full of dollars' is linked to the 'Nouveau Classiques' which has been presented in the Gallery Oona since 2002.
For his new works the artist is using pieces out of toy productions. "My aim in this is to develop plastic, now an omnipresent material in jewelry, in an individual manner for my work. The material in the form of toys or toy components should be treated as a neutral material form lust like we find in metal in the form of sheet metal, for instance." The primary selection criteria for the artist were color, surface and dimension. Certain forms and functions of the source material were secondary and even undesired.
The artist selects from the wealth of new things, images, symbols and ciphers that in his eyes possess suitability for jewelry and classic attitudes in a straightforward manner. In this, the passionate goldsmith uses for each piece the greatest degree of crafts care, combining it discretely with precious luxury. He manufactures skulls as a metaphor for the dark sides of life using the sun's metal, the symbol of life. He coats the gold with a flawless, snow white layer of enamel. The gold only shimmers from the depths of the eye sockets and the gaps between the teeth.
A tiny Cadillac or a brooch fashioned from the deposit token with Pepsi logo are fitted with gold base plates, while an aluminum brooch receives an engraved golden clip. This creates insider qualities in a literal sense. In this way, the artist honors his appreciation of codes or logos, which stand as symbols or more likely reduced pictures for an image or a name with a huge machinery in the background. In her essay 'Celebrations of 20th century adventures' Helen Britton writes on this: "Somewhere in the beautifully blurred boundaries of fashion, art, design and old world skill the empire of the New Classics is being built by Felix Lindner."
To a certain extent, he received this task with his mother's milk. "I was fortunate to grow up in my parents house, in my father, Rolf Lindners studio and with the art scene of the eighties. This not only involved regular visits by colleagues from throughout the GDR for various occasions such as the Erfurt Jewelry Symposium, but also various exhibitions in Erfurt, which at the time was a centre for contemporary jewelry in the German Democratic Republic (GDR), next to Halle. And, very important: 1984 saw a visit by Hermann Junger and his wife Jo and students of the jewelry class to my father and Uta Feiler, which led to a regular and friendly discourse." It was a foundation, along with the apprenticeship as goldsmith in the studio of Rolf Lindner.
During his studies at the Gerrit Rietveld Academy in Amsterdam, Lindner received essential ideas from Ruut Peters above all. His subsequent relocation to Munich (1997 to 2003) under Otto Kunzli was not simple initially and raised a lot of contradictions. "With hindsight, however, I can say that the long studies in the jewelry class under Otto Kunzli provided me with a lot of experience and acquaintances. Even if the goals – as I said – were not always my direct choice."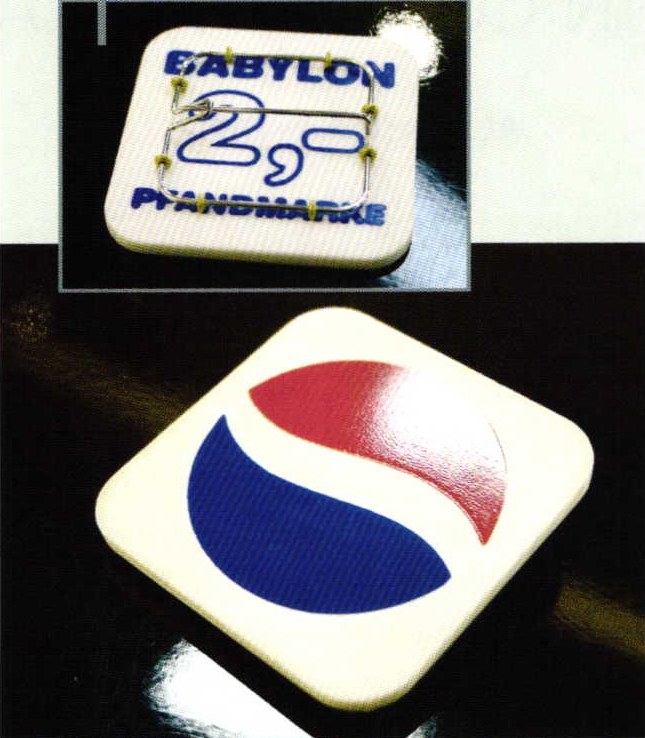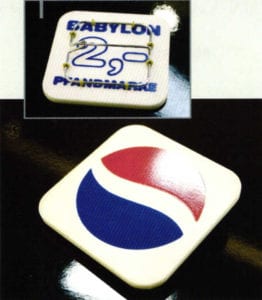 Brooch 'Pepsi', 2000. Deposit, 18 karat yellow gold, stainless steel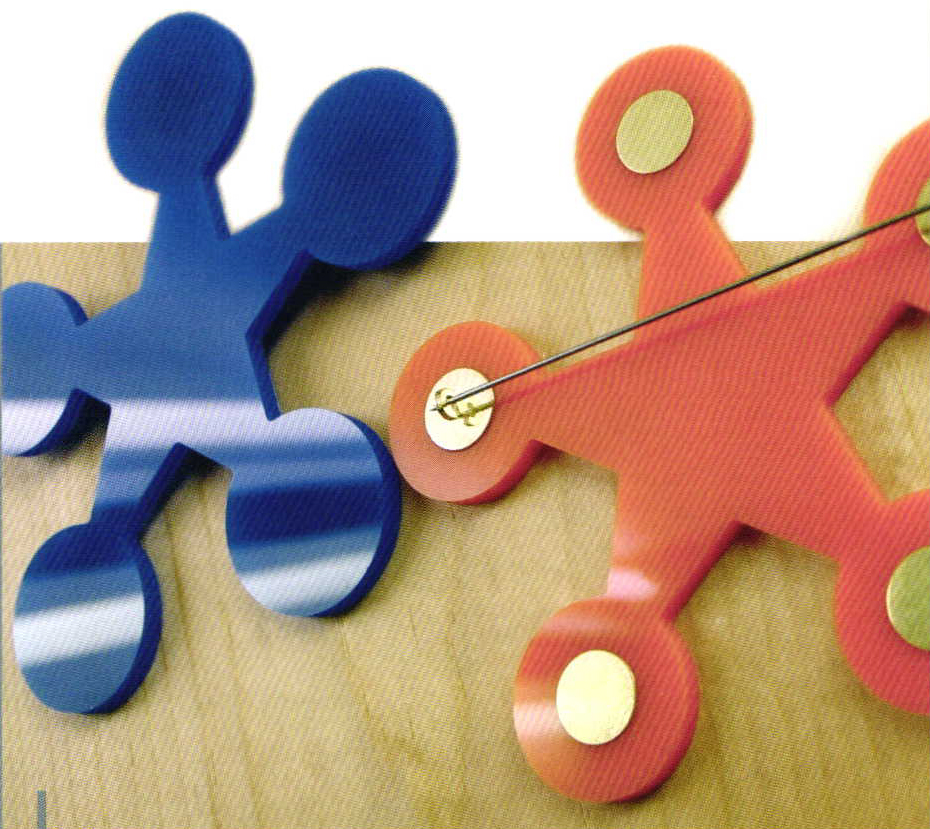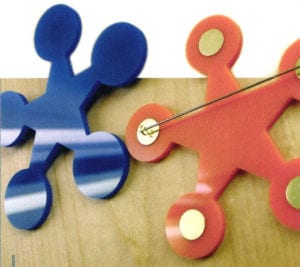 Brooch 'Sheriff', 2005. Plexiglass, 18 karat yellow gold, stainless steel


Brooch 'Couch police station', 2006. Plastic, stainless steel. Co-Editor Benjamin Lignel, Paris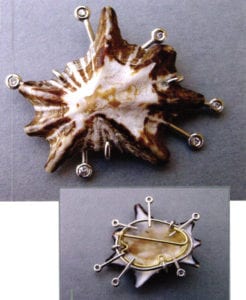 Brooch 'Explosion', 2003. Shell, diamonds, platinum, 18 karat yellow gold
In 2002, he became a master student under Kunzli and, in the same year, City Goldsmith in Erfurt. In 2003, Lindner was awarded the diploma from the Academy of Fine Arts, Munich, and opened his studio in Erfurt in the same year. Additionally, at the same time, he was goldsmith lecturer at the State Vocational College Arnstadt. The artist has been co-organizer at the renowned Erfurt Jewelry Symposium since 2006. Between 2000 and 2002, he spent time abroad in Nice and Paris. He founded the brand PUAH with the French artist Samantha Font-Sala. Numerous prizes, individual exhibitions and participation in shows have elevated the work by Felix Lindner to a state of international renown. He distances himself clearly from a relatively compact scene of jewelry artists, some of whom produce very experimental work and even installations.