The time of seasonal migration is upon the Continent. I am speaking of course of the mass movement of many hundreds of graduates from the myriad number of art and design colleges throughout Europe. Over one thousand will graduate from the United Kingdom alone and as there are no standardized continental academic timetables final degree exhibitions will be on show from early June to late August in most European cities.
The mega-event for British art and design universities and colleges is The New Designers an annual exhibitions/showcase of the best of this years graduates. Seven years old this year, The New Designers is sponsored by various companies and subsidized heavily by the Business Design Centre in Islington. The exhibition brings together an edited version of the national degree exhibitions of the three-dimensional design students from almost every college and university in England, Scotland, Wales and Ireland. It represents the work of over 50 institutions and some 1000 of their current years graduates' work. All this is shown in the wonderful Business Design Centre which is a nicely converted Victorian agricultural building. The exhibition runs from 15 July to 18 July and is a must see to gain an overview of the work of British artist/designers. Most work is on sale and you can also pick-up hundreds of free postcard of the graduates' work. The Business Design Centre is located at 52 Upper Street in the Islington area of London. The nearest underground stop is Angel on the Northern (black colour) line. Sine you will be reading this after the exhibition has ended, note the dates for next year as the event will take place at nearly the same time in 1994.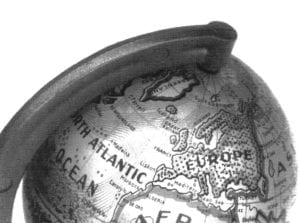 While you are in the neighborhood of the Business Design Centre you might wish to venture to the Crafts Council wherein is held its offices and gallery space. For those of you, like me, who miss the old location near Piccadilly – and the more vibrant and challenging exhibitions which used to be held there – the new Crafts Council might seem to be more than a touch institutionalized these days. Still, the Council represents a wide constituency and must be supported for their efforts in the face of an unsupportive government who famously knows the cost of everything and value of nothing where arts funding is concerned.
Ganoksin is sponsored by
The Crafts Council houses a Picture and Reference Library Gallery and a Gallery Shop and café. Admission is free and they are open from 11 – 6 and on Sundays from 2 – 6. They are closed on Mondays and located at 44a Pentonville Road. This year their summer offering was an exhibition of Contemporary American Quilts – just in time for the summer American tourist influx!
For your metalsmith guidebooks please note that apart from visiting the Design Centre and the Crafts Council, Islington is a vibrant and up-market area of the city with loads of local restaurants, brasseries and one of my favorite remainder book shops, the street from the Design Centre you will discover the hip and trendy Dome Brasserie where you can find the libation for your thirsty throat. Food is average so proceed further up Upper Street and on Theberton Street you will find Café Pasta which is an affordable and pleasant Italian style eatery.
I doubt if Electrum Gallery needs any introductions to readers. Now in its twenty second year this venerable institution, the first of the contemporary jewellery galleries, is still owned, operated, and directed by the inexhaustible (and well-loved) Barbara Cartlidge. Located at 21 South Molton Street (Bond Street Tube) there is a programme of exclusive collection from the German company Neissing.
Ganoksin is sponsored by
In its way, Electrum is a sort of museum of the contemporary artist-jeweller movement of the last 30 years. There are works here by American artists and it should be noted that Electrum hosted the first group exhibition of American goldsmiths more than 20 years ago. You can slake your thirst at the Hog in the Pound, a fine pub on the corner of the street and one that has seen an Electrum post-opening booze-up of every crowd who has appeared to champion, vilify, or trash most of the important names in jewellery of the last four decades. Many an enjoyably vicious review/commentary/argument has erupted here over the years!
Nearer to the West End of London and built at the edge of the Thames is that cultural behemoth the Royal Festival Hall. Running around the building is a pedestrian walkway called Riverside Terrace which will, this year, be an outdoor "World Market of crafts from all over the globe including: jewellery, wall hangings, batik, puppets, masks, clothing, and carvings". This is scheduled to run from Tuesday to Sunday, 12:30 – 7:30, 29 June to 30 August. An easy walk from Piccadilly (one could visit the Institute of Contemporary Art is on the Mall) or take an underground to either Embankment tube stop or Waterloo. Either way one of the world's unique wine bars is to be found at 47 Villiers Street – Gordons' Wine Bar. Established in the 14th century and still damp, mouldy, and dripping from condensation the dining area is lit only by candles and is very much a dank cave at day or night. Great place to lose yourself (or someone else) and enjoy part and sherry from the cask. They are closed Saturdays and Sunday though. With confident presumption Munich dubbed itself the city of contemporary jewellery and proceeded to hold loads of jewellery events during April and May. There were several key exhibitions and surveys and though some of these are too late for listing in this column there are still many establishments to see.
If you are visiting Munich there are naturally, many great museums and collections to be seen, but the Metalsmith community should visit the premises of Turkenstrasse 37 where one will find the survivor of contemporary jewellery galleries, Spektrum, now in its 10th year. It is lovingly run by the knowledgable and very agreeable couple: Marianne Schliwinski and Jurgen Eickoff. Here one will find a permanent collection, rotating exhibitions of contemporary work, and catalogues of international exhibitions. It is often quite difficult to purchase catalogues – especially once an exhibition has closed – and a service such as this is to be welcomed and supported. Galerie Ra in Amsterdam which will be covered in a later piece, also has such a service. As of this writing, there is an exhibition of the work of Michael Becker until early July and Spektrum also represents artists such as Georg Dobler, Hermann Hermsen, Daniel Kruger, Ruudt Peters, Peter Skubic and Robert Smit among others. Spektrum is open from 1 – 6:30 on Monday to Friday and from 11 – 4 on Sundays. A look at the business hours will confirm your possible suspicions: They need the mornings to continue their own independent roles as professional artist/jewelers. I can attest to their expertise, professionalism and on a more personal note, their warmth and friendliness.
Ganoksin is sponsored by
Spektrum, too, is located in an interesting café and independent shops area and there is plenty of choice for the aficionado of coffee, pastries, German beer and wine while visiting the area. It is also close to the student quarter and that wonderful public park, The English Garden. In fact, I find Munich a wonderful walking city – interesting architecturally, its Bavarian history all up-front, full of amenities on a human scale and very clean and elegant. Mind you, MONEY, is writ large everywhere and prices reflect this.
Hard by, also, is the Munich Academy with its eminent jewellery department which for years was lorded over by the great Herman Junger. Many of the pre-eminent artists in contemporary German jewellery have been graduates of the school and now that Professor Junger has retired the tradition continues with the inauguration of a new professor, Otto Kunzli. His many visits to the United States as visiting lecturer, exhibitor, and agent provocateur in the metals community make him no stranger to many of the readers of this magazine. And how about this – if accepted to the post-graduate programme the tuition is state-subsidized (read "free") and you can take up to 7 years to complete your studies. An enlightened government policy what! But be warned, only a very few are accepted from an internationally recruited pool of applicants.
If you have a rail pass you might want to head out from Munich (or wherever) to visit the Schmuckmuseum in the town of Pforzheim. It is the only museum in the world dedicated entirely to jewellery and it has a great collection of historical and contemporary work. Run by the terrifically energetic and competent Dr. Fritz Falk, it is a must see.
Ganoksin is sponsored by
No one needs a reason to visit Paris. It is Paris, plain and simple. And it is still redolent to me of the cultural history of dandies, bohemians, eccentrics, crank artists, failures and the workshop of international modernism. One need only visit the cemeteries of Montmartre of Pére Lachaise to verify this.
Very new to Paris is Galerie Hélène Porée located at 31 Rue Daguerre in Montparnasse. This is France's first gallery dedicated entirely to contemporary European jewellery and when I visited in April it looked very pristine and professional. They are very new and hardly known yet, so a visit and support from readers might be in order. They intend to have one person exhibitions several times a year as well as keeping a permanent selling collection. I wish them luck in these dark economic days and will keep reader informed as to their progress.
Belgium has organized a large contemporary silversmithing conference with exhibitions, seminars, and workshops which will take place in Antwerp and Brussels. Billed as a conference/exhibition on the theme of "the contemporary situation of silversmithery on a cultural-historic, artistic, educational, philosophical, and economical level" they cannot be accuses of lacking ambition. Let's hope they haven't somewhat over-reached themselves. While the workshops and seminars will have already taken place by the time of publication a large exhibition of 30 prominent artists showing hand-raised work only will take place from 10 September to 14 November. Your intrepid correspondent hopes to visit and may report in a future dispatch.
Ganoksin is sponsored by
Norway, that drinker's Hell, home of the $10 beer and the (bad) $42 house wine but otherwise beautiful and friendly country is gearing up for the Winter Olympics in 1994. In Lillehammer there is a government sponsored one week communal workshop for international artists which will result in a collaborative exhibition of work to run from 4 September until 31 October. Participants include Manfred Bischoff, Majorie Schick, Xavier Domanech, Rian de Jong, Hazel Jones, Per Suntum, Konrad Mehus, Lars Sture, Ingjerd Hanevold, and Esther Hekne.
A very large international show on which I will have more details in the next installment of European notebook will take place from January to May next year in the same Lillehammer venue.
Finally, something for the not-forgotten blacksmiths community. BABA is the British Artist Blacksmiths Association and open to anyone to join with several categories of membership. (There are student discounts.) Member receive copies of the illustrated British Blacksmith four times a year and BABA organizes conferences and forge-ins which many American smiths have contributed to or attended in the past. For general inquiries contact: Brian Russell; The Forge, Little Newshaml Winston, Darlington, Durham; England.
Ganoksin is sponsored by
So ends this first installment of European Notebook. There are, of course, many other events, people and places of which to talk but that is for a future time.
James Evans is a Canadian/British citizen who has lived in Europe for almost a decade. He is currently the Head of Metals at the University of Brighton following a teaching post at the National Arts and Crafts College in Oslo. He has been a contributor to Metalsmith, Art Aurea, American Craft, and Kunsthandvekere as well as shown work and lectured in many art and design colleges in Europe and North America. Sometimes he gets homesick.