For someone who began making jewelry in high school and who usually makes work no larger than two feet, working on an scale of six feet is quite an education. My first such work, Along The Way, is a 6 x 6 foot wall relief, and it was the winning entry in the Art-In-Architecture national competition. This competition was the idea of textile artist Ellen Kochansky of South Carolina.
Seeing an open space nearby her newly installed work Kochansky envisioned that space as an educational testing ground where a craft-based artist could try working on an architectural scale. The competition allowed artists to design large scale work (in my case nearly 10 times larger), plan how such a work could be made, and go through the rigors of presentations. [See: Craft Report, February. 1994. "Her Mission: Commissions", by Marilyn Stevens.]
The competition was designed to emulate the processes artists go through for public sculpture projects. Organizers sought craft-based artists to create works for the public domain. A small budget was also set: $5000 for the winning entry, and a $1500 honorarium for 3 other finalists. Kochansky approached and convinced the American Craft Council and the Hines Interests Limited Partnership (owners of the Chemed Center in Cincinnati, the site for the proposed work and proven friends of the arts) to co-sponsor the competition.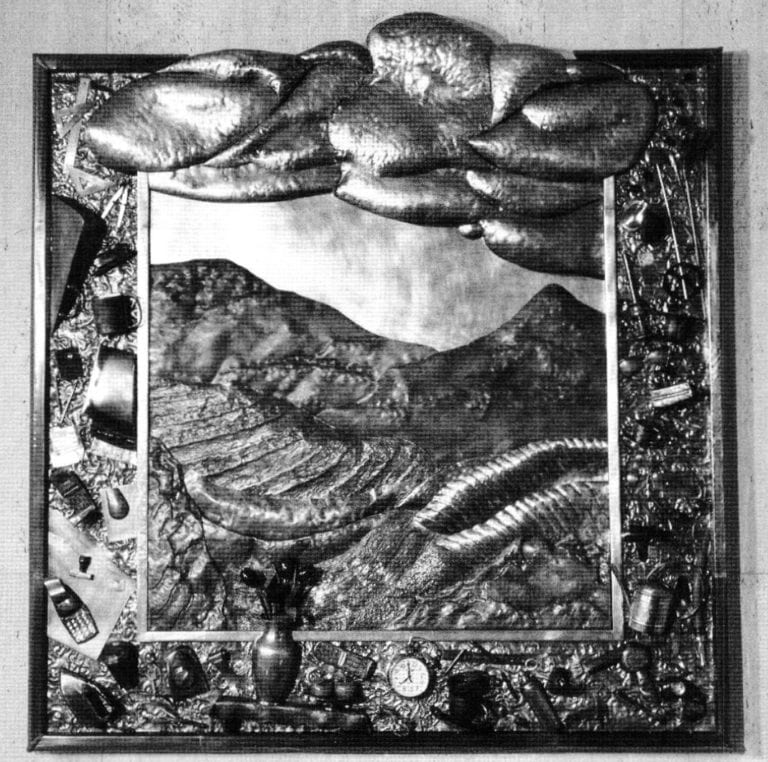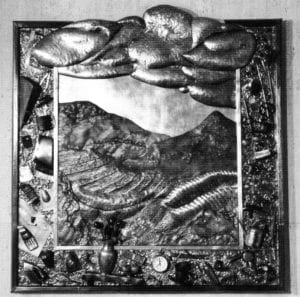 Along the Way, (wall relief), 1995, copper, silver, wood, 72 x 76 x 5"
Over 140 artists entered the competition that would take two years to conclude. The jury pared the entries to 20 semi-finalists. This group was asked to submit drawings, maquettes, and a statement outlining the theme of the work and demonstrating how the material and size would fit the building and lobby location. The jury consisted of Michael Monroe, Curator-in-Charge of the Smithsonian's Renwick Gallery, Toni Sikes, Publisher of the Guild, and Ellen Kochansky.
From the 20 semi-finalists the jury selected 4 finalists, who consisted of 3 textile artists and one metalsmith, myself. The final jury consisted of the building's tenants, voting by ballot after four consecutive three month exhibitions of each of the finalists reliefs.
I was asked several times along the way if I wanted to go through with my proposal as the material and labor costs in what I proposed looked like a loosing proposition for me. While it was true I did not know how many hours I would eventually put in (550), the sheer amount of materials, or the logistics of maneuvering a 36 square foot framework, I did have confidence in the subject matter I had chosen and in my abilities. Additionally, I felt there was no way I would have the opportunity to try a project of this scale on my own, with out a big push. Even if it had the potential to be an economic loss, it would also be an immense educational experience and I would at least have a large work as the beginning of a new direction.
The relief was planned to appear simple on the surface and become more complex with extended viewing. Consisting of two sections, a central image of a landscape with billowing clouds spreads across and out from the top of a frame-like section. Each of the three visible 1 x 6″ sections of the frame are made up of objects and images relating to themes of work, home, and vacation and weekend activities. These sections attempt to express the feeling of hectic, conflicting needs and activities competing for attention. The center section is more of a traditional picture, a generalized, sweeping landscape of hills and sky giving way to large fluffy clouds. Representing the idea of relief from daily work and family life – a theoretical vacation or retirement location – the image could also symbolize a place of calm within, a sanctuary that makes living a busy life more tolerable and healthy. It could also be seen as an image of the peacefulness of life hereafter.
I rendered many of the elements, quite literally, in three dimensions in what could be described as stage settings. Objects, secured to the metal background, jut out and break the plane of the wall mounted piece. At a total of 18 square feet, the frame required some 75 separate elements and groupings. For someone trained as a silversmith it was tremendously freeing to learn to make faux-vessels (even a partial computer console, an iron, and a take-out coffee cup). Paper patterns were researched, drawn, transferred and fabricated into metal. These were then trimmed and re-adjusted with little room for error. For the most part, I used only 22 gauge sheet which required multiple soldering and which was later to be fitted with bolts to secure the forms to the wooden underbase. Only a few elements, such as a brass alarm clock and a wine cup, were pre-made.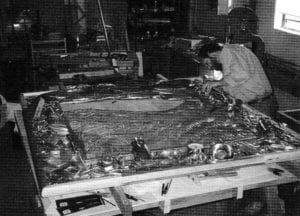 William Baran-Mickle in his Studio
As intricate as the fabrication of 75-plus elements was, the landscape's 20 separate pieces were even more difficult to handle. The longer sections of cloud and sky were up to 4 feet long, quite a challenge in a traditionally outfitted metalsmith's studio. Forming and texturing was complex due to the necessity that all the edges meet without gaps and without being soldered. All of the sections were fitted with bolts and keyed into one another. Given that a 6 x 6 foot relief is largely constructed lying flat, I also needed to frequently climb a 10 foot ladder in order to view the work at its normal distance. This enabled me to make critical decisions concerning forms, textures, and the placement of elements. This need for constant adjustment also meant that adding the fittings to the pieces had to wait until all the forms were complete. The total weight of the metal used to cover the 36 square foot area ended up at 50 pounds. The wooden underbase added an additional 80 pounds to the piece.
All of these factors created the need for factory-like, more process oriented work habits than I have used before. Fabrication, placements, fittings, clean-up, oxidation/patination, sealing all surfaces, and final assembly, normally straightforwardly accomplished on a small scale necessitated a change in methods.
Was it all worth it? Absolutely. Even ignoring the fact that I sold a large and ambitious piece, I learned new ways to approach my work. For instance, it had often seemed impossible for me to figure out where I could use assistance. Directing someone else to complete edges, make shapes, or fit elements together had never really been a question of finding competent help, rather it had to do with handing over some relative quantity of authorship. Considering that the frame cladding reached beyond 30 feet (with 4 precisely angled and measured sides), and anticipating trimming and finishing the edges of 75 plus elements, I could finally begin to see where help could be applied without threatening my authorship and bruising my maker's ego.
As it turned out, the cost of materials came to about $750, so I was actually was paid for my time (but not much considering shipping, overhead, etc.). I have a renewed appreciation for the realities of invoices and the values found in craftsmanship. I was also paid, in a sense, by the big push into new directions which the project engendered. I advise everyone similarly inclined to undertake a shift in scale. My educated intuition tells me there is a field out there to be explored and expanded. Techniques are important, master them and get to the point where they are subservient to your creative expression, then we can all see that ideas have the most value.
William Baran-Mickle is a metalsmith and a frequent contributor to Metalsmith magazine. He lives in Rochester, NY.