Here are some creative solutions for presenting and displaying watches and jewelry in the store. These days, great demands am placed on display materials and packaging. They must be inexpensive, part of an integrated communication system, easy to handle, attractive, and of course be a good creative fit with the design.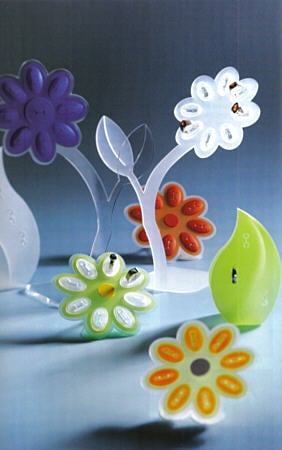 "Flowers'" decorative series by Kling
Many promotional items and packages have replaced the paper bags and small boxes that date back to the mid-nineteenth century. They are a stinking product of civilization, a direct reflection of our society, culture, and history
At the same time, however, they represent the philosophy of the watches or jewelry for which they were made. It is becoming increasingly clear that the package highlights the image of its contents and has a high value as a supplementary marketing strategy. That was also evident during the design contest held last year by the Pforzheim College of Design and Technology in cooperation with Dahlinger company.
Remarkably fresh ideas came into play in terms of design, function, and feasibility under production conditions.
Presenter in fresh colors by Kling
Pneu-Boy® – the "air-bag" for your jewelry by Martin Wittwer
Square: Jewelry packaging made from wool felt by Petra Ohnmacht