CAD Modeling Prong Settings
If you're designing jewelry using CAD, understanding how the piece will be cast and then set and finished at the bench can mean the difference between failure and success. When modeling prong settings, there are a few tricks you can use to ensure the best results for your pieces.
I learned the following rules during an Advanced Stone Setting Class taught by Blaine Lewis at the New Approach School for Jewelers in Franklin, Tennessee — and I've been applying them to my CAD models ever since.
| | |
| --- | --- |
| | When modeling a ring around a center stone, it's best to start by building the head for the main stone first. Once placed, it sets the foundation around which the rest of the model will be built. This is particularly helpful for new CAD modelers who are struggling with the initial placement of the major stone in complex designs, such as trellises, halos, and bypass-style settings. |
| | Use the rule of thirds to help determine the proper upper gallery wire placement and thickness of prongs and gallery wires in a setting. Simply divide the distance from the stone's girdle to its culet by three. The gallery wire should be centered on the middle division, and it should be at least as thick as that measurement. Try to window the culet between the upper and lower gallery wires for the best visual aesthetic. |
| | When looking down at the setting from the top, you should not see the gallery wires. |
| | When setting a diamond, leave about 0.2 to 0.3 mm between the upper gallery wire and the stone's pavilion. When setting a colored gemstone, leave about 0.3 to 0.5 mm, as colored stones typically have bulging pavilions. This extra room allows for protruding irregularities on the pavilion surface of the stone and ensures the pavilion isn't crowded, which typically forces a setter to set the stone higher in the setting |
| | It can be beneficial when setting colored gemstones to create a custom profile for the upper gallery wire. Due to the typical bulging profile of a colored stone, this slight modification enables the setter to remove just enough metal to seat the stone properly without excessively thinning out the upper gallery wire. Considering the scale of the setting, the modified gallery wire will still appear round. |
| | |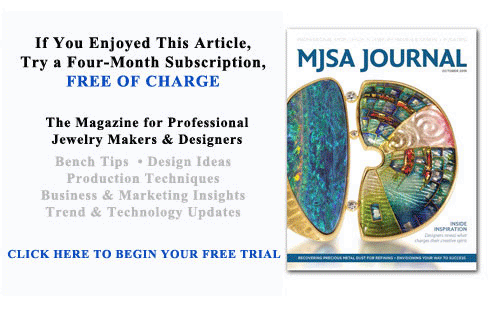 In association with

The award-winning
Journal
is published monthly by MJSA, the trade association for professional jewelry makers, designers, and related suppliers. It offers design ideas, fabrication and production techniques, bench tips, business and marketing insights, and trend and technology updates—the information crucial for business success.
"More than other publications, MJSA Journal is oriented toward people like me: those trying to earn a living by designing and making jewelry,"
says Jim Binnion of James Binnion Metal Arts.