Ganoksin may receive customer referral fees from the companies listed in this page.
Learn more.
One of the best things about a retrospective book is having a window into the mind of an artist, meandering from idea to idea, watching as obsession evolves into recurring theme. Gijs Bakker is arguably the most famous, and certainly the most prolific, jeweler in Holland. He and Droog Design, the team he created with Rene Remakers, embody the classic postmodern stance — ironic, witty, iconoclastic, fiendishly clever, a little arrogant. Gijs Bakker and Jewelry accompanies a retrospective exhibition at the Stedelijk Museum's-Hertogenbosch in 2005. Writer Ida van Zijl has also written about Bakker's industrial designs in Gijs Bakker/Objects to Use (010 Publishers, Rotterdam, 2000), a good companion to the jewelry book, and in some ways, an even more readable, linear chronology. In it van Zijl explains a fundamental attribute of Bakker's work, "[t]he relationship between man and the object he uses or wears."
Gijs Bakker and Jewelry
Ida van ZijlEdited by Yvonne G.J.M. Joris
Arnoldsche Art Publishers, 2005
Check out this book now!
Explanatory notes — "pull-outs" in redcreate a jumpy and discursive document and draw the reader all over the page. Not knowing the history of Dutch design makes the meandering narrative a little hard to follow. But there is a tantalizing reference to the severe design stereotype known as Dutch Smooth, and van Zijl made me want to learn more about the controversy over Calvinism and the humanism of Erasmus. The many footnotes suggest other ideas worth pursuing. A reference to Marjan Unger's survey of Dutch sieraad in the twentieth century discusses the transitional state of Dutch art education in the late 1960s. As innovative as Bakker, his classmates and his fellow student (and eventual wife) Emmy van Leersum, were, they didn't come out of nowhere. Their teacher Marinus Zivollo trained his students in classical craftsmanship, the value of which Bakker acknowledged only later in life. Yet surely it is this uncompromising foundation that contributed to the leadership of Dutch jewelry design in the 1970s and marks Bakker's designs early on, even as he endeavors "to seize control of the material and to force it into almost impossible forms."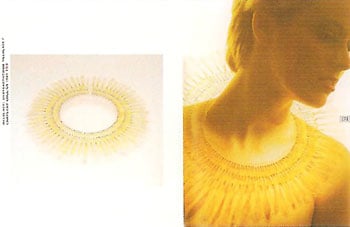 Despite early promise, Bakker's trajectory has been anything but linear, and van Zijl describes the following decade as a frustrating and unsatisfying time for him, as number of his product designs went unfulfilled. The jewelry, on the other hand, was to become iconic. Invited in 1974 by Peter Skubic to a steel symposium, Bakker produced the skeletal "Profile Ornaments" most often seen in photographs framing van Leersum's face. In fact, there was a whole "family" of them, showing that jewelry could be minimal without being geometric. For another invited exhibition a few years later he created his "Bib" neckpiece, in which a black and white photograph of the wearer's chest was printed on a piece of fabric, edged in black and worn around the neck like a baby's bib. These radical approaches to adornment underscore Bakker's commitment to the fundamental issues of jewelryit begins with the human body. It is significant that Bakker and van Leersum declined to identify their work as sculpture, but always as jewelry.
I'm dwelling on the introduction because it contextualizes the work and illuminates the voluptuous photographs that follow. Reading it allows you to appreciate both the oversized laminated flower necklace that commemorates van Leersum's early death in 1984 and the repeated appearance of objects "shot" through with holes. Beginning in the 1980s Bakker used the format of photographic and appropriated images trapped in PVC, from brooches of colorful floral arrangements studded with precious gems, to the necklace in which Michelangelo's Adam, with his outstretched finger, sits in a gold circlet, as if on a celestial swing, to laminated newspaper photos of athletes in similar treatments, or in Christ-like postures. Less well known is the "Royalty' series, which includes photos of queens. He also riffs on the eroticized body presented in advertising, and some works are sprinkled with gems. Bakker places the human body inside the jewelry, as in his Embrace necklace, in which a life-size laminated photographed figure (Bakker) surrounds the neck of a live model.
Seeing Bakker's work in person is often surprising because of its size, and the book's outsized photographs reflect this scale. It is impossible to appreciate the flower neckpieces without seeing them on the model. Take Chrysanthemum Necklace (1983) for example. On the page it is a pure, transparent circlet of three tiers of individual chrysanthemum petals in graduated sizes from neck to torso. Floating above the page it creates a suggestion of a shadow and attention is drawn to each pale golden leaf. The facing page shows the piece on the bare neck and shoulders of a young, blonde model. The lighting casts a golden glow on the entire page and now each petal casts a magnified and elongated shadow on her skin, while behind her head, the back of the necklace rises, transparent, into the air. On the body it gains an erotic dimension not apparent without the model, showing its relationship to the witty, sexy necklace Johnny Awakes, where laminated photographs of penises of graduated sizes stand in for pearls.
A bracelet series from the 1990s, in which several bullets are "shot" through a virtual sphere and the resulting hollow silhouette fabricated out of metal is less well known than, for example, the nearly contemporaneous Liberty Brooch for Madeline Albright. The accompanying Bracelet with Holes (1992) and the "Holes Project," mirror the "holes" wallpaper, a ceramic lampshade that doubles as a fruit dish, a candleholder chair, and a tablecloth. All together they show Bakker's interest in space and perception: how much material can be removed and still be seen as "whole."
Following the introductory essay are seventeen categories, among them "quest for a new form," "the physical form of the jewel disappears," "space" and "I don't wear jewels, I drive them." Huge images, one piece per oversized page, appear in chronological order, accompanied by occasional quotes by Bakker. Some of the statements blatantly contradict each other, such as "I have never been interested in handmade things and I am in fact, suspicious of their charm" and "I dislike jewelry….I like jewelry because it is absolutely superfluous." The provocative concept that "…The form is just the wrapping of an idea" accompanies images of the deep impressions left in the skin after thin bands of gold have been worn on legs and waist, work that appears to anticipate Norman Cherry's investigations.
Jewelry seems to allow Bakker the most room for mulling over an idea, as shown in the "Holysport" series, in which "he replaced the head and arms of the crucified Christ with those of the soccer player Krystof Bociek who used to pull his shirt over his head and run with his arms outstretched whenever he scored a goal." The hooded star simultaneously mimics the crucifixion, satirizes sports as religion and references both the anonymous hooded victims and the perpetrators of violence committed in the name of religion. Van Zijl affectionately observes that "Bakker can milk an idea until every last drop of inspiration has gone."
Despite the introduction's occasional confusion (possibly due to the English translation), Van Zijl presents a warts-and-all portrait of the artist. She doesn't shy away from reporting on Bakker's arrogance or petulance, especially demanding in setting up early exhibitions or deliberately designing the aluminum collars so that they would be too large to fit in the display cases in the Stedelijk Museum in Amsterdam. But that kind of criticism only humanizes an artist whose prodigious output would be otherwise completely intimidating.
Marjorie Simon is a metalsmith and writer based in New Jersey