Ganoksin may receive customer referral fees from the companies listed in this page.
Learn more.
Bernhard Schobinger, one of Europe's most provocative and influential jewel artists, is the subject of this handsome monograph, originally produced for the first major retrospective of his work at the Museum Bellerive in Zurich , Switzerland. Replete with striking images by photographer and video artist Annelies Strba, Schobinger's wife for more than 30 years. The volume is sure to please readers who have seen the works in person as well as those new to his oeuvre.
Bernhard Schobinger – Jewels Now!
Peter Egli, Roger Fayet, Florian Hufnagl, Christof Kübler, Ellen Maurer-Zilioli, Sibylle OmlinArnoldsche Art Publishers, Stuttgart, Germany, 2003
Seven well-known German and Swiss jewelry experts provide perceptive, albeit short, essays covering the artist's nearly forty-year career, focusing on his philosophy and working process rather than on specific pieces. Three sections of the catalogue are devoted to images of Schobinger's jewelry. The legends for these images offer discerning commentary, forcing the reader to comb through the texts for gem-like insights in much the same way the artist finds his raw materials.
Born in Zurich in 1946, Schobinger lives and works on its lake shore, in Richterswil, opposite the glitter and glamour of the lake's "Gold Coast." This location is a fitting metaphor for the way in which the artist has distanced himself from "traditional preciousness" in his jewelry, shunning status symbols in favor of pungent social criticism. After a traditional education at Zurich's Kunstgewerbeschule (School of Art, Craft and Design) and a four-year apprenticeship with a leading jewelry manufacturer, Schobinger set up his own workshop and gallery in 1968 and soon began to express his unique ideas.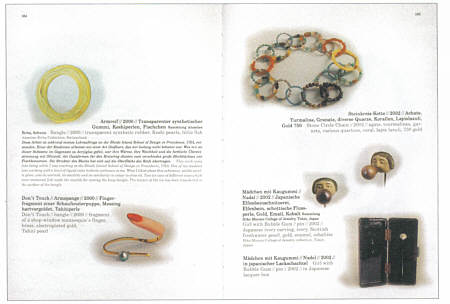 Schobinger's raw materials are the worn-out and discarded detritus of a wasteful consumer society: bottlenecks, saw blades, screws and nails, clothespins, and a host of other cast-offs. The lead essay by Roger Fayet sets the tone for the book by giving us a glimpse into Schobinger's studio, the workshop where he imbues these worthless articles of refuse with "a different richness."
Florian Hufnagl, current director of the Munich Pinakothek der Moderne, describes Schobinger's balancing act between beauty and anti-aesthetic and between reality and surreality. Hufnagl examines the artist's formative years, including his admiration for Max Bill, the Swiss architect, artist, writer, and Bauhaus disciple who advocated an objective, abstract art closely linked to mathematical theory.
Sibylle Omlin's essay focuses on Annelies Strba's photographic portraits of Schobinger's jewelry, placing her creativity on par with his. The result is a bit unfair to both artists and develops a tension between the two that is not always successfully resolved, particularly in light of the fact that many of Strba's photographs are evocative rather than informative and actually detract from an appreciation of the jewelry itself. The couple's daughters play a prominent role as models and Omlin's essay also discusses these family relationships.
The political and social context in which Schobinger developed is vital to his work and is well presented in Christof Kubler's essay, which traces the artist's interest in the rebellious youth movements of the late 1960s and the anarchy of Punk and other popular music. The artist's development duringthe 1970s and 1980s, when he made his jewelry a "seismograph of the state of society," is linked to his disillusionment with industrial growth and environmental degradation. Such notorious pieces as Bottlenecklace (1988), made from broken-off bottlenecks, and Saw Ring (1989), which features an iron saw blade, retain their menacing potency and daring.
Personal anecdotes enliven this volume and provide a better understanding of the works. Schobinger describes, for example, how he sneaked onto the roof of a house about to be demolished to snatch two old ightning rods with gilded copper parts. The rods soon appeared in a ceremonial necklace. Schobinger notes, "An old lightning rod is partially a device to ward off evil, pointing back into a mythical, animistic world." With a lesser talent, these compositions would be little more than shocking one-liners, but Schobinger's fascination with the symbolism and history of an object, as well as its formal properties, infuses his discoveries with poignant beauty, meaning, and value.
For anyone who wants to take a break from convention and get into the mind of a remarkably sympathetic rebel, Jewels Now! offers a welcome diversion. Whether read in German or in polished English translation, this book is thought-provoking, unsettling, and ultimately a triumph.