Today's record metals prices have probably encouraged you to be more diligent than ever about capturing every last bit of precious metal dust in your shop. With gold in the $1,600 to $1,700 range at press time, never before have your old polishing buffs, dust collection filters, and carpets been worth so much. When the stakes are this high, you need to work even harder to ensure that you are maximizing your return.
Getting what you deserve out of your refining lot requires more than blind faith. In this excerpt from "Many Happy Returns," which appeared in the October 2011 issue of MJSA Journal, you'll find two steps you can take to have the most lucrative and satisfying refining experience.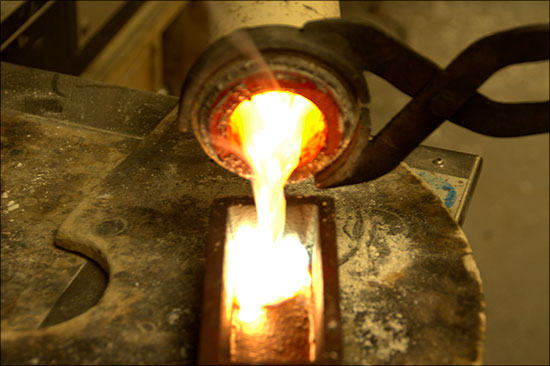 Work with a reputable refiner. It may seem like common sense to send your scrap only to a company that you know and trust, but today you're bombarded with promises of low fees and quick cash that might seem too good to pass up — especially if you need the money.
"With triple the amount of companies that call themselves refiners today versus four years ago, jewelers have to be wary of operations that promise unrealistic low fees," says Torry Hoover, president of Hoover & Strong in Richmond, Virginia. "My advice is to stick with companies that have been in the business for a long time — there are several of us who have been doing this for more than 100 years."
You should also confirm the financial stability of the refiner before entrusting them with your metal, advises Rafael Amador, sales representative for United Precious Metal Refining in Alden, New York. "Check with your peers and contact the Jewelers Board of Trade before you send in your scrap if you have any question about the refiner's financial situation," he suggests. "There are hundreds of fly-by-night companies calling themselves refiners, and it's only a matter of time before they go out of business. The only way to make sure that your gold is safe is to do your research and ensure you're working with a reputable and financially capable refiner. "
If you have any question about a refiner's validity, or simply don't know where to turn, consider asking your trusted industry suppliers for advice. "Jewelers who have small amounts of scrap that don't meet the minimum requirements of a large refiner should still ask that refiner, or their metal supplier, for recommendations of trustworthy and reputable refiners," says Andy Holwell, sales and marketing manager for Johnson Matthey's New York sales office. "If we think a lot is too small for our own process, we'll always be able to recommend someone else who we trust in the value chain."
Understand the charges. A promise of a 99.9 percent return may sound appealing, but consider how a company that doesn't charge for its services can stay in business. Before you ship your metal, ask the refiner about its fees. "One of the biggest complaints in the industry has to do with 'hidden charges' that some refiners divulge after the lot is completed," says Amador. "You can avoid this by asking for your terms in writing, and making specific requests based on your lot. For example, if you're refining silver, ask about charges for deleterious metals, such as cadmium and lead, which are present in most silver lots."
If you are entering into a relationship with a refiner, get the company's terms in writing prior to shipping your first lot.