This recently published 64-page small format book gives an overview of the jewellery and luxury objects that comprise the collection known as the Cheapside Hoard.
The numerous and diverse objects of the Hoard had lain undisturbed in their deeply interred hiding place for some 300 years until they were dug up during excavation work in Cheapside in London [England] in 1912. Thus all the recovered objects date to before the mid-17th century, which was a time when Cheapside had been 'the principle market street in London' and was noted for its goldsmiths' shops.
With the exception of the long-out-of-print London Museum Catalogue No. 2 The Cheapside Hoard of Elizabethan and Jacobean Jewellery, of 1928, there has been no comprehensive published source on the background and contents of this unparalleled collection until this new book. The text of Hazel Forsyth's book centers on the details of how the Hoard was found and the historical context of the pieces. There is 'new information on the site, the murky events surrounding its [the Hoard's] discovery and its subsequent acquisition by the Museum of London', and this book contains much more besides. There is insight into how such jewellery was worn in the 17th century and information on the goldsmiths' area in Cheapside, London. The excellent supporting illustrations give a visual source for the most important pieces, of which many are enameled.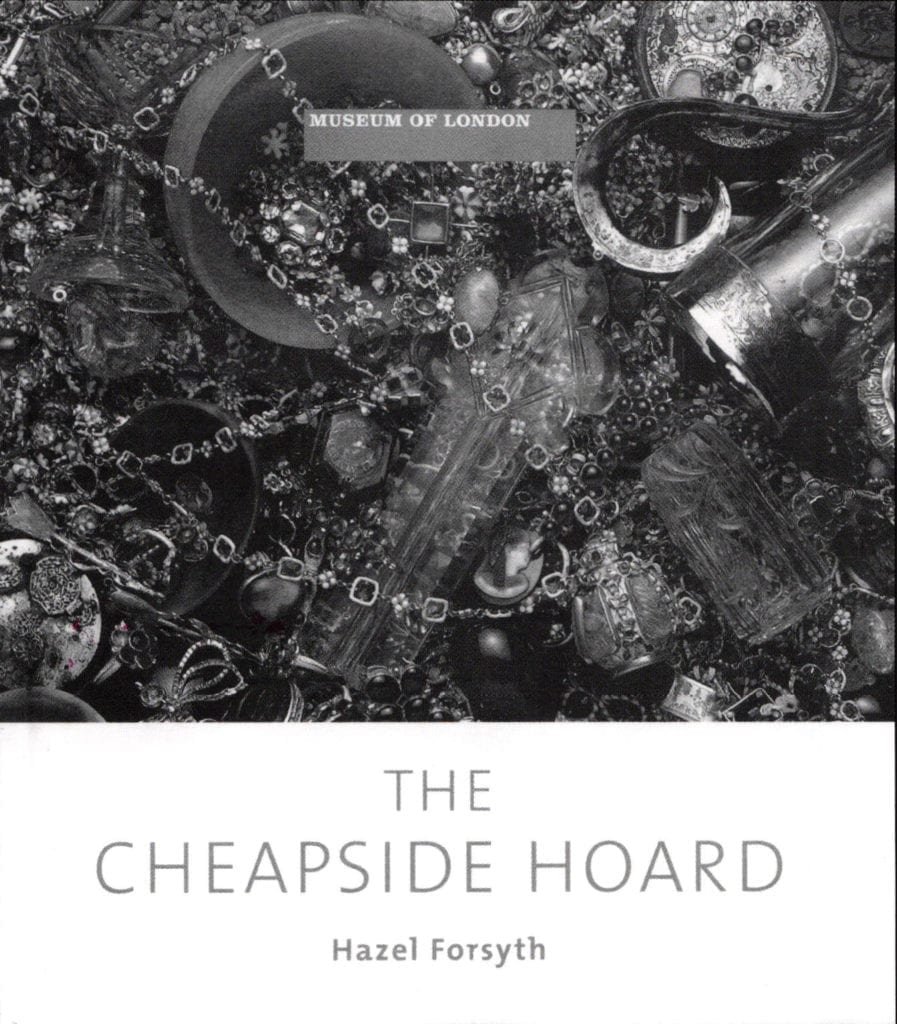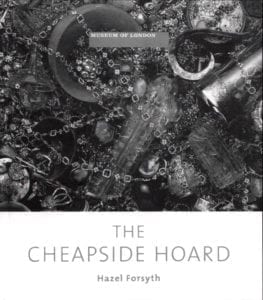 The range of precious stones, rock crystal items, groups of different styles of jewellery and related materials, makes it probable that the Hoard was part of the stock of a jeweler's shop of the early or mid-17th century. The enamelwork is applied to various distinctive groups: neck- chains, pendants, bejeweled holders for fans, hat ornaments, rings and buttons. There are single cased in a polished emerald with a green examples of small luxury pieces, notably a watch enameled dial, and a sumptuous miniature gold perfume holder, with gemstones and enamels.
Apart from heirloom jewellery and devotional artifacts, the custom of past centuries was to send objects of gold and gemstones to be reworked, even when not damaged by wear. As a result, extremely few objects in this genre, and which were probably in frequent use, survived in their original state into the 19th and 20th centuries. The Cheapside Hoard is particularly valuable because all these diverse items survived as a group. The illustrations of the secular jewellery are of especial interest for enamelers and designers as well as for historians.
The Cheapside Hoard, by Hazel Forsyth is published by The Museum of London [2003] ISBN 0-904818-84-5, at £ Sterling 5, plus p&p. Address: Museum of London, London Wall, London EC2Y 5HN, UK Web site: http://www.museumoflondon.org.uk. Email for general enquiries: info@museumoflondon.org.uk