David Howard states "€œ3M Radial Bristle Discs were introduced to the jewelry industry in 2000. Additional discs and end brushes have been added to the selection and over time and with the extensive selection I've reinvented how I semi-finish castings and perform other pre-finishing techniques. They are flexible, cool running, clean, non-loading and provide a controllable uniform finish."€
Here's an overview of semi-finishing a rough casting using the discs: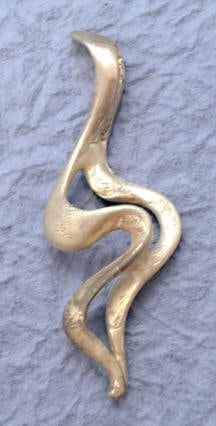 After casting this 14-karat yellow gold pendant, remove the sprue by sawing and filing and remove visible defects requiring filing. The pendant is now ready for semi-finishing with the radial bristle discs.
 3M Radial Bristle Discs
Proficiency Advantage

Start the semi-finishing by using the 6 inch blue bristle disc (400 grit). The pendant won't require much time at this stage since the wax and resulting casting were in good shape.
For the next step, use the pink (pumice equivalent grit) bristle disc using your flex shaft at the bench. When using the bristle discs, the end of the brush should be all that comes in contact with the surface of the piece.
The last step is to use the peach (6 micron grit) colored disc and finish with the light green (1 micron grit). No cleaning is required between each step. This photo features the pendant's finish after using the peach bristle disc and prior to polishing with rouge.

Because the design is rounded and has recessed areas, the bristle discs were ideal because they were flexible and didn't remove too much metal in one area or create flat spots and divots. The wide variety of grits, shapes and sizes make semi-finishing a casting quick and efficient.

Additional Product Information

The 3M® Radial Bristle Discs come in a variety of sizes and diameters ranging from 9/16″€ to 6″€ in diameter and can be mounted and used with flexible shafts or bench motors. The multiple diameters are available in a color-coded assortment of up to 7 grits. They are used for cleaning, pre-finishing, semi-finishing, blending, texturing and other functions. Shown here is 9/16, ¾, and 1″€ bristle discs. Small gray bristle end brushes are also featured.
This is a 1″€ diameter green bristle disc. The center hole on the 1″€ discs requires a mandrel with a 1/8″€ diameter screw. The green disc's abrasiveness is equivalent to 50 grit and is one of the more aggressive in the assortment.
This photo features an assortment of 2 and 3″€ 3M Radial Bristle Discs.
Shown here are a few of the 6″€ discs. The center hole accepts a fitting that can be secured to a tapered manderal or it comes with an adapter so it can be secured to a ½"€ motor shaft.
The 2, 3 and 6″€ bristle discs require a tapered spindle mount that is sold separately. (A) accommodates the 2 and 3″€ wheels and (B) accommodates the 6″€ wheels.
Rio Grande of Albuquerque makes and supplies the 2 and 3″€ discs permanently mounted on a hub. They are supplied in 3-ply and 6-ply widths. Product manager Curt Henson says the 3-ply width is typically used for lesser aggressive requirements and the 6-ply is used for larger pieces requiring a more aggressive broader approach.
These end brushes work nicely in tight, difficult to reach areas. They also work nicely for a spin finish on flat stock.
In addition to using the bristle discs with gold and silver jewelry items, Howard and Henson agree that the bristle discs are exceptional for use with platinum.
Rio Grande provided technical consultation and an assortment of bristle discs for the photographs. Rio Grande supplies a full range of 3M® pre-finishing and finishing products and technical help. For further information, contact them at (800) 545-6566.