Pantone's picks are comforting, enveloping, and easy to wear. Warm. Comforting. Effortless. These are just a few of the words being used to describe Pantone's top 10 colors for Fall 2017. The palette for the upcoming season is bookended by dynamic Grenadine red and russet Autumn Maple, with the blue skies Marina, refreshing Golden Lime, and soft pink Ballet Slipper expected to be the standouts, particularly when paired with the classic autumnal shades of Navy Peony, Neutral Gray, Butterum, Tawny Port, and Shaded Spruce.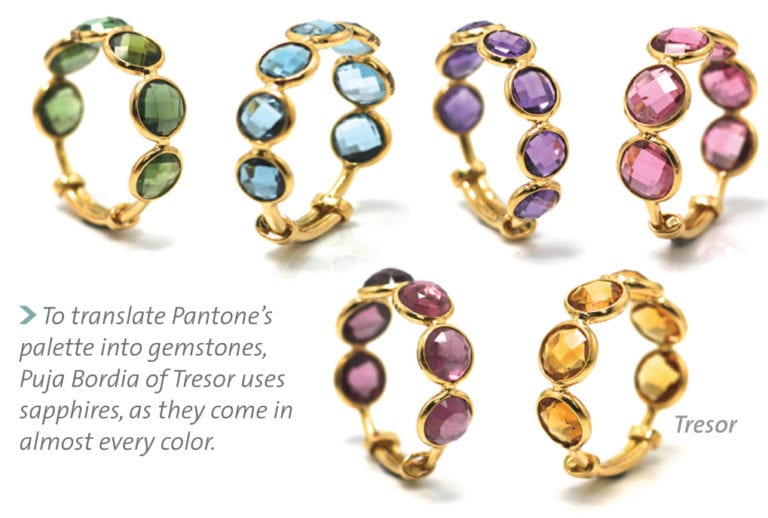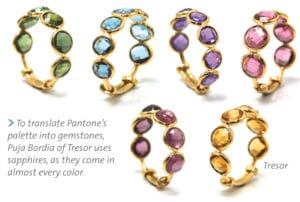 "Nuances in colors evolve from season to season, but today it's all about color combination—those mixtures that are uniquely combined within a piece or as contrast against fashion," describes Leatrice Eiserman, executive director of the Pantone Color Institute. Interesting combinations catch the eye and serve as a guide: Think opposites on the color wheel that are complementary to each other, such as Tawny Port and Golden Lime, Marina and Autumn Maple, or Butterum and Neutral Gray, as well as analogous colors that work together, such as Navy Peony and Golden Lime or Ballet Pink and Grenadine.
CREATIVE COLOR
When it comes to translating Patone's palette into gemstones, sapphire is a favorite for Miami designer Puja Bordia of  Tresor. "A precious stone, sapphire comes in almost every color, from deep to soft shades. I enjoy playing with sapphire in multi-color designs and mixing it with other gems like peach moonstone and labradorite that have been popular."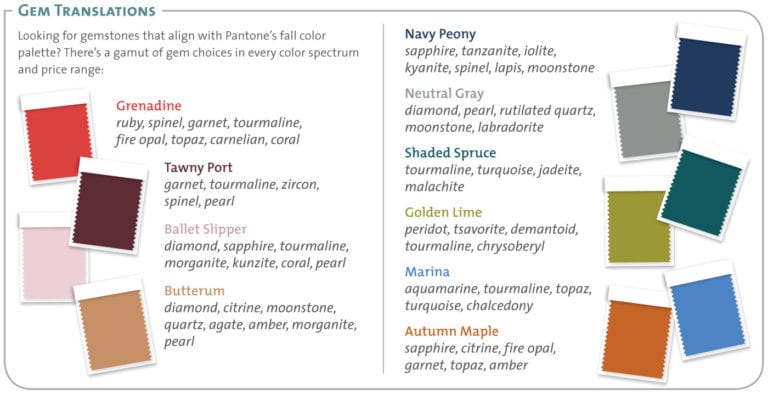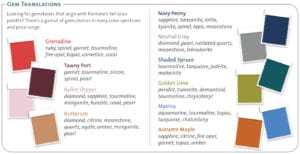 Bordia is a believer that Pantone influence what people want, noting that fashion and jewelry go hand in hand. "Pantone's color swatches have gained a following. Many consumers are  savvy to the Pantone colors because they're widely spoken about," she says. While jewelers don't have to match hues exactly, Pantone's picks open conversations as to what gems come in or complement these colors. She notes that current Color of the Year, Greenery, has inspired more interest in green-hued gems, from chrysoprase to garnet and tourmaline varieties.
But if you want to match colors exactly, Los Angeles-based designers Loretta Castoro and Kelsey Hickox developed a way to keep up with changing seasonal hues in the new Charmed collection from their Crystal Habits brand. The handbag charms for pendants, rings and bracelets bring popular colors together in triplets featuring thinly sliced mother of pearl, Pantone colormatched gel, and rock crystal quartz.
For fall 2017, Crystal Habits is focusing on a handful of hues: Marina, Shaded Spruce, Goleden Lime, Autumn Maple, Ballet Slipper and Butterum. "Our client is a fashion-forward individual, who enjoys collecting handbags, shoes, and other fun accessories, says Hickox.
"The key to mixing colors is to combine colors of similar depth and strength so they don't overpower each other." – Cynthia Marcusson of Cynthia Renee
"The key to mixing colors is to combine colors of similar depth and strength so they don't overpower each other." – Cynthia Marcusson of Cynthia Renee
COLOR THERAPHY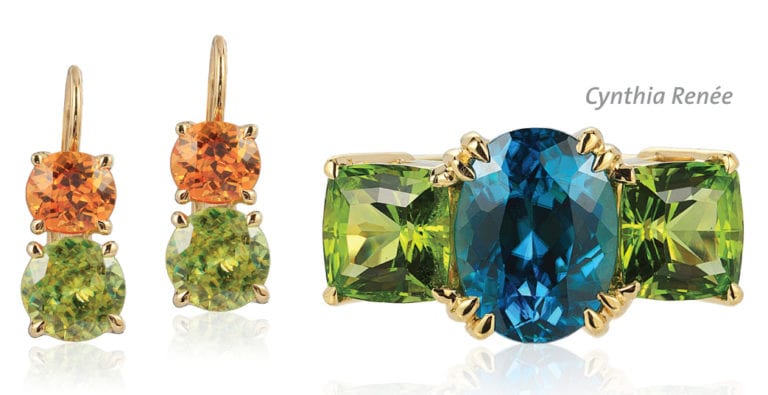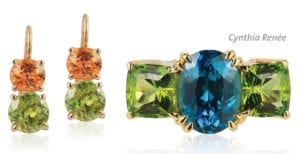 Promoting the Pantone color palette is a simple way to be seen as a trend leader in your community, advocates Amanda Gizzi, director of public relations and events for Jeweler of America in New York City. "New jewelry sells, so tapping into seasonal trends can help move old inventory when you re-merchandise it." She suggests jewelers break the monotony and expand their reach by partnering with a local clothing store to showcase its fashions with their jewelry in fun Instagram posts.
Designer Cythia Marcusson of Cynthia Renee in Chapel Hill, North Carolina, suggests jewelers visit a fabric store and buy material in the Pantone colors. "Cut large squares ith pinking shcars, fan the swatches like a color palette, and lay jewelry with them. Or, glue swatches to cards and use them as props when discussing fashionable colors and how gems work with them." Jewelers can play with gems and jewels and different swatches in store, as well as on social media sites by sharing color boards and unique pairings.
It's not just how colors blend in jewelry design, but also how jewelry designs layer with fashion, says Marcusson. "The key to mixing colors is to combine of similar depth and strength so they dont overpower each other. Combine strong opposites to contrast or use tones of harmony. Mix the crisp and icy with the muted and dusty; the colors will deconstruct and cancel each other. Mix like;  the blend is constructive , creating combinations that sing like a musical chord.Interesting and profound color combination add structure and texture."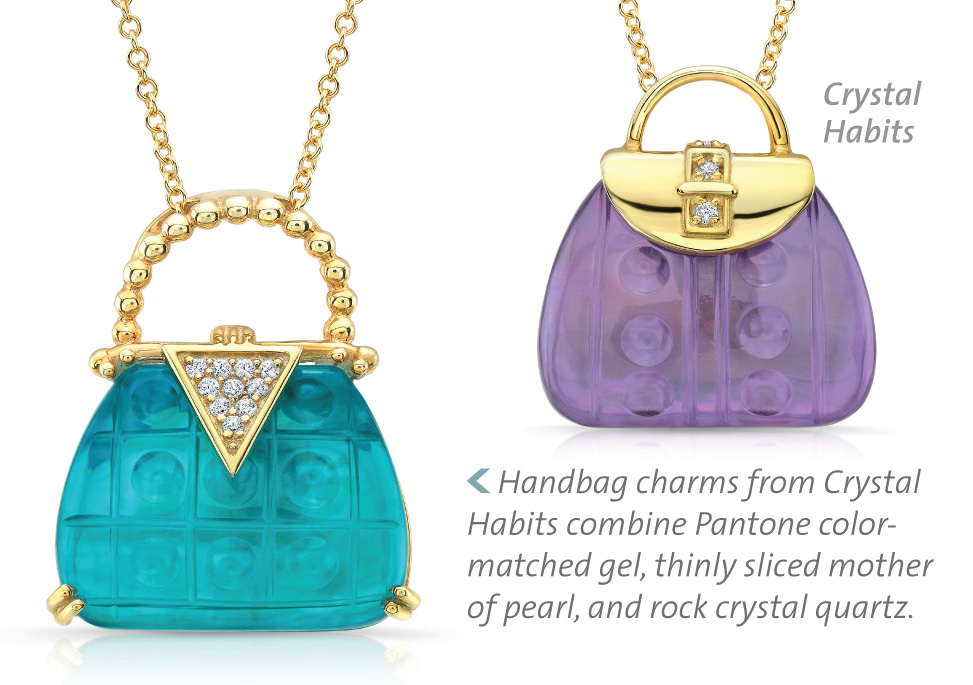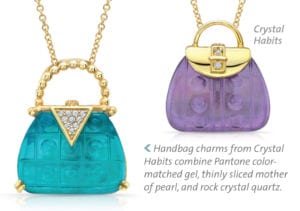 Undoubtedly, colors evoke feelings, places , and experiences, says designer Jennifer Dawes of Santa Rose, California. "By combining colors hues, and saturations you can spark thought, daydream, excitement, and yearning. Color is so powerful in how it makes you feel. Combining different shades of blues can make you feel like you're next to the ocean; or using neutral pinks and dusty shades can create a calming and ethereal effect. I want to make jewelry that takes you away, offers an experience every time you wear it."
Dawes, who cites gems such as morganite, sapphhire, sphene, and imperial topazas complementing the current Pantone palette, says there's a zeitgeist that happens in colors that just feel right. "In the last few years, light/nude pinks, a super ultra feminine trend has prevailed," she says, emphasizing that jewelers need to have a fingeron the pulse of their clientele to mine for ideas and direction. "Help them explore. Customers want to see what's happening, and color allows you to be provocative.**