Author
Claire Sanford
Website: http://www.snagmetalsmith.org
---
Articles and Videos by Claire Sanford: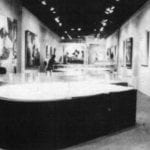 This is the third of a series on galleries that specialize in jewelry and metalwork. The Quadrum Gallery is owned and operated by Cynthia Kagan. See below for related articles. Situated among exclusive clothing stores and interior design boutiques and lulled…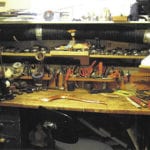 Consisting of three small rooms crammed with tooks, boxes, and books (including a spare bathroom complete with shower stall/patina spray booth), the studio is part and parcel of Eids home. This is not a grand sanctuary, it is the workspace of someone who has carved time and place out of a full family life. By the confines of the available square footage, the studio seems to have grown like a bonsai tree: small yet fully formed. The bench space is painfully tiny and the soldering area appears totally inadequate considering the scale of the commissions Eid produces. But, whether it is through disciplined and methodical work habits or by an ability to just "make do," Eid creates pieces that defy this constriction and exist fully and beautifully in large and magnificent spaces.