Zircons were called "jacinth" or "hyacinth" in older writings. Zircons are exceptionally brilliant gemstones; the high zircon has the highest refractive index of any natural transparent gemstone. High zircons are usually blue or colorless. Fine blue zircons are rare, but they are exceptionally beautiful stones.
* Zircons come in three types in nature: low, medium and high; these vary greatly in specific gravity and refractive index.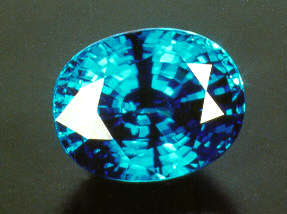 Blue Zircon, 14.06 carats, Cambodia
Photo by ICA/Bart Curren
Unfortunately, zircons suffer from an identity crisis; colorless zircons were used as diamond substitutes before there were man-made diamond substitutes; and many people confuse "cubic zirconia," a laboratory manufactured stone which does not occur in nature, with natural zircons.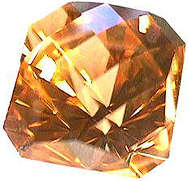 Golden Zircon, 7.54 carats
Square rose cut by Philip Youngman. Photo by David Dikinis
Too often natural zircon is overlooked as the true beauty it is. Colors other than blue are rather hard to find, natural yellows, greens and brown are brilliant earthy colored gemstones. Red zircons are magnificent but good ones are extremely hard to find.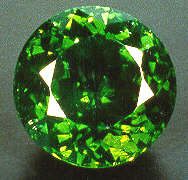 Green Zircon, 3.14 carats
Photo by ICA/Bart Curren
The zircon buyer will find small sizes of zircons with ordinary colors in the low price per carat price range. Fine intense blues, oranges, and reds – especially in sizes over three or so carats – will fall into the moderate price per carat range.
Zircon Gem Properties
| | |
| --- | --- |
| Colors: | Blue, green, yellow, orange, brown, colorless and red |
| R.I.: | 1.78 – 1.94 * |
| Durability: | Fragile |
| S.G.: | 3.95 – 4.8* |
| Treatment: | Heating for certain colors |
| Hardness: | 6.5 – 7.5 |
| Availability: | Smaller blue stones can be found; others rare |
| Localities: | Cambodia, Sri Lanka, Myanmar (burma) and Thailand |
| Price: | Low to moderate |
| Common shapes: | Mostly rounds and ovals for best brilliance |
Treatment
The earthy colored zircons are usually natural in color; the intense blue, oranges, and golds generally have been heated. Nature simply did not finish creating these more vibrant colors. Colorless zircons have been heated.
Zircons do have a problem with abrasions around facet junctions and if they are set into rings, should be put into a protective setting. They are perfect for earrings, pendants and brooches. Zircons were used fairly widely in Victorian jewelry, but most of these stones are fairly worn looking and abraded today. It is important to store zircon jewelry carefully to avoid scratching and abrasion.
See Also:
Gem Dealers's Secrets – Handbook for the Gem Buyer – Table of Contents