This is a report on the largest occurrence of Tourmaline in the history of Brazil gem mining; the Morro Redound Tourmaline of the State of Minas Gerias Brazil. The material was first discovered in 1992 near the village of Morro Redondo, in the northeast of Minas Gerias.
The first pocket was found halfway up the side of a mountain. It contained a modest amount of Gem Blue Tourmaline. Then on the following rise, they found 3 more pockets. One of all Black Tourmaline mostly terminated ends with a layer like surface termination's running parallel to the "C" axis. Creating a "Pueblo" effect.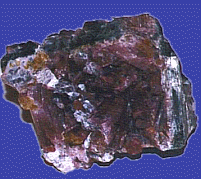 The next contained Morganite crystals up to 2 kilo in size. Very clean Peach to Bi-color material. It was at this point that a very unique treating process was discovered that gave inspiration to the later developments in Tourmaline treatments. This Peach type of material was first heated to White, then subjected to 450 megarads Colbolt irradiation. It turned to various shades of Green. Then reheated to a uniform pale Pink.
Ganoksin is sponsored by
The final Tourmaline pocket was 10-15 meters square. They began by sinking holes to a depth of 3 meters. The Tourmaline discovered was a Brownish to Pink "A" axis, often found complete in Bi-color Blue/Green and Brown/Pink; the "C" axis being a Red to Pink/Peach. The bulk of the material was extraordinarily clean and well formed. With the exception of the Blue/Green side of the Bi-color pieces. This end is almost always lightly included. Where the two colors join often is observed a light to heavy silk. Many having a Gem Cat's eye effect. This pocket (they named it Elba) produced a record 47 tons of Tourmaline total from February 1992 to March 1996. The first 8 tons of production was seized by local authorities and auctioned for Taxes to a Govenador Valadares Firm of Miranda for $ 60/kg. At mid production they tunneled in from the side and the entire top above collapsed. All along the sides and bottom of the pocket were matrix specimens of Tourmaline, Albite. Lepidolite, and Quartz.
Although sparsely reported in the United States, this Tourmaline dominated the Gemstone industry in Brazil for almost 4 years. Sales of ton lots of rejection (heavily included) material were common. There were over 400 miners at the site at peak. The squares and Gem trading streets of Arasuai, Teflo Otoni and Gov. Valadares were smothered with small miners selling their weekly productions. Mine Runs went from a low of $ 60 initially to $ 150/kg in the first week of July 1996. Clean needles under 1 gram in size went from as little as $ 200 per kilo to $ 4/gm (July, 1996). Larger sizes (up to 100 gram) began at $ 10-20/gm and now are scarce, and almost seller's prices. Material of all grades, although rising daily in price, will continue on the market until sometime in August 1996, attesting to the massive task of sorting out the tonnage produced.
This Tourmaline is preferably cut down the "C" axis, producing Strawberry-Red and Peach-Pink Stones. Commercially the finished stones are first heated to 600C to turn to white, then heated further to 680-700C to gain a Pinkies hue. Then the stones are given 80-100 megarads of Colbolt irradiation to return a fairly uniform "hot" red color. Adjustments by heating are made to those that treat too dark on the final stage.
Ganoksin is sponsored by
So, good-bye Morro Redondo. This Gemstone rough production now in it's final stages is only this year reaching the U.S. Market. And throughout it's introduction to present the cut stone prices appear to be stable at around $ 35-50/cts. for Parcels of calibrated goods in New York. Odd colors and rejections trading as low as $ 3/cts. And certainly for several years to come this discovery will be the Pink Tourmaline of choice due to it's astonishing production and now widespread availability.
1 (25K) Morro Redondo 88gms 2.5″L x 2″W x 1″H
20+ joined and protruding Bluish Green and Pink Tourmaline Crystals Some well formed Mica & Lepolite.
2 (61K) Morro Redondo 2000gms 5″L x 5″W x 3″ H
Bi color Tourmaline embedded in and surrounded by large Lepedolite Crystals, cavernous with spotted yellow Calcite.
Ganoksin is sponsored by
3 (23K) Morro Redondo 107gms 2.7″L x1.5″W x 2.5″H
Massive Red&Green Bi-color Tourmaline on thin Albite matrix. Hundreds of small crystals.
4 (26K) Morro Redondo 138gm 2″L x2″W x 2″H
Dozens of Red &Green Bi-color Tourmaline joined and protruding,some Lepodilite
5 (38K) Morro Redondo 788gms 5″L x 4″W x 2.5″H
Bi-color Tourmaline surrounded and embedded in large Lepodilite crystals
6 (43K) Morro Redondo Tourmaline 258gms 3″L x 2.5″W x 1.5″H
Hundreds of Bi-color Tourmaline fused together with Lepodilite.
7 (26K) Morro Redondo 229gm 2.5″L x 2.5″W x 1.5″H
Dozens of Bi-color Tourmaline joined and protruding with Lepolite,and a doubly terminated Quartz crystal in a cavern like effect.
8 (72K) Morro Redondo 760gms 5.5″L x 4.5″W x 1.5″H
Hundreds of terminated Bi-color Tourmaline fused and prodruding a Lepidolite matrix with numerous Terminated Quartz
Ganoksin is sponsored by
9 (77K) Morro Redondo Tourmaline 620gms 6″L x 3.5″W x 2″H
Hundreds of Terminated Bi-color Tourmaline embedded in a crystalized Albite matrix with a small spot of terminated Quartz and Lepedolite.
10 (30K) Morro Redondo 750gms 6″L x 3.5″W x 1.5″H
Morro Redondo Bi-Color Tourmaline massive& protruding terminated crystals on thin Albite matrix fused with Lepedolite