New patented Warrior™ Power Tool System kit provides a revolutionary proficiency advantage for bench jewelers and jewelry manufacturers for split-lap abrasive pre-finishing, finishing and polishing
Product engineers from JoolTool®, a division of DEP Enterprise and Development, Inc., developed and tested the Warrior™ system with various accessories through Rich Bohr, 3M's account executive for the creative arts market and jewelry products research specialist to deliver a new power tool system kit called the Warrior™ capable of performing split-lap abrasive pre-finishing, finishing and polishing at the bench. The unit is compact and contains a 1/20 hp motor with full torque at all speeds. The motor is comparable and exceeds other 1/8 hp motors on output torque ratio. Here's what is included in the kit and how the system works:
The patented Warrior™ Power Tool System kit contains (A) the Warrior™ variable speed motor with full torque from 500 to 5000 rpm and a tapered spindle (B) a mounted allen wrench, (C) 11 assorted 3M pre-cut self-adhesive abrasive accessories with one patented Ninja™ disc backpad and (D) a hard felt split-lap cut to JoolTool's® patented Ninja™ "see through" design specifications.
Portable Workstation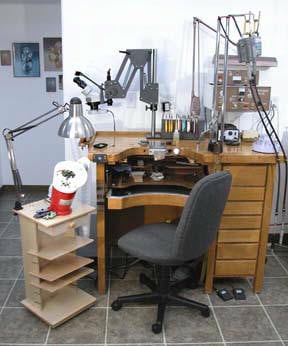 To complete a portable workstation for the bench jeweler generalist:
The Warrior™ is mounted on a low utility stand (E) with casters
Select a utility stand with drawers and shelves for convenient and ready access to the assorted abrasive discs and Warrior™ accessories
The Warrior™ is connected to the small portable Handler Super Sucker II dust collector (F)
A standard swing-arm lamp (G) is attached for best viewing of the work being performed.
With the compact size of the patented Warrior™ system and the portable workstation, the unit is positioned adjacent to the jeweler's workbench and is easily rolled back when not in use. For grinding, sprue removal, deburring, abrasive split-lap work, pre-finishing and polishing, the bench jeweler is no longer required to leave their bench workstation for these related procedures and can accomplish them more quickly over using traditional procedures.
The revolutionary assortment of pre-cut self-adhesive 3M abrasive discs that come with the kit are easily mounted on the patented ninja style backpads.

All abrasives and polishing surfaces are installed on the tapered spindle facedown. Abrasive discs included in the kit are 3M (Purple 900DZ) ceramic in two grades, patented multi-replication 3M Trizact™ in four grades and one 3M Diamond Polishing Cloth™ disc. All work is held below the wheel and viewed from above.

The patented Ninja™ "€œsee-through"€ pattern was designed for enhanced viewing of work being completed. One comes with the unit and you will want to purchase additional backpads to mount several assorted 3M abrasive self-adhesive discs.

In this photo, the Warrior™ is operating at medium speed and 3M's low loading patented Trizact™ abrasive disc (A-35 or about a 400 grade) is being used to pre-finish the sides of a 14 karat yellow gold ring casting. With the black wheel color, ninja-style cutting and overhead lighting, the ring is very easy to view for the pre-finishing process.

The 3M (Purple 900DZ ™) ceramic disc (120 grade) is used to remove the sprue from a 14-karat yellow gold cast ring. This process takes seconds to complete saving valuable time over hand filing.
In this application, the operator is flat sanding the top of an 18-karat yellow gold ring.
This application shows a textured finish being applied to geometric 14-karat white gold earrings using the 3M Diamond Polishing Cloth™ disc.

Using a small amount of water on the wheel facilitated the process. Water can be used with both the 3M Diamond Polishing Cloth™ and Trizact™ materials.

The 3M Diamond Polishing Cloth™ is ideal for working with stones that require formation, alteration or repair.

The provided allen wrench specifically designed for the unit is inserted in a cut-out in the tapered spindle for ease in mounting and un-mounting the ninja-style cut backpads and hard felt split-polishing laps.

The allen wrench is also used to remove the tapered spindle and attach other Warrior™ accessories such as the flexible shaft (not included in the featured kit).

This application features the flat sided shank of a three stone ring being split lap polished at the Warrior™ system workstation beside the bench.
This ring casting is being pre-finished using 3M's Radial Bristle™ wheel.
With the powerful compact Warrior™ variable speed motor, the "see-through" design of the Ninja™ designed backpads and wide assortment of high quality low-loading 3M abrasive wheels and ninja-style cut hard felt lap polishing wheels, there are innumerable time-saving, effective applications for the jewelry manufacturer using this system. JoolTool® will be releasing additional products and accessories for the Warrior™ in the near future.
The featured Warrior™ Power Tool System kit retails for $269.00 and is available from Progress Machine and Tool Corp at 800-841-8665. For additional information about the kit, contact Anie Kaplan at JoolTool®, Inc.