Clear air, vast landscapes, steel blue skies, mysterious sparkling lakes, a dark blue sea and unspoiled nature – the landscape shapes the pople and their artistic ideas. Scandinavian design is often associated with clear lines and materials which create a puristic effect. The designs are also always a bit cheeky. The designs are also always a bit cheeky, turning the usual ways of seeing things upside down to create an unbelievably fresh new look. Typical Scandinavian is also typical Danish. It is here that Northern Europe begins, geographically speaking, not to mention the fact that the unconventional is the norm in creative though in Denmark.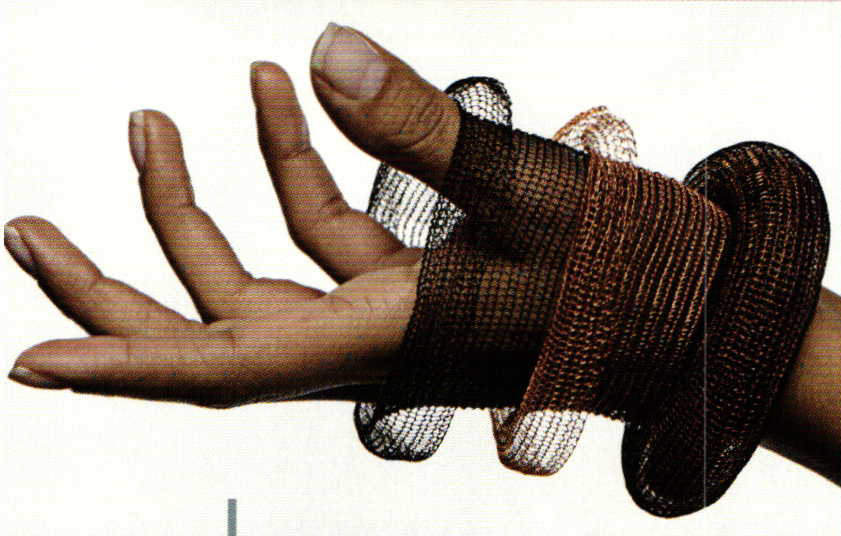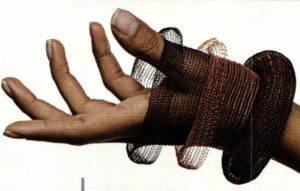 Lisbeth Dauv, "Mesh"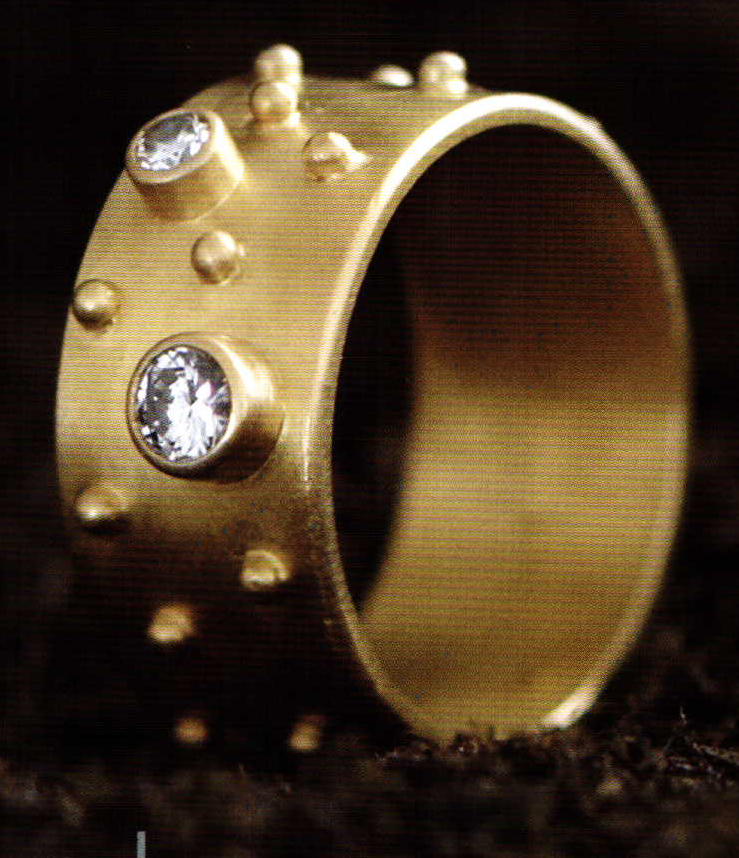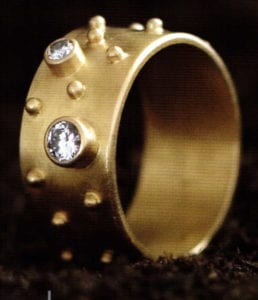 Ditte Stepnicka, ring. 18 karat yellow gold and brilliant cut diamonds
The Danish like to wear jewelry and genuine pieces are particularly highly regarded. Quality is important in design and processing. In 2006, the Danish spent 307 million euros on jewelry which, with an average spent of 54.4 euros per inhabitant, lies above the European average. The share of genuine jewelry stands at 84 percent and this sector is increasing by five percent per year. Combinations of silver with genuine gemstones and pearls are also popular in this Scandinavian country. The Danish love the extraordinary and individual. The crafts of goldsmithing and silversmithing have a longstanding tradition here: the Copenhagen Guild of Goldsmithing dates back to 1429.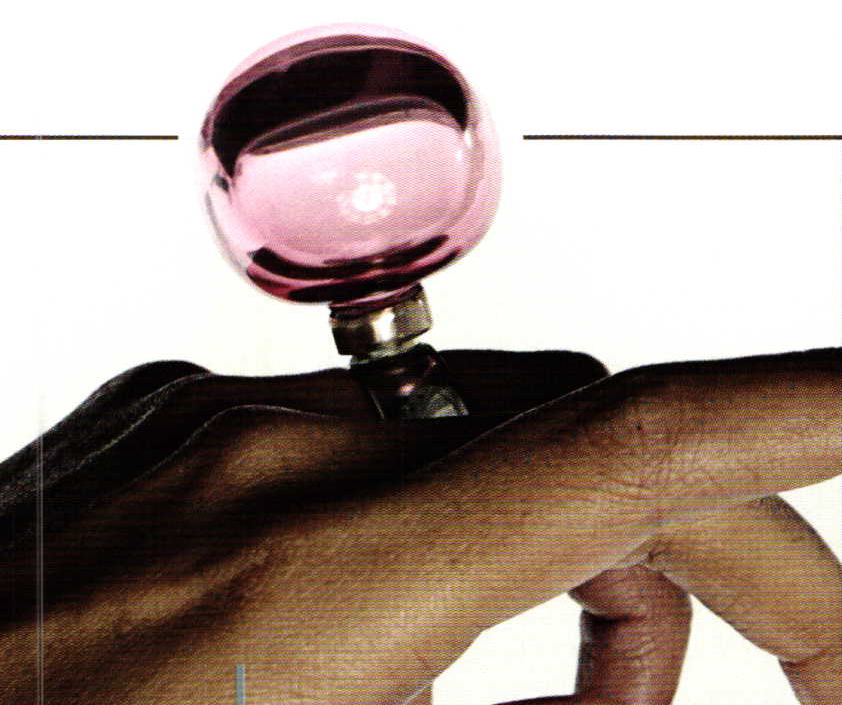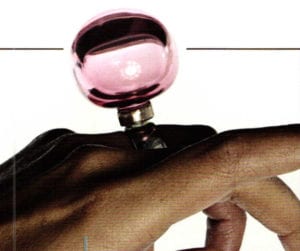 Carolina Vallejo, ring "Happiness". Glass, silver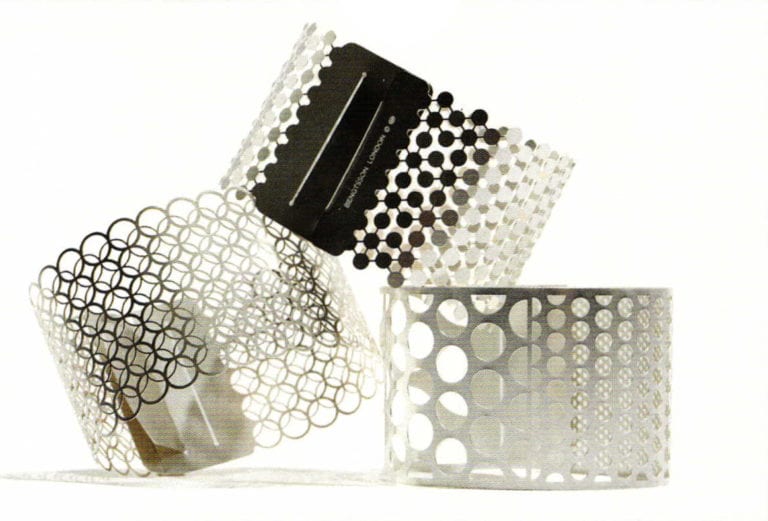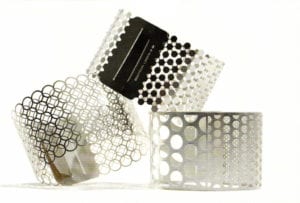 Mathias Bengtsson, "Etched Jewelry – Molecule, Perforated & Circle"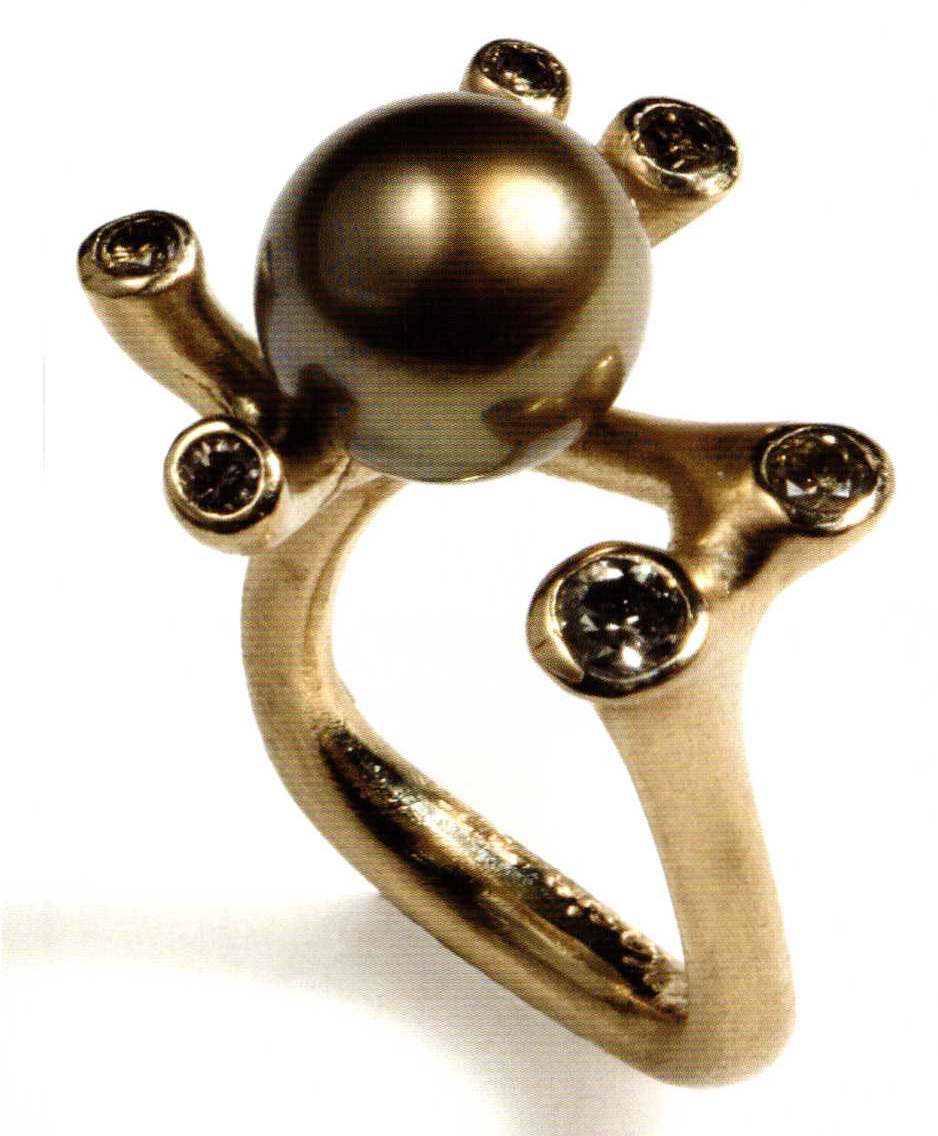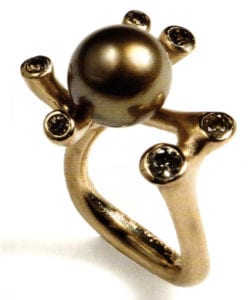 Kasia Gasparski, ring "Cuts". 18 karat yellow gold, diamonds, cultured pearls from Tahiti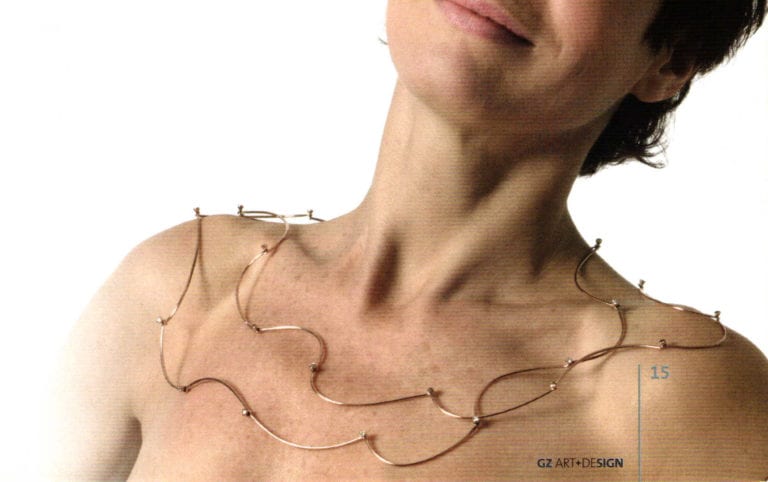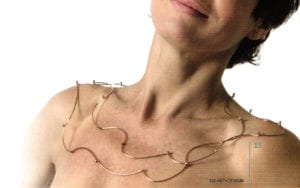 Jytte Kleve, two necklaces "River". Gold and diamonds
Denmark is home of numerous great designers. The best-known is probably Jacob Jensen, an icon among product designers. He has been working in his studios since 1958 and has now designed more than 500 industrial products for customers such as Bang & Olufsen. His namesake Georg Jensen is also well-renowned. He began to work in 1904 with a silversmithing workshop in Copenhagen. Today the company is an international corporation which has made Scandinavian design popular throughout the world with all manner of lifestyle products. Many Danish jewelry designers complete training before setting up their own independent operations.
Ganoksin is sponsored by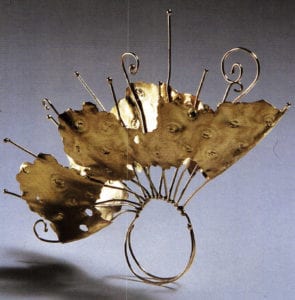 Kasia Gasparski, ring "Gold Stories"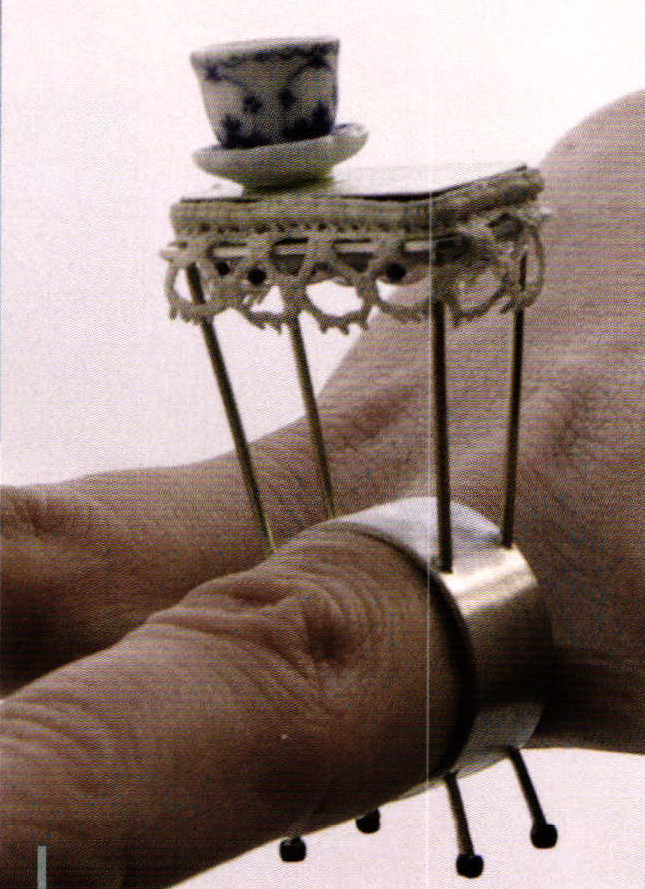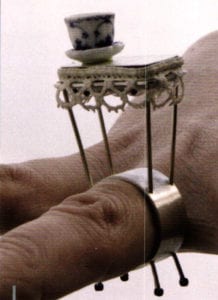 Marie-Louise Kristensen, ring "Coffee to go". Silver, gold, porcelain, lace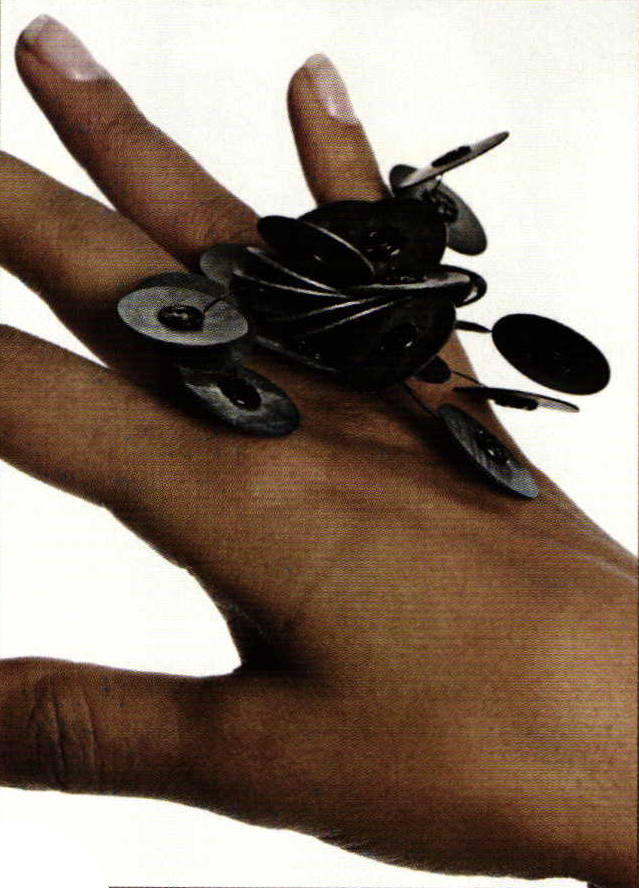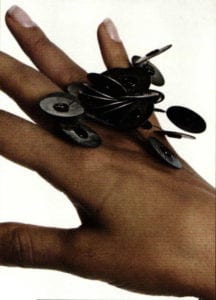 Camilla Prasch, "Knotenkette+, Knotenkette/Unlimeted edition"
In the capital of Copenhagen, a rich and varied jewelry design scene has developed which you would never expect in a country as small as this with just 5.4 million inhabitants. The old town is home to many lively jewelry and art galleries. The oldest and best known is the Gallery Metal which was founded by Jan Lohmann and Peder Musse in 1978. In 2001, the gallery was taken over by a group of Danish artists. The gallery exhibits works of internationally renowned jewelry artists and silversmiths as well as the works of its 17 members in the form of a permanent exhibition. The Gallery Hoff is an additional gallery of high renown. Ingrid Hoff presents the works of some 30 artists in an ideal location in the center of Copenhagen. Kim Buck is a well-known artist and runs a gallery in an old town house dating from 1834. This skilled gold and silversmith works as a designer for Georg Jensen, amongst others. His works are diverse and varied and are always inspired by a functional purpose. With his works, it is the underlying concept rather than the value of the materials used which is important. The Iron Inc. gallery is also up-and-coming and is based in the Danish capital. This exhibition, launched by Finnish artist Mari Keto in 2002, is intended to serve as a platform for all Nordic designers. The Danish Crafts organization has also been set up as a means of bringing Danish design to international prominence. This independent organization was established by the Danish ministry for culture and organizes collective stands at the biggest trade fair events throughout the world as a means of presenting the avant-garde of Danish design.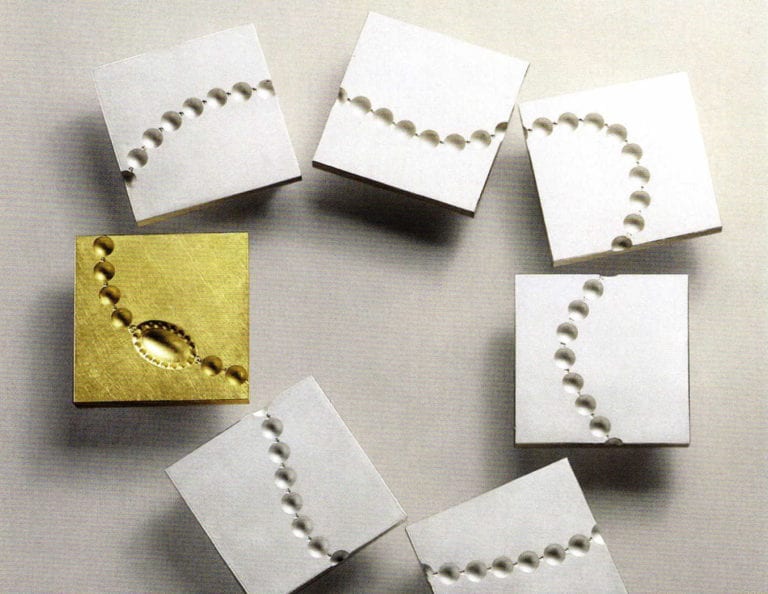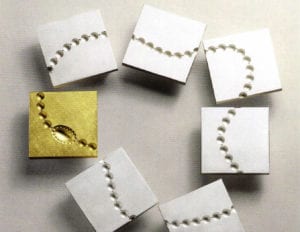 Kim Buck, pearl necklace with gold lock, brooches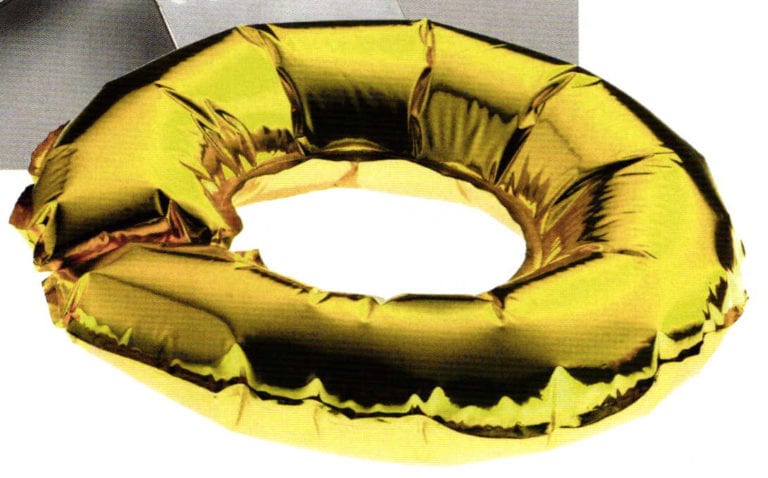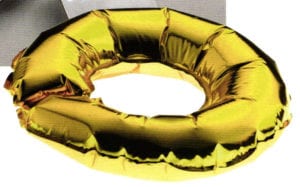 Kim Buck, "Hollowware". Metallic plastic foil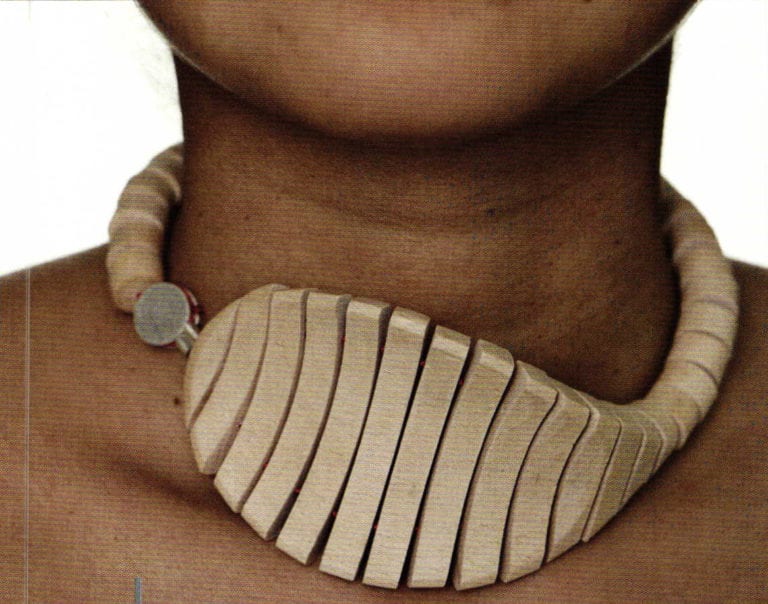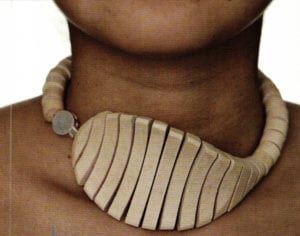 Katrine Borup, "NeckLAdle"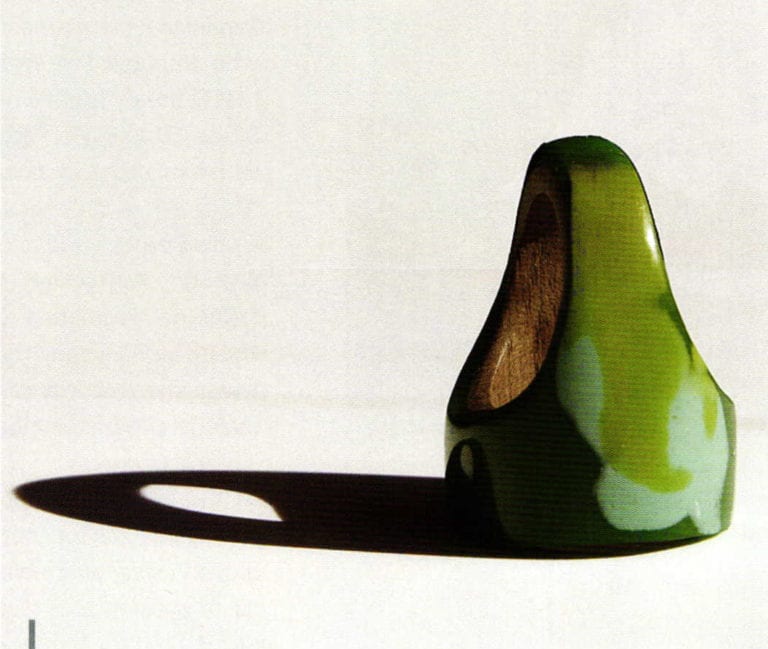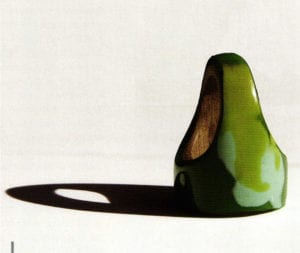 Kirsten Bak, ring "Unicated". Wood, plastic
It takes four years to train as a goldsmith. The theory is taught in blocks of ten week sessions per year. Design can also be studied at a technical college in Copenhagen. After three years, students achieve the level of master, yet this is not internationally recognized. From August 1, 2009 on, the first students will graduate in design from the Designskolen Kolding college. This five-year course leads to an internationally renowned Master's degree. After three years, students are awarded a Bachelor's degree.