The 60s and 70s were an exciting time in the development of jewelry making in Great Britain. Until the, the art of silver and goldsmithing in England was heavily influenced by Scandinavian trends and could be described as modern and contemporary. The couple Wendy Ramshaw and David Watkins began to make jewelry and were primarily responsible for radical ideas moving toward new forms, colors and materials.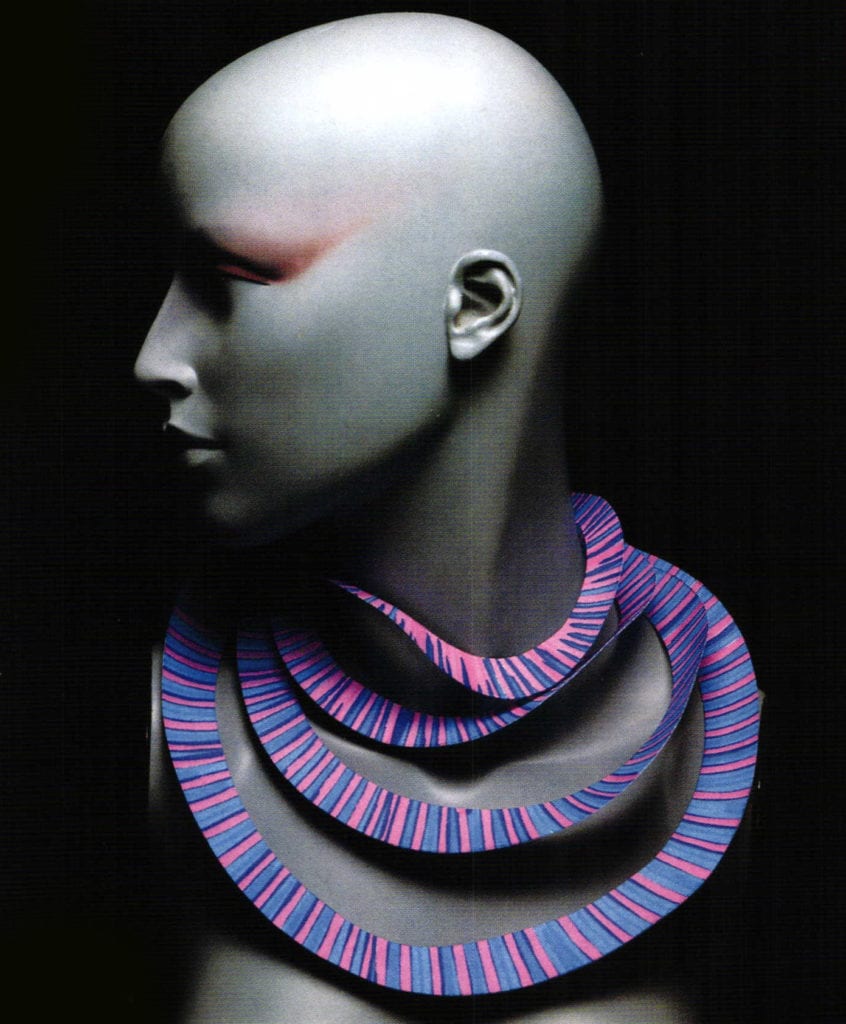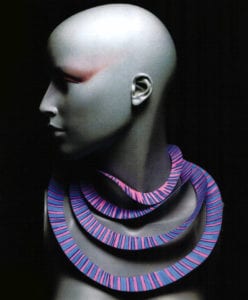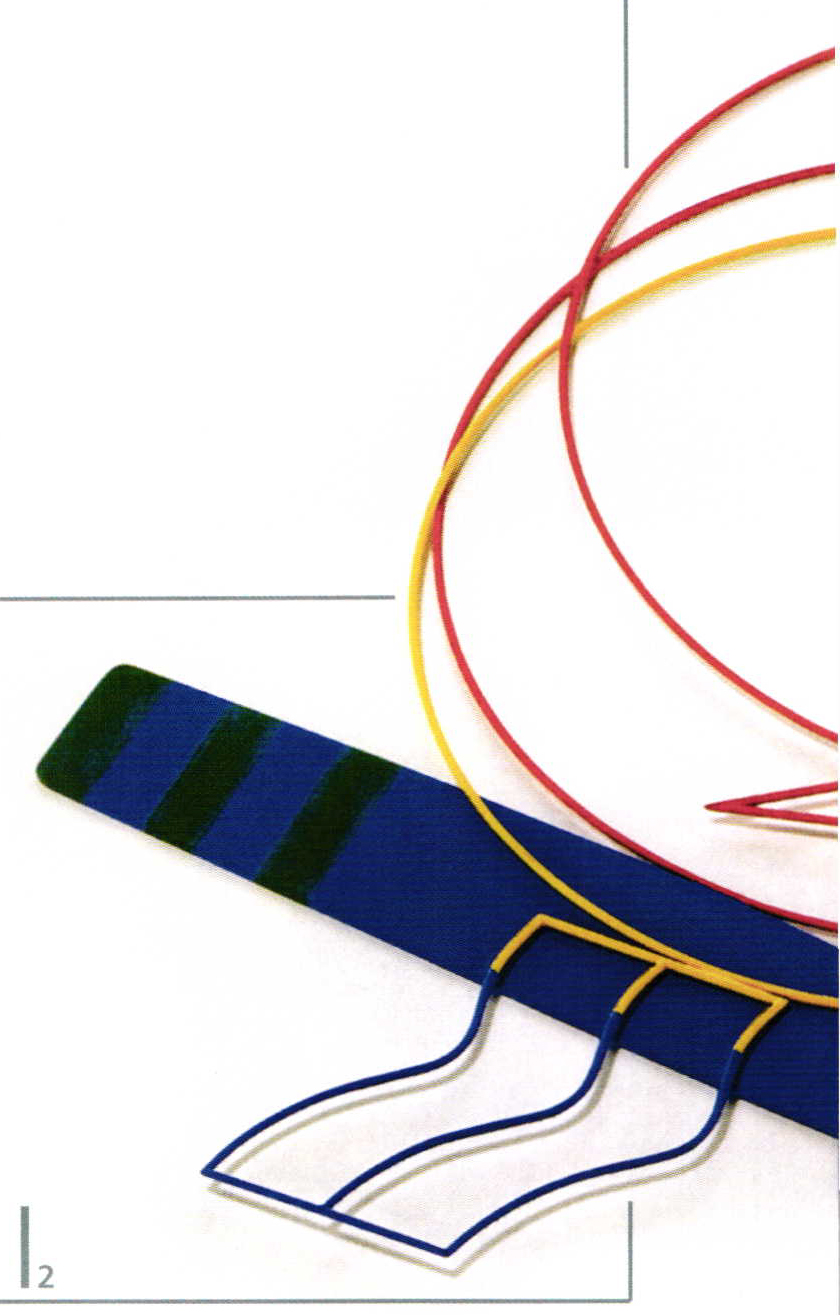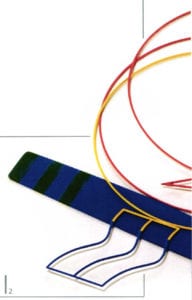 Necklace, 1983. Three parts, steel covered with neopren, wood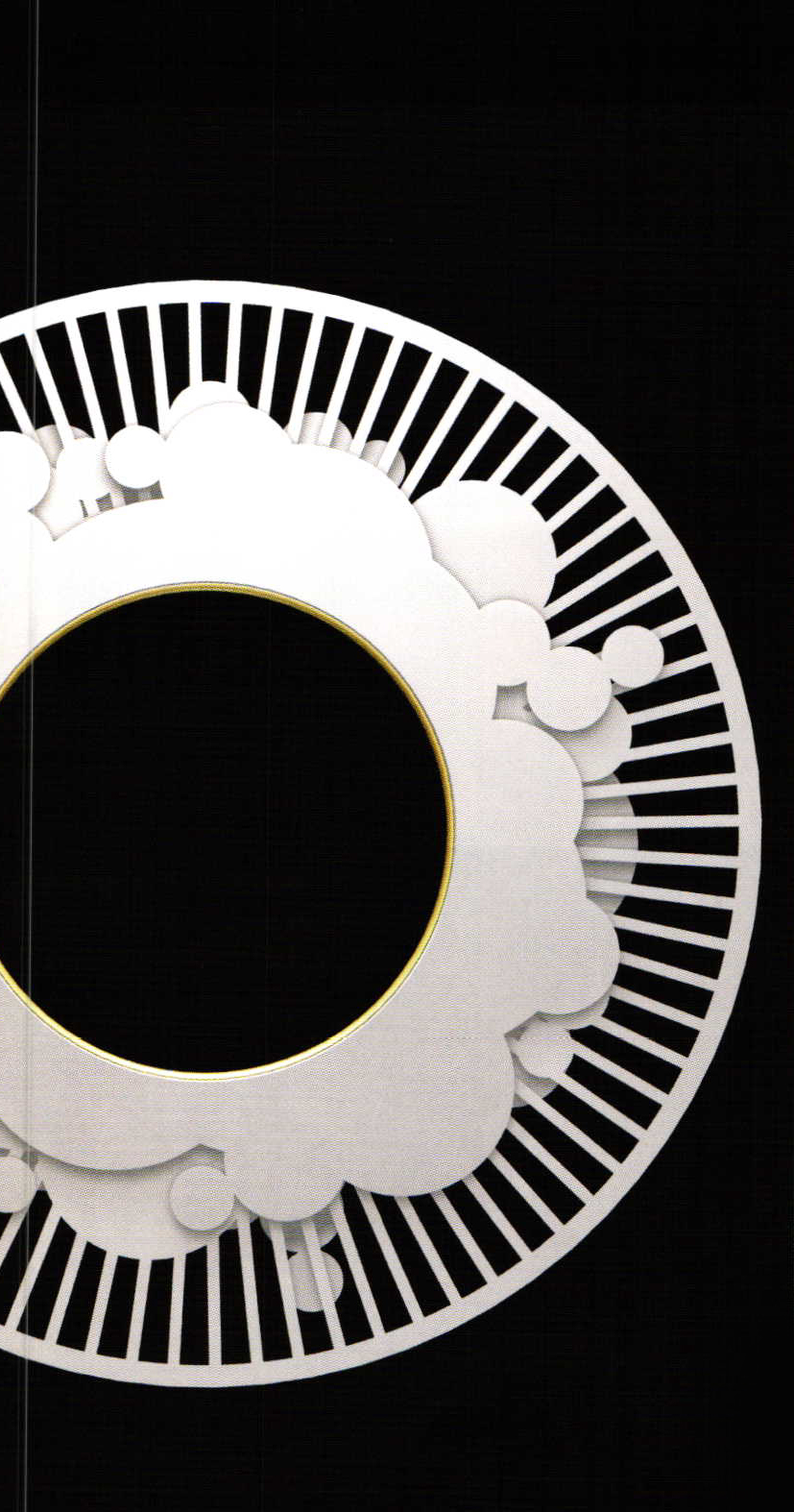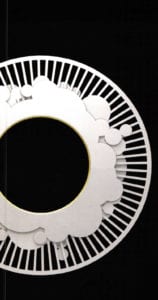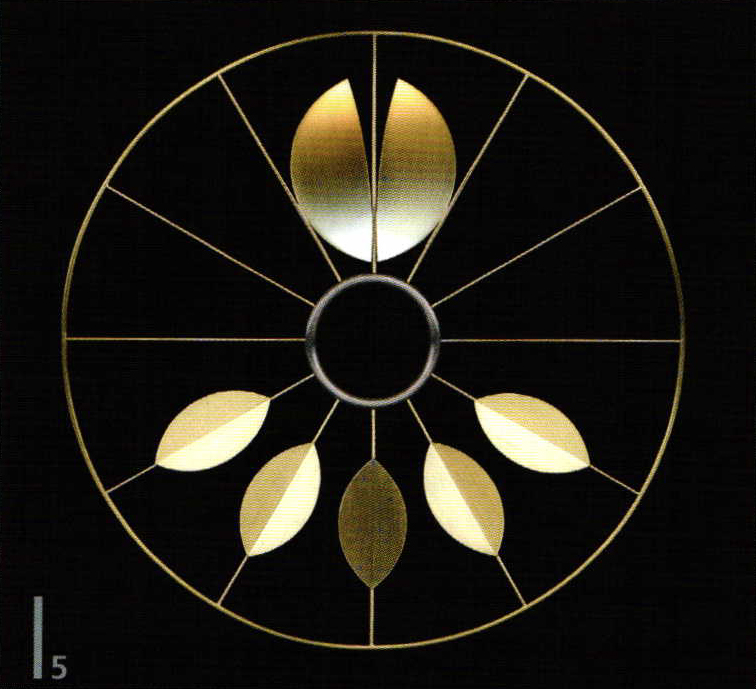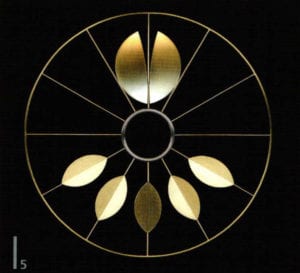 Pin 'The Bigger Queen', 1998. Gold, 11 cm diameter
The artist placed great emphasis on the relationship between form and function, based on a return to the basics of the Bauhaus style, whose overall ideas he greatly admired. His pieces of jewelry were independent works of art, constructed as though they were sculptures or architectonic elements. In the 80s, intensive colors and more playful forms added a tremendous sense of the dynamic to his work.
Watkins quickly secured himself a key role on the international design scene thanks to his work as a leading artist in the field of jewelry. Later he became head of the Department of Goldsmithing, Silversmithing, Metalwork and Jewellery at the Royal College of Art London. He also became well known as the author of books and texts on contemporary jewelry. A very early adopter of digital technology, David Watkins has gradually integrated computer added design and manufacture into his research and practice, as is most evident in his recent work. Works by Watkins can be found in all of the important jewelry collections across the world.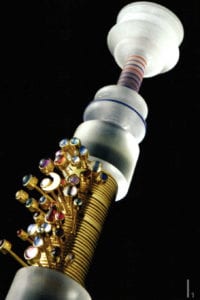 Rings for 'The  Dream', 1989. 40 rings, 18 karat yellow gold with stones, incl. sapphire, tourmaline. Inlaid acrylic stand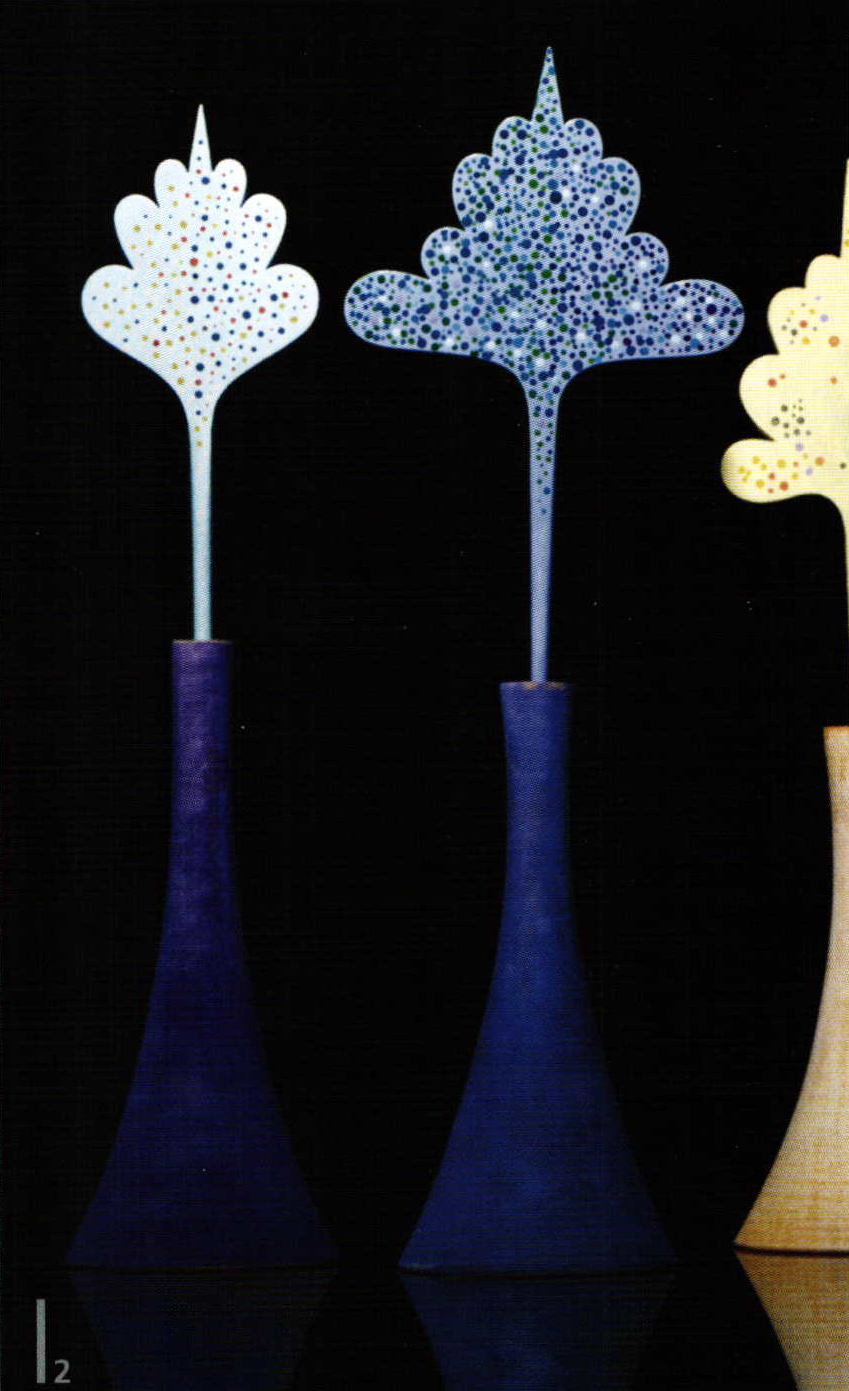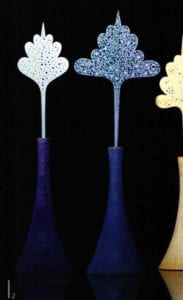 Modern Mantilla Comb for 'Woman in Spanish Costume', 1998. Two pairs of hair combs. Painted wood. Painted wood stands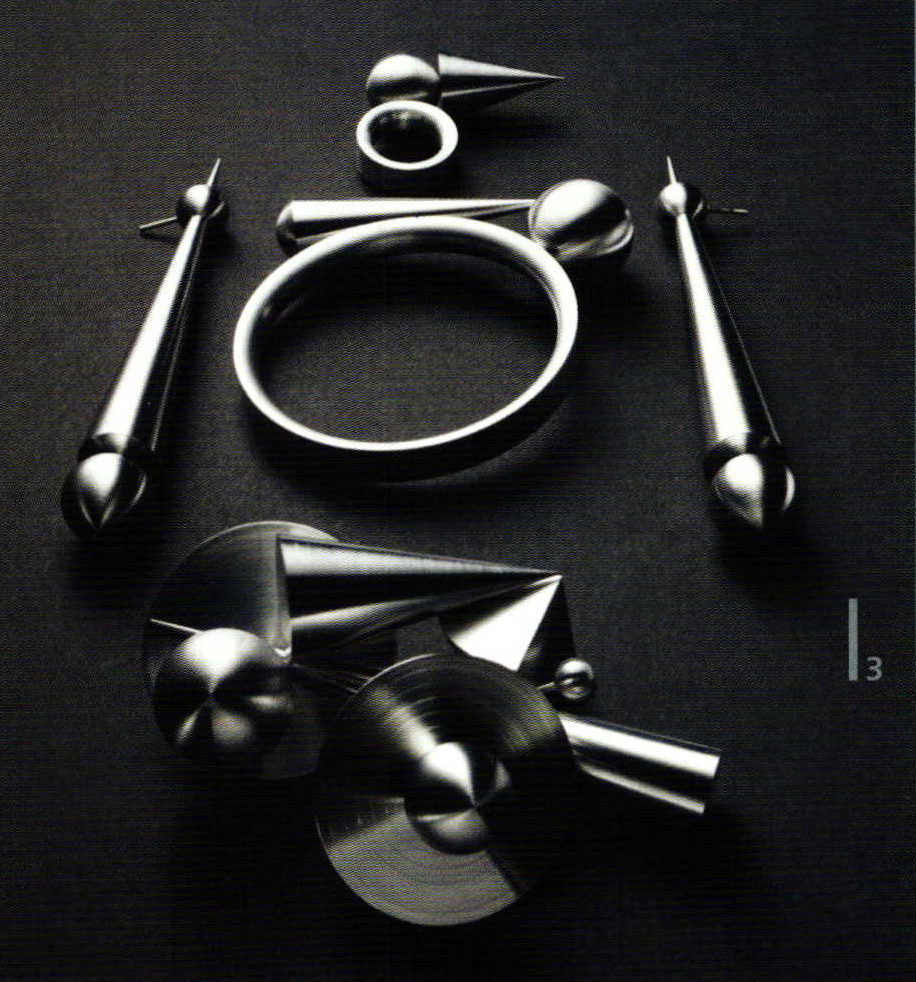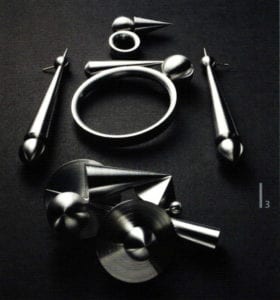 Jewelry for 'Nude sitting against Green Background', 1988. Brooch, bracelet, ring and earrings. Aluminum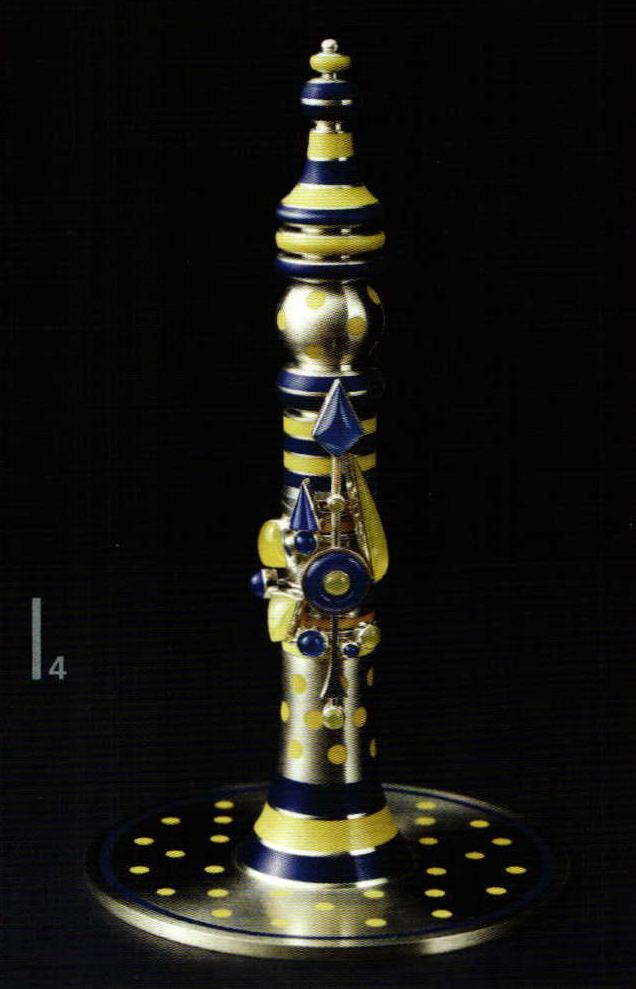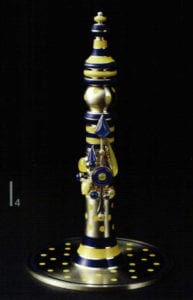 Ring set for 'Woman Sitting in Front of the Window', 1989. 12 rings, silver with blue and yellow agate and yellow enamel. Inlaid nickel alloy stand
Wendy Ramshaw is the most famous and one of the most influential contemporary jewelry designers in Great Britain. She was awarded a CBE (Commander of the Order of the British Empire) in 1996 for her role as a renowned artist. Though she initially studied illustration and textile design, she eventually became known as a jeweler. Her earrings, diadems, brooches, necklaces and ring bridge the gap between jewelry and sculpture. One of her most striking innovations is the multi-part ring set installed on a specially created ring set installed on a specially created ring stand made from brass, nickel silver or acrylic. The piece is not merely decorative – it is also a small sculpture.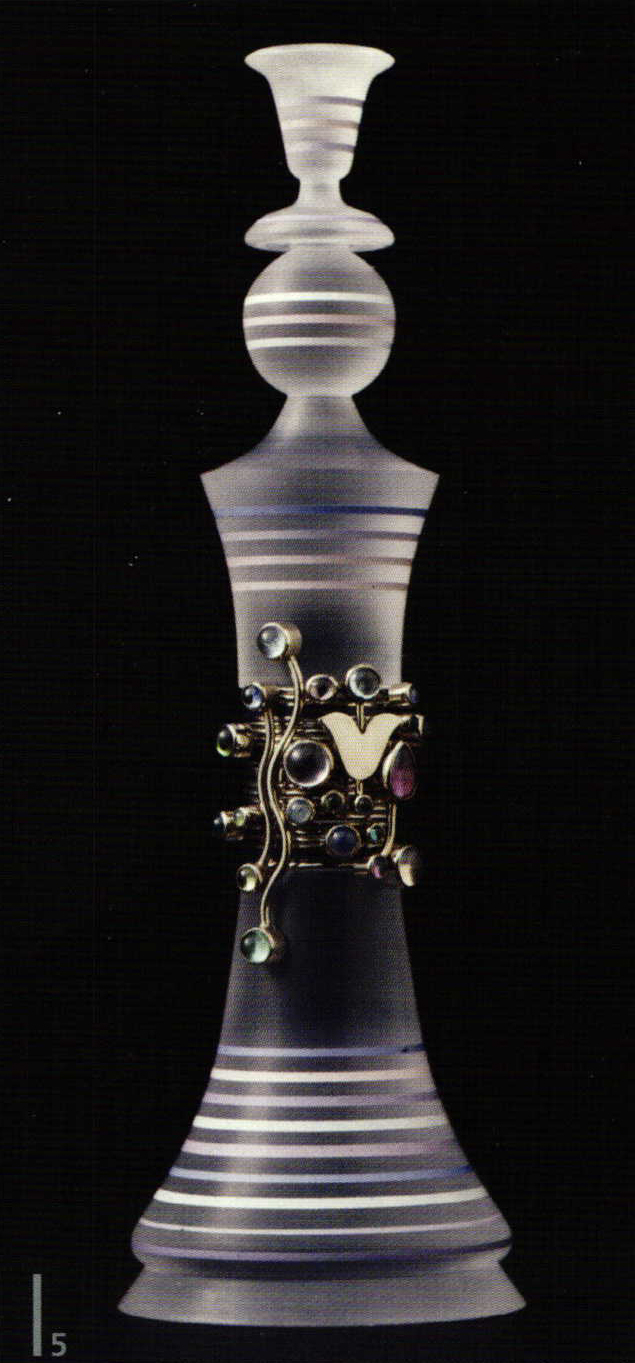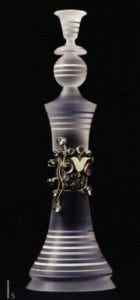 Ring set for 'Nude Woman in a Red Armchair', 1990. 19 rings, 18 karat white gold, enamels and stones, incl. aquamarine, tourmaline, moonstone, peridot. Inlaid acrylic stand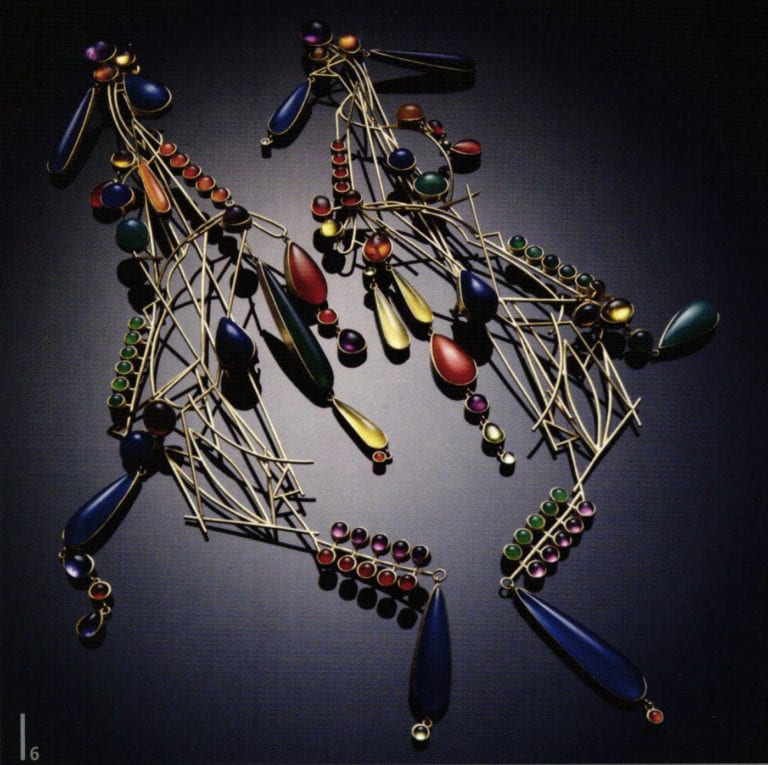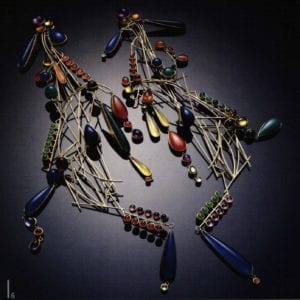 Brooches of Colored Tears for 'The Weeping Woman', 1998. Pair of brooches. 18 karat yellow gold with stones, incl. fire opal, amethyst, lapis lazuli
Wendy Ramshaw's love of experiment with precious metals and gemstones as well as other materials is clearly reflected in her 'Picasso's Ladies' collection. In this highly original, posthumus 'collaboration', the artist created striking items of jewelry for the women depicted in 66 of Picasso's paintings, drawings and prints. Arnoldsche Verlagsanstalt published a book which shows the collection in its entirety together with its sources of inspiration – Picasso's portraits of women. The artist creates a visual dialogue which through the use of color and form reflects the physical attributes of the painting into 3D and examines the emotional content of the paintings through her interpretation. The result is a unique idea in the jewelry sector and one of the most spectacular jewelry collections of the 20th century. Today, the artist increasingly produces works on a larger scale for architectural settings.