Soumak is a textile technique which is commonly found in the weaving of rugs in the Middle East. The technique has been around for a couple of thousand years and primarily has been used in cloth. As I learned various techniques of weaving in gold and silver, I adopted soumak as my most successful method for creating or enhancing my designs.
Some of my creations are totally woven wire, with very little stone work, and others are integrating the weaving with the placement and setting of gemstones.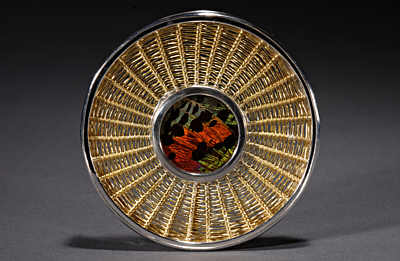 Transformation 1 – Pin / Pendant


Hand Woven (soumak): 22K gold, fine and sterling silver, butterfly wing, mica.
First in a series representing my personal spiritual journey since I've moved to the southwest.
If you have seen my designs, you will see my love of unusual gemstones. The whole reason I became interested in metalwork was my love of stones. Then, of course, as I started taking courses in metalsmithing, I fell in love with many of the techniques. Weaving was something that came much later in my experimenting with designs. The challenge of integrating bezels and findings, such as pin backs, catches and bails, keeps me constantly steeped in new ideas.
What I love about weaving, is that it can be formed flat, or can be curvilinear, sculptural and ethereal, or very architectural. There are no limits to what design direction you can take with this form of weaving.
A very basic description technique will tell you how easy it can be. I set up my warp and weave across with a single wire. In the specific way that I weave, there is no loom and is totally done by hand. The wires in the warp should always be larger and stronger than the weft wire. For example, 20, 18 or 16 gauge for the warp used with 26, 28 or 30 gauge for the weft,) With soumak, you coil once around each wire, before weaving to the next. This works with an odd or even amount of wires in the warp (when weaving flat) as you weave back and forth.
In my personal experience, this unique method of weaving offers great control when creating sculptural forms, like pods or other curvilinear forms. The control with how long or short you space the warp as you weave. The coiling around each wire as you weave, allows you to control that spacing. This the shape as you weave, with more space between the wires when forming out, and less space between the wires when narrowing the shape.
The challenge is working with the tension and work-hardening of the single wire. It is a matter of experimenting, as each metal has its specific strength, and that strength will differ from one metal to the next. If you have never woven before, craft wire would be my suggestion for practice (much more cost effective). Pattern and form are up to each individual's imagination.
One of my biggest challenges when I started, was to integrate the necessities of a functional piece of jewelry, such as pin backs, catches and bails, along with integrating gemstones. You do not have to have great rendering skills in order to sketch out your design. The most important lesson in creating a design, is understanding how it all comes together. The sketching has more to do with visualizing exactly how and where you want to put findings (if, in fact, your piece is to be wearable). Many errors and lots of hours of work can be saved by sketching and thinking through your design in its entirety.
If you do not have soldering experience, methods of cold joining, such as rivets, can be used to finish out the weave in your design. Since I love to solder and fabricate, my primary solution to finishing the weave is through this technique. I love the torch, and love dancing the flame. It always seems like magic to me when the solder flows.
The wire I use to weave is either 26, 28 or 30 gauge. Alone, and as a single "thread", it is weak and vulnerable. As it is woven and becomes a mass, it becomes strong. At the beginning of my experimenting with this technique, I was surprised at how much heat a piece can withstand. I thought for sure I would be burning holes through the weave. (Of course, I DID do that on occasion – it was all part of experimenting!) For those of you with soldering experience, I will take the fear and mystery out of this for you.