The Beginnings
The Private Secondary School with Education in Hungarian Language in Gúta began in 1991. It was founded by engineer Dezso Szokol two years after the political transition in 1989, with an unconcealed aim to strengthen the education of students in their mother language which almost did not exist by then.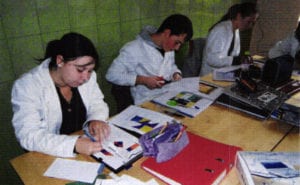 Our school started with training courses in five fields. The following trades were taught: beautician, waiter-cook, hairdresser, car mechanic and seamstress.
Besides the professional training, it was necessary to make infrastructural conditions because before the foundation of our school, there was no secondary school in Gúta despite the fact that the town itself has a population of about 11,000 inhabitants.
Ganoksin is sponsored by
The Appearance of Arts and Crafts at Our School
The first structural changes at our school were in the school year 1994-95. This is when the first technical training course in the arts, enameling, was started. It was a unique technical training course in the fields of art in Slovakia which had not been taught at other schools until now. Enameling provides training for those students who are attracted to the arts and crafts.
Those students who learn to be enamellers can learn time-worn special graphic fields and techniques during a three year vocational training course. Gold, silver, platinum and copper are coated with vitreous enamel and fired in a furnace. The finished works have everlasting value. This process opens the door for making various pictures, wall ornaments, unique jewelry and articles for personal use. Besides earrings, bracelets, coins, and plaquettes, the students make special hand-embossed articles; chalices, bowls, and embossments. The uniqueness of these objects are enhanced by the brilliance of the enamel.
In the three years of training, students can master the techniques of enameling with the help of creative enamel instructors. Our students work with vitreous, porcelain enamel. They use opaque enamel, transparent and translucent enamel, and as well they produce enamel hem-stitches.
Ganoksin is sponsored by
The success of this training is shown by the growing number of students. The founder/owner of the school realized the arts and crafts training fields had the potential to grow into other various facilities. After introducing enameling in 1994, new three and four year long training courses in the arts and crafts were introduced.
Stained Glass and Enameling
In the school year 2003/2004, a new arts and crafts training program began which ends with a final exam – stained glass maker. This training is also unique in Slovakia and is taught only at our school as enameling had been. These students also have the opportunity to master the techniques of stained glass making.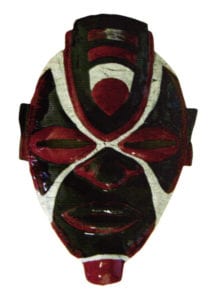 Contemporary stained glass mosaic made from little pieces of colored glass is very popular. Stained glass making is not only confined to the making of colored glass window fillings. The training course provides various uses of glass; colored glass, stained glass mosaic, lead-glass making, bending, slumping, fusing and painting. The beauty and versatility of the material is limitless and depends only on our imagination.
Ganoksin is sponsored by
Besides ornaments; pictures, craft work, designing and making articles for daily use are also important. Our goal is the same with enameling and stained glass making: to make unique works that give people pleasure, beautify their environment; useful, but have aesthetic values as well.
The classical "Tiffany style," joining small pieces of colored mosaic-like glass by a special technique gives the students an opportunity to make unique lamps, shades, door and window fillings, partitions and mirrors. The objects we use everyday are more pleasing and aesthetic by applying this technique. Mirrors, bowls, objects for personal use can be decorated with this method.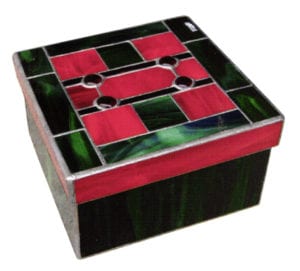 One of the most popular and spectacular techniques is glass fusing in a kiln. A mold is used as a negative space into which the glass will take the shape of a bowl, plate or similar classical objects at glass slumping temperatures.
Ganoksin is sponsored by
The Present and Future Plans
Over the years our school has started many training programs. We have introduced a three year blacksmithing (wrought iron) course and a four year graphic design course with decorator-designer training. Students of graphic design learn to use computer graphic design technology in the advertising field, while decorator designers can study planning the aesthetic look and style of interior accommodations.
Our future plans are aimed at further development in the fields of arts and crafts. In the school year 2010/2011, we are planning to introduce a new training course for mosaic making, where small pieces of glass, ceramics, tiles, and stones are used to create a work of art.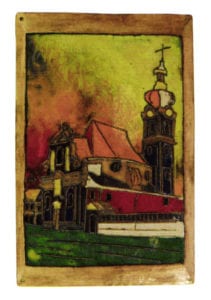 The introduction of new training courses means new infrastructural investments and innovation of human resources. Thanks to this we have modern, snug, well-equipped workshops where students can master their professions from the best craftsmen.
Ganoksin is sponsored by
Fulfilling our goals the Private Secondary School with Education in Hungarian Language in Gúta has become one of the most prestigious schools in Slovakia. This is demonstrated best by the fact that 456 students attended our school in the school year 2009/2010.