Editor's Note: Pricing jewelry pieces is one of the most challenging things jewelry designers must do. Price a piece too low and you may not cover your costs. Price it too high and no one may ever buy it. In this new occasional series, we ask jewelers to identify a piece they made and break down how they arrived at the final price.
Jeweler Jo Haemer breaks down her Pricing Formula for Jewelry Pieces
This month, Jo Haemer of Timothy W. Green in Portland, Oregon, reviews her pricing formula for an 18k white gold necklace with carved chalcedony flowers, fancy colored sapphires, and diamonds.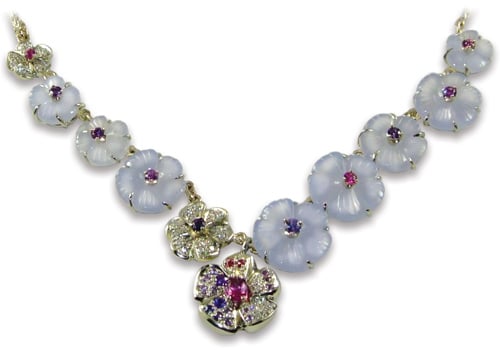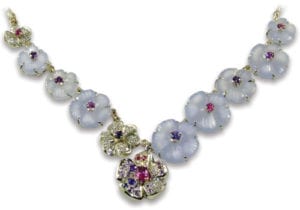 The necklace was commissioned by a private collector of our work. She had seen the chalcedony flowers laid out on Tim's bench with a rough sketch a year or so ago and had admired them. When she recently stopped in to pick up a repair and order earrings for her stepdaughter, she asked if we had done anything with them. Tim took the hint, finishing the layout and sourcing the additional stones needed to complete the piece.
Gemstones
Tim purchased the carved chalcedony flowers about two years ago. They cost $260 in all. For this piece, he marked them up 2.5 to $650. We normally double our costs, but we added another half percent because we knew that we got them for a bargain. We try to factor in replacement costs of materials regardless of what they initially cost us.
We've had some of the sapphires for so long that we couldn't replace them for what we paid for them, so we charged current prices. The sapphires are 2 ctw, and, after consulting with a local colored stone supplier on current prices, we charged $550 per carat.
The diamonds are 0.57 ctw, and we charged $1,300 per carat, which is keystone our cost.
Metal
The 18k white gold for the flowers and the chalcedony settings weighed 18 dwts. For metals, we charge keystone of our cost at that day's price. For this piece, we charged $120 per dwt.
In addition to the 18k, we purchased an 18k white gold wheat chain for $425, and charged $850.
Labor
The labor charge was $2,950, which included all of the labor. We did not charge a design fee because we had cart blanche on the design, so Tim made up the design as he went. Normally we charge $75 per hour for both design and bench labor for gold. For platinum, we charge $100 per hour because it is more labor intensive.
Total Price: $8,450