This article talks about creating the next generation engagement and wedding rings that has swept the jewelry industry today.
When it comes to bridal jewelry, a lot has changed over the last 10 years or so. The marriage rate is down from 8.6 marriages per 1,000 people in 1999 to an historic low of 6.8 today. And not only are fewer people choosing to marry, many are forgoing the diamond tradition in favor of other stones or symbols.
While this reality has challenged the diamond business to find new ways to brand products and tell its stories, it also opened the category to new opportunities to make unique, personal statements with colored stones—no longer just a trend but a tradition-in-the-making. Now, some in the lab-created diamond and gemstone arena see a niche to grow their products with Millennials.
Simultaneously, marriage equality provides a tremendous chance for jewelers to increase wedding jewelry sales by helping same-sex couples create their own protocols and traditions, with lots of room to grow, especially in the men's diamond ring category.
It's an interesting time for the engagement/wedding ring sector, and opportunities abound.
Man-Made Appeal
Recent news about the firm Diamond Foundry producing lab-grown diamonds is something to pay attention to, suggests Liz Chatelain, president of the Los Angeles-based MVI Marketing.
Created by Nanosolar founder R. Martin Roscheisen and backed by 10 billionaires as well as Blood Diamond star Leonardo DiCaprio, the Silicon Valley–based company says it uses a sliver of a natural, mined diamond as the substrate to grow its diamonds. With the brand catchphrase "Forever Starts Now," the Diamond Foundry says its goal is to reinvent the diamond industry from mine to finger by setting a new standard for social and environmental good. It describes its supporters as "part of a generation shifting away from unsustainable practices toward smart choices that signify quality and meaning."
Diamond Foundry has a marketplace with about 200 environmentally conscious designers, including Jennifer Dawes of Jennifer Dawes Design in Santa Rosa, California, and Etienne Perret of Camden, Maine, who were approached to try the product in designs destined for online sales directly to consumers.
Dawes says she's excited to be working with the Diamond Foundry. "What they're doing is cutting edge and I always like to explore alternatives, especially when it comes to an industry that's about 20 years behind the times," she says. "They're creating high quality diamonds with an incredibly low carbon footprint using hydroelectric power from the Sierra Nevadas. I'm creating for them a bespoke diamond collection, meaning that we're able to create unusual and unique cuts using their material. Instead of creating with diamonds that I find, I get to create the total design experience from the diamond up. How amazing is that!"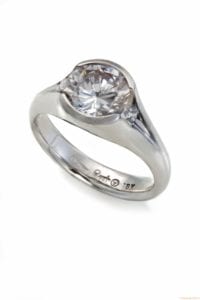 Perret, who plans to visit the company this spring, also likes working with organizations that bring new ideas to the marketplace. "Their ventures don't always work, but when they do, they can be huge!" he says, speculating that synthetic diamonds could capture 30 percent of the diamond business. "The question is whether companies like Diamond Foundry are capable of growing and marketing that many diamonds."
One reason the timing may be right for such a venture is because Millennials don't have a history and romance with diamonds like their parents and grandparents did, says Chatelain. She notes that research MVI conducted last year suggests that Millennials are open to man-made stones. "They like the idea because they don't have to worry about where it came from and think the technology is cool," she says. "With all the attention DiCaprio brings, this could really turn the diamond business on its ear. The diamond market is already experiencing inventory issues; prices and qualities are down; can't find places to mine; and it's expensive to build out. Inventory will start to shrink, even with talk of recycled diamonds in the market."
Also banking on eco-conscious Millennials is Chatham Created Gems, which has created a collection of engagement rings with lab-created diamonds, rubies, emeralds, sapphires, and alexandrite. "We're appealing to a new generation with a product that's conflict-free, eco-friendly, and revolutionary in technology," says Monica McDaniel, communications manager of the San Marcos, California–based brand. "Seventy percent of our web inquiries are looking for conflict-free diamonds. These consumers do not want to contribute to anything that could have a negative impact on people and the planet. That's the number one reason they come to us. That's where the trend is going."
Same-Sex I Do's
Jewelers can expect marriage equality to evolve wedding jewelry trends and traditions, says New York designer Rony Tennenbaum of the Art of Contemporary Love brand, and who conducts workshops in the LGBT community about new wedding protocols.
"History has only known one scenario for generations: A man buys a diamond for a woman and proposes to her; the woman wears the diamond ring; and at the wedding both get matching bands," tells Tennenbaum. "But today's modern family has many faces, and LGBT protocols are still in their infancy. There are new dynamics and opportunities for wedding jewelry for brides and grooms."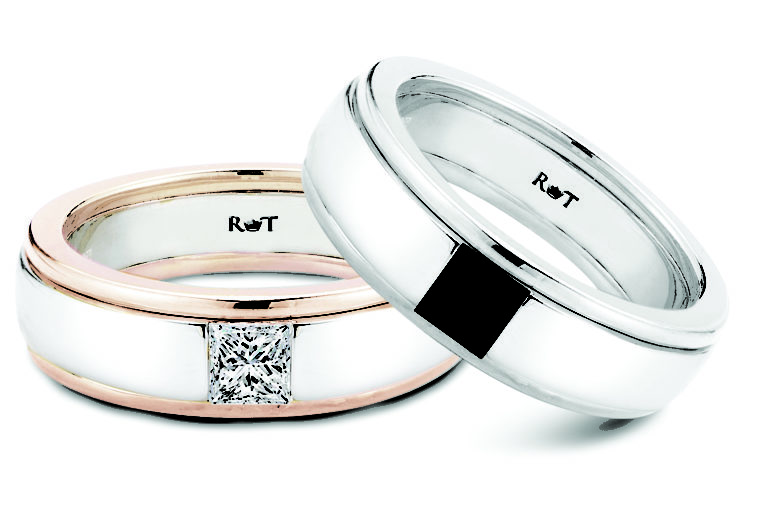 Among the most frequently asked questions Tennenbaum gets from LGBT couples are: Do we get matching rings? Do we get engaged? Does it have to be diamonds? Does it have to be rings? "They know anything goes, but they're looking to jewelers and brands to help them navigate this new journey," he says.
According to the Gay Wedding Institute, while 66 percent of women purchase engagement rings, only 19 percent of men do—a percentage Tennenbaum expects will rise with greater marketing and merchandise selection for men's diamond rings.
Matthew Perosi-Doughty with the Jewelers Equality Alliance, which helps jewelers create an inclusive shopping experience for same-sex couples, cites the men's ring category as currently woefully lacking in options for a ready customer base. "There are no men's engagement rings, no options offered," he says. "There are plenty of rings for women, but very little selection for men."
However, Jonathan Goodman Cohen of IB Goodman in Newport, Kentucky, reports interest and sales up in gold and diamond bands. "We're doing a very good business in men's diamond rings, with demand growing at higher price points and greater total carat weights," he says. Besides white diamonds, men like black and brown diamonds and other colored gems, including sapphire, garnet, and onyx. "There's great opportunity for jewelers to do more in this segment of the market."