In difficult times, it is important to invest in modern methods, machines and tools. Jewelry and watch makers can assert themselves over their competition by employing targeted innovation. After all, if you are on the cutting edge of technology, you can work more efficiently and often can also save resources such as energy, precious metals and such like. Specialist retailers can win over and bind customers with a well equipped repair service, a goldsmith studio or a watch making workshop. It pays its way for jewelers and goldsmiths to own state of the art tools, machines and accessories. This not only saves human resource capacities, who would be needed more urgently in sales, but also enhances the quality of work thanks to crafty technology. The following specialist section on Tools presents selected innovation and tried and tested technical solutions from leading providers.
Together forever – sintering technology for multicolored wedding rings
Latest trends in the design of wedding rings especially show that there is an increasing demand for new, fancy and special designs. Whereas in former times wedding rings usually had simple designs and mostly were used to show the marital status, things have changed completely now. Wedding rings now tend to not only show the marital status but also to be a real jewelry product. New multicolored designs consisting of various mixed materials were born and are manufactured with high quality.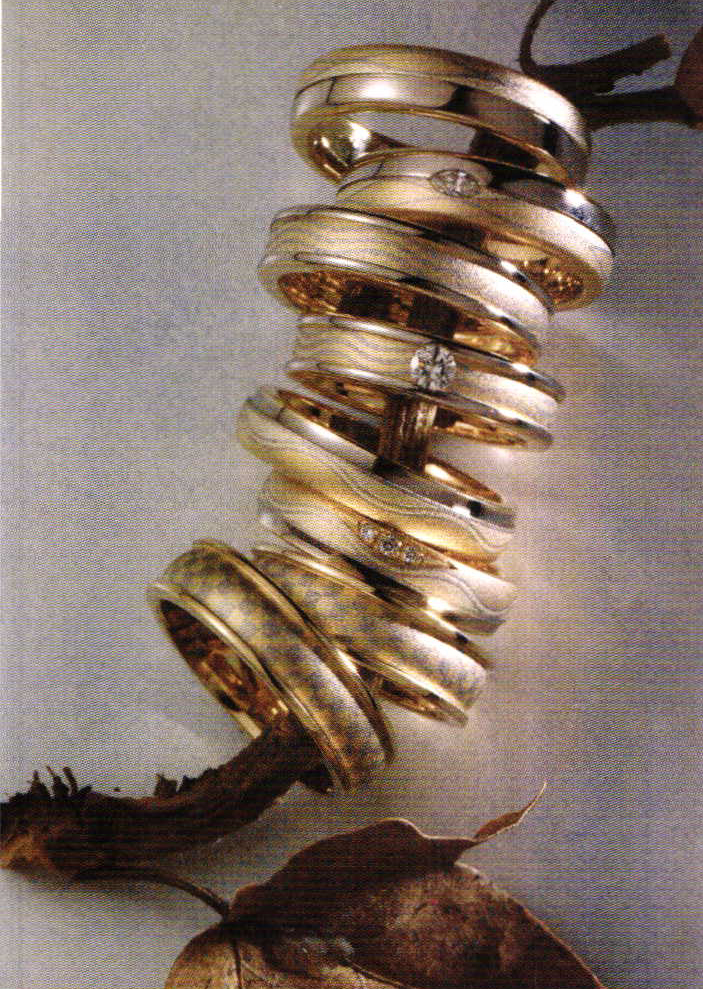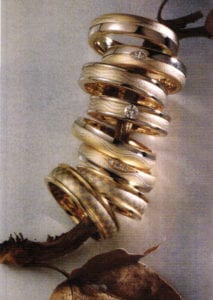 Schultheiss is well known in the jewelry industry as manufacturer for casting machines and burnout furnaces. In the field of connecting two components, Schultheiss has started with inductive soldering including ring soldering units. Subsequently, when the demand in the industry increased and soldering reached its limitations, Schultheiss developed the diffusion bonding technology, to join metals of different materials and colors – the sintering machines. The sintering technology was developed by Schultheiss in close cooperation with renowned designers and experienced production managers from the jewelry industry. The basic idea was to be able to seamlessly connect different metals (gold of different colors, but also with platinum, steel or even titanium) without the help of additional solders or brazing alloys. Drawing on over 20 years of experience in induction heating, vacuum technology and precise control of temperature and pressure, Schultheiss built the machines with its proven technology and well known quality.
The sintering process – also known as diffusion bonding – takes place under vacuum and pressure. After the parts intended for bonding have been positioned and placed into the die of the machine, the system is heated up by a powerful induction heating system. The control guarantees a fast heating at the lower temperatures and a precise movement to the desired final set point. Once the temperature where the bonding itself takes place is reached, a high mechanical pressure is applied to the parts. Staying under certain – perfectly monitored and controlled – conditions the materials are diffused and bonded to each other. The produced boundary surface with a thickness µm belongs to both of the materials and therefore assures a stable and lasting connection, even under mechanical stress or high temperature changes. Since it is a fusion between the combined metals, the sintered connection is practically unbreakable.
The parts can be mechanically processed by rolling, stretching, machining and also multiple sintering processes, without the risk of breaking the connection. The sintering can be applied to produce multicolored wedding rings, bangles, multicolored plates and strips or even watch casings. The parts to be used for sintering can be in a compact solid form, splinters, wires, powder or any combination thereof. The sintering allows a very efficient production of highest quality of multicolored metal compositions from gold, platinum, stainless steel and titanium. Simply in order to be able to cater to most of the needs in the jewelry production of multicolored pieces, Schultheiss offers a wide range of sintering machines. Whether we are dealing with small production values up to real series production or from low temperature up to the higher temperature applications, everything is well covered by the RS series. www.schultheiss-qmbh.de
Clear water – concentrated sludge
Knowledge, experience and the constant strive for perfection makes Otec one of the world-wide leading enterprises in surface finishing. The company sets new standards for both efficient and economic surface processing. With the MF series, OTEC offers a family of compact micro filtration units, which offer new solutions for waste water treatment for wet grinding machines like the CF series of OTEC.
The problem with conventional methods, such as centrifuges or expensive filtration units, are as follows:
Centrifuges and conventional filtration units have very high purchase prices and they provide less than adequate performance with regard to waste water treatment.
They provide poor performance with regard to waste water treatment and are not well suited for the recovery of precious metals.
Both centrifuges and conventional filtration systems have large footprints and have high power consumptions.
The advantages of the MF series:
Very efficient performance with regard to waste water treatment, with filtration of particles down to 0,2 microns. This translates into the ability to use the MF system in a closed loop system with the wet grinding machine.
Easy access to the precious metals which are collected together with the concentrated sludge in special removable catch trays.
Very significant cost advantages due to comparatively low purchase prize, small footprint and low power requirement. Further savings are realized in compound usage in a closed loop system.
Very reliable, quiet operation with simple, straight-forward maintenance requirements.
Novorit – new ceramic material for high quality colored design
Novorit is an entirely new design material, as it contains over 50 percent high quality ceramics. Micro-fine ceramic particles are bonded using a liquid matrix. The result: design pastes with convincing purity, which can be equated with saturated colors. Novorit is effective, even in thin layers. It can create enamel effects very simply and impressively.
Heimerle + Meule GmbH, Pforzheim and Invicon Chemical Solutions GmbH, Lustenau (Austria) recently joined in presenting this new design system for high quality and fascinating color creations in the world of jewelry and watches.
Drawing on its system properties, Novorit ideally enhances the current Colorit system, which was just recently introduced to the Heimerle + Meule product program and is also distributed exclusively. Pressure and heat lend the polymer ceramic its resistance to wear. In this context, the jewelry item is deep-hardened in a so-called CeraPower Station under four bars of pressure and a temperature of 120 °C. In this automated work process lasting 25 minutes, entirely homogeneous surfaces are created – free of blisters and with threefold hardness compared to previous systems.
All Novorit color pastes can be processed in any layer thickness and in lust one work stage. Color designs in "black", which so far have been very work-intensive, can now be created astonishingly quickly and efficiently with Novorit. A broad range of expressive, opaque basic colors and extremely varied effect colors are available for application. In order to ensure that jewelry designers can draw on a full range, the colors can also be mixed.
Europe's oldest separating institute – more than semi-finished products and recycling
Looking back on 140 years of tradition, it is one of Europe's oldest separating institutes. Customers know Carl Schaefer Gold- und Silberscheideanstalt in Pforzheim as a friendly family business, run in the sixth generation. Each customer has a personal contact in the company, large and small orders are treated equally and the structures are uncomplicated: this lays the foundation for ensuring that most customers have felt close ties to the company for many years.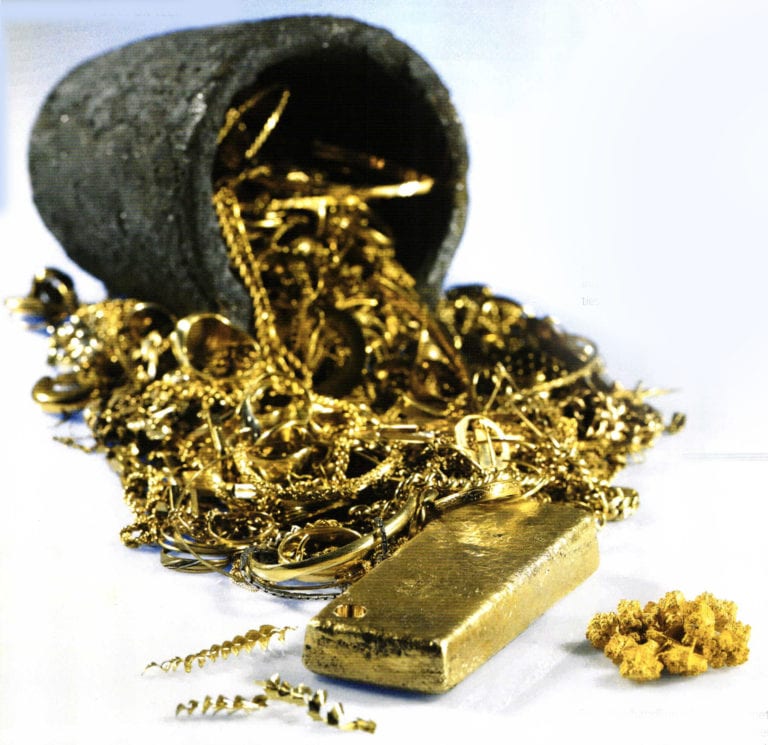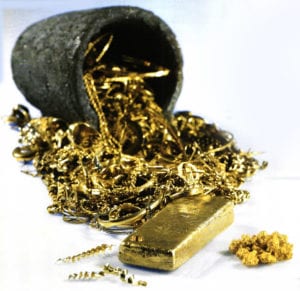 Sensitive handling of precious metals has always been the core competence at Carl Schaefer. This includes precious metal recycling from retrieval through to refinement. All forms of precious metal are processed: baths with gold contents, scratched gold, old gold, gold scrap, gold teeth and dental gold and any form of waste containing precious metals. State of the art analysis technology – for example docimacy or ICP – produces excellent results.
Another level of expertise is in the production of individual, customer-specific, semi-finished products using any alloy. High performance continuous casting systems produce a broad range of standard and special alloys for industrial precious metalworking and also for traditional Jewelry production. Carl Schaefer astonished the expert community this fall with the new, oxidation-free silver alloy "Oxantis". The clear, shining sparkle is no longer dulled by spreading blackness – this means that the silver is easier to process and can be polished faster. The partner Artschmuck in Hanau distributes a warehouse program of semi-finished products.
In addition to the numerous cases of innovation, there is also a constant feature in the gold and silver separating institute: the quality. The company stands up to the highest standards with certification according to DIN EN ISO 9001, 13485 and the EU Directive 93/42/EWG and constant monitoring and optimization of all processes on the basis of a quality management system introduced in October. www.carl-schaefer.de
Knot machine for pearls
Karl Fischer GmbH from Pforzheim has developed a "knot machine" that, due to its simple operation, is ideal for specialist jewelers, jewelers and goldsmiths. Production of strings of stones and pearls with clean and regular knots is no problem for unpracticed sales staff after a very short introduction period. Only a few stages of work are necessary in order to knot a string of pearls in an expert manner. The knot machine is manufactured entirely in Germany.
Beco Technic for lifestyle – jewelry-related products
The new and extended edition of the Beco Technic catalogue "buy & sell" under the abbreviation BS 2 offers specialist retailers an extensive product range for on-selling to their customers. The products offered in the 60-page catalogue include among other things programmable watch movers, watch collector boxes, jewelry cassettes, jewelry cleaning products, real jewelry first ear studs and radio alarm clocks. The catalogue does not list purchase prices, but instead simply encoded recommended retail prices for the ultimate consumers. This means that specialist retailers can work openly with the catalogue in the presence of their customers.
Specialist retailers also receive sales promotion from the Beco Technic for lifestyle concept with displays, individualized leaflets, advertising in lifestyle magazines, carrier bags and giveaways.
Busch instruments for goldsmiths – one century of innovation
Titanium, a real trend material in the jewelry industry, is quite tricky at times. The material itself is the reason why it is so difficult to process. Accordingly, the material, which is difficult to cut, places very high demands in the tools. The hard metal cutters from Busch with XTi teeth offer possible solutions for processing. The special cross teeth are characterized by very deep cutting spaces, they easily overcome the titanium's resistance to penetration and therefore avoid generating unnecessary heat, which can most certainly lead to undesirable oxidation on the surface.
The Busch Company has a long tradition. In 1905, the brothers Ernst and Otto Busch set up the factory Busch & Co for dental burs in Düsseldorf. The latest scientific and technical findings were always applied above all to the benefit of the users who soon came to appreciate the high precision and quality of the Busch products. Among other things, Busch & Co. played a vital pioneering role for instance in the development of rotary instruments for goldsmiths and setters, and has recently also set further highlights with such high-tech products as the 203 HM twist drill for effectively drilling into jewelry steel and the 1AU round carbide cutters for drilling gold alloys. Today, this family business with international activities and a workforce of 130 coworkers is successfully run by Gert Busch in the third generation Busch is also celebrating its centenary with "external" projects, including major donations to such chartable organizations as the Deutsche Welthungerhilfe (German Food for the World), Deutsche Krebshilfe (German Cancer Aid) and the local voluntary fire brigade at the location of Busch in Engelskirchen.
Vibration casting – convincing in practice and in the laboratory
At the start of the year, the German company Indutherm presented the VC 600 V as new top model for the vacuum / pressure casting series. Among the numerous cases of technical innovation in this system, the vibration casting method was given a lot of attention. Several dozen of these machines have since been delivered and have proven their worth in daily use. The great expectations among those responsible for the development and above all the users with regard to the casting quality have been fully satisfied.
Extensive test series with gold and silver alloys used the system to cast different casting trees with and without vibration. The examiners repeated every cast seven times under identical conditions in order to gain meaningful values. The developers assumed that vibration would improve the metal flux and therefore the form filling and would also reduce the risk of hot cracks. Metallurgical analysis also confirmed that the vibration casts had a significantly higher density than the casts made without vibration. On average, the specific weight was extremely close to the original alloy. Above all, the casts made with vibration had practically no quality deviations. The microscopic examinations revealed a significant reduction in the porosity, a grain size that was up to 50 percent smaller and a significantly lower formation of smaller dendrites.
The test casts were also analyzed with regard to their tensile strength and elongation: The elongation limit, at which the cast tears under tension, rose by 12 percent on average, while the tensile strength, defined by the value Rp 0.2, rose by 25 percent. In practical terms, these values promise a significantly higher strength during further processing such as changing the ring size and setting work, etc.
In the daily cast production, naturally, practical results are vastly more important than theoretical values. Users have praised above all the significantly higher form filling of difficult molds, the enhanced surface quality and the substantially reduced reprocessing that is required compared to other methods. Porosity beneath the surface, which has caused problems in the event of deeper grinding or cutting, is no longer a topic with vibration casting. Indutherm supplies major systems to other industries also, in which there are even higher precision requirements than in the jewelry industry, for example micro-engineering and medical engineering. Due to the low tolerance, a manufacturer of components for micro-surgical instruments such as tiny scissors and grabbers, etc. was forced to accept a reject quota of over 50 percent per casting tree. After tests with the VC 600 V this manufacturer has switched the entire casting production to this system and is absolutely thrilled with the casting quality, even in permanent use.
Casting equipment, tools and know how for designers and small workshops
Focused on the requirements of bench jewelers and designers Ti-Research offers small but highly reliable casting equipment even for smallest locations. The compact centrifugal casting machine "Cast" is an alternative for designers and professional bench jewelers without the hassle of sending molds back and forth, losing precious time and expenses. The small unit allows casting of all metals which can be melted by flame under atmospheric conditions without contamination.
NoWax is a unique new resin compound that can be easily modeled by hand to make jewelry patterns for lost wax casting. The patterns become hard after light curing and can be filed, drilled or machined. After curing the patterns are ready to be sprayed just like regular wax for casting.
Stay cool with the revolution in gemological microscope
Bright light, not sizzling heat – the new Cool-Touch Gemmaster microscope revolutionizes darkfield illumination by keeping the microscope stage cool, even after hours of work. Developed and designed by System Eickhorst, Hamburg/Germany, manufacturer of innovative Gemmological Instruments and Lighting Technology.
The gemmologist's dream of a lifetime has come true – microscope at comfortable temperatures in the working area. Instead of the typical 50°C / 122°F heat-up of the microscope stage generated by quartz halogen incandescent bulb illumination, the new microscope stage maintains a cool touch due to the sophisticated spectrolight darkfield illuminator.
Gemstones are perfectly embedded in diffused daylight of High Intensity, equivalent to the lighting power of a 35 Watt quartz halogen lamp. This very noticeably exceeds the usual 25 Watt of other microscopes on the market. No question that these advantages also apply when using brightfield illumination.
This innovative step in microscope illumination technology also causes strong investment cost reductions. Other welcomed user advantages are enhanced contrast and improved 3D Vision at flickerfree digital lighting of 6,000 Kelvin daylight color temperature. In addition three original USB plug & play ports energize a selection of coldlight LED pin-pointers and other USB accessories.
Of outmost importance for the operator's working comfort are the multiple magnetic click sockets enabling to mount two stoneholder versions, available as classic design and as GIA wire type. The added benefit of the ergonomic stage, designed for comfortable wrist and finger positioning, is all day microscope work. The optional overhead full spectrum daylight illuminator is an important tool for Gemmaster microscope as well.
The new stereo zoom microscope is available with excellent Zeiss optics of 10x – 80x Zoom range or Leica optical systems of various magnifications, see photo. Both optical systems are available for digital camera adaption whether trinocular or binocular.
Professional gemmologists will appreciate the conversion option for horizontal immersion microscope for the examination of sophisticated colored stones in liquids of high refractive index. Furthermore the microscope is designed for convincingly compact travel and storing solutions and is compatible with any global voltage from 100 to 230 Volt DC.
Swiss quality in the tool sector
Edenta, the specialist company guarantees absolute quality consistency. Its range of top grade abrasive and polishing rotary instruments includes all features of the highest quality products. Their programme is made up of traditional silicon rubber polishers as well as state-of- the-art diamond impregnated ones with focus on longevity and high level performance, various different types suited for the full spectrum of all kinds of materials used in jewelry and other industries, diamond burs and cutting discs, tungsten carbide cutters, rubynit trimmers, ceramic bonded stones and steelburs, plus mandrels, drills and finishers.
All instruments are made from only the best quality materials and every one of them is manufactured to meet the demanding ISO 9001 standards, in fact exceeding them by far. Edenta polishers, diamonds and carbides are highly respected by even the most discerning operators who have been using them. Some of the most important features of the Edenta Rotary instruments include its enhanced durability standards and the unmatched longevity. Its cutting, polishing and trimming efficiency is the ultimate that is available in the market today, and its concentricity is unparalleled. All in all it is only fair comment to make, that Edenta Rotary Instruments have become "The New Industry Standard". A company commitment to superior service has propelled Edenta to the forefront of the rotary instrument market, and complete customer satisfaction is the goal of every Edenta employee. Swiss Quality at its very best.