The art of gemstone carving had its absolute heyday during the 19th century in Paris. The main center of the creative craft is now in Idar-Oberstein, where experts still pursue the profession. In a modern interpretation, gemstone engraving has lost nothing of its currency.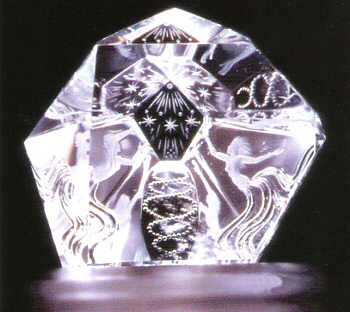 "Genesis" mountain crystal sculpture that
symbolizes the "Genesis" in a double helix and the mirroring of male and female images
Engraved gemstones as jewelry or a symbolic interpretation of the world and society around us have a long tradition. Until today, the art of gemstone engraving can be seen in many different forms and variations such as deep-cut intaglios or gems with enhanced cameos and reliefs, three-dimensional sculptures and optical illusions.
However, modern engraving is by no means exclusively restricted to purely figurine motifs in the style of portraits or heraldic styles, as they have been carved in large numbers of colored layer agate in the past centuries. Instead, shadings, photorealistic motifs, abstract forms, reflective surfaces and even holographic mirroring are in demand in very varied types of gemstone.
| | |
| --- | --- |
| | |
| Free formed cross in mountain crystal with fleur de lys motif engraved as intaglio | Portrait of Salvador Dali in 3-layered agate |
The Idar Oberstein-based gemstone engraver Hans Ulrich Pauly is a true master of his profession and has worked in the now quite uncommon profession for many generations. The 50-year old gemstone expert proves his crafts skill, his technical perfection and his refined creativeness every day in his studio. Circumspect like – unfortunately – few in his trade, he trains at least one apprentice each year and ensures in this way that the industry stays alive.
| | |
| --- | --- |
| | |
| "Op-Art" in mountain crystal and onyx, developed by Carlo Wild – one of the National Champions winner | Snow crystals sculpted in mountain crystal and zirconium and engraved deeply into beryl |
Hans Ulrich Pauly has offered almost all his apprentices a job once they had completed their training, and he is particularly proud of the awards that two of his former students won as National Champions in 1998 and 2000. "I see my work as a form of connection between centuries of old, masterful tradition and the challenge to tease innovative impulses from the old art and to create a modern language of forms", says Hans Ulrich Pauly, who is convinced that the profession of gemstone engraver has a future, as long as one knows how to use the old techniques in a modern manner. "Engravers will only be in demand if they have unusual ideas and understand how to combine old quality with modern design and marketing". Pauly himself has already organized several design competitions for modern engraving, thus mirroring the considerable innovative potential in the small industry. His own imagination also seems boundless; he is constantly trying out new methods and forms, and draws inspiration from the unique character of each individual gemstone. International jewelry companies such as Boucheron or Victor Mayer appreciate the modern interpretation of the old craft, which the Idar Oberstein based artist commands perfectly.
| | |
| --- | --- |
| | |
| Examples of the Wild Life Collection, citrine with various animal fur patterns | Lion's head made of petrified palm wood, eyes and nose inlaid |