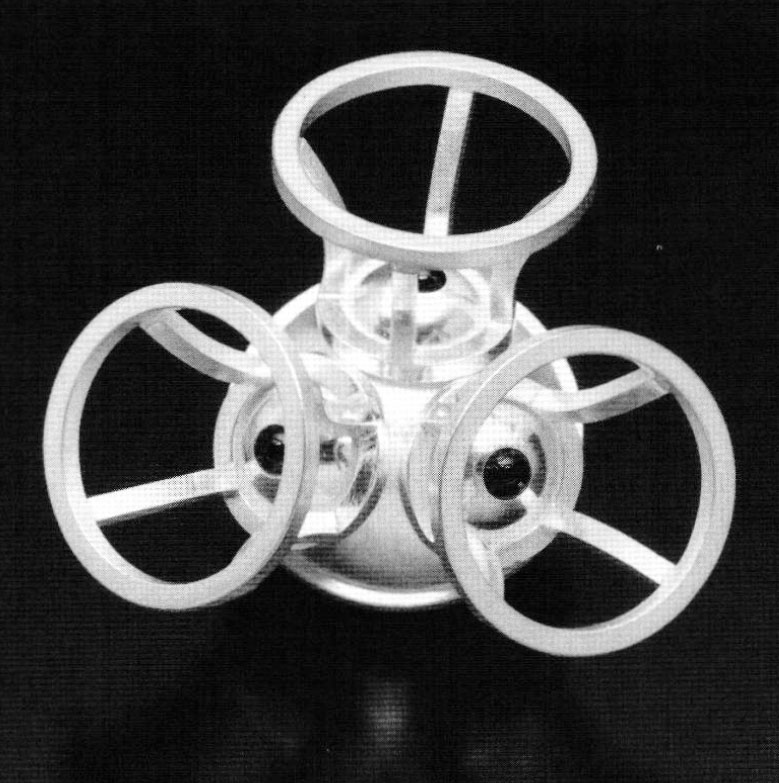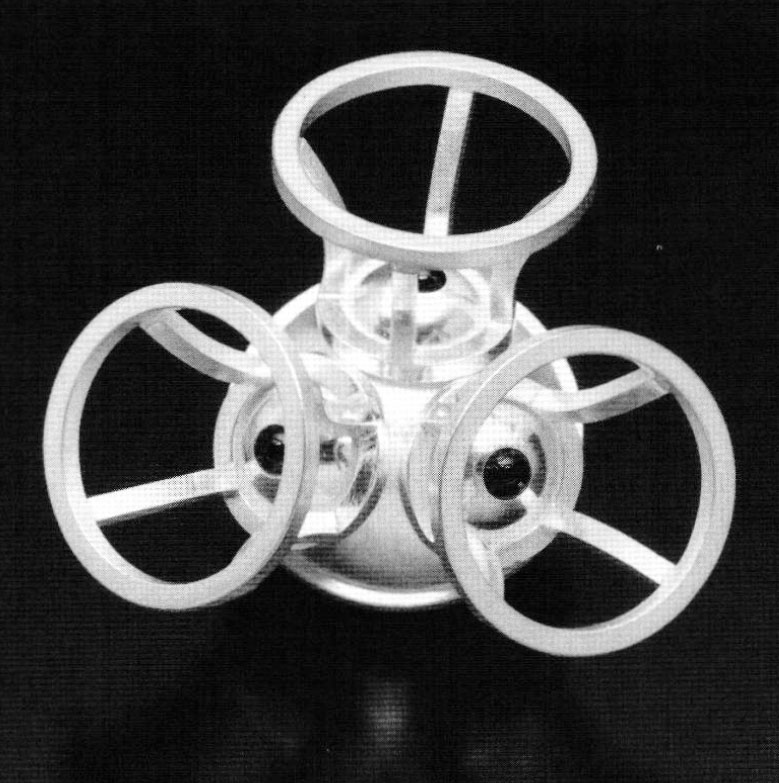 Metalsmith '96 Spring: Exhibition Reviews
---
21 Minute Read
This article showcases various exhibitions in the form of collected exhibition reviews published in the 1996 Spring issue of the Metalsmith Magazine. This features Donald Pywell, Robert Ebendorf, Kathy Buszkiewicz, and more!
~~~~~~~~~~~~~~~~~~~~~~~~
TRIPTYCH: Explorations of the Brooch
Gallery at Craft Alliance
Saint Louis, MO
September 15 through October 28
By Noel Leicht
The brooch seems to be coming into its own as a non-functional sculptural object as evidenced in "TRIPTYCH: Explorations of the Brooch". Thirty-six American artists submitted brooches, many that pushed the concept beyond the traditional format. As if following the recent trend in teapots - in which artists overlook the need to steep hot tea when they create a teapot - wearabililty of the brooches did not seem relevant as many artists opted to pursue a variety of sculptural concerns during their making.
Those brooches in "Explorations" made bold sculptural statements in the use of materials, recycled findings, three-dimensional design, and by their mere size and proportion. The artists included pin stems and tie tacks for the pieces were, indeed, meant to hang; not necessarily on a jacket or sweater, but as sculptural reliefs on a wall.
To emphasize this trend, curator Barbara Jordan attached the brooches directly to the wall, setting them apart with white frames that blended with the stark whiteness of the gallery walls. Placing the work at eye level, without glass made the brooches readily visible and accessible like other three-dimensional art, a genuine improvement over traditional jewelry case displays.
As in most brooch shows, artists served up an eclectic array of work using a mix of found materials, precious metals, new techniques, narrative themes, and new design approaches. In his Chrysalis series, Joe Muench exhibited the virtuosity of a master craftsman with his extensive use of materials. Muench's brooches employed silver with polished bone and steel, charred wood and striped married metals, and laminated wood and textured, patinated copper. The exploration of materials exemplifies Muench's determination to continually experiment within his medium and to test his skills as a maker and technician.
Robert Dancik contributed a strong presence to the show with his three Navigational Aids. Each featured found objects embedded in concrete set in thick silver bezels from which hung small boat-like structures suspended on heavy wire. The brooches, while appearing heavy and un-wearable, were thoughtful, well-balanced designs with moveable parts.
Gina Pankowski created her first brooches for "Explorations". The intricate wire Anatomy Brooches, were superbly crafted and extraordinarily dimensional in their airy molecular-like imagery. They seem to float out from the wall with their circular appendages ready to orbit into space.
Maria Phillips's Triptych to Life #5 wall hanging narrates her overland journey west from part time metals student in St. Louis to graduate studies in Seattle. Her imagery of road maps, highways, gauges, asphalt, complicated infrastructures, and amorphous figures depict an almost spiritual journey into a new unknown.
Sharon Church's elegant Within and Without is an innovative brooch/pendant design. A curvaceous heart-shaped pendant of carved ebony dangles gracefully from elongated links attached to a repousséd 14k leaf brooch. The sensuous elements of the ten-inch piece sway with the slightest body movement creating interesting options for the wearer.
Laurie Hall's How to Climb Series consists of Matches, Plank, and Feet which appropriately describe the linked elements that form her six to seven-inch articulated ladder-like brooch pendants.
Susan Bickford's Three Becoming Four is a figurative sculpture in which the artist tells the story of her growing family. The hollow form brooches of a man, a pregnant woman, and a dog are mounted on a round stand that is engraved with the couplet conversation. The figures have sturdy pin stems which are cleverly adapted for display.
Among the smaller more traditionally sized brooches, Michele Mercaldo's triptych (three-pieces-or-one) stands out for its exquisite simplicity and unique design. An ingenious work of miniature engineering, Brooch #1, an one-inch oxidized black silver frame fits over Brooch #2: a square brushed silver hollow form featuring a cutout which fits over Brooch #3: five tiny 14k gold spheres arranged in the shape of a cross. When the three individual brooches fit inside each other, the design provides a marvelous study in contrasts: texture, color, shape, and finish.
Sara Shepherd wears her heart (or daisy) on her sleeve with her triptych of brooches. The love narrative is obvious on close inspection as she implies that love is like a wheel of fortune (a married metals pinwheel) on which fate spins. Her second brooch shows a full bloom daisy, supported by an infrastructure; her third brooch is a limp daisy losing petals in the old game of "he loves me, he loves me not". Aptly titled Therapy 1-2-3, the designs stand up well on their own, with or without the narrative theme.
Emily Rosenfeld's brooches tell the story of three generations of women in her family. Using subtle, but erotic imagery, her small brushed silver elongated oval shapes form carefully riveted layers that frame tiny red threads wrapped into the simple designs.
The essence of simplicity is exemplified in Boo Poulin's three identical I shaped brooches. They appear almost whimsical in their movement across the wall which was achieved by changing the curve of the center cable by simply tacking the cross bar at a different angle.
"Explorations" articulated the metals vocabulary being used by this generation of practicing and emerging metalsmiths. The vocabulary is broad, varied, thoughtful, concerned, humorous, gutsy and technically curious. Craft Alliance and its curator Barbara Jordan are to be commended for educating a community about contemporary metalsmithing and for encouraging artists to explore their medium.
Noel Leicht is a St. Louis metals artist and writer.
Donald Pywell: Golden Impressions of Andrew Wyeth
Brandywine River Museum
Chadds Ford, PA
November 24, 1995 - January 7, 1996
by Susan Jo Klein
If a jewelry exhibition could ever be described as magical, the display of Don Pywell's jewelry at the Brandywine River Museum in Chadds Ford, Pennsylvania, would certainly qualify. Upon entering a darkened room, visitors encounter the breathtaking sight of dramatically lit shadowboxes, each depicting a scene or detail from a painting by Andrew Wyeth. Positioned in a spotlight in each of these settings is one of the 23 pieces of jewelry that Don Pywell created for Betsy Wyeth, the wife of the famous Brandywine artist.
Enchanted by the miniature world of these elaborate dioramas - a 19th century world of rustic hay barns and scenic stone farmhouses - I had to remind myself that this was an exhibition of jewelry. But the rich 18k gold and the strength of the designs helped the jewelry hold its own within these detailed environments made by architectural model maker Timothy Mark Cole. (That is, with the exception of two or three natural displays obviously not created by Mr. Cole in which I had difficulty seeing the jewelry for the trees.) But, for this initial visit, I allowed myself to be transported by the beauty of the exhibition as a whole and to ponder on the intricacies of such a collaboration between painter, collector, goldsmith, and model maker.
A few days later I returned to look at the jewelry after most of the Christmas-time visitors had gone home for the day, determined not to be seduced by the charming display.
Don Pywell is a master carver of wax and ivory. His ability to capture the textures found in nature is astounding. The 18k pale yellow gold Corn Necklace (inspired by Wyeth's painting Winter Corn, 1948) looks like miniature corn, complete with individual kernels and rippling veined leaves. The Duel Oars Brooch (from The Duel, 1976) shows every detail of the wood grain in the golden oar and tiny rivets in the oxidized silver leather handholds. And the Blackberry Brooch and Earrings (from Blackberry Branch, drybrush, 1943) were ready for picking with their lush red cabochon rubies and frosted 18k green gold leaves. The carved ivory of the Venetian Mask Necklace (from Winter Carnival, drybrush, 1985) was wonderfully bold and sensuous, although somewhat marred, for me, by being what I consider a forbidden material.
As a fastenings and findings enthusiast, I was a little more critical of the way Mr. Pywell joins his jewelry units together. I'd have liked to have seen the Japanese Lantern Necklace with the lantern units mechanically attached to each other rather than strung on a heavy neck wire. The plain shiny box catch did not integrate with the design. Other necklaces, namely the River Cove Mussels Necklace were more successful in that respect, although both the Corn Necklace and Hayledge Necklace had heavy hooks that looked awkward and crude in contrast to their harmonious, flowing designs. The solid gold cuff bracelets all appeared to have good hidden hinges and catches, which gave them a sense of unity and completion.
Undoubtedly somewhat limited by the traditional subject matter, Don Pywell has been successful in creating jewelry which is sensuous, elegant, and rich in texture and bold (although occasionally predictable) in design.
Susan Jo Klein is a metalsmith who lives in Philadelphia, PA.
Jewelry with an Attitude: New work by Robert Ebendorf
MIA Gallery
Seattle, WA
June 1 - July 2, 1995
by William Baran-Mickle
Of Robert Ebendorf's 29 works, 10 necklaces were elegantly displayed in side-by-side rectangular wall cases. Looking like special collectors pages, they unified the works which could easily have seemed too diverse and busy. They also subtly brought a sense of preciousness to a compilation of previously owned, used, and discarded materials that often do not command a second glance.
Vanessa Lynn wrote that Ebendorf's work "has found its core in contradiction - in a dialogue between tradition and change, which he has gone on to embroider and embellish." He certainly continues in that vein. A traditional format - wearable, occasionally precious in material, and with settings a jeweler would construct - is juxtaposed with crude objects I call "shards of civilization". The object vocabulary ranges from the softened shards of colored glass or ceramics, to selected bits of machine-pressed aluminum, spoons. shells, pearls, fossils, and twigs. Many of the remnants seemed to be of mid-20th Century manufacture. Fragments are often jewel-mounted, pointing out their significance, just as a poet might isolate an interesting word or phrase that on reading lacks a context. In a number of the necklaces, a pendant-spoon doubles as a niche in which is exhibited a cross or shard. The spoon shank splits in decorative curls, linked to the necklace by a can's pull-tab, or an upside-down ring shank. A neck wrap system of coiled branches or of variously shaped, forged metal links with interspersed rock shards completes the work.
The set of rings elegantly highlights selected shards by being buried shank deep in black sand contained in individual wooden boxes. All shanks are the same anyway. If owned as a set it suggests, one need only select the top for the day. In an odd way, this is a twist on the concept of the mood ring, albeit an intellectually aesthetic version. Similarly, the 5 bracelets all share the same steel link pattern and isolate a single shard. They too have a comfortable and relaxed character.
The variety of treatments used in this diverse collection allows for the best understanding of the title "Jewelry with an Attitude". The viewer is confronted with a refined crudeness, a relaxed sense of ornamentation integrated with minimally formed wire. Ebendorf cares that his object-statements not be disregarded by the wearer. He goes to the trouble to back rough materials with smooth, trimmed olive-oil tins and carefully folded corners. Ultimately he is concerned that the wearer not fear the image or the unusual materials. It may be rough, but it doesn't need to hurt or mar.
The most elegant of the necklaces, is made of small tree branches. Carefully selected pieces are cut to include the twig, which then hangs down to create a fan of branch-twigs. This neckpiece simply demonstrates Ebendorf's major gift: the combination of the selective eye with the jewelers refined skill.
We trust that these ornaments conjure up worthy observations of our culture and reveal how an artist uses cultural detritus as material, becoming potently and surprisingly attractive. While this is not ground breaking work, it does not seek to be anything other than Ebendorf's personal challenge to observe, consider, record, and ultimately share his artistic self.
William Baran-Mickle is a metalsmith and a frequent contributor to this magazine. He lives in Rochester, NY.
4th Generation; 6 Jewelers from Munich
Bettina Dittlman, Anuschka Corazon-Walch, Karl Fritsch, Karen Pontoppidian, Bettina Speckner, Norman Weber
Woods Gerry Gallery,
Rhode Island School of Design
Providence, RI
April 17 - September 17, 1995
By Alyssa Dee Krauss
"Everything you declare is jewelry is jewelry"
Otto Kunsli
More than just a new branch on the family tree "4th Generation; 6 Jewelers from Munich" is an exciting and provocative collection of jewelry. The show follows a 1993 exhibition in Munich, that celebrated three generations of jewelry instructors from the German Fine Art Academies. The title suggests that we view the work while considering those forefathers (specifically, Herman Jünger and Otto Kunsli, as all six jewelers and the curator of "4th Generation…" studied with one or the other). Evidently, these professors have had a discernible influence on the academic and professional jewelry worlds, and accordingly, on this exhibition. In this case, however, legacy notwithstanding, the fourth generation makes its own contribution to the field.
Kunsli's approach to jewelry takes into account its "intrinsic relationship with the body, but only on the condition that this precept is the springboard from which to challenge and reconstruct that premise". He encourages viewers to rid themselves of their prejudices and preconceptions about jewelry, beauty, preciousness, and technique. This kind of thinking that challenges our conceptual comfort zones and collective assumptions, orients the "4th Generation", and brings freshness and pedagogical impact to the exhibition.
What curator Klaus Bürgel calls "deceptively facile work" characterizes much of the jewelry in the show. This comes as a surprise from a country whose reputation for precision and technical mastery is unsurpassed. Could this technical rebellion be a reaction to the stringent training these jewelers received? Or is it the need to question all of the rules? Bürgel suggests that in the fine art arena, superior craftsmanship is first necessary in order to create in this offhanded and unpretentious manner.
Using delicacy, Bettina Dittlmann imbues the historically non-precious with preciousness, and glorifies the non-aestheticized side of life. She captures the natural world in various stages of decay, making enameled copper and iron seem as fragile as drying plant life. Her brooch, Memento Mori, is a reminder that behind all of life's finest moments, death and decomposition lay in wait. Dittlmann uses demanding goldsmithing techniques in the treatment of base metals, and bejewels her work with vibrant colors. Her graphically impressive wire and enamel sketches are ornaments and objects. Those void of findings for attachment or function, stretch our concept of what jewelry is - not by telling us, but by compelling us to ask ourselves.
Karl Fritsch continues the challenge to our preconceptions by treating preciousness in a flippant and consciously irreverent way. He mocks the traditions of the meister goldschmied and all conventional perceptions of jewelry and beauty. His cavalier use of gold and gemstones demonstrates his disregard for their cultural and historical values. Fritsch's "not-design" technique produced what seems like a hundred spontaneous Play-Doh-like castings; globular and crude wads of metal made into brooches, rings, and pendants. Some are made from melting other jewelry, leaving their gemstones to sink into the molten metal, and sporadically resurface. Others are simple wax castings with commercial findings thrown in, signaling their reference to function. Each piece reveals his process. Other jewelers file or sand away the marks of their tools; Fritsch purposefully leaves his fingerprints in the wax. His freedom and ease with materials and techniques accentuate the unpretentious side of the personality of gold, coercing his viewers to reconsider their opinion of the precious metal. His pieces are not well designed and not pretty. They do not seem to make any historical reference. The work threatens even liberal ideas about jewelry and functional art, and is impressive because of this provocation. In the face of his highly rigorous training in a medium laden with pretension, Fritsch's unbound energy and utter lack of tradition is at once alarming, enlightening, and inspiring.
Karen Pontoppidian's work exalts the clumsier side of nature and jewelry. Her subjects are bulbous plant-like enameled forms affixed to heavy round ring shanks. Disregarding demeanor in her technical process as well, she "piles enamel powder into heaps" on top of her constructions. Seeing these swollen nodules crusted with color, like crowns on rings where the diamonds usually are, suggests that we reconsider our western obsession with idealized physical perfection. Pontoppidian challenges us to see the prejudice in this value structure and to recognize beauty in all phases of life.
Adhering to a more formalist approach, Norman Weber's work is beautiful from a modernist perspective. He reconstructs jewelry in a sculpturally cohesive and intelligent way, taking into account form, material, process, and an historical relevance to his medium. His faceted constructions are cut and folded from thin gold sheets, like paper. They make reference to precious stones, traditional, and even commercial jewelry, but with far more visual integrity. Large, out of balance, and distorted, his completed objects come alive in a way that their solid and geometric counterparts never could. The distortion reveals their hollowness (a comment perhaps, about the real thing), and instigates a visual dynamic between interior and exterior, as well as between jewelry and fine art.
Bettina Speckner is the most conventional jeweler in the exhibition. She makes traditional, ornate, and exquisitely crafted settings for mounting her photoetched plates. Grey and black images of faces, animals, and landscapes are accented with gemstones and decorative backings. Still, the work sets itself apart from convention. The mood in her imagery is morose and the irregular forms are intriguing. Reminiscent of Victorian mourning jewelry, a mysterious and grim quality shrouds her work.
Anushka Corazon-Walch's brooches stylistically follow another student of Jünger's, Manfred Bischoff (her first apprenticeship was in his studio). Like Bischoff's, her work is graphic, representational, and makes use of materials in a similar way. However, Corazon-Walch's work is more lighthearted and less metaphysical than Bischoff's; including brooches in such forms as a crudely drawn foot and a bikini bathing suit. Her rings with their wide bands and miniature gold vessels strewn haphazardly on the surface add a third dimension and more of her own personal identity to the style.
This exhibition does not respond to our highest conception of aesthetic value. It is not an archetypal manifestation of all we imagine jewelry to be. But, as Bürgel says, that would be boring because we would already know what we would see. Most of this work asks more questions about these ideals than it furnishes answers. Yet, these are the questions that underline the show's potential as a catalytic influence to the field, and can serve as a prod to a jewelry community that rarely sees such provocative work. Bürgel and the Rhode Island School of Design are to be commended for bringing this collection to the students and to the public. "4th Generation" gives us all a chance to reassess our preconceptions, expectations, and assumptions about craftsmanship, preciousness, beauty, and jewelry.
Alyssa Dee Krauss is a jeweler living in Lafayette, New Jersey
Klaus Bürgel, interview with author, September 1995.
Exhibition, March - May 1993, at the Neue Sammlung in Munich, Drei Generationen Gold und Silberschmiede - Franz Rickert, Erhard Hössle, Herman Jünger, Ulla Mayer, and Otto Kunsli.
Laurie A. Stein, Alchemy as Influence: The Resonance of Munich Goldsmiths in America, from; Exhibition Catalogue, Münchner Goldschmiede, Münchner Stadt Museum, Munich, 1993, p. 71.
Otto Kunsli, Fritsch Figurations - Unexpected and Unashamed, essay for Karl Fritsch's exhibition at Gallery Ra, Amsterdam 1995.
Klaus Bürgel, interview.
Karl Fritsch, artist statement, 1995
Klaus Bürgel, curator's essay, 1995
Bürgel, interview.
VALUE: Kathy Buszkiewicz
Wearley Studio Gallery
Royal Oak, MI
October 14 - December 22, 1995
By Thomas Madden
By what measure do we individually or collectively ascribe value to an object? What influences come into play within this hierarchy? And what, if any, are the consequences of our attitudes toward value and commodity? These questions are at the heart of Kathy Buszkiewicz's solo exhibition.
The twenty one objects which comprise this exhibition reflect the diverse spectrum of jewelry and sculpture which attract Ms. Buszkiewicz's attention. The objects range in scale from environmental installations to the more intimate format of sculpture, vessels, and jewelry. Although the scale of individual pieces differs greatly across the exhibition, the spirit and motivation that breathes life into the work is consistent throughout the show.
The issues that Buszkiewicz examines echo many of the challenges facing contemporary culture: waste, conservation of precious resources, and misplaced priorities. As such, her themes are often unsettling. They cross social boundaries and in many instances are matters of global concern.
Within her works, Buszkiewicz establishes a metaphorical language using objects as commonplace as the sandwich, diamond engagement rings, rolls of coins, shells, and topiaries. Removed from their usual context of size and material and juxtaposed with wood, and shredded USA currency, these commonplace artifacts establish a dialog of accessible forms through which issues of social relevance can be addressed. Her choice of materials, scale, and recognizable forms provokes thought, asks questions, and ultimately implores participation from the viewer. Buszkiewicz questions long held expectations and attitudes toward the preciousness of material, permanence, and the role of jewelry as embellishment and personal expression.
One particularly notable piece, Commodity on White, confronts the viewer through its benign reference to the sandwich. In this work, 3 x 3′ slabs of sectioned tree trunk suggest slices of bread thickly spread with a filling of shredded USA currency. Through this playful sense of recognition Buszkiewicz invites a deeper consideration of the environmental and economic issues which permeate this work. In such pieces, the artist reveals herself to be a master of the soft sell. Through humor, grace, and a little absurdity she entices, cajoles, and ultimately moves the viewer to more clearly recognize the arrogant waste which has become so much a part of western culture.
Inversely, Buszkiewicz's work is a celebration of surface and texture. Her attention to detail, the richness of wood, shredded currency, bark, and shell contrast with gold, silver, and steel to validate and affirm their status as metaphor. Within her brooch ONE Buszkiewicz enshrines the most common place of natural forms, using a delicately fabricated and hammered gold frame. Possibly through chance, though clearly the result of close observation and sensitivity, Buszkiewicz has selected as the central element of this composition a fragment of dark yet richly textured pine cone. This shard with its broken edges and tiny gestures of growth speaks of the life, death, and renewal that are the natural cycle of our world. In a final punctuation the artist presents us with the word "ONE". Clipped from a one dollar bill this bold exclamation is framed in a simple oval border, an icon of global economic power hanging tenuously beneath the fragile and ethereal structure of life.
Somewhat more ambiguously Tender Revival weds the strong geometry of the African Ibo tribes' historic symbol of status and social hierarchy with that of the west. These two anklets of broadly beveled discs, are fashioned of wood and covered with sorted and selectively affixed strips of U.S. currency. The bands created by the subtle contrasts in the green and gray printed surface of the bills contribute to an overall sense of stately elegance and posture. On one anklet the words "For All Debts Public And Private" reveal themselves in the delicate collage of the surface. On the other "This Note Is Legal Tender" materializes.
This exhibition is an experience rich with contrasts. One is at first drawn to the intimacy of the sculpture and jewelry, overlooking the larger, seemingly unobtrusive dialog of her installations. Yet their secrets invite and reveal themselves in works such as Topiaries #1, #2, #3, and Established Sentiment, an environment comprised of a white washed cast iron Victorian bench and an ornamental willow tree whose leaves reveal the patterns of shredded currency.
Topiaries #1, #2, and #3, are at first glance quite common place. Exactly the type of foliage one might expect in a swank gallery or suburban mall. Slowly, however, the recognition dawns that these three absurd, opulent denizens of modern culture are constructed of shredded U.S. currency, rolled, wadded, or smoothly affixed to bold geometric structures. Complete with stems, mulch, and planters, these topiaries suggest a trio of animated and humorous aliens. There is an unmistakable, yet absurd charm within these three structures, an ease of familiarity. The Topiaries speak quite eloquently of misplaced priorities, misleading artifice, and arrogant waste, themes echoed throughout the show.
Buszkiewicz doesn't belt you with a brick, or make her point by yelling obscenities, clearly this is not her way. Instead she speaks softly. With low steady tones she entices you to lean in and look close. Within the intimacy of this dialog she reveals her parables of contemporary society. With her choices of material and metaphor Buszkiewicz has composed a collection of work which is accessible, compelling, and relevant.
Thomas Madden is a metalsmith who lives in Bowling Green, OH.
You assume all responsibility and risk for the use of the safety resources available on or through this web page. The International Gem Society LLC does not assume any liability for the materials, information and opinions provided on, or available through, this web page. No advice or information provided by this website shall create any warranty. Reliance on such advice, information or the content of this web page is solely at your own risk, including without limitation any safety guidelines, resources or precautions, or any other information related to safety that may be available on or through this web page. The International Gem Society LLC disclaims any liability for injury, death or damages resulting from the use thereof.
---
The All-In-One Jewelry Making Solution At Your Fingertips
When you join the Ganoksin community, you get the tools you need to take your work to the next level.
Become a Member
Trusted Jewelry Making Information & Techniques
Sign up to receive the latest articles, techniques, and inspirations with our free newsletter.