Among the most distinguished known surviving pieces of New Orleans-made silver is this tureen made by Adolphe Himmel. With its swelling rococo-revival body decorated with grapevines, grape clusters and leaves—both cast and repoussé—it compares favorably with any tureen made in the upper Northeast during the same period.
The Florentine finish on the handles is especially well executed. The matching ladle has a gold wash bowl and carries the same legend, "C. A. F. Rondeau," that appears on the side of the tureen. Charles Augustus Frederick Rondeau was a prominent New Orleans banker who escaped to Rondeau Island in the middle of the Ohio River before New Orleans fell in the Civil War.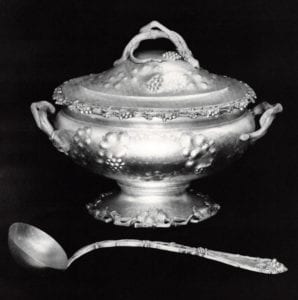 Executed by Adolphe Himmel of New Orleans, circa 1861-1877. Coin silver, marked on bottom of tureen only A.H./N.O. Incised above Warranted/Pure Coin in scalloped rectangular cartouche with pointed ends formed by anthemia. Tureen-height 11¾", Ladle-length: 15½", Total weight: 65.04 troy ounces. Collection of Anglo-American Art Museum, Louisiana State University. Gift of Dr. and Mrs. A. Brooks Cronan, Jr. Photo: George M. Cushings Photography
The six-quart tureen and ladle were likely to have been made following the dissolution in 1861 of the Hyde and Goodrich Firm, for which Adolphe Himmel had been the chief silversmith. Indeed, all dated pieces bearing the same Himmel mark as that found on the tureen were made after the separation of Himmel from Hyde and Goodrich's successor, Griswold, in 1869. The high rococo-revival form of the tureen and ladle reflect more the style of the 1850s, but it as one that continued to be popular in the South even after the arrival of the Renaissance-revival style. A strong case can be made for the continuing popularity of rococo in the South where its rich, foliate decorative motives would have appealed to romantic, southern taste.
According to family records. Adolphe Himmel was born in Zweibrucken, Germany. He probably left Germany as a result of the 1848 political disturbances and to avoid detection, changed his name to Himmel. So thorough was his change in identity that his real surname had yet to be located.
Himmel's name first appears in the 1852 New Orleans City Directory in partnership with another somewhat mysterious and talented foreigner, Christopf Christian Kucher. This partnership lasted only through 1853. Himmel then went to work exclusively for Hyde and Goodrich, and then for its successors. Thomas, Griswold and Company and A. B. Griswold and Company, until 1869. From 1869 until his death in 1877, he operated his own shop. Both his own pieces and those from his various workshops represent the largest corpus of New Orleans-made silverware and vary in quality from some rather pedestrian cups and flatware to the superb design and articulation of the tureen and ladle.
H. Parrott Bacot
Curator General, Anglo-American Art Museum