This article covers techniques for making an 18-karat double domed yellow gold pendant. The front side will have a bezel set round brilliant tsavorite garnet. The back side is open and pierced. Tack- and pulse-arc welding technology were used to make the finished piece.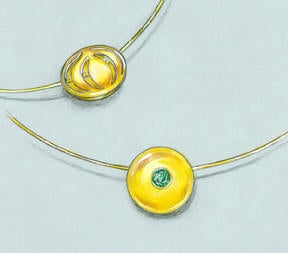 Making a Double Domed Pendant

The two discs were pierced from 1.0 millimeter 18-karat yellow gold sheet using a standard jewelers saw frame and a 4/0 blade. Then the flashes of metal were removed that were created while sawing using sanding boards.
Next the discs were shaped and formed into partial domes using a dapping block and punches. Coarse abrasive paper was used to sand the bottoms of each dome flat. The sharp flat edges as shown in this illustration will provide excess metal to melt into the joint during the pulse-arc-welding process.
After the two pieces were fitted, the joints were welded using the ABI Pulse-Arc Welder. The welder was set on 35 volts and the high-energy setting. With the #2 weld pencil tip, the dome was spot welded in 4 locations to hold it firmly together. The unit was set for 45 volts on the high-energy setting and the assembly was pulse-arced around the entire diameter of the joint.
An overlapping pulse technique was used to obtain a thick, even full joint with no gaps, spaces or irregularities.
The contact pad was used with the graphite overlay on the negative lead. The #2 weld pencil was attached to the positive lead. While welding, individual pulses of energy were generated as quickly as the foot pedal could be depressed.
Using ABI's hinged auto-darkening combination welding and magnification lens (indicated by red arrow) made it easy to view the joint.
With the welding complete, the dome was pre-finished using a 3M sanding sponge.
Using the Tack II, the bezel was tacked onto the domed pendant. The unit was set on the high-energy setting and 40 volts. Because the bezel was tacked, it did not shift or move during soldering and required no special holding devices.
The mat-finish was achieved in a magnetic tumbler. The top of the bezel is bright polished.
Important
Tack-, fusion- and pulse-arc equipment settings will differ and are based upon the volume, amount of contact and alloy of the material you are working with. Practicing using like materials will give you a parameter for the settings required for your application. Keep a record of settings and tasks for future reference.