The art of gem cutting (glyptics in Greek) is one of the oldest testimonies to how installed, fascinating miniatures can transform gemstones into tiny works of art with immense charisma and magical significance. Decoration, symbols and magic formulae that still fascinate and have given gemstone engraving a special place in the cultural history of mankind.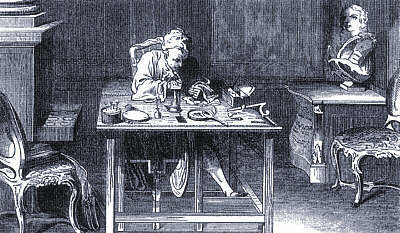 Gem workshop according to Diderot d'Alambert 1868
The roots of glyptics are found in the 7th millennium BC. The Babylonians initially used soft stones such as serpentine, steatite, lapis lazuli or turquoise, as naxium, a corundum material from the Island of Naxos can be used to make markings in it. Bearing signs and symbols, the stones soon became popular amulets. Babylonians soon developed the cylindrical form, which soon produced the rolling stamp, which was used to document events of considerable significance. According to a report by Herodot, every Babylonian wore a signet ring or a rolling stamp around their necks. Indeed, many of them have been preserved.
The Anthropological Museum in Berlin contains mummies with signet rings still on their fingers. These rings with their symbols cut deep into the stones have been used as stamps for documents and to mark possessions right up into modern times. Their impression made documents legally binding and upheld ownership.
Cameo, sardonyx, 3.5 x 2.3 x 1 cm.
"Augustus" (fragment), around 25 AD.
The Leo Merz Foundation, Bern , previously Collection of the Prince of Furstenberg
Work of Eudoros?, cameo, sardonyx, 2.9 x 2.3 x 0.5 cm.
"Flavia Domitilla", end of 1st c. AD.
The Leo Merz Foundation, Bern
The use of gun drills and wheel technology soon enabled the processing of harder gemstones such as ruby, sapphire or quartz and enabled the production of more demanding images. Two thousand years BC was a golden age in this respect. The rather stylized portrayals of heroes fighting animals, frightful gods and sacrificing people up until then became more realistic. When gemstone engraving was then absorbed into Minoic-Mycenaean and later on in the Hellenic culture, new wind was breathed into this old oriental tradition. The artistically designed plants and animals exude joie de vivre and naturalness. The absolutely refined, miniature figures reflect the Greek ideal image of mankind. Aphrodite and Eros or the Goddess of Victory Nike are found as favorite motifs of the engravers of this age along with the graceful depiction of the female form.
Cameo, sardonyx, 3.5 x 36.5 x 1.4 cm.
"Head of Aphrodite", end of 1st c. BC.
The Leo Merz Foundation, Bern , previously collection of the Dukes of Marlborough
Giovanni Pichler, cameo, sardonyx,
"Salus and Abundantia at the Altar", around 1780.
The Leo Merz Foundation, Bern , previously Collection of the Vatican
The royal workshops at the court of the Ptolemaic Kings in Egypt developed a new stone cutting technology in the 3rd century BC. Magnificent cameos, designed for the first time as relief, were created in Sardonix in India. Since then, experts have made a distinction between cameos (raised) and intaglios (sunk), whereas there is not always a correct distinction made between cameos and gems.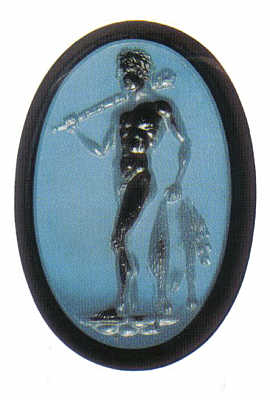 Intaglio, Nicolo, aprox. 3.5 x 2.5 x 4.3 cm.
"Caracalla as Hercules", 205 – 208 AD.
The Leo Merz Foundation, Bern , previously Collection of the Prince of Furstenberg
In order to strengthen their power at home, Roman Emperors commissioned Greek stone cutters with the production of valuable cameos in their image. Dioskurides, the Greek royal cutter at the court of Emperor Augustus, processed the Arabian sardonix, the stone of preference, used to make classic examples of antique stone cutting, with great artistic skill.
The next stage involved cameos in several layers such as the Gemma Claudia, the Lion Cameo (now found in the Museum of Art History in Vienna), whereby the multiple colors were used to create charming nuances of shade.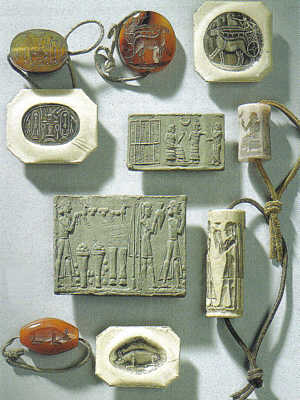 Cylinder seal, stamp and scarabaeus
The depictions on gems and cameos were cut into the stone using extremely fine drills and a crystal magnifying glass. The first "forgeries", gemstones made of glass paste, also emerged in Ancient Greece and Rome. They were used in particular for precious golden jewelry or rings and pendants, perhaps because their usually blue/white or blue/black colors offered a strong contrast to the gold. Magic gemstones played a very large role; they were produced in the 2nd and 3rd centuries AD as intaglio. They were small, powerful gemstones and jewelry stones with engraved pictures and inscriptions, which people wore as medallions, ring stones or sewn into bags. This form of amulet has fascinated people from ancient times into the middle ages, the Renaissance and even until today. Indeed, the world of science is increasingly interested in them.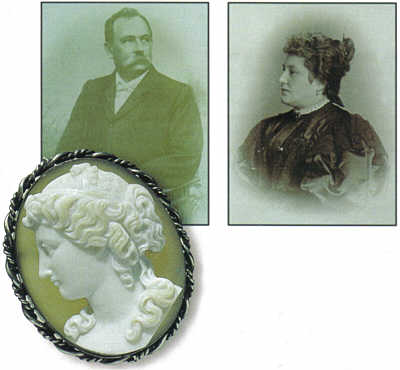 Ida and August Purper, builder of the villa from the late 19th century,
which now houses the German Gemstone Museum Idar-Oberstein.
Gems from the "Idarer Caméen Era", favorite jewelry of I. Purper, 1847-1937
In the middle ages, antique gemstones were used for precious book covers, shrines, crucifixes and church objects, diadems and crowns. Apart from some work in the Carolingian and Staufer Ages, some gems were manufactured in mountain crystal from Burgundy. The golden age of gemstone rediscovery took place in the Italian renaissance above all. It took Ancient Greece as its role model. Indeed, it intended to be more than simply a copy, and in fact preservation and development of their spirit. The major centers were Florence, Rome and Venice, which was the starting point for diamond engraving, from where it spread to the Netherlands.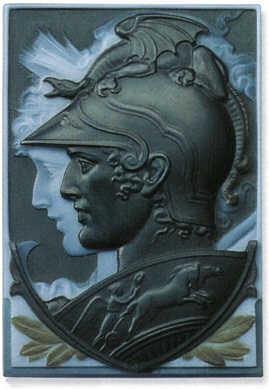 Flat relief by August Rudolf Wild, Idar,
Grand Prix at the Parisian World Fair 1937
Small cameo portraits according to ancient sources were popular in the 18th and 19h centuries. They were expensively made and used as inlays, for example on the lids of small boxes or as paperweights. Cameos made of mussels and lava were fashionable in Italy during the 18th century. Von Heck, one of the most avid gemstone artists in the middle of the 18th century, made an intaglio of Goethe, who himself became one of the most passionate collectors of engravings, oats of arms and monograms. This field of art experienced a golden age in the 19th century.
Today's main center of gemstone engraving, Idar-Oberstein, is closely linked to Paris. Young artists from Idar-Oberstein traveled to the Seine metropolis since the eighteen forties, and had made a good name for themselves as engravers. They were expelled from France as a result of the 1870/71 war, and they founded the still undisputedly most important modern center of gemstone engraving in their home town of IdarOberstein.