The color white is the perfect symbol of modernity. And it is currently the trendiest color for houses, furniture, cars, fashion and also jewelry. Platinum is the best metal in this respect, as no other metal can shine in a more precious white.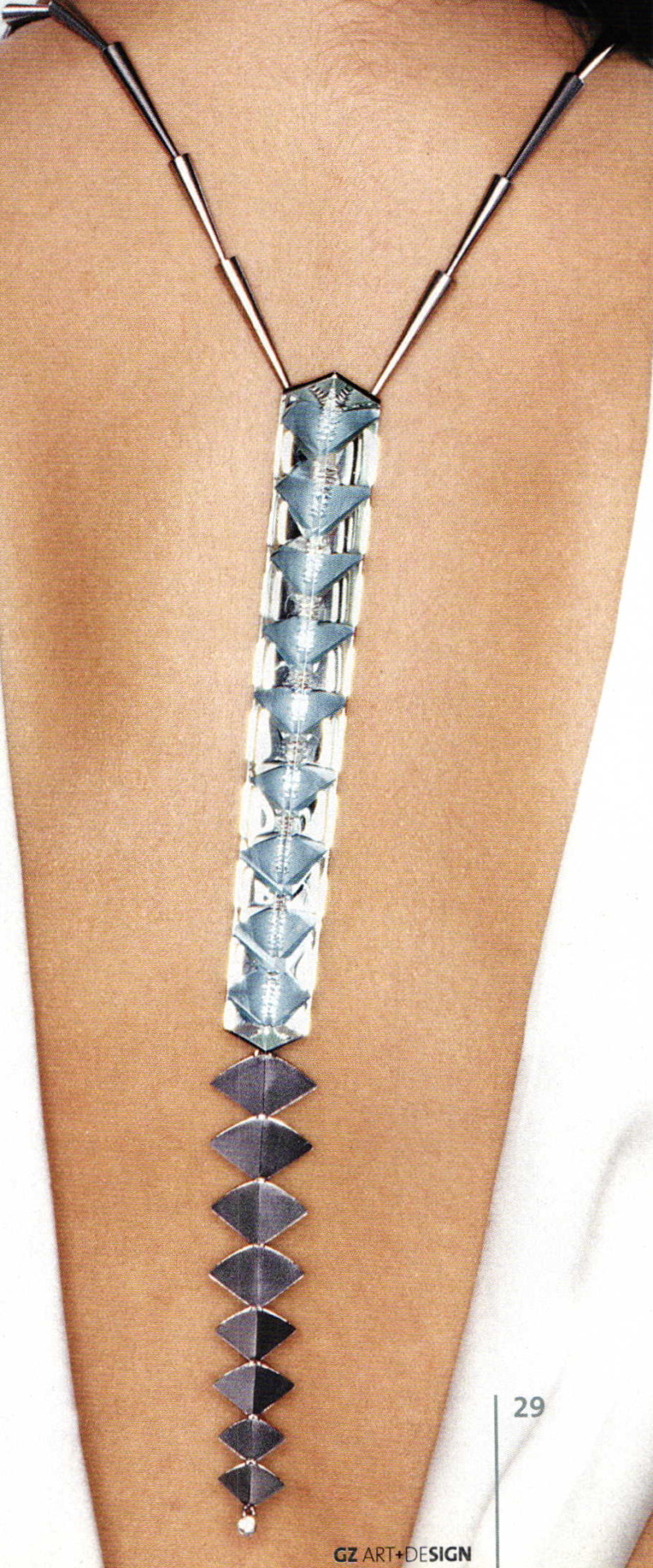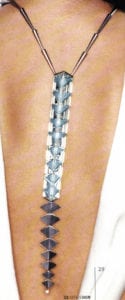 Necklace by Tom Munsteiner, 2004. Platinum, aquamarine and diamonds
The industrial designer Luigi Colani loves the color that is actually no color for its organic language of forms. The renowned New York star architect Richard Meier keeps his spectacular buildings in shining white. Even the MP 3 player iPod, which Apple released in 2001, was originally in varnished white. Pure, clear, light, radical, honest and reasonable – increasing numbers of products are shedding their color.  Today's favorite colors are white and silver. White symbolizes purity, simplicity, superiority and intelligence. The acknowledgement of "colorlessness", i.e. to the colors white and silver, stands today for an optical clearing, a new start.
Platinum jewelry is gaining significance as a classic jewelry interpretation of modernity. Men and women for whom individuality and lifestyle is important choose the superlative metal. After all, platinum is pure, rare and forever. It is not just a question of the outward appearance, as the inner values are just as important. The beauty is found in the knowledge of the metal's special value. There are large numbers of white metals, starting with steel and silver and through to white gold. But none of these metals can measure up to the properties and value of platinum. Knowing that it is platinum has always been in itself a slogan. After all, the most valuable and rarest metal in the world has 30 percent more fine contents than 18 karat white gold.
Ganoksin is sponsored by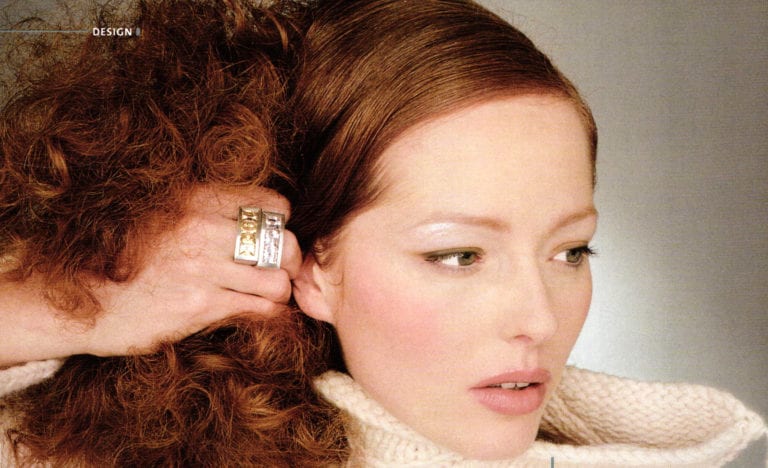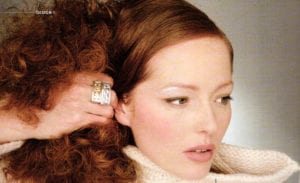 Rings by Jochen Pohl, 2000. Platinum, morganite and beryl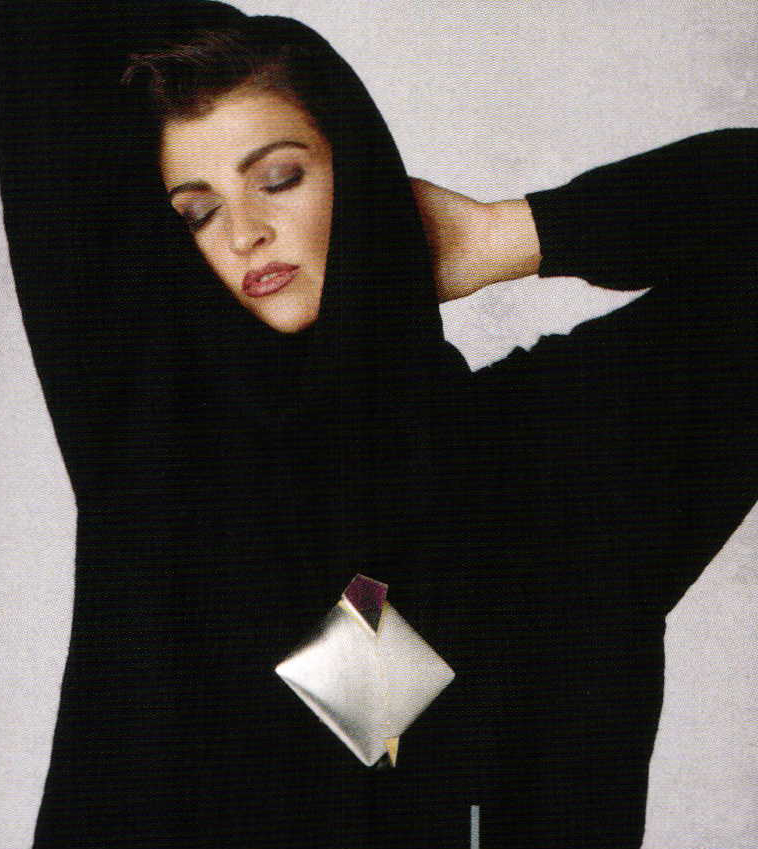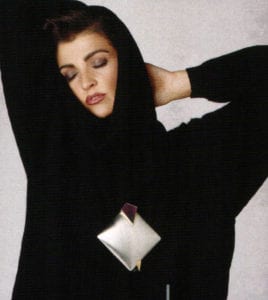 Brooch by Henrich + Denzel, 1992. Platinum, onyx, pink tourmaline and six brilliants
Longing for all that is incomparable and unique grows in a world of abundance. Consumers want to emphasize their individuality and distinguish themselves from what is the exchangeable, transient taste of the masses. Only very special jewelry can satisfy this wish: every draft stands for the designer's creative ideas, every valuable item of jewelry is an irreproducible unique piece through the goldsmith's skill and every gemstone is an one-off piece of nature with its own character. Platinum unites modernity with exclusiveness, technical and design refinement and zeitgeist with jewelry.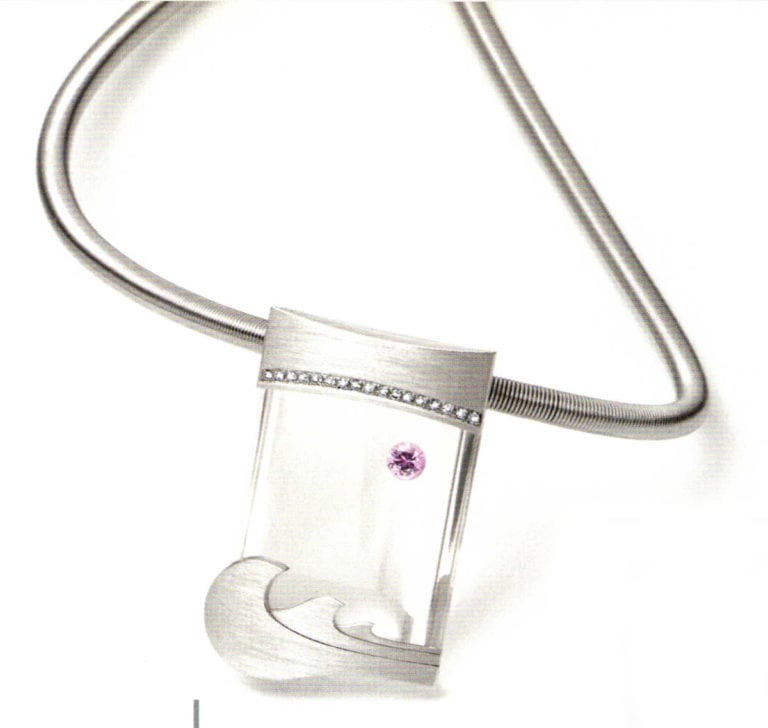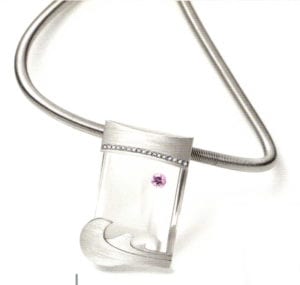 Necklace "Genesis II" by Atelier Bunz, 2006. Pink sapphire set in sapphire glass and brilliant set in platinum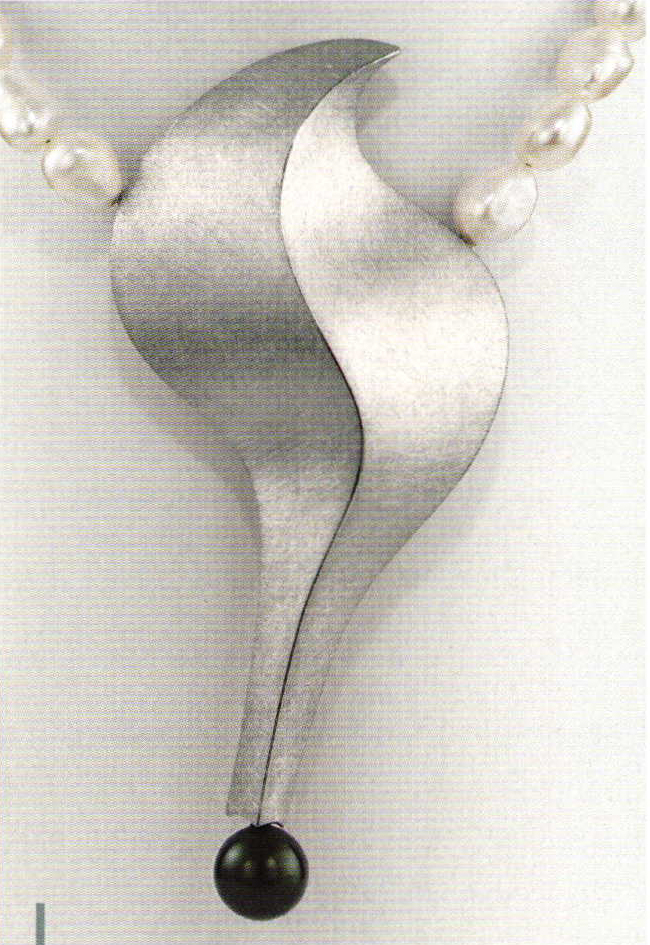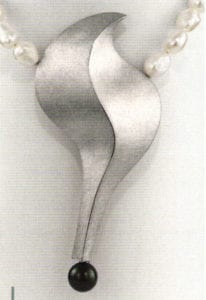 Pendant by Sturany, 2007. Platinum, cultured pearl from Tahiti, freshwater pearls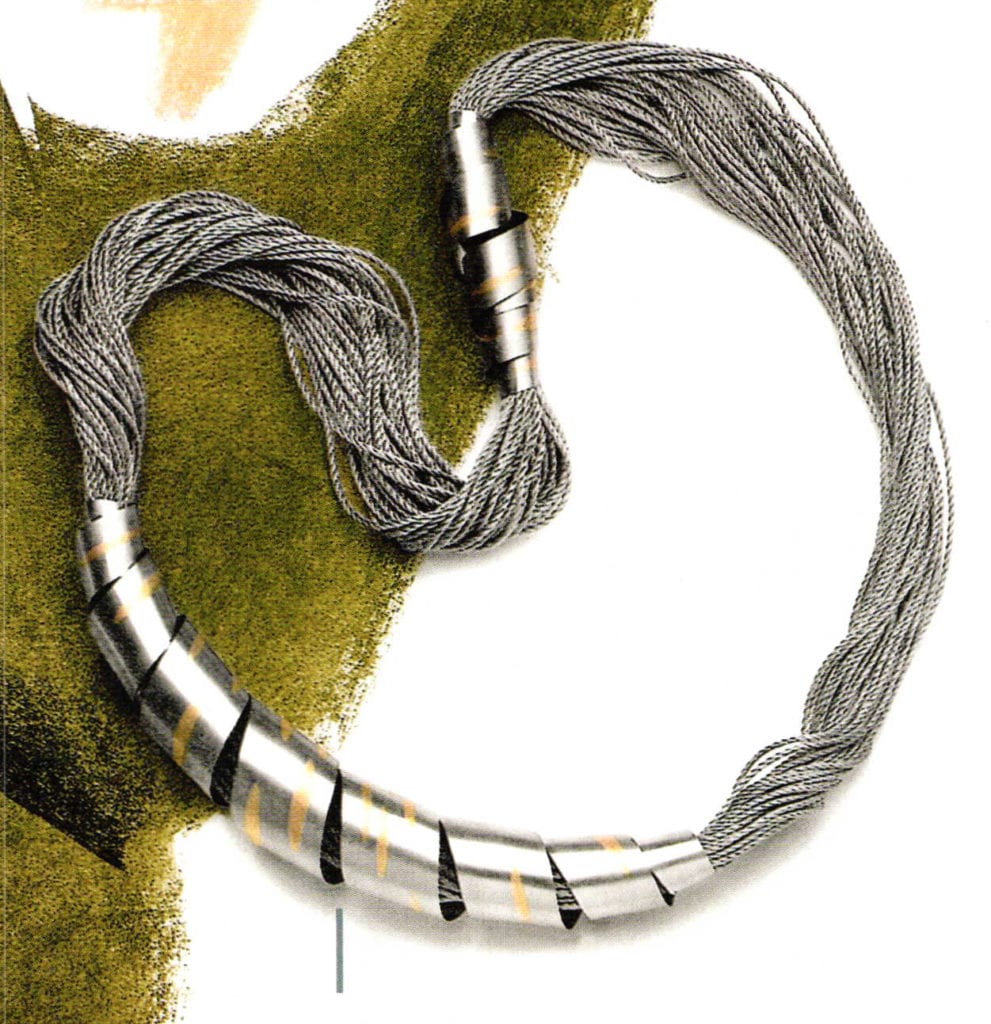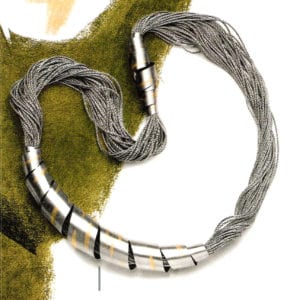 Necklace by Meister, 1985. Platinum
Perhaps this is a reason why primarily the creative jewelry designers work with this superlative material. Working with platinum 950 is a special challenge for goldsmiths. It is not lust the fact that nature secretes this metal in just a few, inaccessible places on this planet. The metal also needs to be handled skillfully, as it is seen to be tough and willful. But in turn, it enables audacious constructions, daring connections and powerful settings. The reward for this effort is everlasting beauty. Thanks to its high quality, almost inimitable alloy, platinum 950 keeps its incomparable, white glow and also its form due to its extraordinary strength. This means that platinum is the ideal metal for people who prefer white jewelry and place high demands in quality and individuality. After all, despite its modernity, platinum remains a timeless metal that always preserves is currency and preciousness.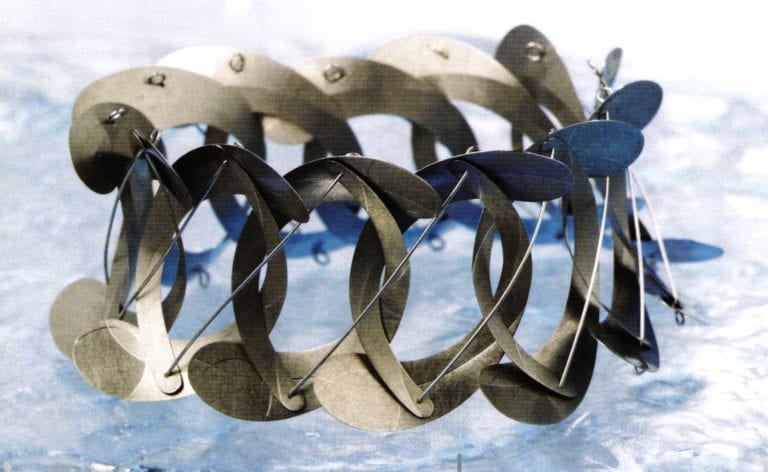 Neck jewelry "Raindrops" by Ines Arndt. Platinum. Submitted to the platinum competition "Blue Planet", 2005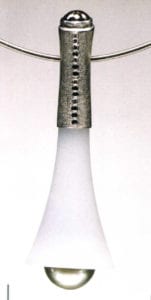 Pendant by Atelier Zobel, 2007. Platinum, South-Sea pearl, black diamond, rose, champagne colored and black diamonds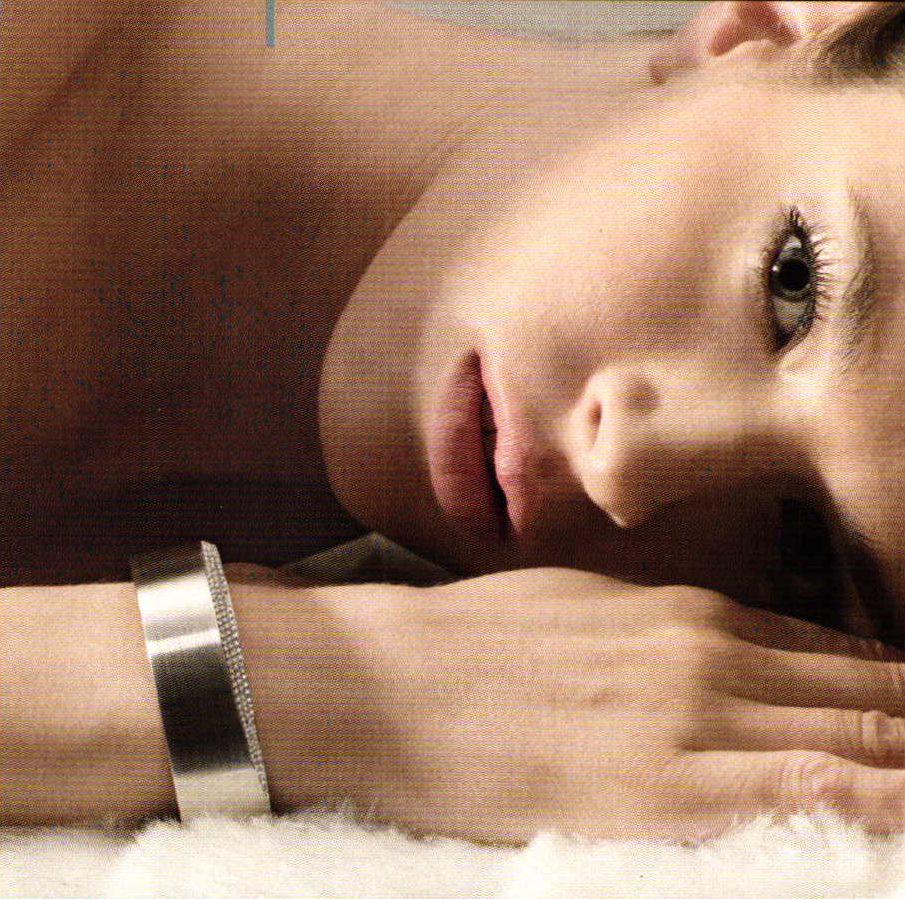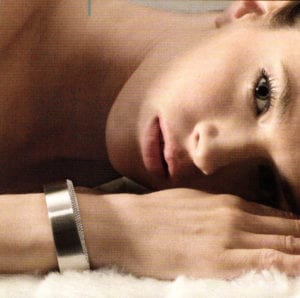 Bangle by Isabelle Fa, 2007. Platinum, diamonds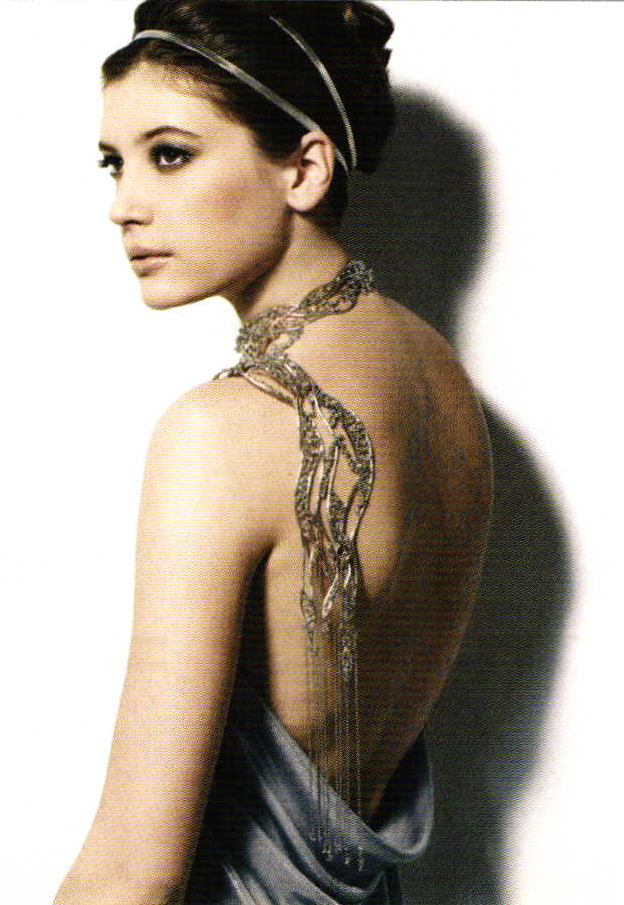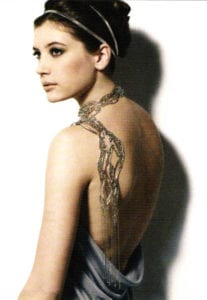 Necklace "Iraja" by Ganjam Jewellers, 2007. On behalf of Platinum Guild International
Drafts by the platinum designers over the last 30 years pay testimony to this. Completely removed from the mainstream, they follow their own language of forms and satisfy the rising demand for unique jewelry. At the same time, their design reflects the style of their times. The jewelry designers create in this way an enduring aesthetics, exuding an aura of modernity even years later. Platinum jewelry can also be a testimony to color. Set in the pure white of platinum, precious gemstones develop their entire, inherent glow. The discrete framework offered by the precious metal means that the jewelry will never appear gaudy, irrespective of how many different colored gemstones are used. Accordingly, color trends are gifted a timeless meaningfulness in platinum jewelry.
Ganoksin is sponsored by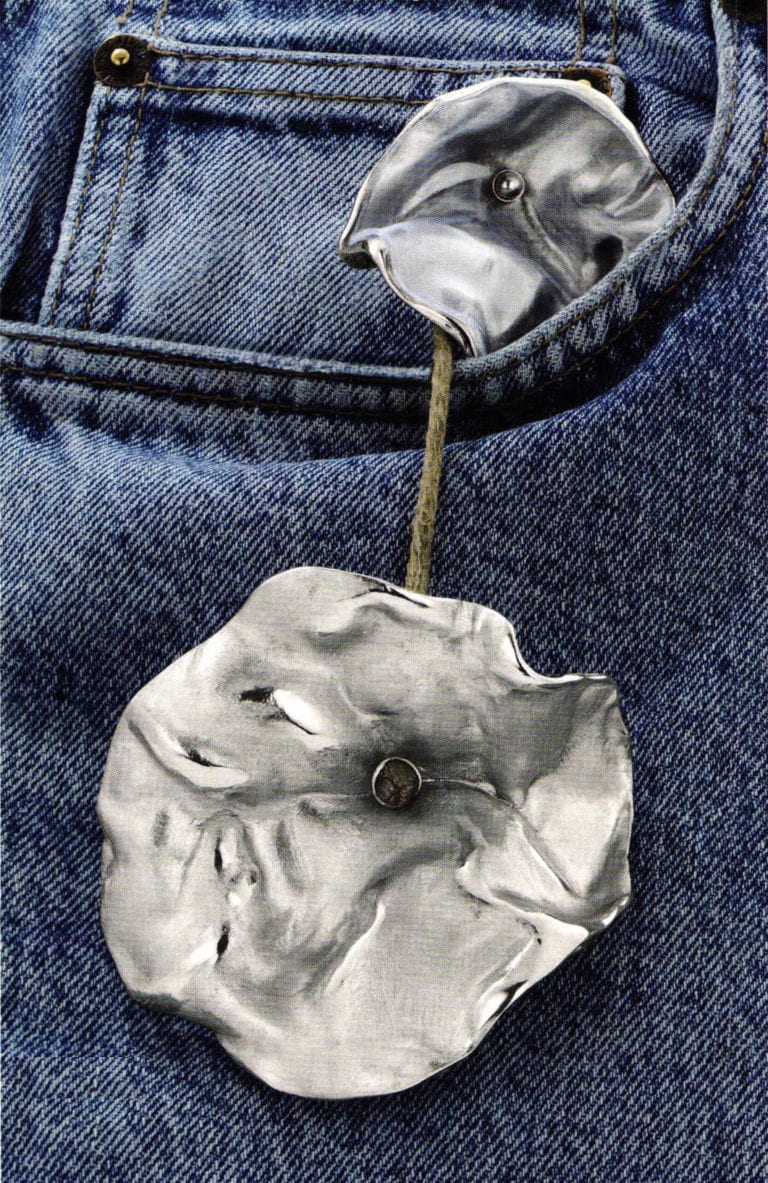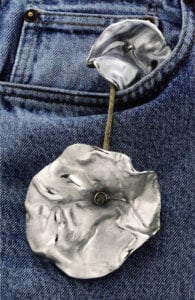 "men-ding" by Anna Maria Gygax
Platinum for real men
What really does decorate men? This is the question posed by the Platinum Guild International Germany (PGI) to goldsmiths, jewelry designers and free artists in Germany, Austria and Switzerland in its design competition Platinum for Men. Three winners were selected from the numerous entries. Welcoming the significant creative potential in the submitted work, the PGI also awarded twelve commendations. But the real sting: a woman won the competition – Anna Maria Gygax from Switzerland came in first with "men-ding". 950 platinum and plastic melt together on a hemp cord to form a true symbiosis of contradictions dangling from a trouser pocket.
Carlo Wild from Mackenrodt came in second with his platinum brooch "Courage" – a lion's head made of black tourmaline in a platinum crucifix with stylized lines in a coat of arms.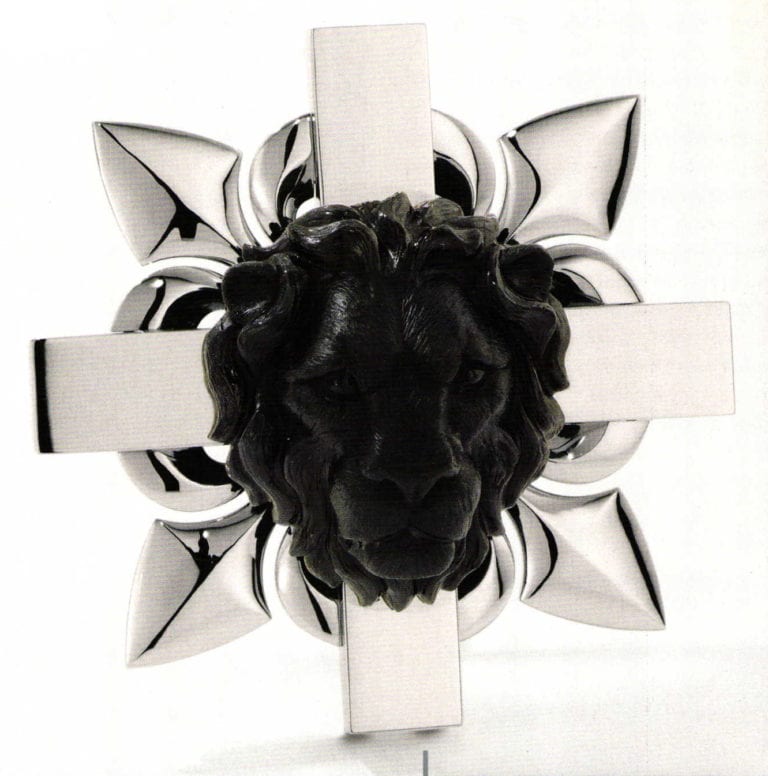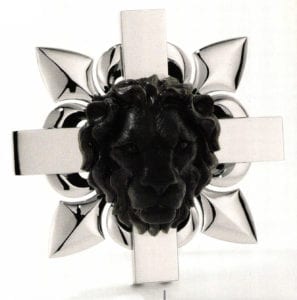 Brooch "Courage" by Carlo Wild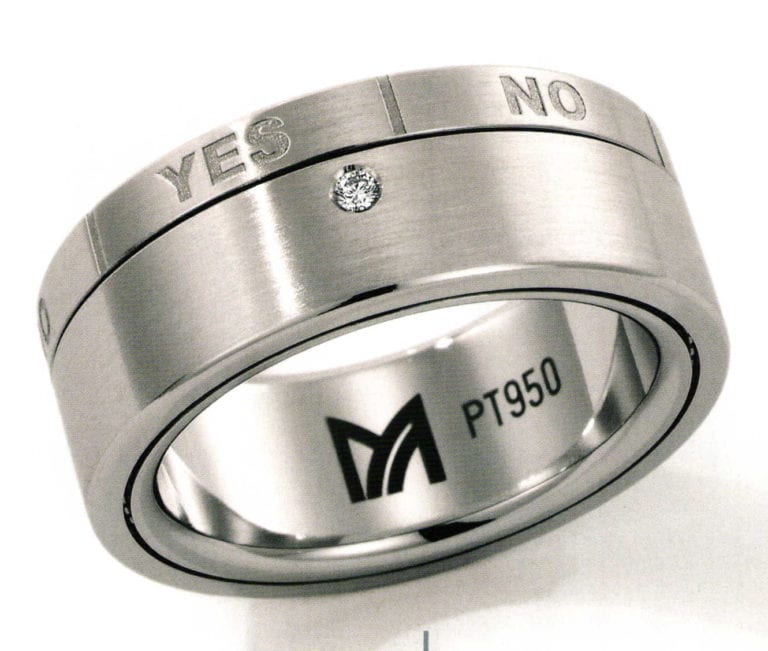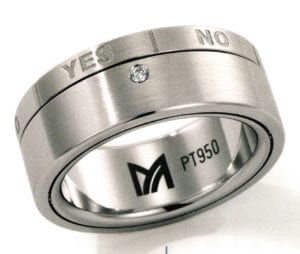 Ring "Yes or No" for quick decisions by Meister
The third prize went to the design team of the firm Meister from Wollerau/Radolfzell. Men make decisions with their platinum ring "Yes or No". The ring holds a fine ball bearing, installed with significant technical refinement. It means that a light touch is sufficient to send a brilliant spiraling around the broad, exterior ring band until a decision has been made. The prize-winning jewelry and commendations, presented for the first time at the inhorgenta europe 2007 in Munich by the internationally known German handball player Florian Kehrmann, will be on show for one year in selected jeweler's shops in Germany, Austria and Switzerland.
Ganoksin is sponsored by