At the 17th JCK Show in Las Vegas (May 30 – June 3) the elite of the international jewelry scene meets for its annual get-together. Participation is a must for the leading designers in this sector. 100 talented jewelry creators, from dynamic new talent to established providers of custom and designer pieces present their latest ideas at the Design Center.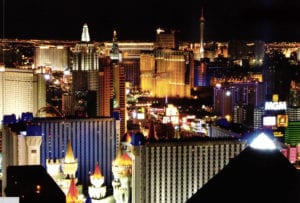 For gallery owners, jewelers and goldsmiths from around the world this represents an ideal opportunity to procure unusual jewels that they are unable to find elsewhere. Once again, the show management has thought up numerous highlights to entertain visitors. The opening reception on 30 May at Caesar's Palace enables the exhibitors at the Design Center to provide a foretaste of their wares in the form of an exciting fashion show and exhibition. Here it is possible to form an opinion of the latest trends. On Sunday, awards will be presented to the 50 most committed retailers for supporting designer jewelry in their stories to a significant extent. Under the title The Rising Star the elite of the new talent will present their exhibits in a separate pavilion. The select group of jewelry designers is attending the JCK Show for the first time.
A competition on the final day of the show will also offer visitors the chance to win a shopping voucher for 2,500 US dollars, which they can then redeem at one of the exhibitors. In the Design Center Lounge it is possible to escape the hustle and bustle of the show, chat to colleagues and customers over a cappuccino or – after 4 pm – an Orangetini. The show is open daily from 10 am to 6 pm, 4 pm on the final day.
Ganoksin is sponsored by
The following pages provide a foretaste of what is to come. Those wishing to make an appointment with exhibitors prior to the show, or in search of a specific product, can do this via the new online service.
Focus on a large gemstone
Hubert Gesser, founder of the company and principal in charge of design along with his wife Susan Gesser, believes that any great piece of jewelry starts with a brilliant and beautiful center stone. "The cost of the gem is not the issue. If a stone displays a vivid hue and radiates beauty because of a marvelous cut, it will always be desirable. However some so-called 'precious gems' may be expensive yet dull and unattractive," Hubert says. Hubert specializes in fine yet fun custom jewelry. Well known for their large and unique styles, the company has always stayed with unusual and bright center stones. Hubert Gem have their own in-house lapidary. By maintaining near ideal proportions in their cuts, the gems lose more weight from their rough form and thus yields are lower – but the finished pieces more attractive. Hubert also uses above average diamonds in high colors, and high clarities.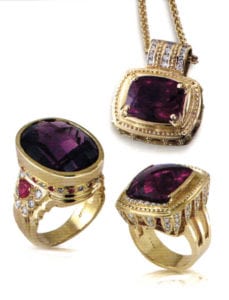 Hubert Gem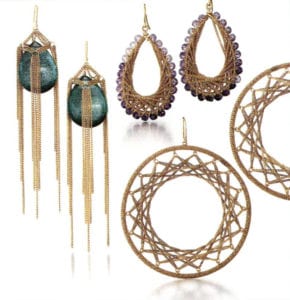 Amáli Jewelry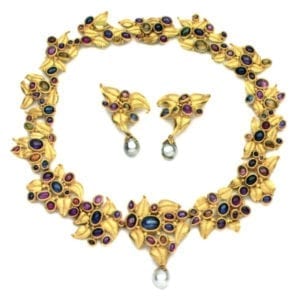 Carolyn Tyler
Ideas from South America
Amáli designer Sara Freedenfeld discovered her passion for making jewelry while backpackinq through South America. In Valparaiso, Chile she learned to combine natural elements with knotted strings to form intricate wearable art. In Venezuela she met an artist who taught her how to link and mold metal. When she returned home a year later, she merged these two art forms, striking the perfect balance between modern sophistication and natural simplicity, delicately uniting organic handcrafted artistry with the glamour of high fashion. Sara launched her company, Amáli, in the spring of 2006 and set out to create a line of jewelry that reflects her complex aesthetic vision. The elaborate designs are bold yet refined and unmistakably distinctive.
Ganoksin is sponsored by
Greetings from the nature of Bali
"My jewels are inspired by the magic and mystery of nature's most precious treasures – glowing, glittering gems and gleaming gold and silver. None other of Gaia's gifts possess such concentrated beauty, value and power," says Carolyn Tyler about her intentions. Born in Los Angeles, she spent her post-university years in Santa Barbara, California, running a successful advertising agency. In 1989 she traveled to Southeast Asia and fell in love with Bali, with its gracious people and rich spiritual traditions. Four years later, after spending many months there each year, she closed her business and moved to Indonesia to embark on a new adventure in creativity.
From her self-designed home, which she describes as "an oversized piece of jewelry which functions as a house", she envisions and sketches jeweled creations both whimsical and royal. With the help of her loyal team of master craftsmen, she performs the alchemy of turning her dreams into 18-24 karat gold. For Carolyn Tyler, collecting gemstones is a passion. She favors using "phenomenal" gems, ancient coins and South Sea pearls in her one-of-a-kind creations. Nature, mythology, art, music, and dance inspire the designs. Using goldsmith techniques from antiquity such as granulation, filigree, and repousse, she creates pieces that are evocative of the fabled buried treasures of golden ages past.
Each piece tells a tale of its own
"Successful jewelry contains an inner magic that inspires and enthuses. For us the process from the moment of decision for a new material to the design of the cut and on to the first completed piece is always an exciting and thrilling event," declares Bernd Wolf. The German jewelry designer and engineer founded his company in Stegen, near Freiburg in the Black Forest, in 1989, soon followed by retail outlets in Freiburg, Karlsruhe and Stuttgart.
Ganoksin is sponsored by
With his sophisticated collections, fascinating and convincing via their clear, reduced forms, he rapidly succeeded in taking the global jewelry markets by storm. Together with his wife, the jewelry designer Yvonne Wolf, he develops jewelry collections of unmistakable beauty, capturing the zeitgeist perfectly. Bernd Wolf was one of the first jewelry producers to establish gold-plated silver on the market. In addition to his successful silver collections, the majority of his contemporary jewelry creations are equipped with this extremely durable form of gold plating, which almost has the same properties as fine gold. In association with fascinating surface structures, lovingly hand-crafted, Bernd Wolf's jewelry is both unmistakable and easy to combine. His most recent coup is appropriate for the floral trend of the "Blooming" collection, with gold-plated sterling silver and freshwater cultured pearls.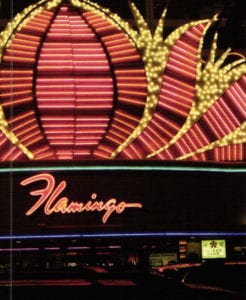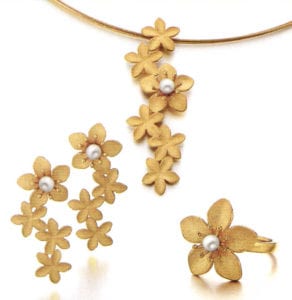 Bernd Wolf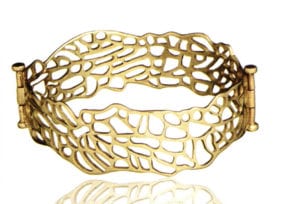 Emily Amey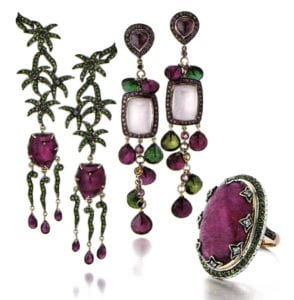 Jorge Revilla
Lost things are becoming precious
The collections of Emily Amey are based on her ability to find beauty where it often goes unnoticed. Jewels as an interpretation of favorite finds from her travels like beach glass from Kauai, sea fan from Tulum, a rattlesnake rattler from a Texas ranch, a vine from her backyard in the Berkshires.
Emily has always felt a strong pull toward fashion and design. She moved to New York in 1997 and worked for downtown designers Daryl K and Michael Colovos at habitual, refining her tastes and realizing that she, too, had something to contribute to the world of fashion. After studying at FIT & the new school, she made a natural transition to jewelry Fans of Emily's jewelry are Gisele Bündchen and Lindsay Lohan, as well as numerous fashion editors and stylists. Her jewelry has been featured in Instyle, Lucky, People and many City Magazines.
Ganoksin is sponsored by
Motifs from flora and fauna
The Spanish designer Jorge Revilla is well-known for his unusual gold and sterling silver jewels. Each piece incorporates authentic materials exclusively, such as genuine colored gemstones or mother of pearl. The sophisticated design and consistently high quality have brought him recognition far beyond the borders of Spain.
Jewelry like a poem
A native of the Netherlands, Cornelis Hollander studied art and jewelry design at the Vrije Academie in Den Haag, Holland. As a young graduate, he apprenticed for two years in Hatton Gardens, London's renowned jewelry district. Adventure then called young Cornelis to Johannesburg, South Africa, where he opened his own studio and started designing jewelry. Living and traveling in Africa, the young designer's imagination and creativity were blooming. After several years in South Africa, adventure called again – this time to America, where Cornelis and future wife, Christa, settled in Phoenix, Arizona. Then, in 1984, he founded his full service jewelry design company located in Scottsdale.
Cornelis' jewelry has been distributed all over the US and internationally. All jewelry designs are manufactured by highly-skilled craftsmen. Cornelis produces finest quality jewelry. He also provides custom designs. Often customers bring their own special gemstones or diamonds or old jewelry to upgrade to a modern designer look. When asked how he comes up with new design ideas, he replies, "It's like poetry. When a poet sees beautiful scenery a poem naturally flows into his mind. Just by looking at a beautiful gemstone, I can envision the finished piece. That's why I say creativity is akin to a waterfall – all of the elements fall together."
Ganoksin is sponsored by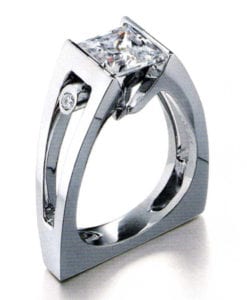 Cornelis Hollander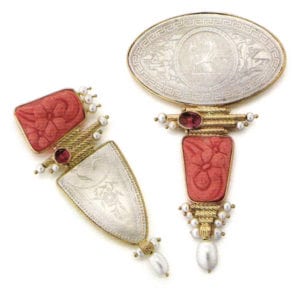 Donna Chambers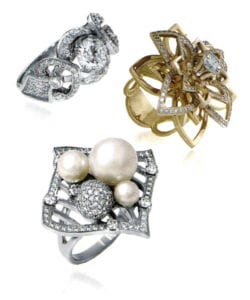 Rifesta
Homage to the pearl
Donna Chambers, fine jewelry goldsmith, designer and entrepreneur, has achieved an enviable level of success that began with a gifted past and ambitious goals. Born and raised in Ossining, New York, Donna was recognized at an early age by Vera Linens and later by Oleg Cassini for her talents in artistic design. Vera hired Donna as a teenager to create textile designs for her multi-million dollar design operation that was located in Ossining. Vera established a fund and scholarship in honor of her late husband, and Donna became the first recipient of the George Neuman Scholarship. In the fall of 1968, Donna went to study at Pratt Institute, from which she graduated Cum Laude with a Bachelor's Degree in Fine Arts.
In 1976, Donna became part owner of a jewelry repair shop that serviced fifteen neighborhood jewelry concerns in the downtown Brooklyn area, as well as A & S Department Store. Three years later, after having refined her skills, Donna expanded and created the Donna Chambers Collection© of 14 kt gold and pearl earrings and pins. Donna's fine jewelry collection has been carried by major department stores such as Bloomingdale's, Fortunoff's and Saks Fifth Avenue, as well as at jewelry chains from coast to coast. Pieces of Donna's jewelry have been shown at the Smithsonian Institute in Washington, DC and the Boston Museum of Art. While always striving to promote design excellence in the world of jewelry, Donna has become an award-winning designer. She has been a winner of The International Pearl Design Contest, a recipient of the 1992 Women's Jewelry Association's Annual Award for Excellence in Manufacturing, and also received the 1995 Blenheim Award for Design Excellence.
Magical moments
ABC Jewelry Company Ltd. is one of the largest producers in Russia. The in-house designer label is called Rifesta. This name does not only stand for unusual design, but also for highest quality and fine materials. Diamonds, gold and platinum are the ingredients for success. Rifesta is represented in wholesale around the world. The brand is supplied to over 600 companies worldwide. The brand also enjoys the highest recognition in its home market of Russia. One example of the designs is the "Sensuelle" line. The elegant and light lines of the pieces express sensitivity. The aim is to be reminiscent of the best of all feelings: love. Glittering diamonds and shimmering pearls ensure magic moments.
Ganoksin is sponsored by
Nature as role model
Patrick Murphy grew up in southwest Minnesota. The lush nature of the swamps rivers and lakes that he rambled in his childhood continues to influence his designs today. The qualified jewelry designer and gemologist is primarily devoted to unusual gemstones, which he places in settings by hand. His jewel designs are somewhat reminiscent of Art Deco. The stone is always the focus of attention, with the setting restricted to the function of a stage for showcasing the gemstone itself . The artist lives in Minneapolis.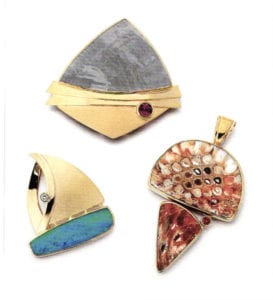 Murphy Design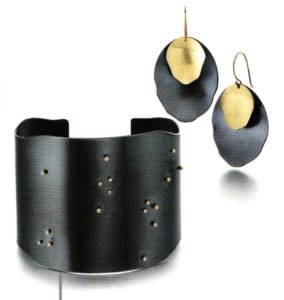 Rebecca Overmann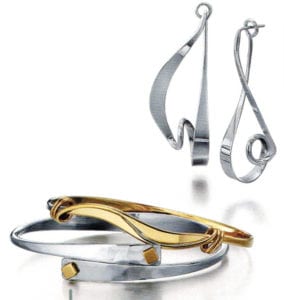 Ed Levin Jewelry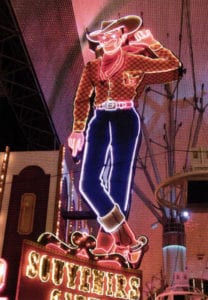 Elegant, clear and simple
Her jewelry pieces are like kinetic jewelry sculptures. With the movable elements she aims to breathe life into the pieces. Rebecca Overmann studied at the Savannah College of Art & Design and has been a freelance jewelry designer for 15 years. Her hand wrought pieces in gold, oxidized silver enamel and diamonds stand out with their pure, flowing forms, their timelessness radiating an emotional, human warmth. Her works are somewhat reminiscent of Scandinavian ideas. Here pieces can be found in selected galleries and jewelry stores in the USA. Each piece is created in her studio in San Francisco and crafted by hand.
Timeless classics
Ed Levin began creating innovative and distinctly original jewelry in 1950. He started designing jewelry while living in Buenos Aires and working for a master Florentine jeweler. He brought what he learned back to the United States and founded his own company. He has passed his artistic vision and skills on to the next generation of master craftsmen who carry on his legacy at Ed Levin Jewelry. The pieces are handcrafted using age-old techniques and only the finest materials. The jewels inspire their wearers with alluring and inventive designs.
Ganoksin is sponsored by
Cable design
Behind the brand The Touch is Steven Edward. Since the late 70s The Touch has made a name for itself primarily with its cable designs. The cable bracelets are available in a choice of yellow and white gold, as well as titanium and stainless steel. Accents are set by diamonds, sapphires, rubies or emeralds. Matching earrings are available to accompany the cable design bracelets.
The magic of colors
Falcher Fusager was born and raised in Denmark. As a teenager, he spent much of his free time painting, using traditional oil glazing techniques. It was his fondness of the extraordinary light and color of oil painting that later inspired him to experiment with transparent enamels and led him to develop his highly refined multi-layered enameling technique.
In 1974 he moved to California. Living out of his van, he made a living as a San Francisco street artist. Within a few years, he formed his first professional partnership with two local artists; Don Viehman and Rollie Piltzer. They quickly established themselves at the local arts and crafts shows as "The Cloisonné Collection". In the early 1980s, Falcher's partners decided to leave. Falcher continued and soon gained further recognition as he juried into the nation's top arts and craft shows.
In 1985, he expanded his business to include wholesale and formed "Magick". By then, his son, Jael Fusager, had joined the company and followed in his father's footsteps as an extremely talented cloisonné artist. Success followed quickly. During the early 1990s, Falcher discovered the impact that shapes and colors, and the infinite combinations thereof, have on our emotional states. This became the birth of the abstract nature predominant in today's collections. In January 2006, Falcher incorporated the business under its current name, "Magick Fusager Design, Inc". Falcher, his children and his faithful crew continue the tradition of creating beautiful designs, exquisite jewelry and excellent service.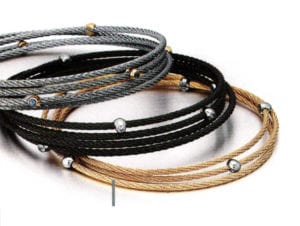 The Touch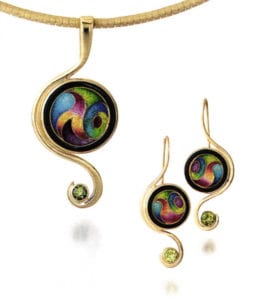 Magic Fusager Design
Nina Basharova
Wearable art
Born in the Russian Federation and raised in the Ukraine, Nina Basharova's artistic journey began while being exposed to her parent's community of actors, writers and painters. She was inspired by that creative environment and merged her love for culture with an affinity for jewelry steeped in history. She began her studies in Fine Arts while living in the Ukraine and went on to gain a degree in Jewelry Design at the Art College in Haifa. There she was twice honored with the prestigious Sharett Scholarship of the America-Israel Cultural Foundation and had her work displayed in the Museum of Art in Ramat Gan.
She arrived in New York in 2002 and throughout this time she has been diligently creating her own collection. In 2006, her first collection "Milky Way" was chosen by the World Gold Council and a panel of jewelry trade experts for promotion. She has received many international awards, such as second place in American Vision Awards by MJSA, first place in the Diva Awards by the Women's Jewellery Association, and overall winner in the Jewelry Arts Awards of Lapidary Journal. In addition, her work has recently been featured in numerous consumer magazines like Cosmopolitan, Modern Bride and The Knot. "My goal is to transform everyday objects into extraordinary pieces of wearable art through play and a sense of humor. As diverse as my inspiration can be, all my designs share a common goal: unified pieces that spark a recognition in women to be able to relate and that reveal the utmost attention to quality of stone, metal, texture and finish," says Nina Basharova.
The joy of colors
It was in 1999 that Sara Blaine and her husband, Mendel, decided to launch Sara Blaine Jewelry as a luxury designer jewelry line. Beautiful handcrafted pieces are a blend of their knowledge of the best quality stones and Sara's sense for elegant fashion. Sara uses faceted semi-precious gemstones set in 750/- gold or sterling silver bezels. The jewelry is handmade in Bali by skilled artisans. Her use of brightly colored semiprecious faceted beads and pearls has been a staple in the Sara Blaine line over the past year. Many of Sara's designs are inspired by natural floral patterns. This, along with her unique mixture of gemstones, creates a solid piece to be worn on special occasions or for everyday events. Brilliant color mixtures that one may not otherwise consider blending together, Sara combines with ease.
The beauty of South Sea pearls
Utopia is a GAIA brand, established in 1997. Based in Milan, GAIA has been an international market leader for 60 years, producing and distributing stones and pearls for the jewelry industry. Utopia is the culmination of an integrated project to emphasize the design and production of exclusive, high prestige jewelry with South Sea pearls, diamonds and natural stones. Utopia has transposed its traditional quality guarantee from the pearl to the jewel. Unique in style and quality, each Utopia jewel is sold with its own certificate of authenticity.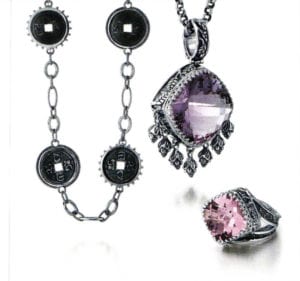 Sara Blaine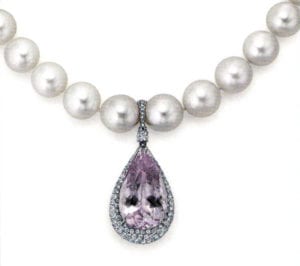 Utopia Jewels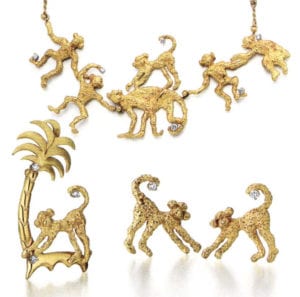 Judith Murat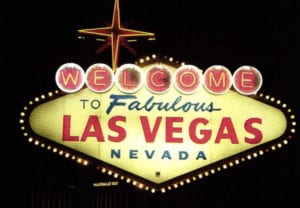 Monkey business
Judith Murat is well known in the Palm Beaches and Hamptons as a jewelry designer, portrait artist, philanthropist and mother of five. In her youth she worked as a top model in New York. Early in her career she received awards and public accolades as a portrait artist and sculptress. Her first show was with Jimmy Barker in Palm Beach. This became a yearly venue in which to exhibit her work until one afternoon she met a jewelry manufacturer who was admiring her paintings. Their conversation would change her life forever as she switched from oils on canvas to precious gems on 18k gold. Within a year her jewelry collection was presented by Saks Fifth Avenue to the Palm Beach market.
In 1999 she achieved her most gratifying success by establishing Judith Murat Fine Jewelry from her atelier in Palm Beach. Murat remarked that as soon as a piece was finished it was sold and that she could barely keep up with the demand, especially in a town known for its charity balls and highbrow soirees where jewelry makes the gown.
In 2006 the Judith Murat Fine Jewelry collection debuted on the West Coast. Murat's jaw-dropping jewels were paraded down the red carpet at the 2007 Golden Globes and her jewelry was featured on Inside Edition and Entertainment Tonight. Currently Murat divides her time between Palm Beach, New York and Beverly Hills adorning celebrities, jet setters and connoisseurs of magnificent jewelry. One example for her creativeness is the new Monkey Business collection.
Classic jewelry with a modern twist
The jewelry of Sydney Evan is an accomplished blend of classic, Audrey Hepburnstyle. Hollywood opulence and Joan Jett rock 'n' roll. Both stars would complement the jewels perfectly. No wonder that the jewelry of the Los Angeles-based artist Rosanne Karmes, the name behind the label, is a frequent sight in Hollywood. The name of the label is composed from the first names of her two children, together with her father, "Sy". This personal aspect is continued in the designs, which skillfully unite deep spirituality, intense feeling and timeless forms. Sydney Evan can only be found in the finest jewelry stores around the world.
From writing to jewelry designing
A visionary who has spent her life searching the globe for unusual objects, Dian Malouf is a nationally recognized jewelry designer, published author, mother and obsessive measurer of electromagnetic fields. Her classic gold and silver jewelry lines have previewed at Neiman Marcus, Nordstrom, and Saks. As a jewelry designer, Malouf brings new meaning to the craft. In late 1997, Dian debuted her first faceted line, Watercolors. While working from her 175- year old adobe home in Santa Fe, New Mexico to complete her book. The Cattle Kings of Texas, Dian began searching the area for a silver ring of significance. When she couldn't find one to her liking, she decided to design her own. And so the jewelry business began. Dian also designs signature one-of-a-kind pieces featuring unique stones and artifacts. Bold and powerful, they have a distinctive Malouf style. Celebrities such as Cher, Elton John and Linda Ronstadt are among those who have taken a liking to the Dian Malouf line.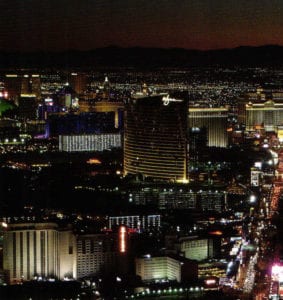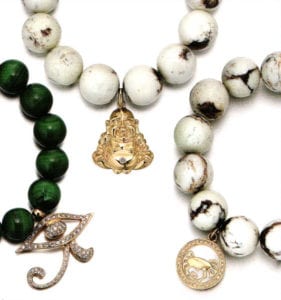 Sydney Evan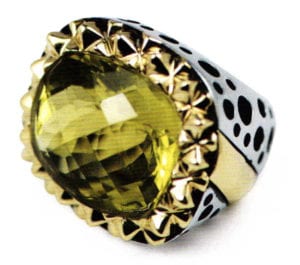 Dian Malouf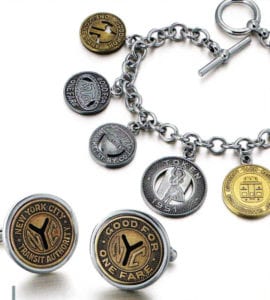 Tokens & Coins
Nostalgic memories as jewelry
Old typewriter keys, coins in long-forgotten currencies or tokens for the New York Metro: they all find a second life as individual jewelry items at the firm Tokens & Coins. The founder of the company, Ward Wallau, came up with the idea in 1980 when the New York Transit Authority fundamentally altered the design of the tokens with the large Y, which had been unchanged since 1953. He persisted for over 11 years before acquiring the exclusive license to use the old tokens for jewelry purposes. A short time later, he pulled off a similar coup in Chicago. For almost five years now, the tokens in New York have been consigned wholly to history. Removed from circulation for cost reasons, they have been replaced with normal tickets. The New York-based company has also processed former European currencies such as the Deutschmark into jewelry items with a nostalgic charm.
The sculptures of time
What does time look like? Is it fluid? Does it have to be round? Is time hard like stone or fragile like porcelain? The approach to time is as individual as the person that makes use of it. The well-known jewelry designer Jacqueline Urbach drew inspiration from this, developing a line of watches that fails to fit into any established category. The three-dimensional aestheticism of her wristwatches makes them sculptures of transience. The form is just as precious as the time displayed on the watches. The collection of the Swiss designer comprises 24 models in limited editions, for both men and women.
Inspired by the ancient world of the Mediterranean
Her jewels would have been worn by Cleopatra or a Greek princess were they alive now. A native Californian of Italian and Irish descent, Annette Aiassa lives a Tuscan lifestyle surrounded by a private lush Barbera vineyard in the eastern foothills of Santa Clara Valley with her husband, Henry. The former Annette Pastorini, raised in the gold country of Sonora, is passionate about her design. Her jewelry is inspired by her many travels throughout Europe, Northern Africa, Spain and Greece.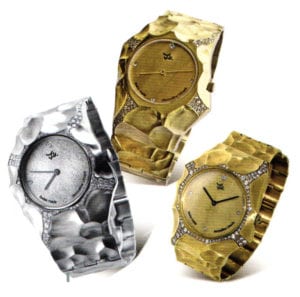 Jacqueline Urbach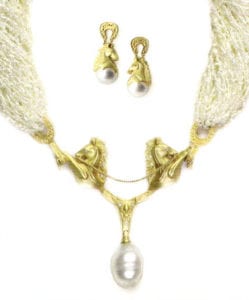 Castelnuovo d'Aiassa Designs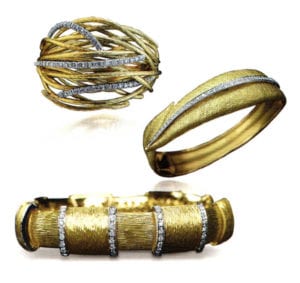 Vendorafa Lombardi
The purity of gold
Vendorafa Lombardi was founded in Valenza in 1951 as a jewelry and gold manufacturer. The production process, which has always aimed at a high definition of technological quality, the synergetic organization of its structure and its modern management, is still strongly tied to the tradition and craftsman's handiwork of Valenza. Professionalism and years of experience allow Vendorafa Lombardi to not only produce and distribute its own jewelry collections but to plan and create exclusive lines for big international brands, with exports totaling about 80 percent of the company's production. Creating a jewelry piece is, above all else, an interpretation of the material. Technological innovation, experimentation and formal research come together in the working techniques of hammering and engraving, allowing them to express themselves in dynamic shapes, spatial harmony and interaction with light. The beauty of the ornaments generated by this creative and technical journey is reflected in the intrinsic value of the material. The jewelry pieces of Vendorafa Lombardi are born of essential shapes: organic figures, floral inspirations and classic patterns in continuous harmony with intuition and experience, research and creativity. The willingness to explore new planning paths and new manufacturing strategies generates original harmonious solutions and original tactile effects. The purity of the gold is brought to a higher level by the design and enhanced by the greatest attention to detail.
Color and movement
The career of the designer Glen J. Engelbrecht began in a small company producing jewelry for the trade. At some point he met up with the local artist Frank Eliscu, designer of the Heisman trophy. A collaboration developed and Eliscu had Engelbrecht realize his ideas as jewelry pieces. With the growing success, Glen firstly opened up one jewelry business, soon followed by another. After making his local breakthrough, he rapidly made a name for himself beyond the region, too: in 1994 Glen received the Spectrum Award From then on, he dedicated himself exclusively to the designing of jewelry closed his two stores and founded G. J. Designs. He focused primarily on colorful gemstone jewelry, providing incredible dynamism through elaborate cuts and movable elements. This work was to bring him a total of seven Spectrum Awards, including for the category "Best use of Color". Further distinctions included four American Pearl Vision Design Awards and a Signity Facet Award. In 2003 he was a member of the prestigious jury for the Spectrum Awards. Glen's designs can be found in premium jewelry stores in the USA.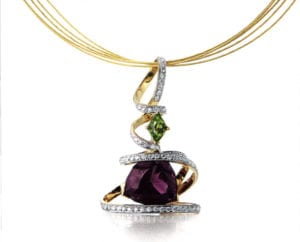 G. J. Designs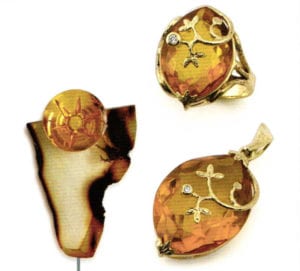 Werner Juchem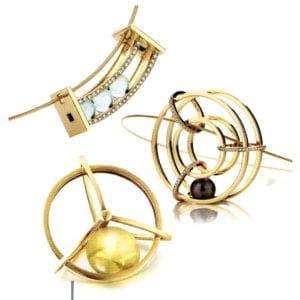 Yael Sonia
Light & shadow
The gemstone metropolis Idar-Oberstein used to be indicated in every Australian school atlas, such was the importance of this center for the jewelry world. Here the world's best jewelry creators could be – and can be found. One of these is Susanne Juchem-Fromm, who, with her company, Werner Juchem KG, is the sole German gemstone designer to be selected for the Designer Forum by the jury at the JCK Show. Her Licht und Schatten (light and shadow) collection is characterized by outstanding gemstone engraving, accentuating the true character of the rare crystals.
Kinetic jewelry ideas
The Brazilian Yael Sonia managed to achieve worldwide recognition with her designs shortly after graduating from the renowned Parsons School of Design in 1998. As a member of the International Jewelry Design Guild, she has already displayed her creations in Brazil, France, Germany, Italy, Spain, Switzerland, England and the USA. Her ingenious kinetic jewelry has already won prizes in a number of international competitions. In 2002 Yael won the Tahitian Pearl Trophy international, the year after she was the national winner for her home country of Brazil. Her "Perpetual Motion Collection" created a furore. Inspired by children's toys, mobile elements breathe life into the high-quality jewels. Yael's jewelry is on sale at locations including Gallery Elsa Vanier in Paris, Buzz Brazil in New York and in Monaco, via her agent, Adriana Brito. Last year she opened her first flagship store in Madison Avenue, New York.
Woven gold jewelry
Influenced by the worlds of architecture, the beauty of nature and even mathematics, the designer Jiwon Han applies a keenly-evolved design aesthetic to her collections, creating exquisite works of art that are sculptural, feminine, clean, organic and totally wearable. Particularly interested in the way metals move and behave, she favors 750/- gold, often forming it into delicate leaf-like petals which float airily from earrings or finely woven chains; or weaving it into light-as-air gossamer webs that delight the wearer as much as the beholder. She suspends colorful gems on necklaces and earrings, which become glistening jeweled icicles. Delicately hammered cuffs possess remarkable texture and finish and appear to have been formed organically as if by nature itself.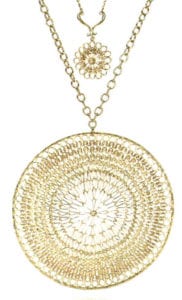 Jiwon Han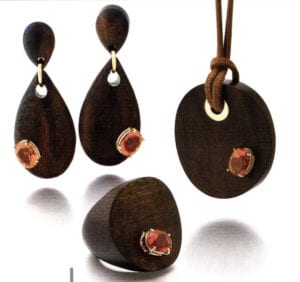 Mauricio Serrano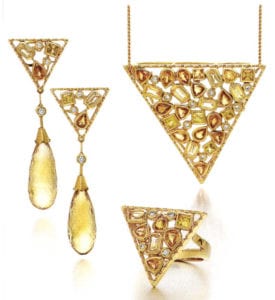 Cherie Thum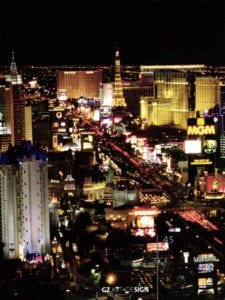 Organic style elements
The Mexican Mauricio Serrano is known for his graphic and organic forms, presented with the counterpoint of bold colors. The jewels stand out with a mix of natural materials such as pearls, gemstones, leather and wood, as well as silver, gold and platinum. Strong contrasting effects are often employed. His family has been involved in the typical Mexican art of silversmithery for generations. Serrano created his first piece of jewelry at the age of just 16. He draws his inspiration from nature. However, he has also been influenced by famous fashion designers such as Paul Smith, Tom Ford and Alexander McQueen, writers such as Gabriel Garcia Marquez and Pablo Neruda and the painter Frida Kahlo. Serrano's designs are available from selected jewelers in Mexico, as well as in North America and Europe.
The haute couture of jewelry
As elegant women everywhere know haute couture signifies the world of fashion, craftsmanship and exclusivity that makes the difference between being very well dressed and being exceptionally well dressed. As in clothes, so it is in jewelry. The fashion-inspired jewelry of Cherie Thum shows perfect craftsmanship. Cherie Thum became renowned for her strikingly colorful and bold artistic creations with fine gemstones and 750/- white gold. Innovation and inspiration in the true tradition of haute couture emanates from all Cherie Thum creates, but her understanding of a woman's moods, thoughts, ideas and intentions is strongly communicated in the way that the wearer can put pieces together as she feels.
The genius of Cherie is, in a way, in-born. Her Asian origins weave that combination of delicate, enigmatic artistry and uncompromising, painstaking quality into every piece she creates. More and more discerning women in the US are understanding how her unique talents can transform their look, their impact. With leading international fashion icons, she now shares the spotlight. But she projects her own sparkling brilliance as only she can.
Intuitive sense of style
The New Yorker Carol Workinger began designing jewelry in 1999, following a successful career in fashion and advertising. Her intuitive sense of style allows her to create pieces that go beyond trend and are timeless for modern women of any age. Formally trained as a goldsmith, her work combines traditional knowledge and classical technique. Drawing inspiration from midcentury masters, she constantly explores the relationship between the precious and the everyday, bringing a unique sensibility to her work.
Carolina jewelry has appeared on the pages of Elle, Harper's Bazaar and the New York Times Magazine. It is available in upscale galleries, boutiques and department stores in the USA. Carolina jewelry has been worn by Cameron Diaz, Sting, Sheryl Crow and Phoebe Cates.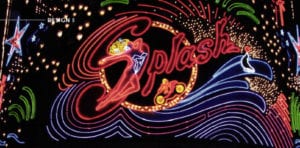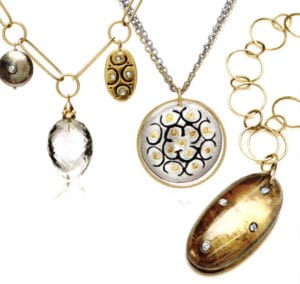 Carolina Jewelry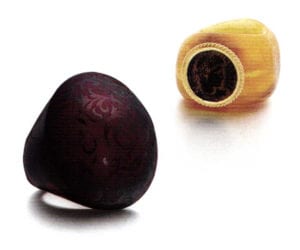 Cool Design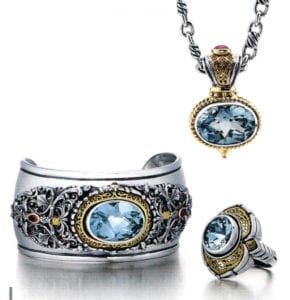 William Schraft
The world of amber
The Swiss specialist Cool Design has dedicated itself to the world of amber. The company offers jewelry from Baltic, Dominican and Mexican amber. The amber glows in all its natural hues: beginning with a soft, honey yellow, the spectrum moves on to spring-like green and mysterious blue. Cool Design works the fossilized resin of trees into necklaces, bracelets, rings and other products. The particular strengths of the company lie in creative shapes and cuts, together with unique pieces. In addition, it also offers jewelry made from the rare conch natural pearl, jade and mammoth ivory.
The look back forward
For nearly two decades William Schraft has been recognized for his understated, contemporary designs that helped define the look and direction of American designer jewelry. After creating straight modern for so long, a few years ago William found a new interest in the details of ornate designs. His 'retro look', conceived four years ago, came just in time for today's popular vintage look. William has "just touched the surface" of his new style and will continue to develop it with bigger stone pieces and the introduction of platinum and diamond. "I have worked for some time on creating an interesting new look that would lend itself to today's popular silver and gold combination. The challenge was to do something exciting with the metals, without sacrificing the originality or fine quality of work for which we are known. I accomplish this with the beautiful inlaid Victorian filigree sections which are the windows of the collection," says William Schraft.
Jewels for museum shops
In 1991 the New York designer Cynthia Gale launched her first collection, entitled GeoArt. On her journeys through the Far East she had encountered – and learned to love – the art of gold repoussé. Her collection can now be found in over 15 leading North American museums, including the Washington National Cathedral, the National Gallery of Art, J. Paul Getty Museum, American Museum of Natural History, the John F. Kennedy Center for the Performing Arts, Rock and Roll Hall of Fame and the DeYoung. Her contemporary jewelry designs have a cultural, historic or spiritual background.
New jewelry horizons
The Swiss artists Andréia Vaz Lino and Roberto Sutter founded Horizonte with the arm of producing unique jewelry. The result is wonderful gemstone and seashell and mother of pearl chains. The stone surfaces are often left rough and unpolished, or assembled, roughly-worked, into artistic necklaces. The Canary Island Collection is based on black, porous lava, such as that often to be found on the islands off the coast of western Africa. The combination of jet-black semi-circles and silver balls creates a composition of fantastic contrast.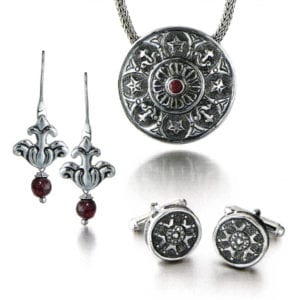 Cynthia Gale
Horizonte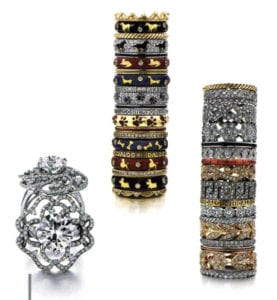 Hidalgo Jewelry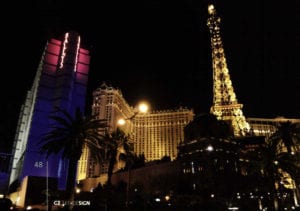 Colorful enamel art
Silvio Hidalgo has made a name for himself above all with rings in silver and 18 karat gold with colorful enamel layering. There are numerous different designs with a range of different motifs. Animal lovers can find depictions of over 40 different animal species. There are talismans, zodiac signs and also the option of personalizing the ring with name or date of birth. The extensive range is complemented with further items such as pendants, earrings, bracelets and a watch collection, equipped with Swiss movements.
Warning – contagious jewelry virus
The jewelry of the silversmith and jewelry designer Su Kroker from the Dutch town of Blokzijl is characterized by a tender and floral elegance. Her work encompasses fairytale and sculptural jewelry, devices, vessels and objects in silver, gold, pearls, coral and gemstones. Particularly distinctive are her works in fine silver wire, interwoven with pearls, coral and stones. The pieces are sometimes art, sometimes wearable, sometimes both. Everything is hand-woven by Su Kroker in sterling silver, fine silver, fine gold or 18 karat gold. The fine, woven structure provides the jewels with a unique effect all of their own. All pieces of jewelry are unique or produced in small series.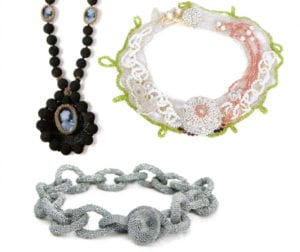 Su Kroker
Su Kroker has already made a name for herself internationally with her fairytale jewelry. This may be due in part to a jewelry virus that she disseminates via the web site www.schmuckvirus.de, as well as the distribution of small items in copper, brass and silver as multipliers throughout the world. She completed an apprenticeship as a gold and silversmith, also studying metal design in Hildesheim. She has been freelance since 2004.
Flowing gemstone nets
Since moving from Brazil to New York City in 1991, master craftsman and artist Moritz Glik has turned his prodigious talents to designing eye-catching, one-of-a kind pieces of jewelry. Glik's signature collection creates the illusion of diamonds floating within their settings. Glik meticulously handcrafts each earring, necklace, bracelet and ring. His many fans include Jennifer Lopez, Nicole Kidman, Goldie Hawn, Kate Hudson and Shakira.
Doing the unexpected
Nothing about Saundra Messinger is predictable. A shimmering matte finish punctuates perfectly imperfect shapes and textured surfaces. Intimate diamonds, set in sterling silver, flash from unexpected corners, defiant in their understatement. Every detail is a design element. Every style is a complete thought. Saundra's unique designs are a symbolic tribute to the women who wear them – both are strong, confident, and feminine. Saundra has been designing her unique style of jewelry since 1999. 5he quickly became one of the most talked-about new artists, receiving honors from the Fashion Group International (2003) and the International Jewelry Design Guild (2002). Look for her designs on celebrities and fashion icons and inside the covers of popular fashion magazines InStyle and Vogue.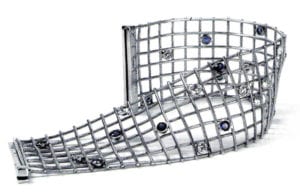 Moritz Glik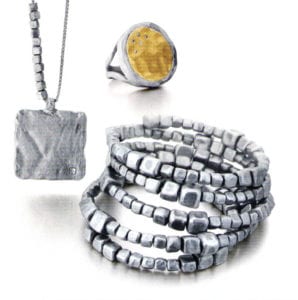 Saundra Messinger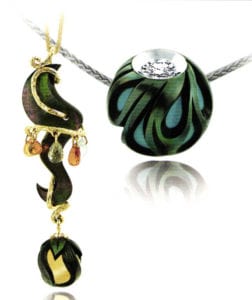 Chi Galatea Huynh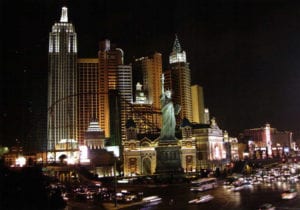 Jewels in the rhythm of nature
"My inspiration comes from nature. As a child, I used to toss a pebble into the pond and I watched the ripples of water gently and pleasingly hypnotize me for hours. They had helped me to understand and revealed the secret of composition, rhythm of form, mystic harmony and the natural beauty in the universe. I believe natural beauty does not just base on culture, intellect or the condition of life alone. Universal beauty does exist if you search for it, you will find it in your smiles," says the designer Chi Galatea Huynh. The jewelry designer achieved recognition with his "Diamond in a pearl" line, by not only imbedding the king of gemstones in Tahiti cultured pearls, but also making it the center of gemstone balls.
Greek inspiration
Konstantina Dimitra Mahlia dedicates her collection to the beauty and culture of her homeland, Greece. The pieces recall ancient artifacts from the Hellenic period. The opulence of sunlit palaces with their cool walls, refreshing fountains and blooming gardens is recreated in the mind's eye on viewing these jewels. These pieces could have been worn by princesses from a bygone age – yet appearing timeless and modern. Elegance, harmony and gracefulness are the key characteristics of the jewelry. Motifs like leaves and berries, as well as bees are worked in gold, a countenance or hand cut into gemstone. They all tell a tale that combined with the character of the wearer merges to a new story.
Wake up for dreamers
In the heart of Manhattan's bustling garment district, Echo of the Dreamer occupies a 4,400 square foot loft decorated like a home far outside the city – with towering plants, eastern statuary and a balcony with a view of the Empire State building. Serene and inviting, it is where designer Margaret Thurman & her team of Dreamers create inspiring collections season after successful season. As a teenager, Margaret studied fine art for 6 years with Nicholai Abracheff.
That entree into the New York art scene led her to create experimental films in the 1960s. These were presented to the likes of Andy Warhol at the esteemed Jonas Mekas Filmmaker's Cinematique.
Inspired by her love of exquisite stones and armed with her colorful memories of the era, Thurman created Echo of the Dreamer in 1993 with her daughter, Myoshin. The result is a stunning lineup of hand-made, truly one-of-a-kind jewelry. The brand continues to deliver collections that are modern and feminine, yet rich and sophisticated. The pillar of the designs is the varied stones – which Margaret refers to as "art by God" – in breathtaking colors, patterns and textures.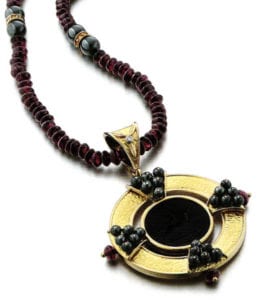 Mahlia Collection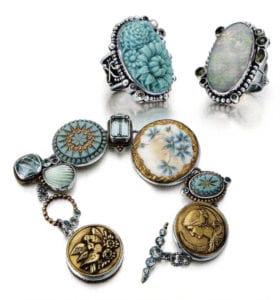 Echo of the Dreamer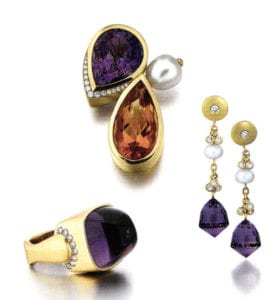 Susan Sadler
All about color
Susan Sadler is "all about color". Her jewelry as well as her life, is a celebration of color. Susan was born, raised and still resides in Oklahoma. She began her working life as a first grade teacher and stayed in the classroom for twelve years. After a vacation in Hong Kong and Bangkok, everything changed. She fell in love – hook, line, and sinker – with gemstones. Today her diverse clientele find her pieces in the finest jewelry retailers nationwide. Her psychic and physical attraction to luscious and often brilliant hues is evident in her incredible designs. Each piece is impeccably made and described as "bold but feminine" – bold, because of her signature rich colors and the size of the gems and overall pieces, but also feminine as a result of the texture of the metal. Susan's newest collection showcases her design range and her newfound interest in texture and movement. Long lariat necklace with pearls lead off the new jewels, which tend to be small and flirty with lots of movement. Everything on the rings moves as well. They are produced in a myriad of pearl colors and types as well as colored briolettes and opaque gemstones such as turquoise, coral and chalcedony. And they all have diamonds, naturally.