Thirty years after Robert Wan began culturing his first Tahiti black pearls in the seas of French Polynesia, he is still fascinated by the darkly shimmering treasures. When discussing his successful journey to become one of the most influential suppliers of cultured Tahiti black pearls, he still beams and comments, persuasively, "I love pearls!"
In Greek mythology, pearls were held to have hidden powers derived from the sea, and were equated with absolute purity. Their origin was surrounded by mystical legends, and the pearl is still considered the most mysterious, and most feminine, of all jewels. The dark tones of Tahiti black pearls particularly emphasize the gems' enigmatic character. Tahiti black pearls owe their unique coloration to the black-lipped pearl oyster, Pinctada margaritifera, which secretes a mother-of-pearl substance ranging from gray to black. The pearls that grow in this oyster are seldom truly deep black, instead shimmering in the most fantastic shades, from anthracite to aubergine, from greenish gold to champagne-colored.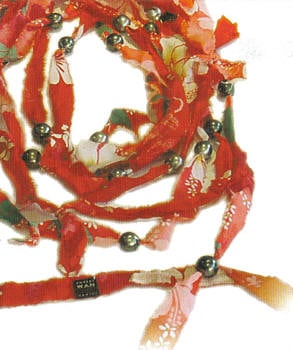 The magnificent colors of Tahiti, captured in all their glory in the current pearl jewelry collection by Robert Wan
Two centuries ago, the large marine pearl oyster Pinctada margaritifera was already much sought after among European button makers for the size and fine quality of its mother-of-pearl layer. The great demand led to intensive fishing in the lagoons. The naturally dark pearls were discovered purely by chance. The pearls were, however, the absolute exception among the oysters, and in order to find a single one, an estimated 15,000 oysters had to be opened. The unbridled exploitation eventually led to the disappearance of many oyster colonies – and with them, many of the natural pearls. We owe the black pearls that are available today to the achievements of the pioneers in pearl culture.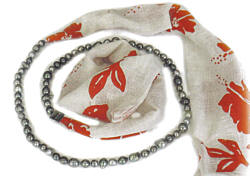 The Robert Wan collection uses exclusively vintage Tahitian fabrics. The cultured Tahiti black pearls threaded to the thin strips torn from pareos combine to form a wonderfully beautiful and unconventional South Seas jewelry item
Among them is the unofficial "Pearl King" Robert Wan. One of eleven children of Cantonese immigrants, he first became an auto dealer. His adventure with Tahiti black pearls began in 1973, when he met with a close friend of Kokichi Mikimoto, the pioneer of pearl culture in Japan. In 1974, Wan bought his first pearl farm, "Tahiti Perles," in the Gambier Islands, and began culturing his own pearls. The first harvest took place five years later, and he immediately reinvested the proceeds in his project in order to further develop its technical and economic aspects. He went on to systematically purchase more farms and even whole islands, many of them excellent locations. "Pearl banks are like vineyards: it all depends on the microclimate," explains Wan, who showed an excellent ability to find outstanding conditions for pearl culture from early on. Today, his firm produces nearly 50% of all Tahiti black pearls.
The charismatic and multi-talented Robert Wan has now begun not only to culture the darkly shimmering pearls, but also to bring his own jewelry brand, the "Tahiti Perles Collection" to the market. The jewelry and accessory lines developed for him by international designers use exclusively his own high-quality cultured pearls. The current collection of slender silk bands with valuable cultured pearls tied into them, developed by Maria Calderara, is an unconventional idea with a fantastically beautiful effect. The light, breezy materials, some torn from valuable antique Japanese textiles, combine with the large, dark pearls in an impressive interplay. And the pearls tied loosely and playfully to leather cords take up the natural quality of the jewels, forming a striking necklace that fits the natural feeling that is once more in demand.
Robert Wan's culture locations are located far from Tahiti itself, because the sensitive Pinctada margaritifera can only survive in the cleanest water. It filters approximately 2 gallons of water per hour for food. Several years go by before a large, thick-layered pearl is produced – a long time for the farmer, who has the task of maintaining his pearls in the most perfectly round form possible over this period, as well as protecting them from exposure to harmful substances. Robert Wan sells the products of his many pearl farms directly to importers and processing firms in many industrialized countries, without any intermediary. In this way, he is able to ensure that his pearls have not been colored or treated.
Well-known firms in the luxury jewelry sector, such as Mikimoto, Cartier, Chaumet and Tiffany's use Robert Wan's cultured pearls in their jewelry collections – and, in doing so, Have contributed to the creation of pearl jewelry's image as not only precious, but also modern. The long pearl gowns presented as part of Jean-Paul Gaultier's fall 2000 collection have their origin, at least in part, in Robert Wan's commitment. Many a designer has found his enthusiasm roused by the self-made businessman with the tireless passion for gleaming splendor, who will celebrate his 30th year in pearl culture this year.
After spending years cultivating pearls and meticulously collecting everything worth knowing about these gleaming treasures, the self-confessed pearl enthusiast opened the world's first pearl museum, in Papeete, the capital of Tahiti, in 1998. Cultured Tahiti black pearls naturally play a prominent role in the permanent exhibition, but historic jewelry, legends, pearl culture, and symbolic character are also granted space and recognition. From the anatomy of the oyster to gigantic pearls in the crowns of czars and the rosaries of Popes, Robert Wan's collection documents the history of a grand passion.