The works of the British environmental sculptor Andy Goldsworthy are never actually complete, but are always either in the process of being created or of being destroyed. His works of art are particularly fascinating, perhaps precisely because they last only a few moments.
Normally, one finds art in museums and artists in studios. On the other hand, Andy Goldsworthy, born in Cheshire, England in 1956, and his works are generally to be found outdoors. The environmental sculptor, who is as sensitive as he is restrained, is happiest beneath trees, on river banks, at the seashore, or in sheep pastures – whatever the season or the weather conditions. "People are a strain for me," Goldsworthy says, and withdraws into nature, which is both his inspiration and his medium. He generally sets off without concrete ideas about his next work, instead allowing nature to point the way forward on his journey of discovery and exploration. The result is ephemeral constructs that sometimes last only a few days, even hours. Spirals painstakingly assembled of many individual icicles wound around a tree trunk or a boulder can stand the first rays of morning sunshine for only a brief time. A cone made of sheets of slate withstands a maximum of three flood tides, and a tirelessly assembled pattern made of colorful leaves might be scattered within seconds by the wind.
Goldsworthy uses the most widely varied materials found in nature, such as sand, loam. stone, ice, snow, ferns, leaves, wood, and flowers, to create filigreed constructions or powerful sculptures, all of which show an innate, deeply moving poetry And all of them have another thing in common: the inevitability of their transitory nature, whether they are sculptures made of found driftwood or yard-long snakes made of leaves knotted together and then set atop a river current. His sculptures of ice and snow melt in the sun, plants decay, and a single gust of wind can destroy a mobile made of spiderweb-thin stalks bound together by thorns. This very transience is part of Andy Goldsworthy's guiding principle. Where other sculptors take things out of nature and give them new life in other places and different contexts or add artificial materials to them, Goldsworthy's creative process, which is based more on arranging than on producing, has nature, with all its creative and destructive processes, at its center. He does not carve images from the materials he finds in nature as other sculptors would, but rather changes them and brings them together in new compositions. Dead twigs, wilted leaves, wood, and stones, all generally collected in the same place where he creates his works, find new life in Goldsworthy's hands.
What might seem like a child's game is instead the hard, daily work of a patient artist working with nature. What is more, his work with nature is meditative and has a deep emotional impact. While still a student, at the end of the 1970s, Goldsworthy began working out of doors and with materials he found in nature. Alongside his projects throughout the world, in the US, in France, at the North Pole, in Japan and Australia, the area around his home in Dumfriesshire, Scotland, where he has lived with his family since 1985, is above all his source of inspiration and workshop in one.
With all the refinement and the breathtaking effect his works have on their viewers, the sculptor intends much more with his art than strictly optical effects.
Andy Goldsworthy wants to understand the object he works with, nature itself – and, ideally, to draw the viewer to a greater understanding of it as well. In the way he works, Goldsworthy elevates nature itself to the rank of artist, granting it the respect it deserves. "I want to get under the surface. When I work with a leaf, rock, stick, it is not just that material in itself, it is an opening into the processes of life within and around it. When I leave it, these processes continue." But because this process is constantly destroying his works, photography has come to be an important medium to record his short-lived sculptures. Goldsworthy has now archived thousands of slides that document his works. Since the early 1990s, numerous volumes of photographs have appeared in English, German, French, and Dutch, either addressing the topic of a particular material or following individual projects through the full, exciting process of their creation and realization.
Most recent new publication, 2001: Midsummer Snowballs
Shortly after midnight on June 21, 2000, the day of the summer solstice, thirteen enormous snowballs were unloaded from a refrigerated truck and placed in various locations in central London. The flood of people emerging from underground stations and buses the next morning were surprised to discover Goldsworthy's largest ephemeral work to date. Materials that Goldsworthy had found near his house had been worked into the snowballs: elderberries, ears of barley, sheep's wool, crow feathers, flexible beech twigs, chalk, river pebbles, and even rusted barbed wire and pieces of scrap metal. When the snowballs melted, more and more of the materials that had been mixed in became visible – a unique confrontation between the city and the rural outdoors and its use by people. This volume of photographs contains hundreds of impressive snapshots and documents the gradual changes to the snowballs, some of which took six days to melt, and captures the many varied reactions of passersby.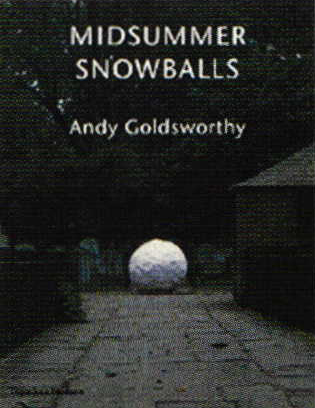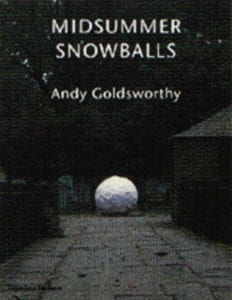 Andy Goldsworthy books are published in
the US, by Harry N. Abrams
Germany, by Zweitausendeins
the UK, by Penguin/Viking and Thames & Hudson
France, by Editions Anthèse
the Netherlands, by Terra
"Rivers And Tides" – Andy Goldsworthy working with time
Film by Thomas Riedelheimer, Germany/UK/Finland 2000. 90 minutes, shown in theaters and available on VHS video from Zweitausendeins. The documentary filmmaker follows Goldsworthy's work for 4 years: A film about the unforeseen, the surprising and ephemeral, about patience and the unbridled will to understand. The filmmaker and cameraman, Thomas Riedelheimer, was awarded the Deutsche Kamerapreis 2001 for "Rivers and Tides."