A decade ago, emerald, ruby, and sapphire routinely topped Colored Stone's annual best seller list, as befitted the colored stones known in the trade as the "Big Three." They were "precious" stones, while their equally colorful but lesser-known cousins held the dubious distinction of being "semiprecious."
But the Big Three's once-unassailable dominance has faded in recent years. In 1999, tanzanite cracked the top three, pushing emerald to fourth place. Pearl followed suit in 2001, when it appeared in the number two slot, as did fancy sapphire in 2004.
Still, you could always find ruby, emerald, and sapphire in the top five – until this year. In what may prove a watershed moment, emerald ranked an all-time-low eighth place in Colored Stone's survey of retailer's top sellers. And while sapphire kept a solid grip on its number-one slot, 40 percent of retailers didn't even put ruby or emerald in their top five.
There has been no single blow that accounts for the declining popularity of emerald this year, nor does any one issue explain why even ruby is loosening its grip on the number-two slot. The most likely explanation is that it has simply become more crowded at the top, as years of consumer education about color have combined with the growing willingness of a new generation to buy designs that are worlds away from the "classic" styles and "precious" gems favored by their parents.
"Customers are asking for different things. They want something that's non-traditional," says Gus Davis of Camilla Dietz Bergeron in New York. "There's a bigger assortment [of color] for people to choose from, and they want something different. They don't want to look like everyone else today."
"We're always looking for something new and exciting coming on the market," says Cookie Thatcher of Becky Thatcher Designs in Glen Arbor, Michigan. "We've been selling colored gemstones for years, so we've educated our customers. We do have fabulous specimens of [Big Three] stones, but we're not trying to promote them. Now it's about finding interesting, wonderful new stones for [our customers]. They can get [ruby, emerald, and sapphire] at Kmart."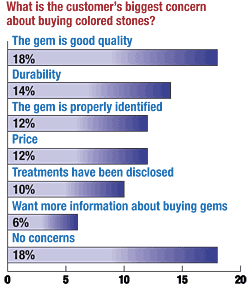 That interest in something different, combined with fashion and a growing familiarity with their other options, pushed a number of alternative stones higher on the bestseller list. For example, peridot, at number six, and aquamarine and citrine, tied at number nine, likely rose in popularity on the strength of fashion's focus on yellows and greens last year. "The color is such a strong trend," says Davis. "A lot of [our customers] don't even know what it is; they just like the color."
Color also helped blue topaz rise to the top for Patti Thompson of Way Fill Jewelry in Tupelo, Mississippi. "One of the reasons is I've promoted it as an alternative for the yellow topaz of November," she says. "If you don't like citrine or yellow topaz, you can have blue."
Retailers' predictions of what stones will be more in demand in 2006 also show diverse tastes. While fancy sapphire continued to top the list, with 36 percent of retailers predicting it will grow in 2006, other picks included blue sapphire (30 percent), tourmaline (16 percent), ruby (16 percent), aquamarine (10 percent), and tanzanite (10 percent).
When asked about the most important factors in predicting growth, 40 percent cited the popularity of the stone's color, and 28 percent identified increasing consumer awareness of the gem, up from four percent in 2004.
Retailers agree that television shopping networks have played a significant role in that consumer awareness. "[Consumers] see them on television, and that's what they're asking for," says Thompson. "It's an upper-end costume look, but it still has that air of sophistication to it."
Top Ten Sellers

2003
2004
2005
Blue Sapphire
Blue Sapphire
Blue Sapphire
Ruby
Fancy Sapphire
Ruby
Tanzanite
Ruby
Blue Topaz
Emerald
Tanzanite
Fancy Sapphire
Amethyst
Emerald
Amethyst
Blue Topaz
Pink Tourmaline
Peridot
Tsavorite Garnet
Amethyst
Tanzanite
Aquamarine
Blue Topaz
Emerald
Opal
Peridot
Aquamarine, Citrine, Opal (tie)
Green Tourmaline
Pearl
Rhodolite Garnet
But while television shopping may introduce them to the stones, many turn to independent retailers to make a purchase. "They see all this stuff being sold on QVC and the jewelry networks, and by and large they buy it, and it's just not the quality they expected," says Ben Ash of A & A Ash in Birmingham, Alabama. "In most cases, once they realize what entails better quality, they're willing to spend more."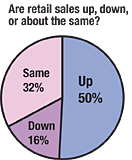 A desire for higher-quality gems and emerald's rising price points may have helped drive some color consumers beyond the Big Three. "I sell [better-quality] gemstones, and not many people want a $3,000 ring," notes Gary Gosnell of Spectral Gems in Rockville, Maryland. "You can get a great tourmaline or garnet for $300, while an emerald is $3,000."
That may also explain why an increasing number of retailers noted that their customers' biggest concern was getting a good-quality gemstone. When Colored Stone asked jewelers about their customers' concerns in a survey five years ago, only 8 percent said their customers were worried about quality. In 2005, that number jumped to 18 percent, with another 6 percent saying that their clients wanted more information about colored stones in general. Fewer retailers found consumers worried about getting a fair price: 12 percent cited that as the biggest concern, compared to 24 percent in 2000.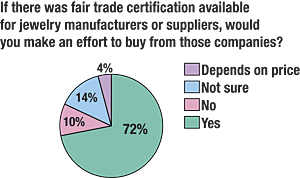 Eighteen percent of this year's respondents said their customers had no concerns at all about buying color, but that lack of concern doesn't appear to be translating into an eagerness to buy. Although half of the survey respondents reported sales up overall, only 26 percent said their sales of colored stones had increased in the last year.
"Most of the chain stores and big operations center on diamonds, and I do think the diamond people are very good in their advertising and put a lot of money into it," says Louise Walker of Walkers n' Daughters Jewelers in Bismarck, North Dakota. "Colored stones are in such variety, it's pretty hard to say 'Buy colored stones.' That just doesn't have a lot of romance. I like them myself, and I enjoy showing them, but if a man comes in for an anniversary, he automatically thinks diamonds."
Still, with more than half of retailers saying colored stone sales have been stable, no one is giving up on color. Instead, many retailers are reaching out to younger buyers, who may be more likely to opt for unusual color and design. "We've always had some women who like to buy for themselves, especially the younger ones," says Walker. "The grandma kind of buyer, like myself, we find something and say we're going to go home and talk to our husband. Young women just take out their credit cards."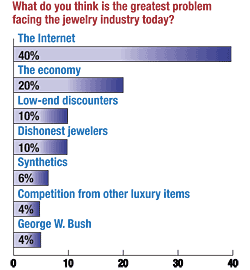 "Our specialty is doing very contemporary, one-of-a-kind pieces," says Becky Thatcher of Becky Thatcher Designs. "We enjoy finding really unusual materials and cuts, so when a customer gets one of our pieces, they're not going to see anything else like it. It's been 20 years' educating them, but now we do have a significant number of more sophisticated customers who expect that of us."
That trend can be seen in the growing numbers of independent retailers carrying designer jewelry. In 2005, 82 percent of respondents said they sold designer jewelry, up from 69 percent in 2004. Of that 82 percent, 32 percent carry branded lines, 26 percent work from individual artisans, and 22 percent, from a mix of the two types.
"We're trying to reach a younger audience, and some of the designers are definitely designing for a younger category," says Davis. "Our customers are asking for something different, something that's non-traditional. They don't want to look like everyone else."
Branded jewelry also allows retailers to take advantage of the consumer advertising done by large designers. "The ones we carry are pretty much the ones that do some advertising on their own," says Leslie Crothers of Butterfield Jewelers in Albuquerque, New Mexico. "Our customers are already familiar with them from magazines or wherever else they see them advertised, and it draws them into the store."
Retailers are also increasingly mindful of issues that could keep consumers out of jewelry stores. Half of survey respondents noted that at least some of their customers were concerned with the social and environmental issues surrounding gemstones, and 72 percent said they would make an effort to buy from fair trade-certified manufacturers and suppliers if such a certification were introduced. The same number said they would be interested in becoming certified themselves if a fair trade certification were offered for retail jewelers.
"We just like to be prepared," says Walker. "We have had only one or two inquiries about conflict diamonds, but when we get those inquiries, we'd better know what to say. I'd like to have the information [about color]."
"It doesn't come up very often," admits Crothers. "But we're ethically conscious, and if the customer is concerned, we want to be able to answer those questions and deal with those issues if we have to."
For some retailers, certification also appeals because it resonates with their personal values. "Some days, it can be tempting to think that we're involved in an irrelevant luxury business that's just about excess money," says Becky Thatcher. "But then I take a moment and think, 'What do we really do in our daily lives?' I think it's really about how responsible I can be in my industry.
"I know when I sell a piece of jewelry to somebody, 99 percent of the time it's about commemorating an event or a memory," Thatcher adds. "I see pieces of mine that are going to be handed down through generations, and what the work symbolizes for those people, and I want it to be made out of a material that is going to carry lasting meaning."