Enameling Art Live by Toshiko Tanaka The World of Modern Enamel Murals
89 pages; soft, glossy covers; 172 full color illustrations, 12 drawings; 9-3/4" x 7-1/4"; Hiroshima Chuo Printing Co., Mr. Jiro Ota, Pub. Div., e-mail: chuo@lime.ocn.ne.jp.
Quality is the word, both for the book and its contents. Toshiko relates her enameling journey from her early cloisonné with , scenes from nature, through toreutic vessels, basse taille. high fire to her large modern enameled murals.
The "Preface" and "General Description of Works" are both translated into English. In the preface, she pays tribute to her mentor, Mr. Keiichi Saitoh and to her mother-in-law, who first introduced her to enameling.
Ganoksin is sponsored by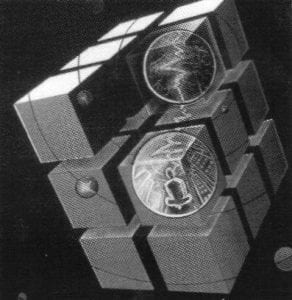 In the general description section, she explains the consistent theme of her works has been the connection between humans and nature in the universe. Her inspirations and themes for the various series of her work came from events such as trips to other countries, the launching of spacecrafts, and the nuclear blast of Hiroshima, where she escaped death by a hair's breadth at the age of six.
The chapter on three-dimensional enameled sculpture includes drawings as well as full color illustrations. Another chapter provides short descriptions of various techniques and procedures, such as wet laying, sgraffito, foils, cloisonné, basse taille, champlevé, lusters, and plique à jour. Examples of each are illustrated in full color, some by other artists.
The final chapter could be "Memories"; twelve pages with 41 pictures of people and places from Toshiko's scrapbook. We see many friends as well as two pictures taken at our museum. The final page pays tribute to Dr. Jo Ann Tanzer.
Ganoksin is sponsored by
Though all but the "Preface" and "General Description of Works" are in Japanese, much can be understood from the excellent pictures and our knowledge about what they represent. We believe you will be happy owning this book.
Woodrow Carpenter