Wrinkles may be undesirable on the face, yet folds are present in many different forms in art. Folds are created by "bending or crushing thin, plastic and/or flexible materials such as metal, paper or textiles or several layers of these materials".


Not ironed, but artistically folded: evening dress by Italian manufacturer De Call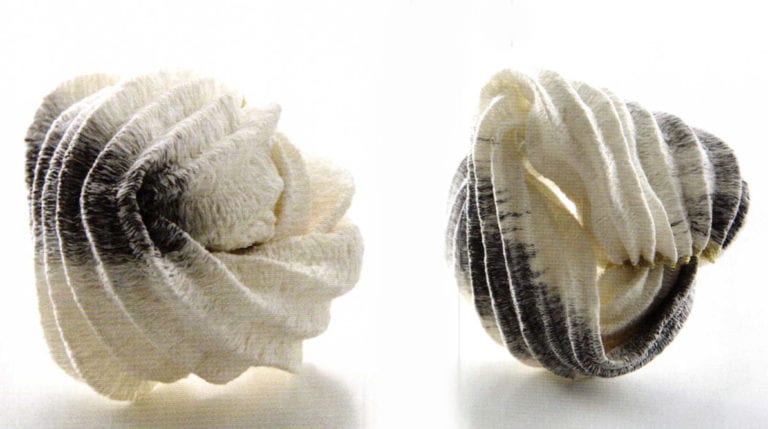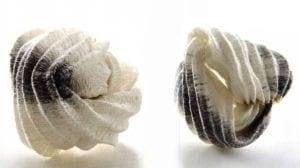 Brooches made from Japanese paper, nylon thread, gold, silver and Chinese ink by Kazumi Nagano
A quick glance back in time is enough to prove that fabrics and other materials were being folded even before the invention of paper (around 100 BC in China). The most famous method of paper-folding is origami which is derived from the words oru (to fold) and kami (paper). Cultural historians disagree as to whether this is an indigenous Japanese craft, or whether it arose earlier in China. The technique of folding has made a comeback over the last few decades, and not just where paper is concerned. Goldsmiths, industrial designers and fashion designers, as well as creative types from all over the world, seem to be equally fascinated by the looks and techniques which can be created by folding various different materials. Whether textiles, precious metals, innovative plastics or paper – the scope for experimentation is vast. One person who is a definite fan of folding is German jewelry designer Susanna Löw. All of her chains, pendants, earrings and rings are based on the universal principle of folding – the Saarbrucken-based artist uses little more than a folding stick and her dexterous fingers to produce her pieces of jewelry. Time and again, she creates curious forms from the wafer-thin slivers of fine silver. Sometimes she folds them into organic forms which resemble dried fruit husks or bizarre leaf figures and sometimes she forms graphical elements which resemble steel-clad armors. This year, Susanna Loew turned to the most sophisticated of materials for the first time – and with enormous success: she was awarded the 2008 Inhorgenta Europe innovation prize for her 200 gram wafer-thin folded 'Stella' necklace made from platinum sheeting.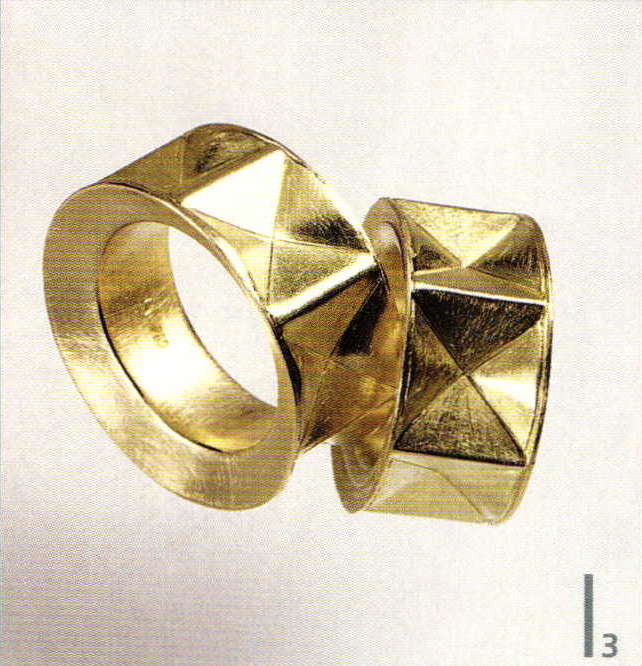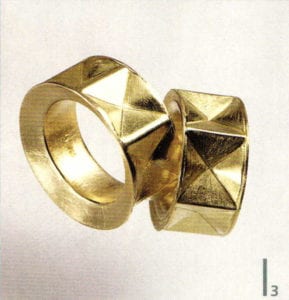 Folded gold for the finger: ring by Matthias Grosche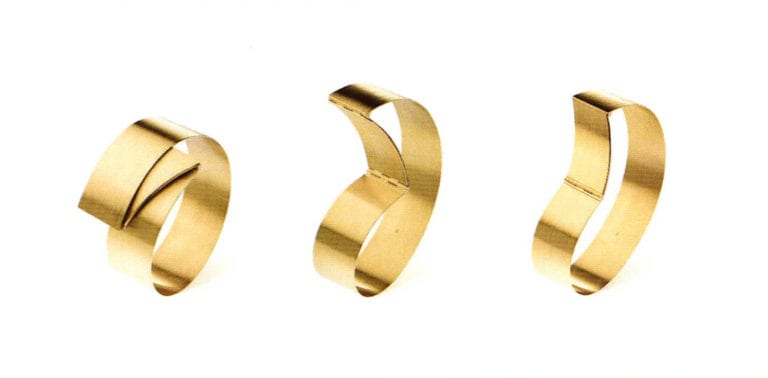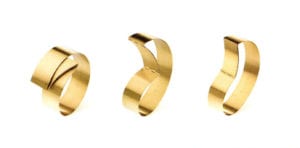 Brilliant technique: the folded bracelet by Sabine Brandenburg-Frank is a design classic. In 1999, he was awarded the red dot award for top quality design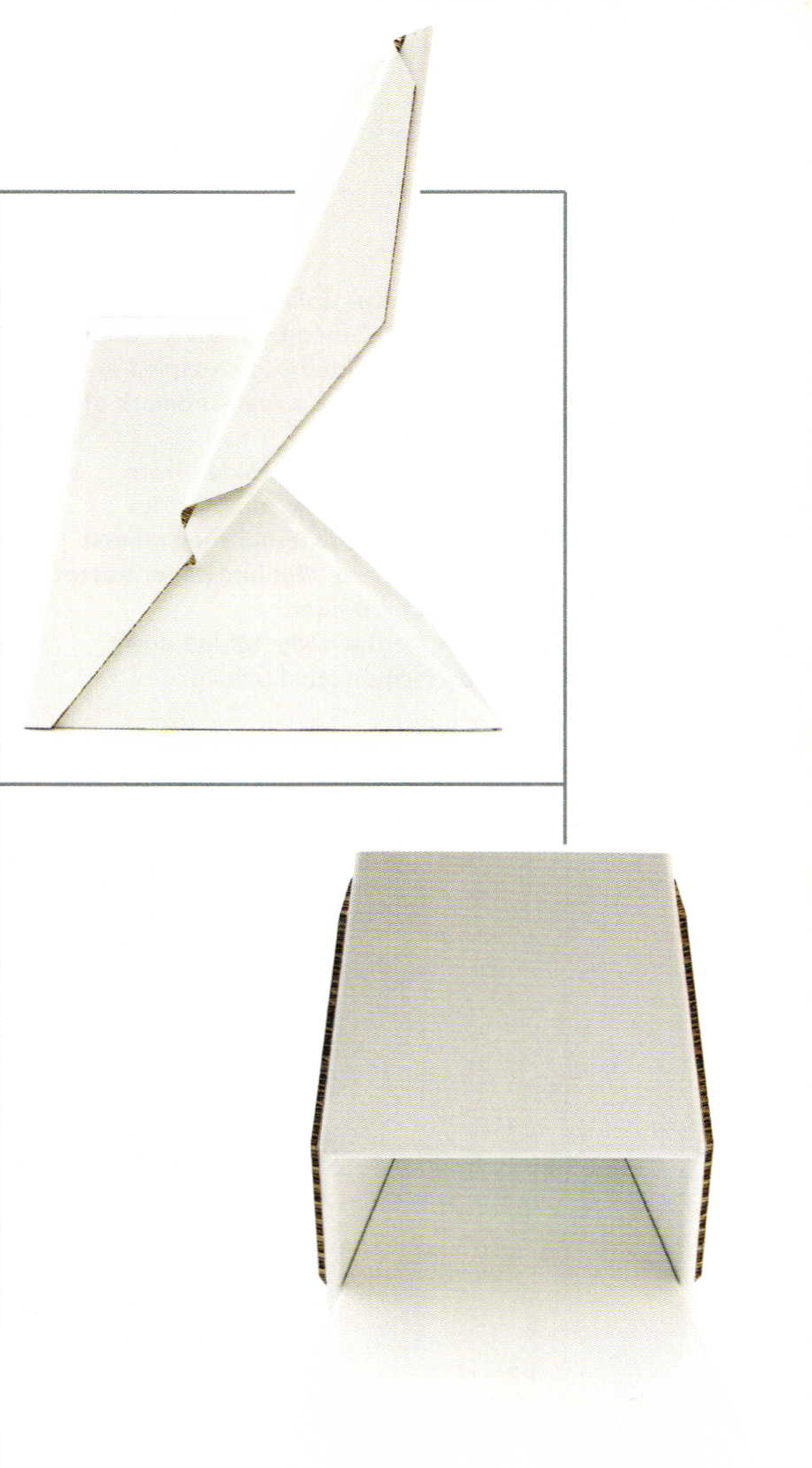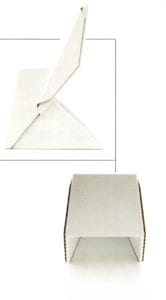 Simple, light, stable – the 'Papton' paper chair from the Fuchs + Funke design bureau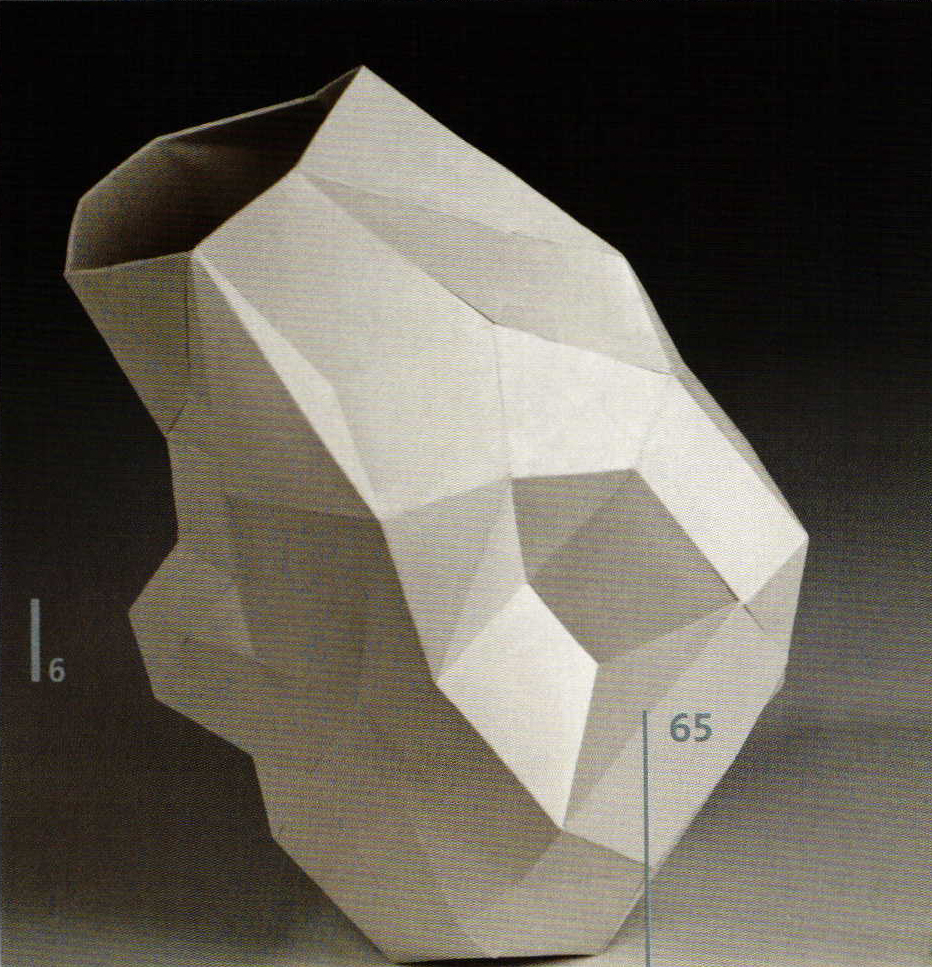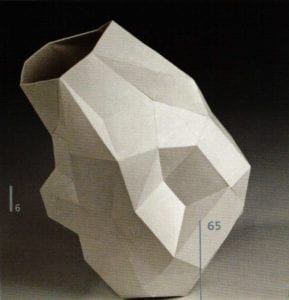 Digitally designed 'Spacepot' ceramic piece by British designer Bartek Mejor
Dramatic pieces in jewelry and fashion
Japanese designer Nishimura Yuko has also been awarded notable prizes for her innovative paper reliefs while still a student of architectural design at Tokyo's Nihon University. Using her skilled fingers as her tools, she transforms crisp, single white sheets of Japanese hand-made paper into two dimensional panels and three dimensional objects that are filled with rhythmic patterns comparable to music. Even the most subtle play of light across these complex folded surfaces endows them with an unusual energy and excites the senses. Walter Chen, a Barcelona-based goldsmith with Asian roots, also works with paper.
He produces highly dramatic and exquisitely fabricated paper works for the body. And as if this wasn't complicated enough, many of his pieces of jewelry are constructed in such way that they can be turned inside out, producing an altogether different version. The works of Dutch artist Nel Linssen are both spontaneous and mathematically exact. They are folded from paper and combine years of research and haptic knowledge. The relationship between wearer and viewer forms the essence of Linssen's jewelry. While the wearer is aware of the sensuous nature and movement of the jewelry, the viewer is drawn to the constant visual changes in the work created by the slightest movement of the body.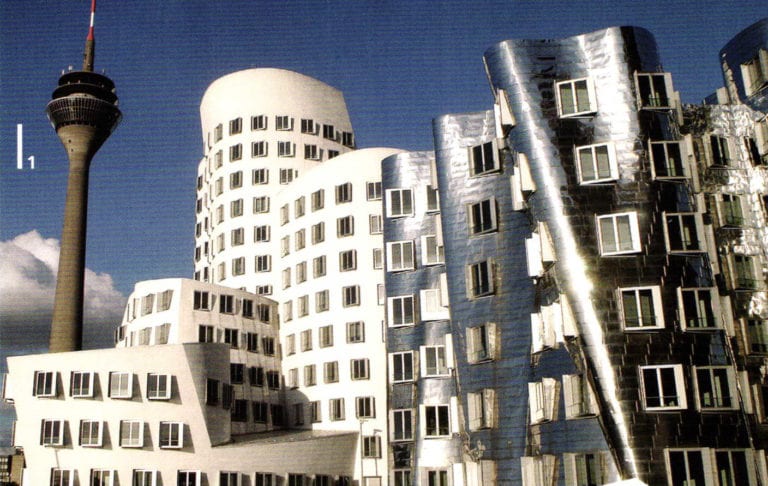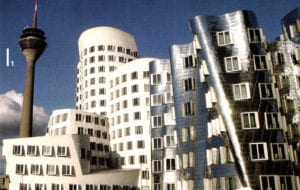 The 'Neuer Zollhot' buildings have been designed by Frank O. Gehry to look folded and crumpled and have become a real landmark of Düsseldorf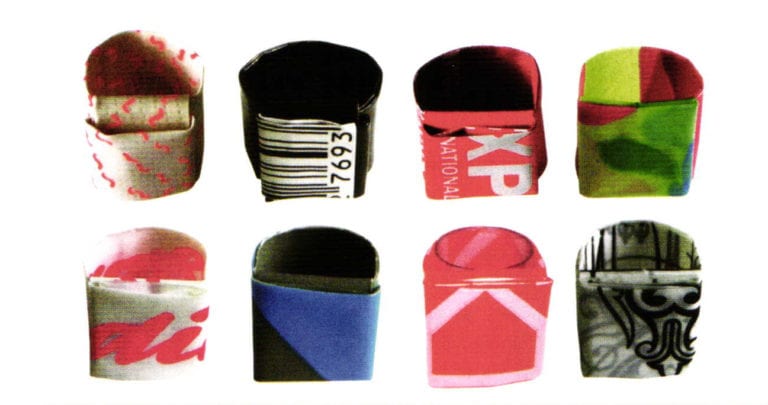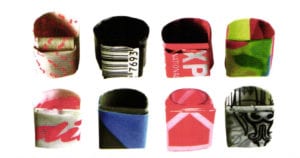 Rings artistically folded from plastic strips by Judith Höfel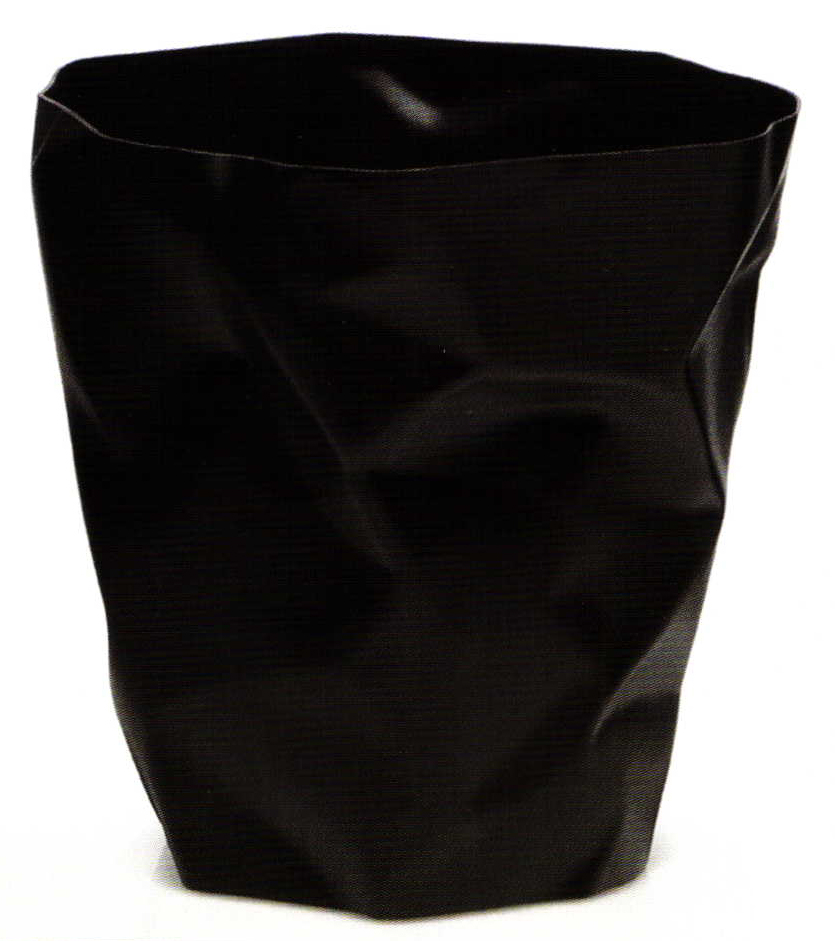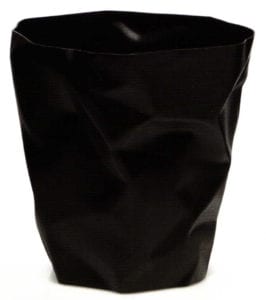 Where the external shell reflects the content: 'Bin bin' paper basket by John Brauer


Art for the body: folded dress by fashion label Ischiko
In fashion, it was the Japanese designer Issey Miyake who revolutionized the technique of folding some 15 years ago. His 'Pleats Please' collections were first launched in 1993. Made from single pieces of high quality 100% polyester fabric, the innovation behind Pleats Please is that the clothes are first cut and sewn together two-and-a-half to three times larger than the finished garments. Individual pieces are hand fed into a heat press sandwiched between two sheets of paper. The garment then emerges with permanent pleats. This industrial process allows both texture and form to be created at the same time. Vertical, horizontal and zig-zag pleating is used to create varying effect and architectural shapes. In addition to their unmistakable appearance, Miyake's artistic pieces of clothing also have various practical advantages: the garments store easily, travel well, require no ironing and can be machine-washed and dried within minutes. The Please Pleats collection is a classic and items can be admired in various museums across the world. It also continues to serve as a model for various fashion designers even today due to its harmonious and successful combination of western and eastern fashions, admired by both customers and art enthusiasts alike.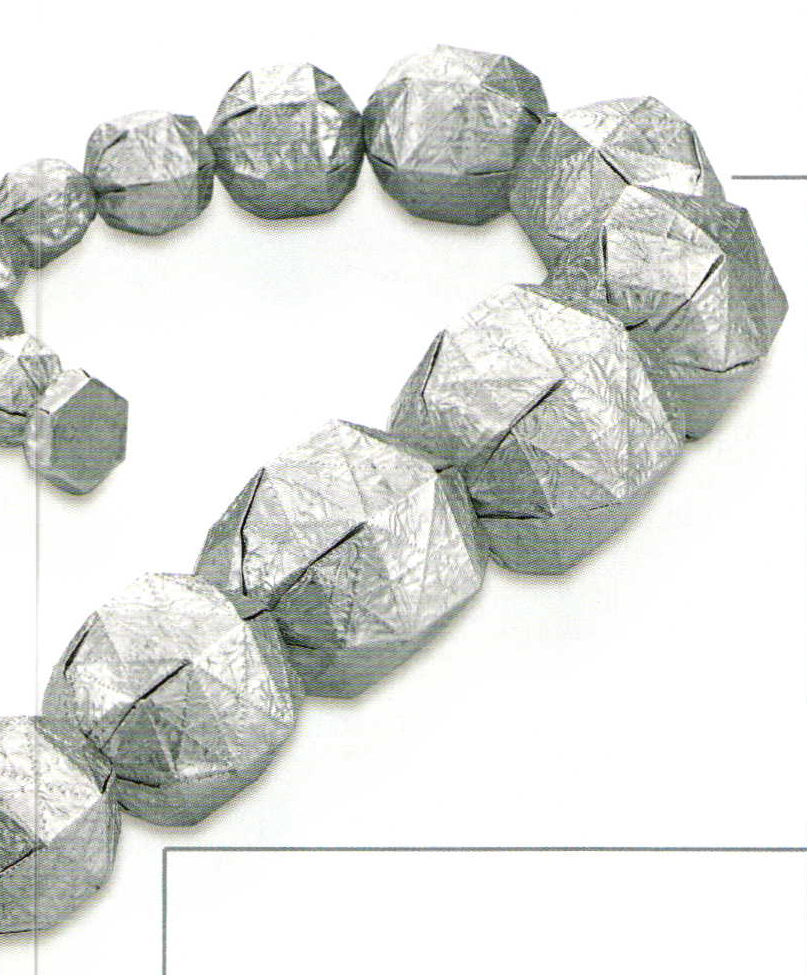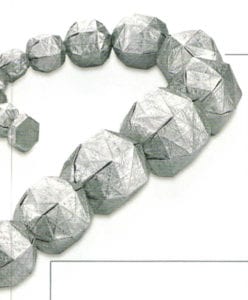 Magnificent fold design: 'Stella' platinum chain by goldsmith Susanna Loew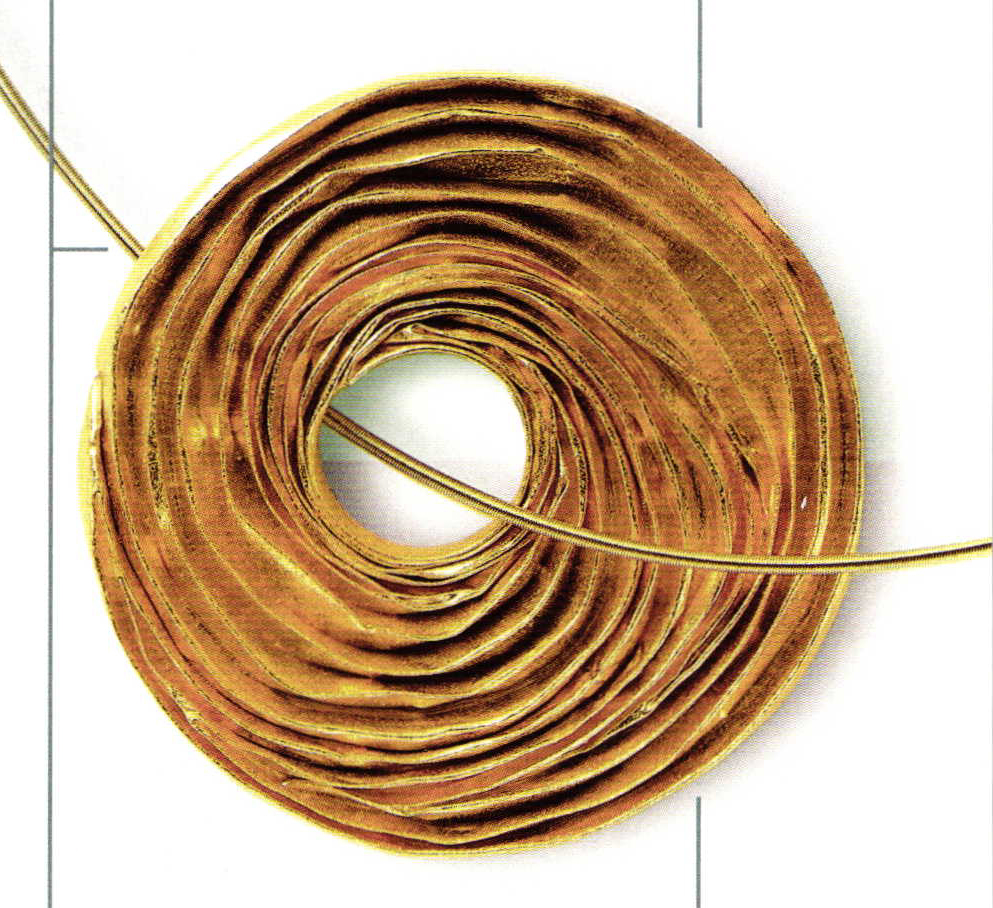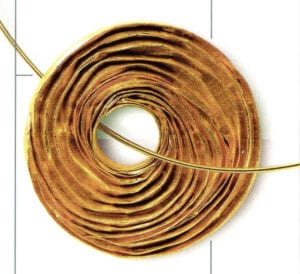 Sophisticated craftsmanship: Yellow gold pendant from the 'Plissee' series by jewelry manufacturer Niessing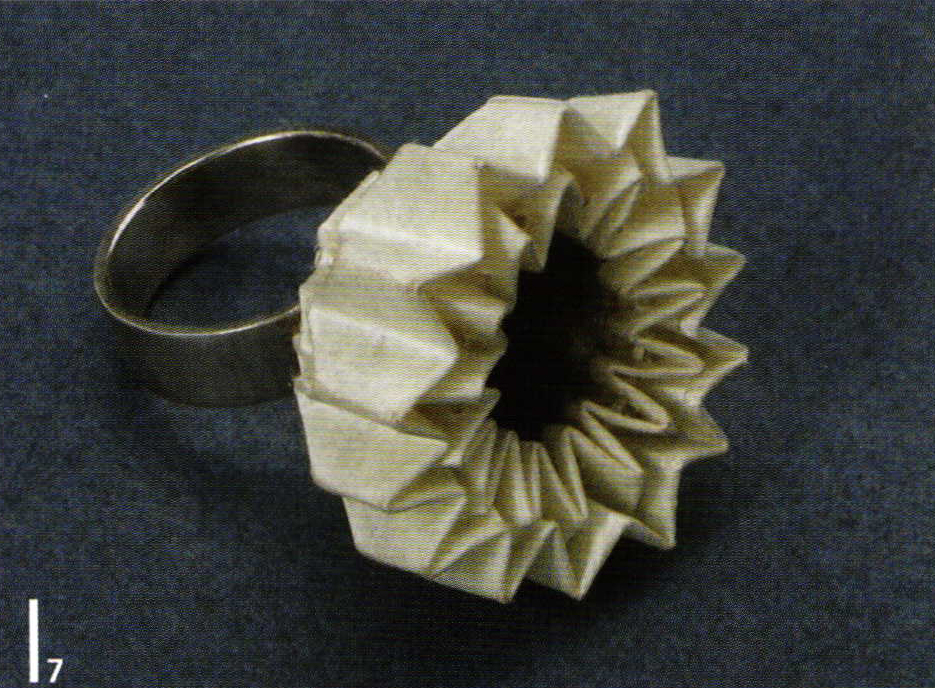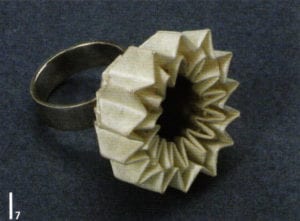 Paper ring by Walter Chen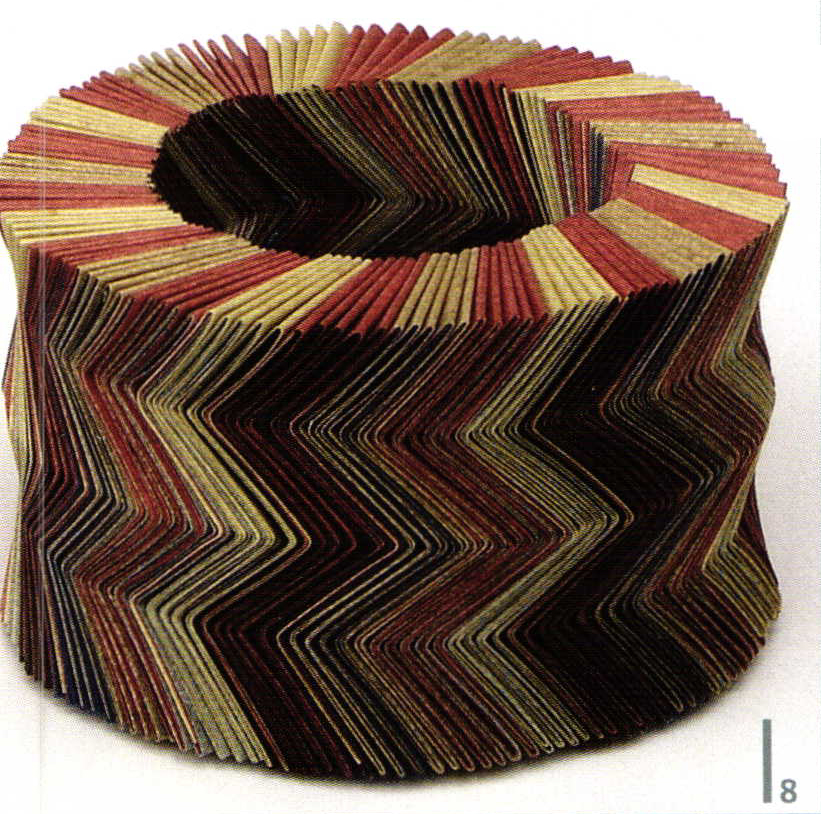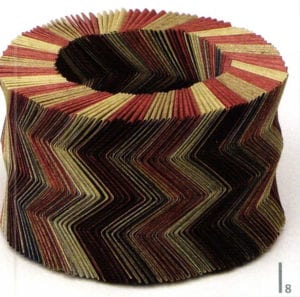 Spontaneous effect, precise calculation: bracelet folded from paper by Nel Linssen
Folded houses – folded chairs
Folding is also an important topic in architecture and interior design. Canadian/American architect Frank O. Gehry is one of the most prominent representatives of this trend. Many of the buildings designed by O. Gehry have achieved international renown thanks to their deconstructivist forms and fold-effect surfaces. Famous examples of his work include the Guggenheim- Museum in Bilbao (E), the three-part building ensemble of the Neuer Zollhof in Dusseldorf (D) and the Museum MARTa in Herford (D). Folding techniques and looks can also be applied to vases, lights, paper bins and even chairs. In many cases, a closer look is required to ascertain for certain whether the material has really been folded or whether it simply looks folded due to the application of various techniques. While the digitally designed ceramic objects by British artist Bartek Mejor simply look folded, for example, the 2.4 kg 'Papton' multi-purpose chair by Berlin design label Fuchs + Funke actually is simply folded. The chair owes its clear and graphical appearance to its simple method of manufacture: a few polygons give the chair its geometric shape and light and dynamic appearance.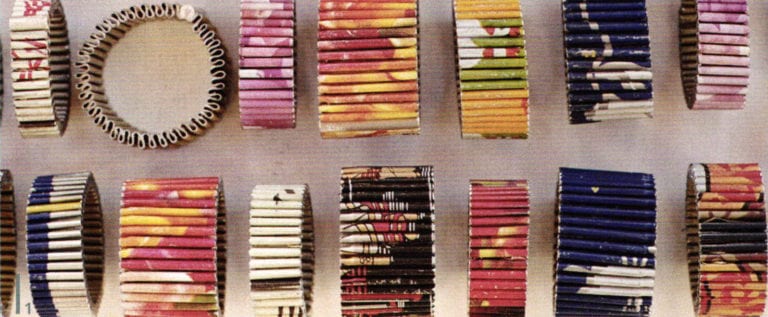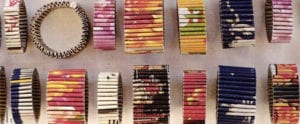 Accordion as a source of inspiration: Astrid Keller's strength is her passion for experimentation with different materials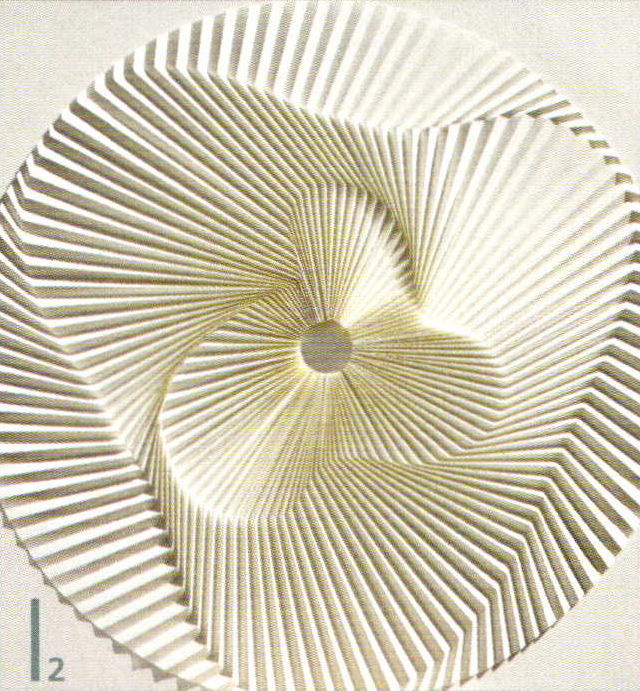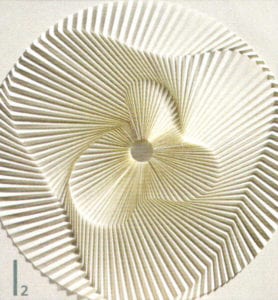 Japanese designer Nishimura Yuko has folded a piece of filigree artwork from a single piece of white paper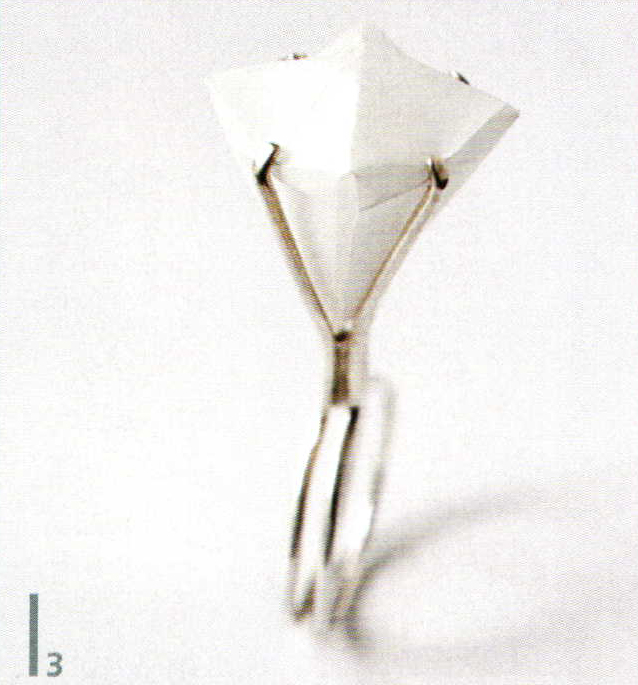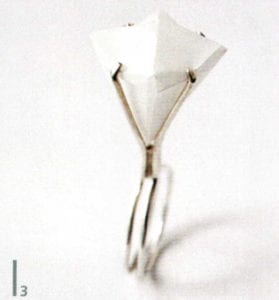 Delicate and wispy in appearance yet stable thanks to the folding technique used: Samta Fung's 'Origami' ring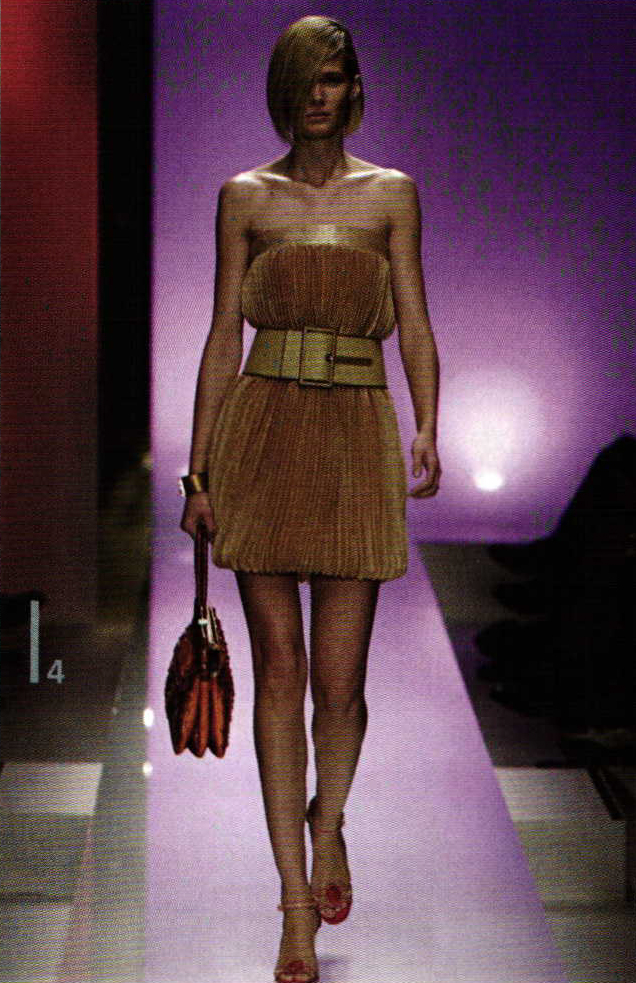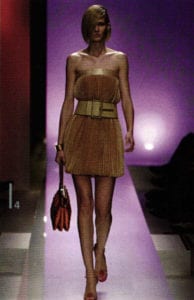 Yet more folds in a small dress – short evening dress from Salvatore Ferragamo's current spring/summer collection
The idea behind the 'Bin Bin' paper basket is equally amusing: the Danish designer John Brauer was thinking of screwed up paper when he designed the paper basket, the design of which reflects the bin's content. Only the material makes the distinction. 'Bin Bin' is made from dense polyethylene and not paper.