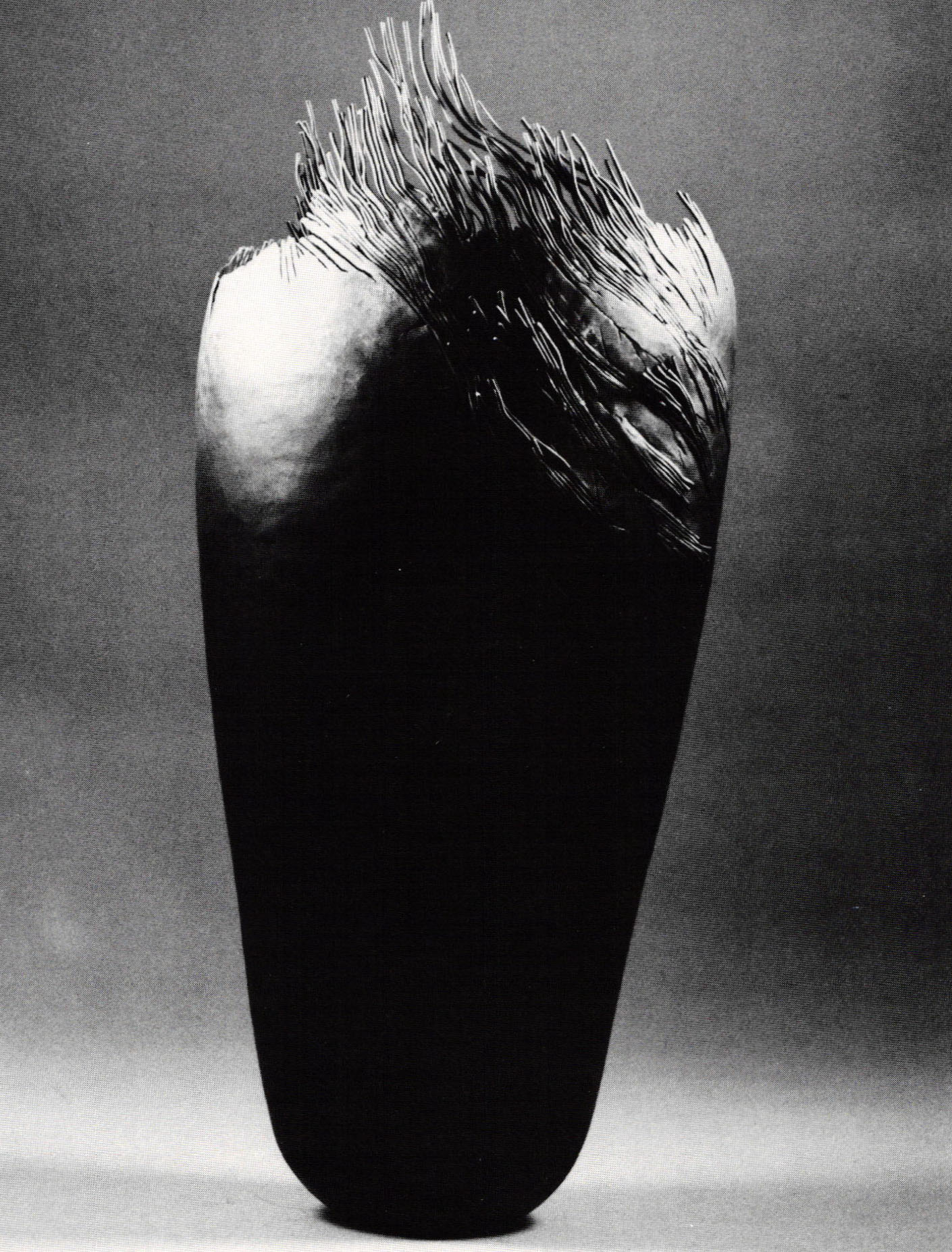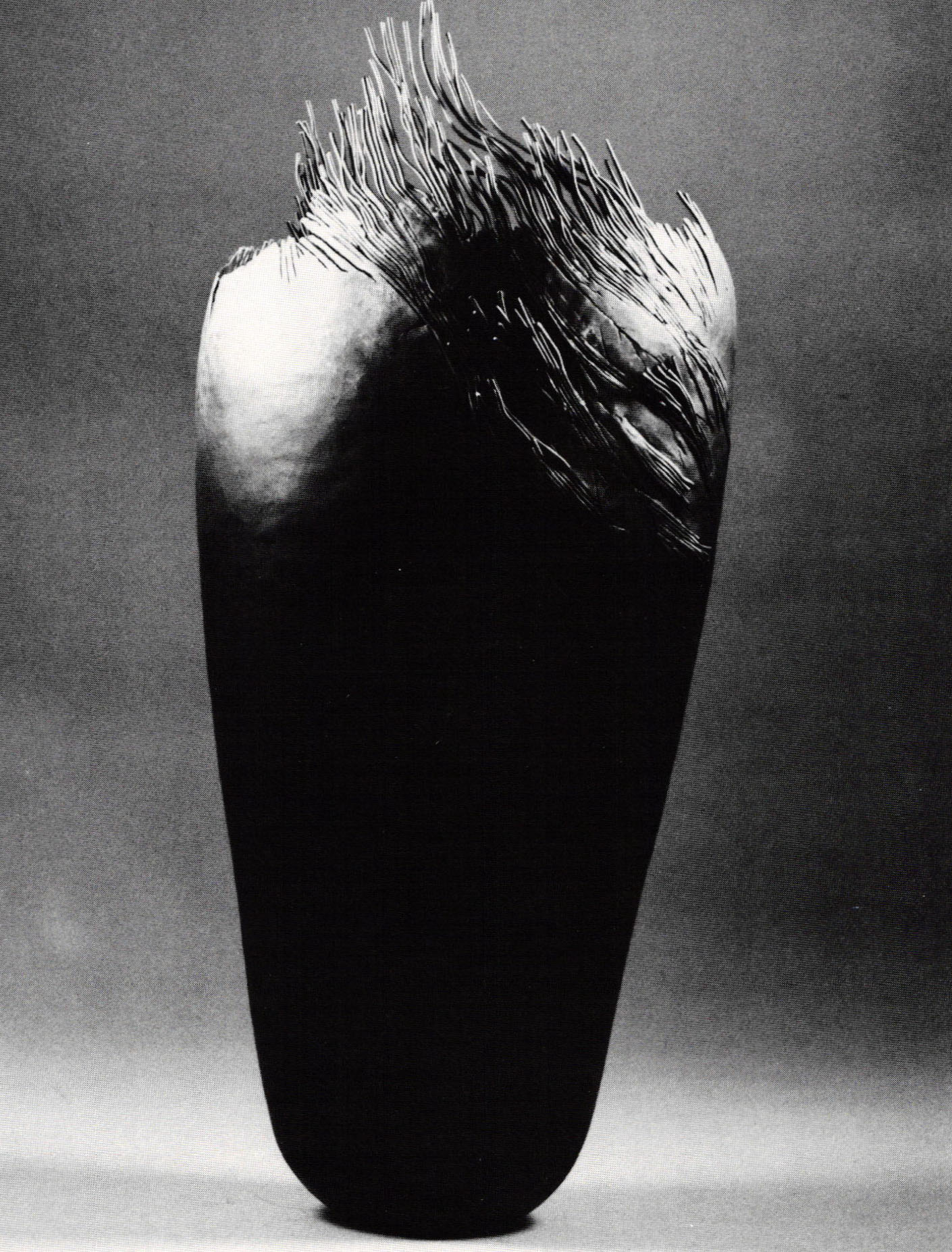 1984 Metals Invitational Exhibition
---
3 Minute Read
This article was originally posted on Userblogs on 11/27/2016.
This article features the  Metals Invitational Exhibition held at the Southwest Texas State University on February 15-March 8, 1984 by various artists.
The Southwest Texas State University Metals Invitational was conceived about a year ago by Munya Avigail Upin, metals instructor in the Art Department there. Her intention was to present a variety of work by artists ranging from traditional metalsmiths to those working with space-age materials.
An example of the latter is Vernon Reed, a self-trained artist, who is fascinated by the artistic potential of computer technology. Reed employs miniature electronic components in his exquisitely crafted objects. On the other hand, David Freda's Modern Biology was much more sculpturally realistic and illusionistic. A small green snake made of plastic and metal slithers between the pages of a science textbook of the same title. Freda's clever piece evoked surreal humor and Art Nouveau decadence while simultaneously managing to harmonize the divergent worlds of science and art in a poignant object of exotic charm.
Wearables were represented by Jane Groover, Martha Glowacki, Mary Lee Hu, Randy Long and David Tisdale. Groover prefers to work in silver and gold, traditional metals for personal adornment. Stylistically, some of her work seems rooted in the Constructivist preoccupation with shapes and their Planar relationships. Her Ginko Leaf series hinted at Japanese origin, but the work offered little by way of innovation, either in form or technique. Mary Lee Hu included two neckpieces; one of them, Choker #62 was a less sculptural, more appropriate piece of wearing apparel. However, even displayed on a gallery wall, this elaborate "rope" of sterling silver was elegantly eyecatching. Randy Long's Kimono Fragment was clean and geometric. David Tisdale's anodized aluminum bracelet was a bold example of formal presentation but it too appeared to override itself by assuming a too-perfect, almost manufactured, look.
Simplicity was a hallmark of Doug Steakley's forged sterling silver cheese knives; however, these delightfully functional implements projected such a modern, economic character—dramatically catching and reflecting the least amount of light—that their matter-of-fact objectivity was at once disarming and appealing.
David Keens offered a couple of very funky chairs, highly vocal metaphors of chaos and disintegration. Their incredible garishness suggested brutality, impalement, amputation. Reminiscent of such early 20th-century Dada objects as Man Ray's spiked flat iron, Keen's chairs denied furniture's inherent usefulness. These chairs not only prohibited sitting, they fairly shrieked denial of any kind of rest, physical or emotional. Thelma Coles's copper and steel sculptures were also disturbing, but for different reasons. Although Coles is admittedly (and admirably) concerned with environmental issues, such works as Frail Coexistence and Sheltered Growth did not really inspire a consideration of destructive human interaction on the ecology. Her art was not so much esoteric, merely less than inspirational.
Michael Tom's beautiful copper pots were something else entirely. Suggesting Tom's Hawaiian origin, their subtle colors and textures provided a visual "moveable feast." As Upin expressed in her own response to Tom's work, "as I unwrapped the packages, the beauty of the pieces nearly brought me to tears." Tom's esthetic is of sublime proportions, reflecting a sense of the cosmic and ethereal. Paula Garrett's Clippings from Spring was almost as delightful—an immaculate metal construction incorporating overtones of Japanese ideograms along with cubist balancing of spatial relationships.
Mixed Metaphor was the title of a cerebral sculpture by Carol Kumata, the appropriateness of which became more obvious upon examination. A metal cruciform shape containing innocuous but intimate objects, Metaphor suggested a wealth of mysteries: a labyrinth, a smelter (certainly apropos for a metalsmith) or cauldron, a cache of supernatural paraphernalia. Kumata's Japanese heritage is evident in Trapped in a Golden Triangle, another container in which metal and stone enunciate their physical presence and thus enhance our own consciousness of form.
This show was small but handsomely mounted. Its variety was stimulating and the overall quality of the work gratifying. Also included in the show was work by Harlan Butt and Linda Threadgill.
You assume all responsibility and risk for the use of the safety resources available on or through this web page. The International Gem Society LLC does not assume any liability for the materials, information and opinions provided on, or available through, this web page. No advice or information provided by this website shall create any warranty. Reliance on such advice, information or the content of this web page is solely at your own risk, including without limitation any safety guidelines, resources or precautions, or any other information related to safety that may be available on or through this web page. The International Gem Society LLC disclaims any liability for injury, death or damages resulting from the use thereof.
---
The All-In-One Jewelry Making Solution At Your Fingertips
When you join the Ganoksin community, you get the tools you need to take your work to the next level.
Become a Member
Trusted Jewelry Making Information & Techniques
Sign up to receive the latest articles, techniques, and inspirations with our free newsletter.