Author
Lilyan Bachrach
Website: http://www.life-plus.tv/book/
---
Articles and Videos by Lilyan Bachrach:
For more than twenty years, I have been using overglazes as a direct painting technique. My canvas usually is a fired, flux and white base coated enameled copper piece. Although I sometimes make a rough sketch for placement, I more often paint directly in an impressionistic style. Each painting is a new and different delight. Even after all these years.
Enamel comes in a number of forms: lump, string, liquid, and powder, as well as in the optical qualities of transparent, opaque, and opalescent. The important factor in selecting an enamel is that it be made for the metal you are using. Enamel expands as it is fired and then contracts as it cools. This is called thermal expansion. The metal on which the enamel is fired must expand and contract at a slightly higher rate.
Each medium has its own vocabulary and so it is with enamels and enameling. The glass glaze material that is fused to the metal is enamel, the finished work is an enamel piece and the process is enameling. In other words, you enamel enamel with enamel.
The most commonly used metals for enameling are pure copper and fine silver. The fine silver is primarily used for jewelry because of its cost, color and the advantage of not producing a firescale coat like copper does when it is fired. The copper is the most used metal for enameling for many reasons.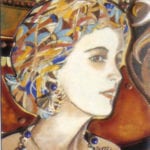 My design for a portrait in enamel is based on either a photocopy of a photograph or my sketch of the subject. The work is divided into small sections of various sizes and shapes. Each piece is an almost independent unit. Cutouts made from photocopies of the design are used for cutting the metal, blocking the area, transferring designs and shapes.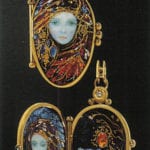 My enamel jewelry includes earrings, pins, pendants, lockets and rings done in Grisaille and Limoges techniques. Within most of the pieces are miniature paintings with images of womens faces and animals. My enamel pieces, using copper, 80 mesh enamels, ceramic pigments and foils, usually require from 25 to 40 firings. I collaborate with my husband, Alex, who is a goldsmith. Each enamel piece is set in 22K or 18K gold.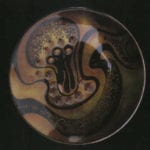 In basse-taille (bahs ty), the metal has a design or a texture partially cut into its surface before being completely covered with transparent enamels, which allows the design or texture to be seen. Engraving and etching are among the many methods for cutting the metal. A resist is first painted on the areas that are not to be etched before the metal piece is placed in an acid bath.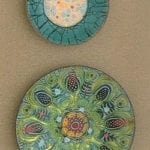 After you learn to apply enamels by sifting, wet packing, brushing on crackle and firing the base coats, you are ready for some of the simple techniques that require only a feel for color. You can design a piece by repeating one technique or learning to combine techniques. If you are enameling samples of the technique on 3″ round or square 18 ga copper, one coat of crackle on the back is adequate. My beginners' course ended with Doris Hall's paisley design, which combined many techniques, and a simple cloisonn piece on a 1″ disc of fine silver.